Maine Boats, Homes & Harbors Show: Exhibitors and Winners Shine Through the Fog
Maine Boats, Homes & Harbors Show: Exhibitors and Winners Shine Through the Fog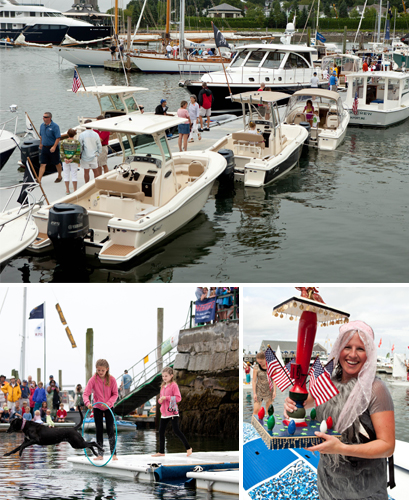 Rockland, Maine— It was with the boom of a yacht cannon that each successful day of the 10th Annual Maine Boats, Homes & Harbors Show got under way. Despite (or perhaps because of) persistent fog, the show grounds buzzed with activity and large crowds throughout the weekend, as guests came to visit with boatbuilding and marine service experts, fine artists, furniture crafters, home-builders, and green building experts. Attendees returned home with everything from furniture, eco-products for the kitchen, and jewelry to hand-woven scarves and nautical attire. Many ice-cream cones were seen through the mist, and one food vendor reported that she sold some 125 pounds of pulled pork, further confirmation that all were well fed. Orders were placed for custom furniture, cutting-edge concrete and glass countertops, marine canvas and gear, and, of course, for boats of all sizes. One ecstatic customer joined the convoy of departing vendors on Sunday evening with his brand-new Norseboat in tow; other small-boat vendors reported a boom in sales as well. Among those sales were an Eastern 22 center console, a Pursuit 34, and one new and one used Redfern runabout. The CW Hood team reported that they gave more than 90 rides in their new Hood 32 sailboat with electric drive. The 83-foot Fife schooner
Adventuress
, restored by Rockport Marine, graced the docks and was the source of much admiration. This coastal lifestyle show is known for pairing the traditional with the modern, and two boats that greeted visitors as they entered the grounds captured that. One was the small, wooden Grimstad Jolle sailboat from Norway that was featured on the cover of the Boat Show Issue of
Maine Boats, Homes & Harbors
magazine. It was displayed next to
SpeedDream
, a 27-foot carbon-fiber prototype monohull built by Lyman-Morse Boatbuilding of Thomaston. Light as a feather (relatively speaking), even when soaking wet,
SpeedDream's
space-age design looked fast just sitting still, and had everyone talking tech. Speaking of technology, attendees had the chance to peek "Under the Hood" of a semi-finished Back Cove 34, a boat that is emblematic of the high caliber of Maine boatbuilding. At this new exhibit, curious crowds looked into the belly of a downeast-style yacht that was displayed without its decks or superstructure. All the critical yet unseen components that make for pleasurable afternoons on the water were exposed: the gleaming engines, the propulsion system, the tankage array, and what appeared to be miles of wiring. The exhibit was presented by Maine Boats, Homes & Harbors in partnership with Back Cove Yachts, and with the help of Silver Sponsor MEMIC and supporting sponsors Cummins Northeast, Epifanes, Nexeo Solutions, and Yanmar/Mack Boring. New technology aside, Maine Boats, Homes & Harbors has never been accused of taking itself too seriously, and a new event on Saturday afternoon proved it. Maine's first-ever Stand-up Paddleboard Jousting Tournament provided a hilarious spectacle in which competitors clad in outrageous costumes tried to knock each other into the water. Lady Paddlebeard (a.k.a. Shannon Bryan) was the overall tournament winner. She triumphed over the Queen of Kapow (MBH&H's own Stacey Palmer) in the ladies' final, then won a final "battle of the sexes" versus the Lord of the Board (Tom Chester). The Grand Champion returned to her day job at the Portland Press Herald with a rococo jousting trophy, a Tahoe SUP paddle from Thorfinn Expeditions, and a subscription to Standup Journal magazine. The award for Best Splash went to Freelance A Lot's Ex Wife (Kay Stevens) and Lady Capsizeya (Noreen Mullaney of Downeast Dog News) claimed Best Costume. The event was emceed by Terry Bregy, and produced in partnership with Thorfinn Expeditions. Then on Sunday morning, the canine kookiness kicked in with the ever-popular World Championship Boatyard Dog® Trials. A parade of pre-chosen competing dogs and their handlers plus Shriners in go-karts, puffins from Project Puffin, dogs from local shelters, and the newly crowned Maine Sea Goddess Alexandra Dienesch-Calamari and Crown Princess Emma Mason, both of Owls Head, was led to the waterfront by pied piper Chris Pinchbeck who played his bagpipes in full regalia. Under drizzly skies, the 2011 World Champion, Fenway, and her handler Officer Joel Neal of the Rockland Police Department, did a double somersault into the water to kick things off, and Bill Page of Buoy Bat tantalized all the competing canines by hitting balls far out into the water. Each team of competitors then successfully completed the required parts of the competition—the Dockside Obstacle Course and the Dinghy Hop—and performed their freestyle routines under the watchful gaze of the four judges. The emcees, Alan Sprague and Mike Joyce, of WERU's BoatTalk fame, kept things lively, and when the fur, hula hoops, margarita mixes, cooked lobster and donut bribes, and sombreros were done flying, there was a clear winner: a fine specimen of the black Lab-ish kind named Otter and her young handlers Phoebe and Jane. Of the six competing teams of dogs, Otter was the only one to willingly go in the water. In fact, the challenge was to convince her to stop swimming long enough to perform her dockside tricks. Ultimately, every dog is a "winner" at the trials (there were goody bags for all competitors). And as 2012 World Champion, Otter will receive global fame when she is featured in the popular Boatyard Dog® column in the Winter issue of Maine Boats, Homes & Harbors magazine (where all this silly fun got its start). She will also keep the cherished revolving "Pup Cup" trophy for one year, and has the option to come back and defend her title in 2013. Otter is a poet, and plans to use her win as a stepping stone to further her pawblishing endeavors. The Boatyard Dog "People's Choice" award—in which show-goers vote for their favorite competing dog with their dollars—went to Duff by a nose (well, by $1.25, since the $500 in Monopoly money that was found in Duff's ballot box was disallowed). Despite being aquaphobic, Duff, a rescue dog from Alabama, jumped into a kayak during the trials, and bravely helped rescue three toy kittens from the drink. Second place went to last year's People's Choice, Pixel, whose work on behalf of shelter animals has grown into a nonprofit corporation (The Pixel Fund). The voting public contributed $308.66, which will be split and donated equally to the Humane Society of Knox County and the PAWS Animal Adoption Center in Camden. Special thanks to the sponsors of the trials: lead sponsor
Custom Float Services of Portland
, media sponsor
The Bark magazine
, and supporting sponsors
Sea Bags
, of Portland;
The Loyal Biscuit Co.
, of Rockland; and
Planet Dog of Portland
, who provided goody bags to all contestants. Crypton and Planet Dog provided gifts for both the overall winner and the People's Choice winner. Additional canine goodies were provided by Buoy Sports, Kurgo, PAWW, Petproject, Popware, Ruffwear, Tropiclean, and Zuke's Performance Bars. Thanks to the overall show sponsors who contributed to a stellar 2012 event. Maine Boats, Homes & Harbors is very pleased to acknowledge the following:
Awlgrip
,
Bangor Savings Bank,
The Bark
,
Custom Float Services
,
Fixtures…Designer Plumbing Showroom
,
Jaret & Cohn Real Estate
,
Knight Marine Service
,
Loyal Biscuit Co.
,
Planet Dog
,
Sea Bags
, and
Yachting Solutions/Cannell, Payne & Page
. Maine Boats, Homes & Harbors, "The Magazine of the Coast," is celebrating its 25th year. Noted for eclectic award-winning coverage of all aspects of coastal living, the magazine covers everything from maritime matters and natural history to boats, homes, fine art, and food. The magazine has loyal subscribers around the world and more than 100,000 total readers. An award-winning online edition at maineboats.com is filled with original content, photo galleries, tide charts for Maine and New Hampshire, guides to products and services, and Local Knowledge™ to help visitors enjoy the Maine coast. Maine Boats, Homes & Harbors, P.O. Box 566, Rockland, ME 04841; 207-594-8622; 800-565-4951.
www.maineboats.com
IMAGE CREDITS: Photographs by Jeff Scher. Media Contact: Marnie Read
news@maineboats.com
207-266-9381