2010 World Championship Boatyard Dog® Trials Competitors Announced
Maine Boats, Homes & Harbors Announces Competitors for the
2010 World Championship Boatyard Dog® Trials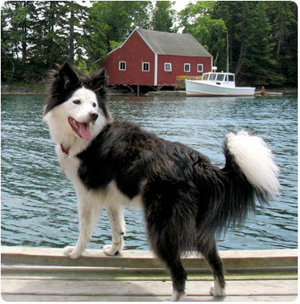 ROCKLAND, Maine: Maine Boats, Homes & Harbors Show organizers are pleased to announce that six finalists have been chosen from the large group of canine entrants who applied to compete in this year's World Championship Boatyard Dog® Trials. The trials will take place on Sunday, August 15, during the eighth annual Maine Boats, Homes & Harbors Show, which runs August 13-15, 2010, at Harbor Park in Rockland. The World Championship Boatyard Dog Trials is a zany head-to-paw competition among the cream of Maine's canine corps and is always a crowd favorite. The field of competing dogs is pre-selected, and organizers would like to emphasize that only those dogs will be allowed onto show grounds. They ask that all other pets be left at home to avoid disappointment. After a kick-off parade on show grounds that features the contestants, Shriners in go karts, and the newly crowned Maine Sea Goddess, the trials will begin at 10:30 a.m. in the inner harbor. The contest is equal parts entertainment, silliness, and good, wet fun. Tickets (good all day and for the entire show) are $12; those under 12 get in free. Competing dogs (and their people) will be held to uncompromising standards that focus on each dog's combination of style and pizzazz. The trials consist of three primary events: first, the Dockside Obstacle Course, in which dog and handler negotiate a maze of lobster traps, piles of rope, and other funky dockside paraphernalia; second, dog and handler hop into and out of a very tippy dinghy that's tethered to a float; and third the "freestyle" segment, during which each dog (and their person) shows off his or her special talents. There are but three simple rules: Rule 1: Either the dog or handler must finish completely soaked. Rule 2: Cheating is not only tolerated, but encouraged. Rule 3: There are no other rules. The Field: Defending World Champion Pancho Villa. Returning to defend his title will be the 2009 World Champion Boatyard Dog, a charming puggle (half pug, half beagle) of a certain age named Pancho Villa, and his handler, Abigail Matlack. Lining up to compete against Villa this year are: Red, a Mainer born and bred from Port Clyde. Red wants it to be known that while he's working aboard his dad's lobsterboat, he's all business. He stays out of the way and is always on the hunt for stinky hake heads and nice ripe porgies. Red admits to one dirty secret—he doesn't like the water much because he fell overboard as a pup. In other words, he draws the line when it comes to swimming, and since show rules state that either dog or handler must finish the competition "soaking wet"…. Rudie, a three-year-old springer spaniel from Bath. She's smart, she's funny, and she knows how to cheat. Rudie's kind of a big deal in the midcoast: her handler Gina Hamilton is editor of the Coastal Journal and Rudie features in many of Hamilton's "Far Niente" columns. Rudie has never met a body of water she didn't like, is quite adept at turning over kayaks, and can douse a sail in about two and a half minutes. Hazel, a "mature" black Lab from Rockport. Stepping gracefully into late middle age, (she's eight years old) Hazel is starting to check off the items on her "bucket list." At the top of that list is the capture of a squirrel; winning the Boatyard Dog Trials comes next. Hazel swims in the ocean every day and is much appreciated by the residents of the Woodlands Nursing Home where she visits regularly and retrieves tossed tennis balls. Lyla, a sweet yellow Lab from Great Diamond Island. A fantastic retriever and official "stern dog" on her owner's 36-foot Novi Crustacean Queen, Lyla will reportedly jump off any boat, dock, or pier in the name of retrieving just about anything. She and her handler, 11-year old Scout Tucker, have cooked up a unique stunt for the "freestyle" portion of the trials. Meena, border collie and former city girl from Brooksville. Meena was rescued by a Maine family and has traded in the bright lights and big city (New York City, that is) for quieter coastal living. She has rid the waters of Buck's Harbor of stray tennis balls, now she wants to move on to bigger things, such as winning the Boatyard Dog Trials. She also has another goal: her brother Joss finished dead last in the trials in 2004, so it's up to Meena to redeem the family's reputation. Her humans are long-time subscribers to Maine Boats, Homes & Harbors magazine, which she assumes will grant her extra points from the judges. Alternate: Grace O'Malley, golden retriever and pirate queen from Camden. Grace was chosen as an alternate this year, and will "grace" the docks during the trials in the event that one of the six finalists is unable to perform. Grace is itching to do something besides send folks off to Davey Jones's locker, so if she's not able to compete this year, she has threatened to hornswoggle her way into the trials. Grace has great plans to show what it is that she and her handler (and picaroon), Annette McNair, can do–besides walk the plank. As always, the winner of the 2010 World Championship Boatyard Dog® Trials will be featured in Maine Boats, Homes & Harbors magazine's popular Boatyard Dog® column, where all this silly fun got its start, and will keep the cherished revolving Pup Cup for one year. The Loyal Biscuit Co. of Rockland will again provide goody bags to all contestants.
NEW
People's Choice Award: This year we are introducing the "People's Choice" Boatyard Dog award. Throughout the weekend, show attendees, exhibitors, and vendors can cast a vote by putting money in their favorite canine's box on the "Boatyard Dog Wagon" that will be stationed in various locations on show grounds. The proceeds raised will be matched by MBH&H, then split and donated to our two local animal shelters. The "People's Choice" dog will receive a mention in the Winter issue of Maine Boats, Homes & Harbors magazine and bragging rights as a helper to the shelters. Be sure to cast your vote and help the animals! Judges will be: Dr. Jodi James of Pen Bay Veterinary Associates in Rockport; Lucinda Lang, spaniel aficionado; and Phoebe, a.k.a. "Little Lightening Paws," a joyful and humble border collie (Phoebe's owner, Sumac Grant-Johnson of Wag It Training Center in Lincolnville, will act as interpreter.) Phoebe has been tipped off that Boatyard Dog judges often receive "voting incentives" from participants and wants it noted that she is partial to treats, tennis balls, and sheep. The trials have new emcees this year: Mike Joyce and Alan Sprague, co-hosts of WERU-FM's call-in show "Boattalk" (89.9 FM and weru.org). Mike is a self-employed boatbuilder and sailor, has never met a dog he didn't like, and isn't afraid to get wet. Alan is also a self-employed boatbuilder doing work in the Mount Desert Island area. He and his wife currently have three cats; all of whom declined (on principle) the offer to attend the Boatyard Dog Trials this year. Maine Boats, Homes & Harbors is pleased to acknowledge the following sponsors who have shown their support for the 2010 MBH&H show: The Lead Sponsor for the entire show is Camden National Bank. Supporting Sponsors include: Jaret & Cohn Real Estate, sponsor of the Music Tent; Meduncook Bay Colony, exclusively represented by Jaret & Cohn Real Estate and sponsor of the Food Pavilion; Awlgrip, sponsor of the Exhibitor's Lounge, and Bangor Savings Bank, sponsor of the Exhibitor's Party. The Maine Boats, Homes & Harbors Show was founded in 2003 by
Maine Boats, Homes & Harbors
magazine. Held annually during the second weekend of August in Rockland, Maine, the show attracts thousands of attendees from all over the country and world. Show hours: Friday and Saturday, August 13 and 14, 10 a.m.- 6 p.m.; Sunday, August 15, 10 a.m.- 4 p.m. Admission is $12 at the gate, under 12 free. No pets are allowed on show grounds.
Maine Boats, Homes & Harbors
, the premier magazine about life on the Maine coast, is celebrating its twenty-third year. Noted for eclectic award-winning coverage of all aspects of coastal living, the magazine features everything from maritime matters and natural history to boats, homes, fine art, and food. The magazine has loyal subscribers around the world and more than 100,000 total readers. The company's award-winning online edition (
www.maineboats.com
) is filled with original content, photo galleries, tide charts for Maine and New Hampshire, guides to products and services, and Local Knowledge™ to help visitors enjoy the Maine coast. High resolution images are available at:
www.maineboats.com/boatshow/press/image-bank
Media Contact: Leila Murphy or Jennifer McIntosh email:
news@maineboats.com
Maine Boats, Homes & Harbors, 218 South Main St., Rockland, ME 04841 800-565-4951
www.maineboats.com