Press Release: 2009 Boatyard Dog Trials Winner
include('boatShow_nav.html') ?>
Maine Boats, Homes & Harbors Show Announces the
2009 World Champion Boatyard Dog®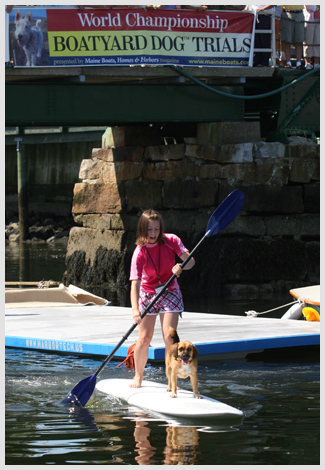 2009 Boatyard Dog Trials winner, Pancho Villa
and handler (and co-paddleboarder) Abigail Matlack.
Photo by Jamie Bloomquist / Maine Boats, Homes & Harbors
Rockland, Maine: Eight canine contestants and their people showed off their skills (and their sense of humor) during the 2009 World Championship Boatyard Dog® Trials, held on Sunday, August 9, under sunny skies before a large and lively crowd. The trials were part of the seventh annual Maine Boats, Homes & Harbors Show, held in Rockland, Maine, August 7-9, 2009. The new World Champion Boatyard Dog is a 2.5-year-old "puggle" named Pancho Villa, who hails from Camden. Known as Pancho for short, this cross between a pug and a beagle was handled by young Abigail Matlack. First, and in keeping with this zany competition's long-standing tradition, Abigail and Pancho shamelessly bribed the judges in front of the crowd. The pair then aced the obstacle course, with Abigail climbing over the lobster crates and Pancho going under them. Getting in and out of the very tippy dinghy also was a snap for this salty duo. Then, for the freestyle segment, Pancho rode on the bow of a windsurfer, watching out for pirates, while Abigail paddled them around in the harbor. The only aspect of the competition that proved troublesome was the requirement that either dog or handler must finish soaking wet. After a brief consultation, Abigail agreed to jump into the chilly waters of Rockland Harbor. After the competition, Pancho told show management, "I do NOT swim, it runs my mascara. I convinced Abby to jump in instead; she's a very good sport." As winner, Pancho Villa will be featured in
Maine Boats, Homes & Harbors
magazine's popular Boatyard Dog® column (Winter issue), and will keep the cherished revolving Pup Cup for one year. The cup was presented by the newly crowned Maine Lobster Festival Sea Goddess, Callie MacQueston of Vinalhaven, as one of her first official duties. Pancho, who will be invited back to defend his title in 2010, also won a heaping basket of goodies courtesy of the Loyal Biscuit Company of Rockland. Loyal Biscuit also provided a canine goody bag for each competing dog.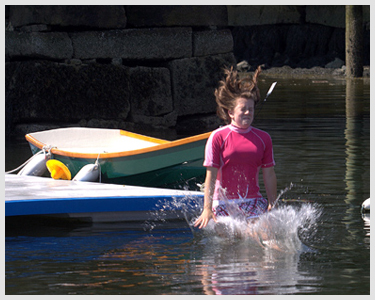 2009 Boatyard Dog Trials handler Abigail Matlack gets wet.
Photo by Jamie Bloomquist / Maine Boats, Homes & Harbors
Second place went to the Outward Hounds and their handler Lisa Lane, all of Waldoboro. This team was made up of three papillons and a border collie. They wowed the crowd with their Frisbee abilities and bribed the judges with an assortment of treats from Moody's Diner in Waldoboro, but that wasn't quite enough to put them into first place. Mattie Parker came in third, ably handled by Annabelle Parker and her dad Neal, who obligingly jumped in, clothes and all, when neither his daughter nor Mattie wanted to get wet. Last year's World Champion, Truman, did not compete. He was adopted after the 2008 show and now resides in Connecticut with a loving family. As always, the contest was based on three simple rules: either the dog or handler had to finish completely soaked; cheating was not only tolerated, but encouraged; and "there were no other rules." Judges were Dr. Bjorn Lee of Pen Bay Veterinary Associates in Rockport; Lucinda Lang, Spaniel Aficionado; and Holly Sherburne of
Downeast Dog News
. Bob MacLaughlin served as emcee.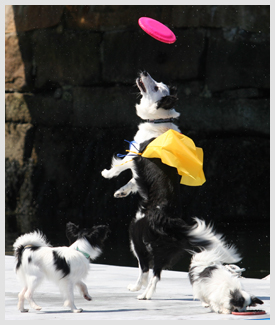 2009 Boatyard Dog Trials contestants, the Outward Hounds.
Photo by Jamie Bloomquist / Maine Boats, Homes & Harbors
Next year the trials will be held on Sunday, August 15, 2010, at 10:30 a.m., during the eighth annual Maine Boats, Homes & Harbors Show. Interested dogs should tell their people to visit
www.maineboats.com
for entry information. Only pre-qualified dogs are allowed on show grounds, no other pets are allowed. The Maine Boats, Homes & Harbors Show is held annually on Rockland's waterfront during the second weekend in August. The 2009 show was the seventh annual, and saw a strong turnout, with thousands of people from all over Maine, New England, and the country coming through the gates over three sun-filled days. This, the only in-water boat show in the state, had 60-plus boats on display on the docks, ranging from the hyper-modern to the historic, plus several dozen more boats arrayed for viewing on land. In addition, eight exhibit tents plus the Rockland Yacht Club building were filled with architectural displays, artwork, clothing, crafts, fine furniture, gifts, "green" technology vendors, home-building displays and supplies, and marine gear. Next year's show dates will be August 13-15, 2010.
Maine Boats, Homes & Harbors
magazine, the award-winning magazine about life on the Maine coast, is now in its twenty-second year. Noted for its eclectic coverage of all aspects of coastal living, the magazine covers everything from maritime matters and natural history to boats, homes, fine art, and food. The magazine has loyal subscribers around the world and more than 100,000 total readers. The company's website
www.maineboats.com
features exclusive, web-only content that is updated daily and weekly, plus information and content from both the print magazine and the show. Media Contact: Leila Murphy or Jennifer McIntosh email:
news@maineboats.com
Maine Boats, Homes & Harbors, P.O. Box 758 Camden, ME 04843, and 218 South Main St., Rockland, ME 04841 800-565-4951
www.maineboats.com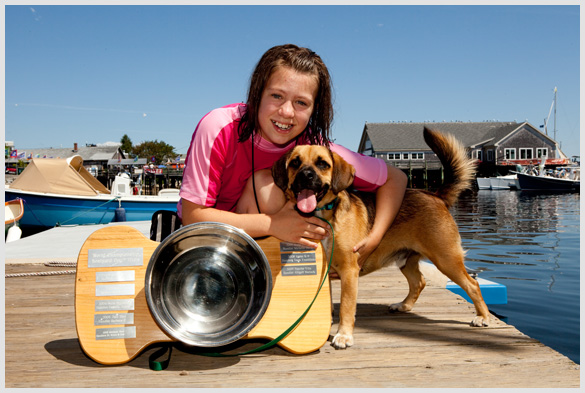 2009 Boatyard Dog Trials winner, Pancho Villa and handler Abigail Matlack.
Photo by Jeff Scher.
High resolution images are available for download at:
www.maineboats.com/boatshow/press/image-bank
---