Entries Sought for 17th Annual World Championship Boatyard Dog® Trials
Entries Sought for 17th Annual World Championship Boatyard Dog® Trials
Thursday, June 20th 2019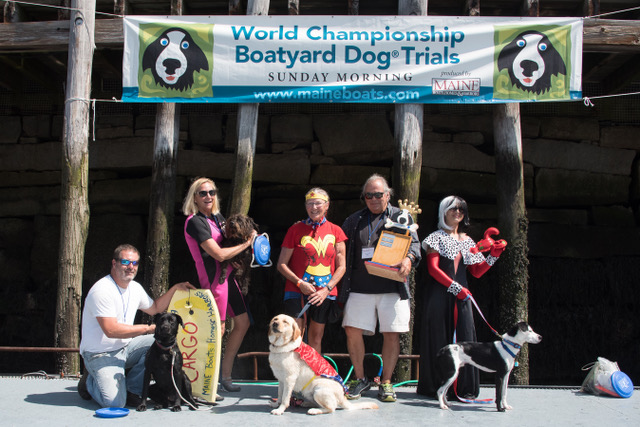 The anticipation is building for the 17th Annual World Championship Boatyard Dog® Trials. Canines and their adoring people are busy writing application letters, posing for photographs, tailoring costumes, and honing talents for the trials, which will be held Sunday, August 11, at 10:30 a.m., as part of the Maine Boat & Home Show, August 9-11, on the waterfront in Rockland, Maine.
Everyone is invited to join the fun: While preference will be given to dogs that work in a boatyard, crew on a boat, or direct operations of any kind on the waterfront (or think that they do), any well-behaved dog is eligible to apply. Extra points for originality!
Ask yourself: Do you and your dog love to watch "Lassie" re-runs? Does your dog's tail wag faster when s/he dreams of cold ocean water? Does the applause of the crowd entice you both to strut your stuff? If so, you're a "paw-in" to compete in the World Championship Boatyard Dog Trials. Dogs (and their handlers) who are chosen for the quirky competition might be asked to navigate an obstacle course on a tippy dock, clamber in and out of a dinghy, or fetch objects from the water. Either dog or owner must end the segment completely soaked.
It's easy to cast a paw into the ring for a chance to act foolish before an adoring crowd. To do so, just e-mail a letter of interest, a flattering high-resolution photograph, and daytime contact information. Extra points will be given for humor; this is NOT a serious competition.
Submissions are due by July 1, 2019, send to byd@maineboats.com Finalists will be notified by July 8 
CLICK HERE for photos and more details
(PLEASE NOTE: For liability reasons, only bona fide service animals (preferably marked as such) and the field of predetermined trials competitors are allowed on show grounds. Please plan accordingly and leave all other pets at home.)
17th Annual Maine Boat & Home Show
 
INFORMATION 
AT A GLANCE
August 9-11, 2019, Harbor Park, Rockland
The show was founded in 2003 by
Maine Boats, Homes & Harbors
magazine. Held annually on the second weekend in August on the waterfront in Rockland, the event attracts thousands of discerning attendees from all over the country and world. The three-day event is also Maine's only in-the-water boat show. 
Adult tickets are $15, available online or at the gates (kids under 12 get in FREE!). Special Access Passes, which include parking and other perks, are also available. Gates open at 10 a.m. daily.