Value of Maine's lobster landings drops by $100 million
Value of Maine's lobster landings drops by $100 million
Friday, March 2nd 2018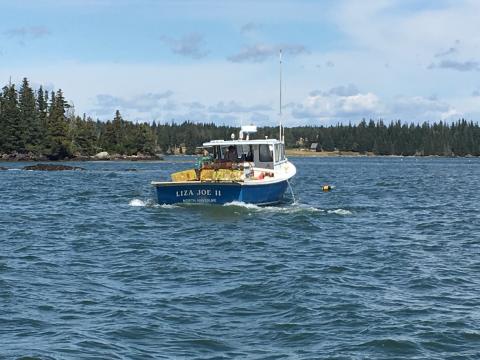 While lobster remains Maine's most important fishery, the value of the state's lobster catch declined 16 percent between 2016 and 2017. In addition to a drop in per pound value, lobstermen also landed 22 million pounds less than the previous year.
Despite the decline, the annual landings value of $433.8 million remained the fourth highest value ever for Maine's iconic fishery, according to data released by the Maine Department of Marine Resources.
"The past year has underscored what I've been saying for years now — that change is inevitable and we must be prepared," said Maine Department of Marine Resources Commissioner Patrick Keliher. "This year's decline in lobster landings is by no means a signal that the sky is falling. But it does highlight the need to make sure our management measures adapt to change. This is true for all fisheries. It is the best way to ensure resilience of our marine resources and opportunity for future generations."
Overall in 2017, Maine commercial fishermen once again landed more than a half-billion dollars' worth of marine resources. At $569 million the total value stands as the fourth highest ever and marks only the sixth time that Maine harvesters have surpassed $500 million. Lobster landings in 2017 were the sixth highest on record at 110.8 million pounds. A drop in per pound value from $4.08 in 2016 to $3.91 a pound in 2017 contributed to the $106 million drop in value.
According to National Marine Fisheries Service data, American lobster was the species of highest landed value in the U.S. in 2015 and 2016, and Maine's landings accounted for approximately 80 percent of that landed value in 2016.
Herring, the primary bait source for the lobster industry, again represented the state's second most valuable commercial fishery in 2017 at $17.9 million on the strength of a record per-pound price of 27 cents. Harvesters landed 66.5 million pounds, most of it in-shore.
Despite a drop of nearly 4 million pounds landed and a dip of $3.8 million in value, Maine's softshell clam industry remained the third most valuable commercial fishery at $12.4 million.
"Landings declined in part due to closures associated with harmful algal blooms," said DMR Public Health Bureau Director Kohl Kanwit. The decline in value is due in part to reported increases in supply of softshell clams from outside Maine, which affected the demand and value for Maine clams.
Maine elver harvesters enjoyed another season in which their fishery was by far the most valuable on a per pound basis. Harvesters landed 9,343 pounds. At $1,303 a pound, the elver fishery was valued at $12.2 million, the fifth highest per pound and overall value in the history of the fishery.
Maine scallop harvesters landed the most scallops since 1997, bringing ashore 793,544 meat pounds, a nearly 45 percent jump from 2016. At $9.3 million, scallop landings had the highest overall value since 1993.
"Management measures developed in cooperation with industry are definitely yielding good results," said DMR's Keliher said. "Maine's scallop fishery continues its impressive rebound thanks in large part to harvesters whose compliance with area closures and limits have been critical to the success of this fishery."