Front Street begins work on major new building
Front Street begins work on major new building
Friday, May 11th 2018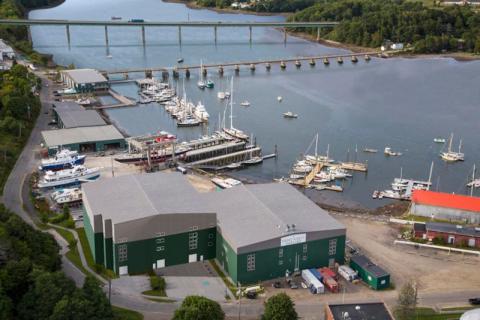 Front Street Shipyard in Belfast, Maine, has finalized the financing to begin construction of a new facility adjacent to its existing yard on the Belfast waterfront.
With the combined support of the City of Belfast, regional banks, and state and federal organizations, the shipyard completed the purchase of a city-owned parking lot and secured a loan to construct a 22,500-square foot building on the property. The new facility will accommodate large yacht refits and commercial vessel construction projects while adding approximately 40 more full-time jobs at Front Street Shipyard.
Known as Building 6, the new facility will go under construction immediately now that financing is secure, company officials said in a May 11 release.
The City of Belfast is financing Front Street Shipyard's purchase of the property for the building, and financing for the construction is coming from Androscoggin Bank. Androscoggin Bank and the Small Business Administration (SBA) will share the long-term mortgage, which is backed by Finance Authority of Maine (FAME). Maine Technology Institute (MTI) is providing a development loan that will fund Front Street Shipyard's purchase of overhead cranes for Building 6.
"This expansion is only possible through the unwavering support of many institutions, organizations, regional officials and our local community," said JB Turner, president of Front Street Shipyard. "Their confidence in our ability to continue growing business, adding jobs, and enriching tourism to the region is humbling. The entire team at Front Street Shipyard is committed to filling our new facility with multifaceted projects and expert craftspeople to take on those projects."
Building 6 will streamline work on large vessels at Front Street Shipyard. The new facility will be tall enough to allow the large 485-ton mobile hoist to drive boats inside, maximizing space and reducing the need for additional support equipment. Front Street Shipyard's hoist is the largest in northern New England, making the yard an attractive option to yacht and ship captains in need of repairs or maintenance.
The new building is expected to be complete by this fall. Maine Coast Construction of Camden is building the new facility, which is a Varco Pruden metal building like other sheds in the shipyard. Gartley & Dorsky of Camden are engineering the building. John Hansen of South Thomaston is Building 6's architect. The existing marina and workspaces at Front Street Shipyard will operate uninterrupted during the construction of the new facility. More information about Front Street Shipyard is available online at frontstreetshipyard.com.
Above: a rendering of the new building as it will look when completed.