Hinckley acquires Morris Yachts
Hinckley acquires Morris Yachts
Tuesday, January 5th 2016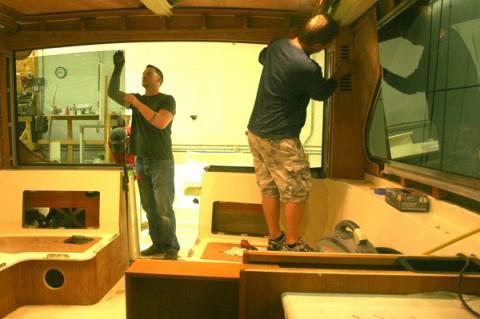 Hinckley kicked off the New Year by announcing that Morris Yachts has become a part of The Hinckley Company family. Hinckley acquired the assets of the Mt. Desert Island area sailboat builder on January 1 and plans to continue Morris' boatbuilding and service operations in Downeast Maine under the name of Morris Yachts, LLC.
Both companies build fine quality yachts within a quarter mile of each other in Trenton, Maine and with the new arrangement about 380 craftsmen, engineers and technicians will provide a deep pool of talent for the building of world-class yachts.
Morris Yachts was founded in 1972 by Tom Morris in Southwest Harbor and has built over 300 sailboats. Tom's son Cuyler Morris took over the company in 2001. Pete Carroll joined Morris as president this past year.
Founded in 1928 in Southwest Harbor, Maine, Hinckley has expanded since then to include six service facilities in Florida, Georgia, Maryland, and Rhode Island. The company has around 700 employees, including the 380 in Maine. Hinckley has developed yacht technologies including the JetStick, and was an early developer of the fiberglass hull. Hinckley's present yacht line includes powerboats such as the company's line of iconic picnic boats, and sailing vessels, including the new Bermuda 50.
In the late 1990s, Hinckley opened a manufacturing facility off Route 3 in Trenton where it builds most of its boats. Hinckley was purchased in 2010 by Scout Partners LLC, which in turn bought Hunt Yachts in 2013. Morris began building yachts at its Trenton facility in 1999. The company also operates a service yard in Northeast Harbor.
Morris owners will be welcomed at any of Hinckley's east coast service yards from Maine to Florida, according to a press release from Hinckley.

Roe O'Brien, director of marketing for Hinckley, said Tuesday that no other immediate operational changes have been planned as a result of the acquisition, and that Hinckley "has no immediate plans to stop building anything in Morris's current lineup. She said additional details about the purchase were not available.

"Hinckley is thrilled to have an even greater pool of talent building products for us," she said, "and we are also eagert to create the same high level of customer satisfaction among Morris owners that exists among Hinckley owners."
The photo above shows a Hinckley Talaria 43 under construction