Students start paddle company
Students start paddle company
Wednesday, November 18th 2015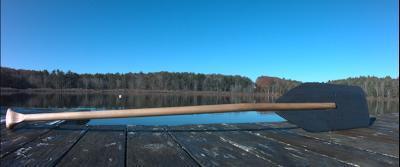 Are you still looking for a nice gift for the paddler in your life? Students in a marketing class at Boothbay Region High School have designed a lovely light-weight paddle that they are now selling through a company they started: Boothbay Paddle Company.
The shaft on the paddles is made from ash wood with a 14 degree bend just above the blade, which is made from lightweight carbon fiber. The paddles are for sale for just $65 each.
The class of 17 students were tasked with creating, designing and producing a quality consumer product. They came up with the idea for the paddle, designed one and now are marketing the actual products. They have set up a web site where customers can place orders, https://sites.google.com/a/csd3-brhs.org/boothbay-paddle-company/home.