Bon Voyage nears French coast
Bon Voyage nears French coast
Tuesday, November 17th 2015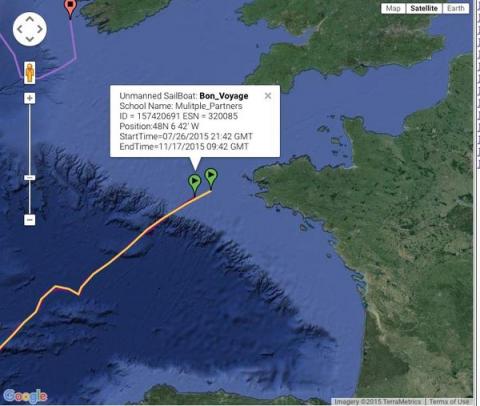 Remember the little unmanned boat launched last summer from the French frigate LHermione as she head back across the ocean? Well after quite a bit of meandering back and forth around the North Atlantic, Bon Voyage is nearing land in Europe.
Bon Voyage is part of project run by Belfast, Maine-based Educational Passages. The organization distributes these five-foot long unmanned boats to groups of school children who then follow their progress (via GPS devices mounted in the boats) and learn about geography and science on the process.
This particular boat's sponsors included the Adams School in Castine (shown here holding the vessel aloft before launching) and Maine Boats, Homes & Harbors Magazine, which has offered a free subscription to whomever finds the vessel.
We heard this week from Educational Passages asking for assistance in collecting Bon Voyage in Europe, hoping someone can retrieve her before she makes landfall to avoid any damage from the shoreline.
You can track all of Educational Passage's boats here: http://www.nefsc.noaa.gov/drifter/drift_ep_2015_1.html
L'Hermione left Nova Scotia, headed home to Rochefort, France, on July 25. She arrived home on August 29. It's taken Bon Voyage, which the crew on L'Hermione released into the Atlantic Ocean on July 27 off the coast of Nova Scotia, quite a bit longer. She seems to be headed for the coast of Brittany, quite a bit north of Rochefort.

Please help spread the word so someone can find Bon Voyage and help her on the next stage of her voyage.