Book Review: A Place Called Maine
24 authors on the Maine experience
By Janet Mendelsohn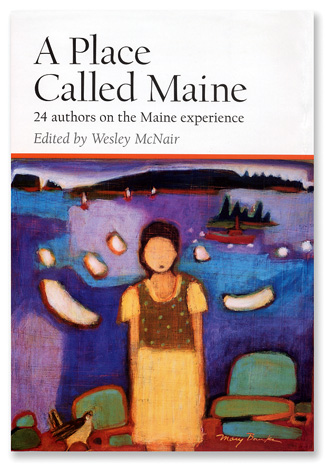 A Place Called Maine: 24 authors on the Maine experience
Wesley McNair, Editor Down East Books (2008); 301 pages, hard cover, $25
Creating a Lasting Impression
The words "anthology" and "essay" conjure up English literature class assignments. They are arguably among the least understood or appreciated sections of the bookshelf, which is a shame because the short form often lends itself to the most perceptive writing. Essays are as perfect for folks with short attention spans as for those who relish reading a complete idea or story in one sitting, then setting it aside to absorb. Like master quilters or record album producers, the best anthologists select and arrange pieces with a vision for the finished whole, creating a lasting impression. It truly is artistry. Although editors generally work their magic without fanfare, Wesley McNair deserves a bit of the spotlight because he personifies the editor as artist. His latest canvas is
A Place Called Maine: 24 authors on the Maine experience
, McNair's fourth anthology of work by some of the best writers in the state. As editor, McNair is craftsman/curator/conductor/director and thoughtful reader rolled into one. Variously intimate and broad-brush, the two dozen personal essays and book excerpts he chose for this collection flow from Henry Beston's lyrical observations on winter to Carolyn Chute's brief, impassioned plea directed at her ancient logging truck to keep working 'til the bills are paid. Each of the book's 24 distinctly different voices is wonderful on its own. Together, they create a multi-layered portrait of a sometimes hard, often beautiful place that is marked by the passage of time and undeniably magnetic. Several of these same novelists, poets and nonfiction writers contributed to McNair's earlier collections, a repertory cast that includes Richard Russo, Richard Ford, Cathie Pelletier, Robert Kimber, and Bill Roorbach. Here they are joined by such eminent authors as E.B. White, Louise Dickinson Rich, Rachel Carson, former Maine poet laureate Baron Wormser, and others widely admired for their work, both classic and new. The selections here are written by both natives whose Maine roots are generations deep, and by newcomers trying to understand the realities of life beyond the clichés. The latter aspire to be accepted, if not welcomed, at times acknowledging their difficulties fitting in with honest, self-deprecating humor. In "My Mexico," Monica Wood savors the reasons the place where she grew up will always be her home even after thirty years in Portland. "Everything that ever happened to me—everything worth writing about—happened here. Mexico will always be the place where my father died, where the Yarnishes' crow hollered down the street all day, where we began every school morning with a loud bonjour, where we helped our neighbor sew shoes for an industry that finally moved overseas, where we watched strangers in car after car drive past us, through us, checking their wristwatches or folding crinkled maps, road-weary and unseeing and aimed elsewhere." In an excerpt from "The Edge of Maine," Geoffrey Wolff, of Bath, describes his comeuppance in a blanket of fog while sailing from Cape Cod to Monhegan Island. In "Of Moose and a Moose Hunter," Franklin Burroughs remembers the mutual awareness of man and animal in the wild and the awkwardness of his suburban Bowdoinham neighbors when a local man bags a heifer; he mulls the continuity of man and nature as he anticipates fishing up north with a fly wrapped with strands of mane from that moose. E.B. White, in "Once More to the Lake," from his essay collection, One Man's Meat, writes of returning to the camp where his father brought the family every August of his childhood. "I have since become a saltwater man," writes White, "but sometimes in summer there are days when the restlessness of the tides and the fearful cold of the sea water and the incessant wind that blows across the afternoon and into the evening make me wish for the placidity of a lake in the woods." With bass hooks and a spinner, accompanied by his own son, he goes where in childhood everything felt remote and primeval, and largely still does. The bass are biting and when they get back to camp, they marvel at finding the lake exactly where they left it, "the same number of inches from the dock." Every sound, every scent is familiar, but when his boy joins others swimming in the rain, he senses parental fear. Towards the end, Wesley McNair, a poet and professor emeritus at the University of Maine at Farmington, includes an essay of his own. With snips of poetry and of a life shared with friends and fellow writers on his beloved Drury Pond, he cherishes the solitude of mornings on the porch, beginning each day with their distant presence while he conducts his own interior conversations.
——Janet Mendelsohn
Share this article:
2023 Maine Boat & Home Show

Join Us for the Maine Boat & Home Show!
Art, Artisans, Food, Fun & Boats, Boats, Boats
August 11 - 13, 2023 | On the waterfront, Rockland, Maine
Click here to pre-order your tickets.
Show is produced by Maine Boats, Homes & Harbors magazine.