Review — Black Fly Stew: Wild Maine Recipes
A cookbook by Kate Krukowski Gooding
By Janet Mendelsohn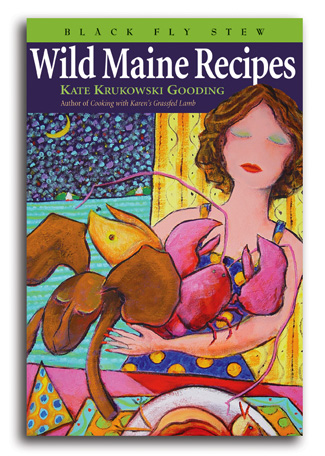 Black Fly Stew: Wild Maine Recipes
by Kate Krukowski Gooding Northern Solstice Publishing (2007); 225 pages, $19.95 Available in bookstores or at
www.blackflystew.com
If a contest were held for the official Maine State Recipe, it would be tough to choose which dish to enter from Kate Gooding's cookbook,
Black Fly Stew: Wild Maine Recipes
. Bear Bourguignon or Maple Moose Barbecue could be strong contenders. But then one might cave in to the Baby Boomer Whoopie Pies, updated with espresso powder, or Spicy Island Venison, with coconut milk and curry, or perhaps South of the (Canadian) Border Marinade, which the author claims has enough heat to warm you from the inside after shoveling out from a winter storm in "The County." Gooding's own nominee would be Warm Black Fly Vinaigrette, she said during an interview for this magazine. A tasty, not-too-sweet dressing for mixed-greens salad, it was a hit among friends at my house when I served it (until I divulged its name). Fortunately, poppy seeds stand in for the unofficial state bird. Gooding and her husband live on Mount Desert Island and in Portland. She's been cooking a lot of moose since winning the lottery last year—the moose lottery, that is, the method by which moose-hunting licenses are granted. Thai Moose, Moose and Bar Harbor Stout Chili, and Roasted Walnut and Mushroom Moose Loin are creations that made the cut after repeated testing and tasting by her circle of friends. Gooding spent every childhood summer in Jackman before moving from Connecticut to Portland 25 years ago and has eaten game most of her life. She avoids eating anything with antibiotics and hormones added, and told me: "Chicken's not worth eating unless it's free range." Her kitchen is kept stocked with game by friends, and by her brother, a Maine Guide. On game versus commercially available red meat, Gooding told me there's little comparison. "Other than beef filet or tenderloin," she said, "red meat tastes bland compared with venison, beaver, elk, bear, caribou, and moose, which are lean and flavorful. Part of their gaminess and taste comes from how the hunter got the animal and how it was then treated. When adrenaline rushes into the meat, it gets tougher. If a deer is shot, and the meat is hung and handled quickly rather than paraded around in warm weather in the back of a truck, it's tastier." I'm a city girl so I had to ask, "Beaver? Really?" "I usually get beaver in January," Gooding said, "but I just made beaver stew from one caught in March [we spoke in mid-April] and it has a different flavor. You won't see beaver on restaurant menus, but it's not at all tough, depending on how you prepare it. Like all game and poultry, it depends on what they've been eating. With duck you can sometimes tell what their last meal was. If they ate a lot of marshy stuff—dirt and greens—they taste almost muddy, but fish makes them taste fishy." Gooding recognizes that not everyone has access to wild game. For those who neither hunt nor trap, and don't know anyone who does, the book suggests "alternate critters" whose meat is appropriate for some of the recipes throughout the book. She also said that buffalo or grass-fed beef can usually be substituted. At Gooding's upcoming twentieth annual Winter Solstice Party, she plans to again cook dishes from her book. Maybe mac-and-cheese with Maine lobster, or cedar-smoked salmon, but then again she might go with rabbit, grilled chicken, wild turkey, or something with a Caribbean tang, such as her Grilled Swordfish with Mango Salsa. During travels abroad, she always asks about indigenous dishes, then buys the local spices. There is a special section in her book on spices, sauces, and marinades, tucked between a chapter on desserts that are sure to sell at the next fire-station fundraiser and beverages for the next "It's Five O'Clock Somewhere" celebration. Nobody had a good recipe for goose, said Gooding, so she created her own. In her Smoked Wild Goose recipe, the bird is soaked for 24 hours in a brine of soy, pineapple juice, garlic, onion, ginger, and sherry, then smoked. Did I mention her Vietnamese Spring Rolls with Peanut Sauce or the Maple Apple Pie?
——Janet Mendelsohn
Share this article:
Digital Edition Available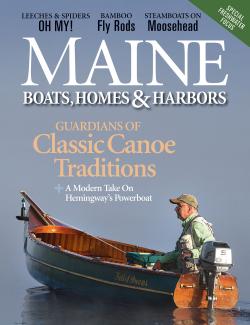 Can't get to the store to buy your magazine? We deliver the stories of Maine's coast right to your inbox. Sign up here for a digital edition.