Speedy: The Boat That Moved Me
Vacations in Maine turned into something more permanent
By Jonathan McDevitt
Photos by Emily McDevitt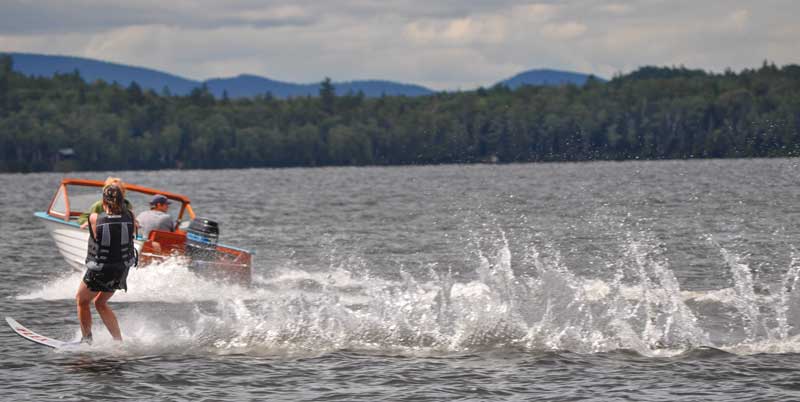 I once lived in Nashville, Tennessee, and summered in Maine. A rotation loved by my family of four, anchored by the summer road trip that carried us from here to there. It was upon one such drive north that I first saw, on the side of the road near Wayne, Maine, the boat that would move me. Literally. Visions of long summer days on a sparkling lake in Northern Maine, my hand on the wheel of this classic boat, filled my head as I drove the final hours of a four-day road trip. But who was I kidding? I lived in Nashville, after all.
Yet, the following spring, I discovered the very same boat on the Androscoggin Wooden Boat Works website. This time, I wouldn't turn down the chance to take a closer look. She was nearly all original, was beautifully restored, and had the bow-flare and tapered transom lines that only a wooden lapstrake boat can have. Within 30 seconds I knew I was leaving with her in tow. After all, I'd had a year to reconcile my Nashville roots with the ownership of a classic boat in Maine. My wife's family camp had a nice empty bay in the barn for off-season storage, and it was high time my boys learned to water-ski and drive a boat. And with that, Speedy, as she was named by my two sons, found her new home on Lower Shin Pond near the North Entrance to Baxter State Park. Little did I know at that time that she would lead me, and my family, to our future new home in Maine.
Speedy is a Cruisers, Inc. Seafarer 202, an odd designation given her 16-foot length.  Cruisers was a sub-brand of the famed Thompson family of boatworks in Onconto, Minnesota. Made in 1961, Speedy is a rare survivor from the last decade of widely produced wooden lake boats. In the late 1950s and early 1960s the Cruisers brand was producing as many as 3,000 wooden boats per year. By 1966, with the growing popularity of low-maintenance, mass-produced fiberglass boats, Cruisers eliminated production of wooden boats entirely. Today, most of these proud and beautiful lake boats have long since disappeared, along with the craftsmanship that made them.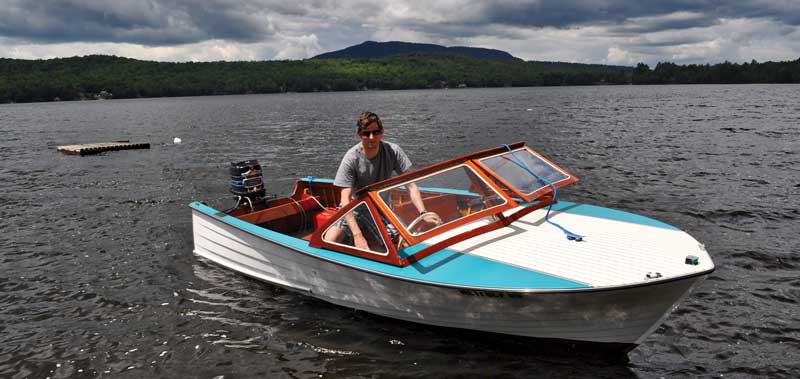 Speedy is as comfortable rocketing across the pond during a family reunion full of water-skiing as she is slowly coasting into the dock, about to pick up evening passengers as the sun sets on another perfect summer lake day in Maine.
Speedy is built of fir plywood laps with white oak ribs, and solid mahogany transom, seats, and console. The forward deck is painted canvas over fir plywood, and the cockpit dash is still adorned with the original Seamaster speedometer and tach. Chris Cushman of Androscoggin Wooden Boat Works restored Speedy in 2010. Cushman is known for his meticulous Lyman restorations, but couldn't pass up the chance to bring this well-preserved little boat back to life. Other than a lap or two, and an ash transom knee for added strength, Speedy is an all-original classic.
Powered by a 1972 Mercury Thunderbolt 500, Speedy is strong enough to pull an adult water-skier, and also the young men who required the use of a lake boat to establish their Maine summer waterskiing skills. Her stability is remarkable given her light weight of 700 pounds. Speedy cuts the light chop so common to summer afternoons to an imperceptible level, and handles like a well-balanced sportscar; just ask my wife, who enjoys an evening cocktail while perched on the mahogany seat, engaged in the role of spotter to our boys rocketing along behind on the tow rope.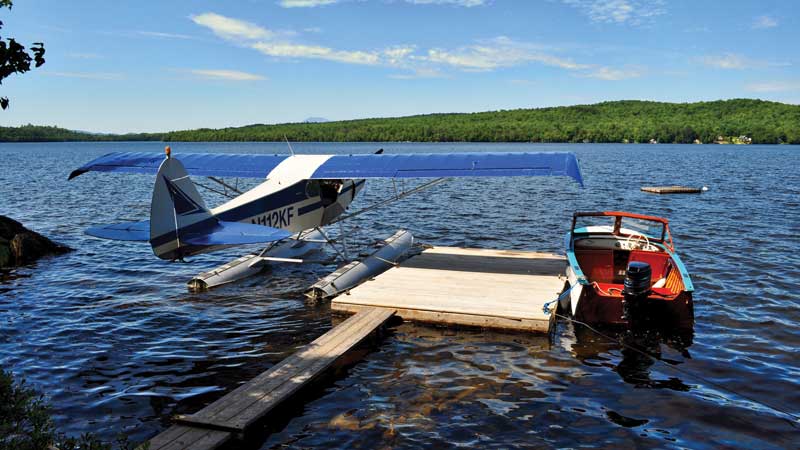 Speedy at rest on Lower Shin Pond with her dock mate, the family Piper Super Cub.
With Speedy at the dock, our summers in Maine flew by as fast as she carried us around the beautiful lake of which we'd daydream upon our too-soon return to the heat and humidity of late August in Nashville. And so, it was with the love for a classic wooden boat on a summer lake in Maine, that I began not only to dream of, but to plan for, a move to Maine.
Nearly 10 years after Speedy joined the family she is still a foundation of our summers on Shin Pond. We look at Katahdin to the south, and Mt. Chase over our shoulder to the north. Speedy bobs alongside the dock, not only in July and August, but also June and September, and even October. Because the only way to make that picture any prettier was to add a permanence to it. And so, we did. Thanks in part to our beautiful classic boat Speedy, Maine, became our perfect fit, and our permanent home.  N
---
Jonathan McDevitt moved to Camden, Maine, in the summer of 2012. He, his wife Emily, and their two teenage sons spend as much time as possible at their camp on Lower Shin Pond.
Share this article:
Digital Edition Available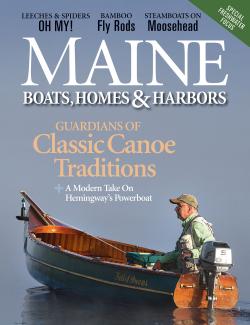 Can't get to the store to buy your magazine? We deliver the stories of Maine's coast right to your inbox. Sign up here for a digital edition.