Schooner Rebuilds
A.J. Meerwald and Ernestina-Morrissey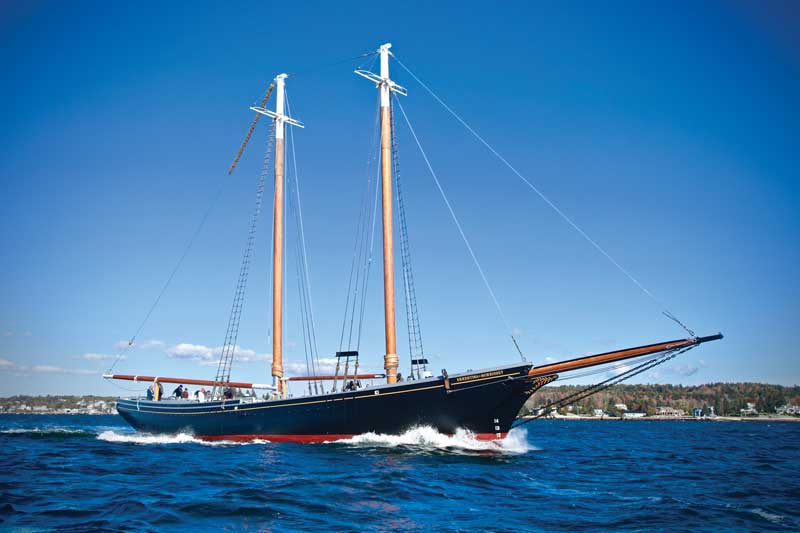 After an eight-year refit at Bristol Marine's Boothbay Harbor yard, the Ernestina-Morrissey underwent sea trials prior to delivery to New Bedford, MA.  Photo by Robert Mitchell
The recent restoration of two iconic schooners, the A.J. Meerwald and the Ernestina-Morrissey, mark a growing trend. Maine boatyards have become the go-to resource for major wooden ship repairs and refits, attracting vessels from throughout New England. Not only is this trend good for Maine's maritime economy, but it's also providing an opportunity for the state's experienced craftsmen to pass their skills to the next generation.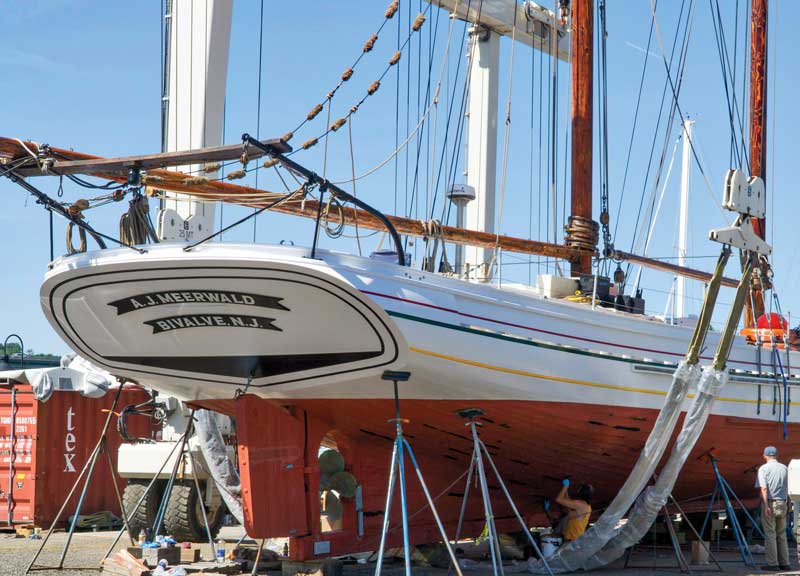 The A.J. Meerwald, after an 11-month, 15,000-man-hour restoration, awaits launching. Photo by John Brady
A.J. Meerwald
In September of 2021, the non-profit Bayshore Center at Bivalve selected Clark & Eisele Traditional Boatbuilding, a Maine-based boatbuilder, to execute a $1 million refit of the A.J. Meerwald, New Jersey's official tall ship. Launched in 1928, the A.J. Meerwald arrived in Belfast with an ambitious work list and a tight, 11-month deadline for boatbuilders Tim Clark and Garret Eisele.
The initial work order called for replacement of the ship's deck, 30 planks, cabins, bulwarks, and knightheads. Despite the tight deadline, the scope of work continued to grow as the demolition process yielded more issues. By the time the A.J. Meerwald sailed for home, the work crew had also replaced the entire transom and affected repairs to the mast and spars.
"The cool thing," said Eisele, "is that the ship had to come to midcoast Maine to find the talent and capacity for large-scale, historical restoration projects. I'm so ridiculously proud of the team we assembled and the fact that we had all the skills and materials within 20 miles to pull the project off."
Clark and Eisele bill themselves as primarily a two-man, mobile company. "We're not a big restoration company with a fleet of vehicles and a bunch of office workers," Eisele explained. "It was really me and Tim with a couple of old, beat-up pick-up trucks and some talented friends who knocked this project out. It's something Maine can really be proud of—that we have the skilled people and resources in this state to handle a job like this."
In all, the project required 15,000 hours of skilled labor. "At the peak, we had a crew of 14 working on the project, with a core crew of around seven. We were able to scale the crew to meet our timeline."
"When change orders started rolling in, it was amazing how easy it was to reach out to the Maine community to fill those needs," Clark said. "For example, when the hawse pipes were deemed unusable, we tapped local metal worker Andy White to fabricate exact matches of the original cast hawsepipes. Andy would build up weld after weld after weld, and then grind them down by eye until the new pipes were identical to the cast originals."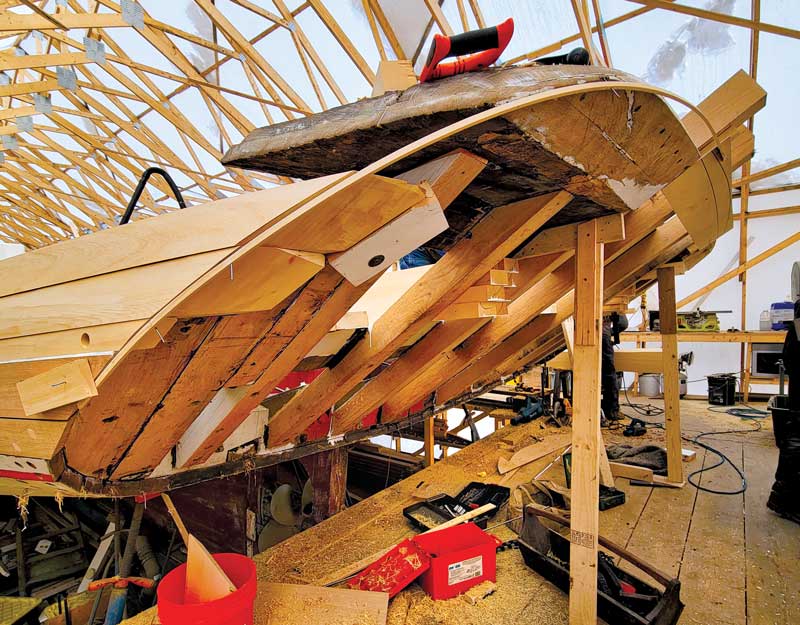 The A.J. Meerwald restoration included an unplanned rebuilding of the ship's entire transom. Photo courtesy Clark & Eisele
Getting lumber was a massive undertaking. The job directive required using materials that would have been native to New Jersey. "You just can't call somebody up and get it delivered—you have to go and get it yourself," Eisele said. "You have to find a guy in the woods with a sawmill, and then go down and direct every single cut in every single log. As the chief wood-
getter, I spent three months traveling, sleeping in a tent in people's back yards, living out of my truck with my dog, and eating gas-station food. That's what it took to source some 12,000 board feet of white oak for this project."
The greatest challenge in meeting historic preservation standards was the reconstruction of the main cabin. "They asked us to preserve the interior because it was original to the boat when she was launched in 1928. We had to come up with a clever way to build a new cabin trunk and then be able to put the old beadboard interior back into this very asymmetrical, very wonky cabin," Clark said.
Shipwright Aaron Freeman was assigned the cabin project, and it became his full-time job. It was his responsibility to disassemble and remove the beadboard, and carefully number and photograph each piece for re-assembly. He then rebuilt the cabin, exactly matching all the beams, corners and trim so the 94-year-old beadboard with original notches and cut-outs could be reinstalled without modification.
The work order also called for saving the varnished overhead beams in the main cabin. Some of the original beams were intact, while others were structurally compromised. "We came up with a way to build structural rigidity back into the beams but have them retain their original appearance," Clark recounted.
Freeman removed the compromised beams, ran saw kerfs along the lengths, and then chiseled out the inside of the beams, leaving a shell with ¾" walls. New laminates of Douglas fir where then built up inside the shells of the old beams.
In the end, the Clark and Eisele team delivered the A.J. Meerwald on time and on budget, despite incurring change-orders representing 24 percent of the total budget.
Ernestina-Morrissey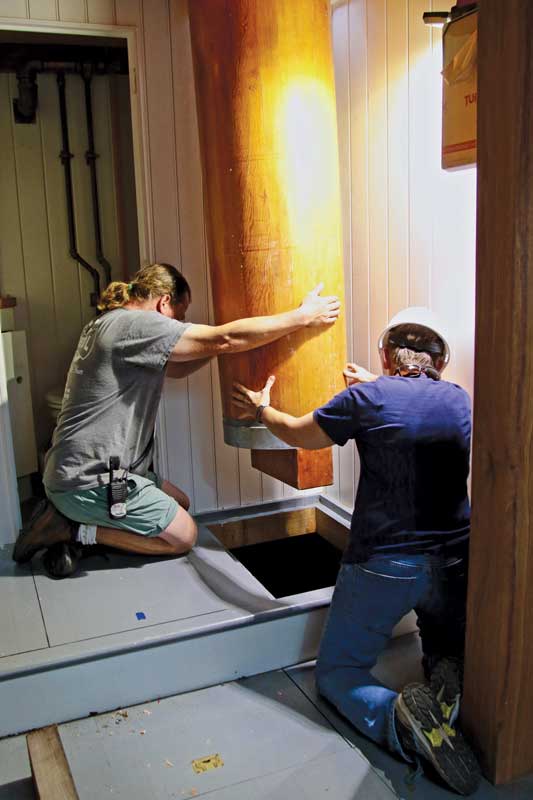 The Ernestina-Morrissey receives her new old-growth Douglas fir mast. Photo by Robert Mitchell The Ernestina-Morrissey arrived at the Bristol Marine docks in Boothbay Harbor in 2014. Eight years and an epic restoration and refit later, the 128-year-old Gloucester fishing schooner departed Maine waters for her home port of New Bedford, Massachusetts, and a renewed life has a sail-training ship for Massachusetts Maritime Academy and the State of Massachusetts.
The Ernestina-Morrissey was built at James and Tarr Shipyard in 1894 as a Gloucester fishing schooner. She then was engaged in Arctic exploration and research through World War II. Most importantly, she served in the packet trade transporting various cargos, as well as safely delivering immigrants from the Cape Verde islands to the United States. In 1982, the schooner was gifted to the State of Massachusetts by the citizens of the Cape Verde Islands in recognition of her service to the islanders.
"The Ernestina-Morrissey is starting her next chapter as an all-ocean sail-training ship," reported Dennis Gunderson, general manager of Bristol Marine's Boothbay Harbor yard. "It's been a long and arduous journey involving hundreds of very skilled Maine shipwrights, carpenters, riggers, painters, mechanics, electricians."
When she arrived in Boothbay Harbor, her future was unclear. It was obvious that the vessel was either at the end of her life or was in dire need of a massive restoration. However, the Ernestina-Morrissey has a well-earned reputation as the "Phoenix of the Seas" for her history of fires, sinkings, and subsequent resurrections. She tends to start a new life every decade or two, according to Gunderson.
"The refit undertaking was massive. There are only a handful of components now on the vessel that are original to when she was launched. The vessel is completely new, yet identical to her original shape and form. We systematically disassembled and rebuilt her from the keel up."
The Ernestina-Morrissey is plank-on-frame construction—sawn oak frames, oak planking, trunnels, and bronze fasteners. The materials, Gunderson said, are arguably some of the best in the world. "For example, the hull planking is solid white oak sourced from a Royal Forest in Holland—a forest that was planted 200 years ago specifically for wooden ship construction and repair."
Her spars are Douglas fir, equally impossible to find. In a testament to the Ernestina's good fortune, the builders were able to get access to more than 10,000 board feet of Douglas fir from Vancouver Island, BC. "By law, these old-growth Douglas firs are illegal to harvest. However, when a tree falls by natural causes, the wood becomes available. And as Ernestina's luck would have it, a storm took down a massive tree, and that single tree supplied all the ship's Douglas fir needs," Gunderson said.
"The wealth of ship-building talent and skill in Maine is here because there is a significant, active fleet of wooden ships in service. Maine is unique," Gunderson said. "On any given day you're going to see one or more wooden schooners of 60' to 100' cruising the coastline. It's this density of large boats and their owners who are committed to maintaining and utilizing these ships that supports a
small army of skilled workers practicing century-old skills and craftsmanship."
"In other parts of the country, you may see a ship here or there," Gunderson said, "but they don't have the sheer numbers that will support a robust pool of specialized craftspeople. The result, in many areas, is that traditional shipbuilding skills are drying up."
This same Maine phenomenon is responsible for a growing number of young people who are part of a resurgence in the ship-building trades as an avocation: apprentices who are enamored with ships and shipbuilding, who are learning the centuries old trades as they work on these projects under the tutelage of masters.
A case in point: At the Ernestina-Morrissey project's inception, David Sharp came aboard as the project's master-shipwright with more than 40 years of experience working on wooden ships. At the same time, David Thorpe joined the team as a junior carpenter, working under Sharp. "Over those eight years, I watched him rise to become an extremely talented shipwright in his own right, a craftsman who is now capable of taking on very complicated and extensive projects on his own, all due to his time working on the Ernestina-Morrissey, under the direction and guidance of master shipwright Sharp," Gunderson said.
Eisele, Clark, and Gunderson all agree. Maine is uniquely positioned with a strong workforce of motivated individuals who bring a combination of innovation, talent, and traditional boatbuilding skills to the shop floor.  
---
Ted Hugger owns the Cedar Crest Inn in Camden with his wife, Jill.
---
A.J. Meerwald
A Delaware Bay oyster schooner, the A.J. Meerwald was launched in 1928 by Charles H. Stowman & Sons in Dorchester, NJ. On the National Register of Historic Places, she is the State of New Jersey's Official Tall Ship.
Length on deck: 85'
LOA: 115'
Beam: 22'
Draft: 6'
Aux. power: John Deere 6068AFM 85, 230 hp
Sail area: 3,562 sq. ft.
Port: Bayshore Center at Bivalve, NJ
www.bayshorecenter.org
Restoration: Clark & Eisele Traditional Boatbuilding
357 Camden Road, Lincolnville, ME
207-992-6861
---
Ernestina-Morrissey
The Ernestina-Morrissey is the official State Ship of Massachusetts, and a National Historic Landmark as part of the New Bedford Whaling National Historical Park.
Sparred length: 156'
LOD: 110'
Draft: 13'
Beam: 24' 3"
Sail Area: 8,323 sq. ft.
Aux. power: 350-hp Cummins
Port: New Bedford, MA
www.ernestina.org
Restoration: Bristol Marine
120 Commercial St., Boothbay Harbor, ME
207-633-3171
www.bristolmarine.com