The Little Tanker That Can
Keeping island fuel tanks full
By Barney Hallowell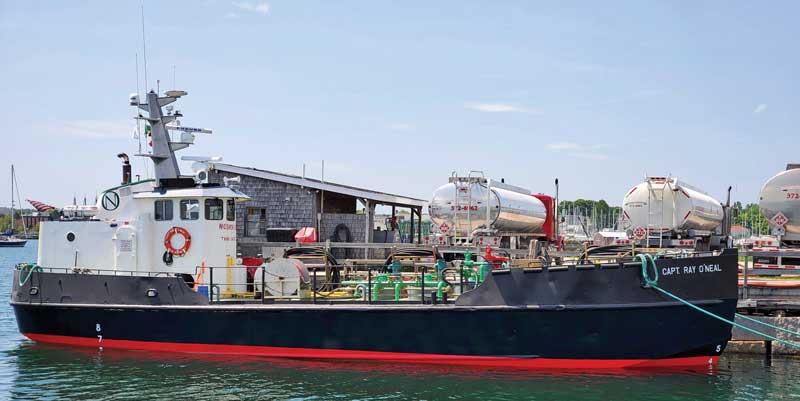 While heat pumps and solar panels are appearing on more and more homes, and Fox Island Electric Company wind turbines generate electricity for the islands of North Haven and Vinalhaven, oil-fired furnaces remain the primary heat source for most year-round residents of Maine's midcoast islands. The same holds true for vehicles; while electric cars are starting to make inroads, gasoline- and diesel-powered cars and trucks (and, of course, boats) still dominate island transportation.
Whatever one might hope for a fossil-fuel-free future, island energy needs are currently fueled by gasoline and diesel. The majority of those hundreds of thousands of gallons (perhaps even millions) of fossil fuels gets out to the islands aboard a 58', 72-ton, metal-hulled tanker named the Capt. Ray O'Neal. The vessel is captained by Dale O'Neal, president and owner of Maine Coast Petroleum in Tenants Harbor.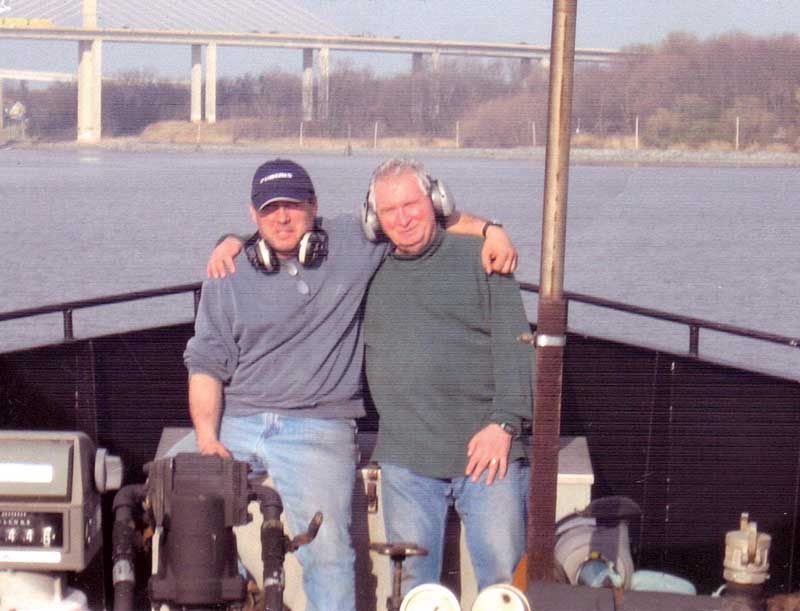 Maine Coast Petroleum President Dale O'Neal (left) named his oil tanker after his father, long-time ferry captain Ray O'Neal (right), who helped him get the boat up to Maine from Baltimore. Photo courtesy Maine Coast Petroleum
O'Neal, accompanied by a crewman, pilots his 52-year-old tanker in fair weather and foul, year-round, to island communities from Monhegan to the west as far as Swan's Island to the east.
O'Neal founded Maine Coast Petroleum in 2004 after working for two decades for Coastal Tankers Company aboard the old William McLoon and Rockland Gulf fuel-carrying vessels. He started his own company after failing to persuade the Coastal Tankers crew to upgrade their boats to meet new rules that were taking effect for tankers.
His first purchase was Anne, a small coastal tanker that he acquired from Vane Brothers Company in Baltimore. While there, he spotted another tanker named Duff (after the company's owner) that he thought would be perfect to refit to meet the new "phase out" rules for old tankers by 2015. At first, Vane Brothers was not interested in selling her, but O'Neal persisted; finally, in 2009, he acquired Duff.
With Anne still in service, he took Duff to Boothbay Harbor Shipyard where she was gutted, fitted with a double hull as required by the new regulations, and re-powered. The boat was re-named Capt. Ray O'Neal after his father, a respected former long-time Maine State Ferry Service captain who died in 2012. 
"It was quite a big undertaking," O'Neal said, "and pretty expensive—a big investment. It took about a year to get it done."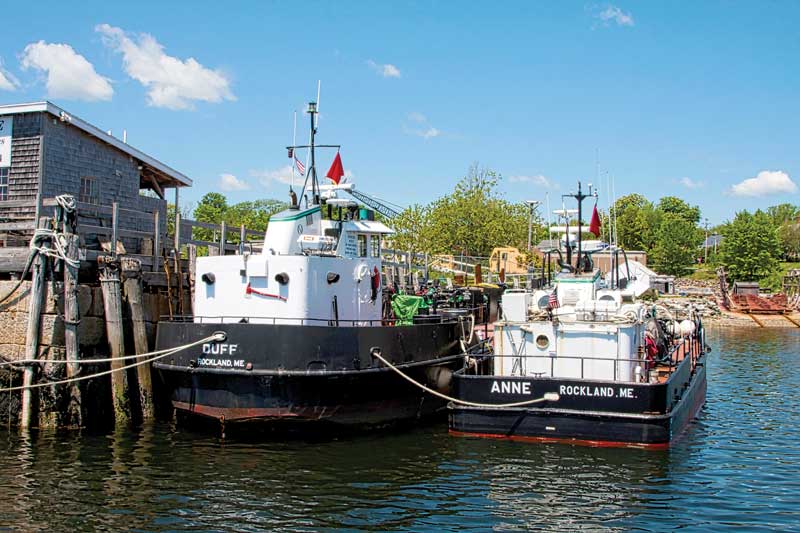 When O'Neal started the business in 2004, he acquired the Anne from a company in Baltimore, and later bought the much larger Duff, which he renamed Capt. Ray O'Neal, from the same firm. Photo courtesy Maine Coast Petroleum
The new tanker's capacity was reduced considerably to keep her under 250 barrels (10,300 gallons); anything above that would trigger additional U.S. Coast Guard requirements for customers and O'Neal wanted to spare the islands from that additional red tape. In addition, he reasoned that most of the islands didn't have large storage capabilities so there wouldn't be a need for him to deliver larger volumes of fuel. The slightly lower capacity also gave his new vessel a bit higher freeboard and shallower draft, allowing her to get into anchorages at lower tides.
"The weather and tides," O'Neal said, "are my biggest challenges and are on my mind all the time. If the wind is blowing hard out of a certain direction, like southeast in North Haven, or if the tide is too low, I can't get in and tie up in places like Brown's dock."
The Capt. Ray O'Neal has six tanks that can deliver #2 heating oil, regular gasoline, K-1 kerosene, ultra low-sulfur diesel, off-road diesel, and ethanol-free gasoline to small storage facilities on the islands. North Haven's J.O. Brown and Sons boatyard, for instance, has five storage tanks of varying capacities depending on the season. There are two 6,000 gallon tanks for heating oil and gasoline, one 3,000 gallon tank for off-road diesel, a 2,000 gallon tank for low-sulfur diesel, and a 500 gallon tank for non-ethanol gasoline, which serves only the boat dock. The Capt. Ray O'Neal is equipped with "stripping lines" that allow her tanks to be thoroughly drained and cleaned so that they can be used with any combination of fuels depending on the needs and orders of island customers. "We need a lot more non-ethanol gasoline in the summer than heating oil, but it's the other way around in the winter," said Foy Brown.
O'Neal gets his fuel from the Irving Oil facility in Searsport, delivering it in Maine Coast Petroleum trucks to Rockland where it is loaded into storage tanks or onto the Capt. Ray O'Neal—the vessel's mainland berth is alongside the fish pier in Rockland. O'Neal has six home delivery trucks, as well, to serve his mainland customers. Once the fuel oil is offloaded from the tanker into island storage tanks, the heating oil and kerosene can later be pumped into local oil trucks for delivery to island homes that depend on it to keep them warm. The fuels power island vehicles, boats, outboards, chain saws, tractors, and generators.

The Capt. Ray O'Neal heads out of Rockland Harbor loaded with fuel for island customers. Photo by Polly Saltonstall
It's a process that most people take for granted; except when it stops. Last winter, O'Neal encountered some health issues and was not able to make his regular tanker deliveries to the islands. His is the only company between Monhegan and Deer Isle that delivers fuel offshore by tanker.
While the ferry and Island Transporter brought oil delivery trucks to North Haven, a minor panic nevertheless ensued. "People were calling for oil deliveries when their tanks were still more than half full," said Brown. "They were just worried that if they ran out, there wouldn't be any way to get more." 
O'Neal was soon back to good health and making his regular island runs. When asked why he is willing to go out in Penobscot Bay in the rough conditions of a Maine winter, he insisted, "I love it! I've been doing it most of my life and I really don't know anything else." He then added, "We're careful. Our COI (Certificate of Inspection) limits us to 'reasonable operating conditions,' which we interpret to mean we won't go if the ferries don't go." But there are trips when the Capt. Ray O'Neal's decks have been awash with seawater and crewmembers have had to push through ice. "There was a time about eight years ago when there was a little ice in the [Fox Island] Thorofare and the Tackle (a USCG cutter based in Rockland) came through and broke it up so we could get out," O'Neal said, adding "I don't think we'll be seeing ice like that again."
As for the future, O'Neal thinks the need for oil and gasoline will continue for a while longer. "It's probably not going to change much any time soon," he said. He hopes to continue serving the islands for the foreseeable future. His commitment to the islands, and to all of his customers, is to "do our best to keep the cost of fuel as low as we possibly can." 
✮
---
Barney Hallowell lives in North Haven. He writes a monthly column, "East of the Breakwater," for the North Haven News, where an earlier version of this story appeared.
Share this article:
2023 Maine Boat & Home Show

Join Us for the Maine Boat & Home Show!
Art, Artisans, Food, Fun & Boats, Boats, Boats
August 11 - 13, 2023 | On the waterfront, Rockland, Maine
Click here to pre-order your tickets.
Show is produced by Maine Boats, Homes & Harbors magazine.