An Island Boatyard
It's the only business there and it's thriving
By Polly Saltonstall
Photographs by Alison Langley

The yard as it looks today perched at the edge of Cradle Cove.
Running a boatyard in a town that offers services such as stores, banks, and other businesses is challenging enough. Imagine running a yard on an island with no such infrastructure, not even a ferry.
Dark Harbor Boat Yard, perched on the northern end of Seven Hundred Acre Island, near Islesboro, in Penobscot Bay, manages to keep as many as 14 people employed year-round in just such circumstances.
Owned by four branches of a long-time summer family, the yard stores and maintains some 250 sail- and powerboats ranging from runabouts to wooden sloops and one big 48-foot Jarvis Newman powerboat. In addition, in recent years the yard has built, installed, and maintained docks and ramps for customers, and has become one of the rare local places that sells ethanol-free gasoline to boaters.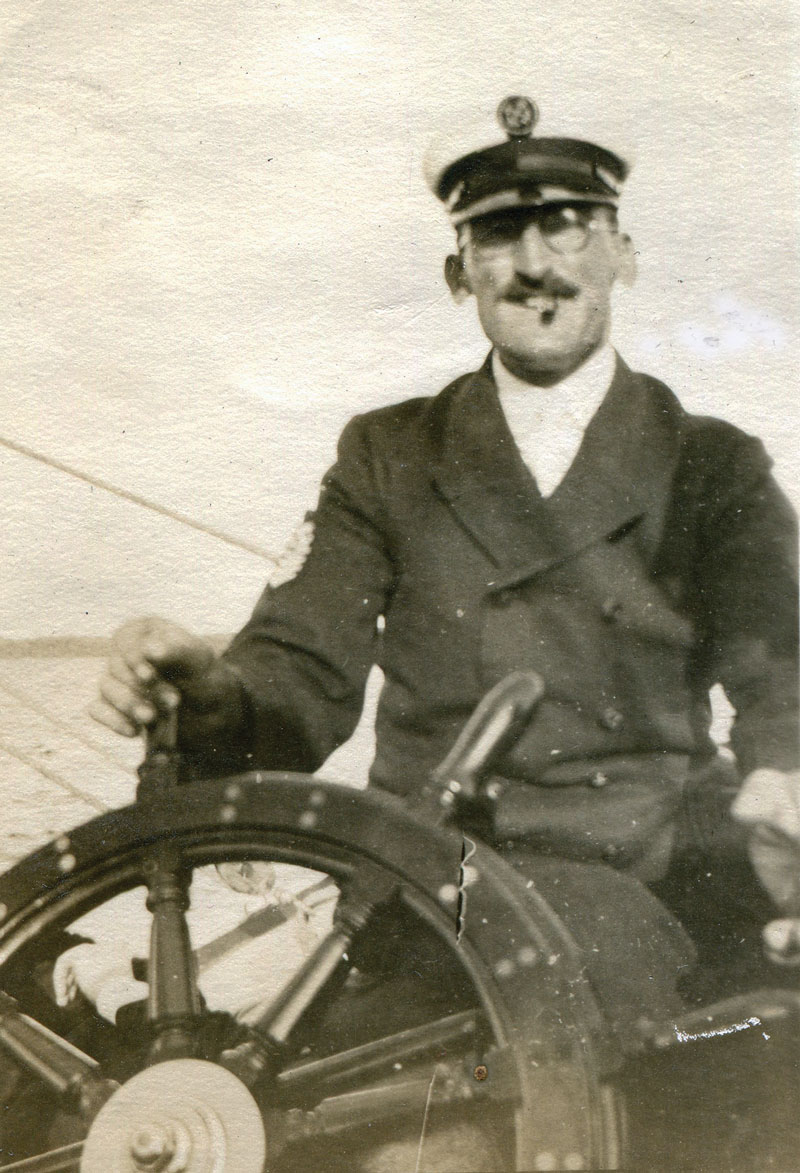 Sidney Norton started the yard in 1920 on land he bought shortly after WWI. Image courtesy David Norton The yard was started by Sidney Norton in 1920 as S.B. Norton and Son Boatyard, according to Sidney's grandson David Norton, who now lives in Boothbay Harbor. The "son" was David Norton's father Al (short for Aldiverde), who took over running the yard in the 1940s. David Norton said his grandfather might have started out working for well-known illustrator Charles Dana Gibson, who bought 20 acres on the island and built a large summer house there in 1904. Norton's Irish grandmother had been a cook for Gibson before marrying his grandfather.
Back in those days, the yard built new boats, including many of the classic Dark Harbor 20 one-design sloops that still race in the area today, as well as Dark Harbor 12s. Hulls no. 1-15 of the DH20s were built in Massachusetts and 16-21 were built by the Nortons. The plug for the last wooden DH20 ever built still hangs from a ceiling in the yard's wood shop above a workboat that was built and used at the yard in the 1950s. And many of the original DH 20s are still cared for by the yard.
Norton and his crew were kept busy during World War II building ships for the Navy. Plans for a 35-foot airplane re-arming boat still hang on the wall of the yard's oldest building, which is now the wood shop, as does a worn sign saying "No Admittance US Navy regulations."
The Nortons ran the yard until 1970, when it was bought by Charles Dana Gibson's son-in-law J.J. Emery, who renamed it Dark Harbor Boat Yard. He made some investments in the yard, including building what was then state-of-the art dry-stack storage. As many as 70 Whalers, tenders, and other small craft can be lifted up by forklift and stored on four rows of racks on each side of a building.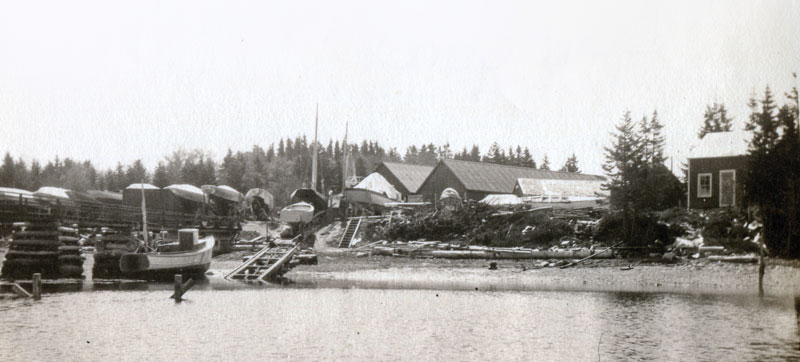 Back in the 1920s and 1930s, the Nortons took care of fleets of sailboats for summer families, first the Dark Harbor 17, and later the Dark Harbor 20s. This shot is from the 1930s. Image courtesy David Norton
Emery's descendants now run the business, with a board of four, each representing a branch of the family.
"What we are most proud of is that we are providing quality work and service and meeting boating needs within the Islesboro and Penobscot Bay area and providing 14 full-time, year-round jobs," said Dana Emery, who serves as president of the corporation's board. Those jobs include health benefits and a 401k retirement plan.
The family remains committed to the yard and the community, he added.
"We want it to be sustainable. We will never be Google or Amazon, but we provide a critical infrastructure on the island."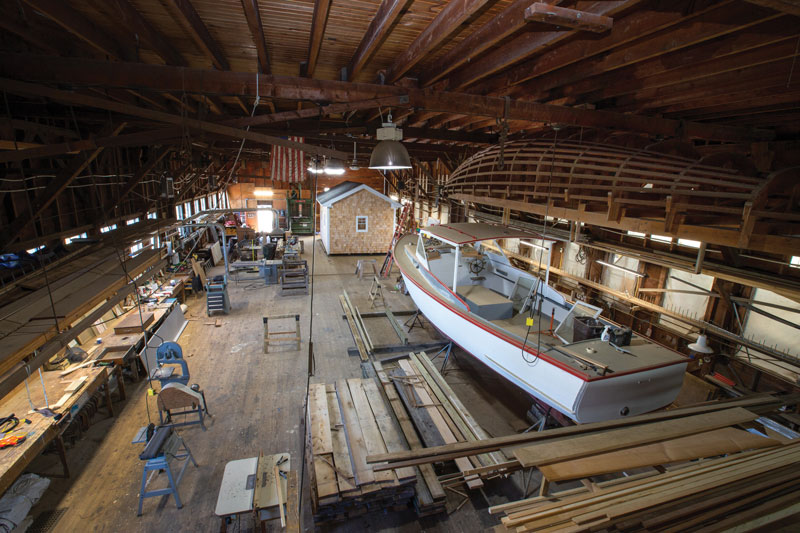 During WWII, the Nortons built 83 plane re-arming boats for the government in this shed. On a recent day, the building contained a small shed that the yard built for the town to hold a portable pump for the fire department, an old wooden launch that was used back in the 1950s, and above it in the rafters, the mold for a Dark Harbor 20. Still, managing costs and being on top of all elements of the business is hard, he said. "Diversity is key." That has meant taking on caretaking work for summer homes on the island, as well as the float construction business and services for transient boaters.
The yard's newest acquisition is a repurposed landing craft that will be able to bring loaded trucks on and off the island, and will have a crane for setting and hauling moorings, and doing other jobs.
Four boatyard employees live across the harbor on Islesboro, two live in a house at the yard, and the rest commute from the mainland on a 38' Holland named Bellwether (CQ). A licensed captain, project manager Curt Speed drives the boat, which is fitting, since his father was once a captain on the Islesboro ferry run. Speed, whose family is from Islesboro, has worked at the yard for 23 years ever since getting a summer job there during college. Yard manager John Gorham has been there for 20 years, and other employees also have been there for many years, Emery said, which is a source of great pride to the family.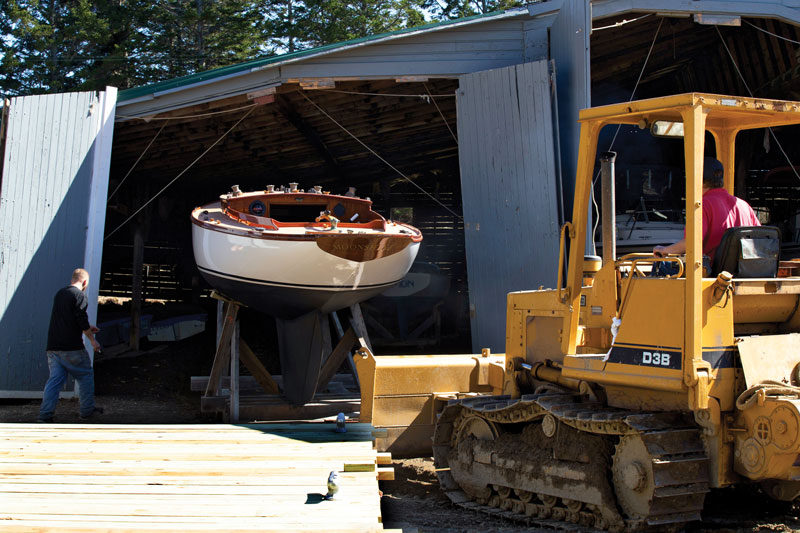 At least six Dark Harbor 20s were built at the yard in the 1930s and 1940s. Here, workers move hull no. 17 into a shed.
Eight buildings of varying size and age on the site house the wood shop, wet storage for wooden boats, the dry-stacked storage, regular storage, and three relatively new bays for painting and mechanical work. On a recent spring afternoon, a worker was varnishing the trim on a Herreshoff 12½ in one building, while a carpenter outside was putting the finishing touches on a new float.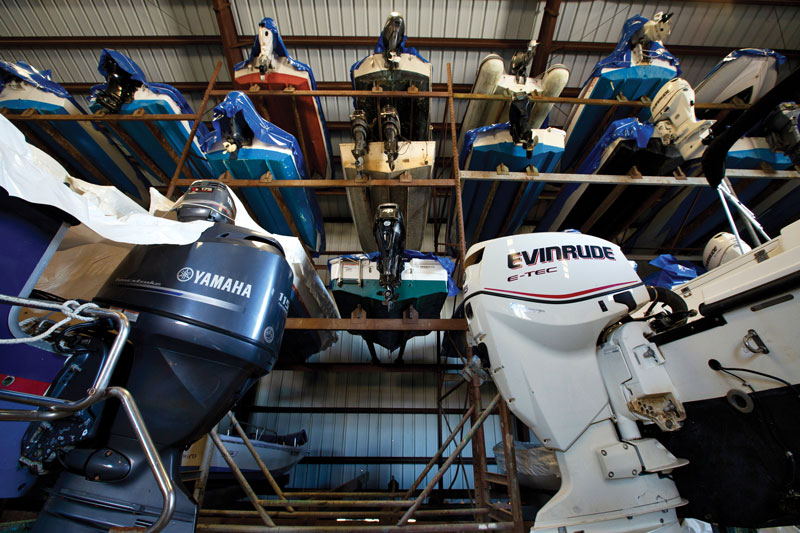 When J.J. Emery bought the yard in 1970, he built stacked storage that's still in use to store smaller boats.
"We're probably the only Maine business with more than five employees located on an island without public access or infrastructure," said Emery. "It is a challenge from a business standpoint, but a source of pride for us as a company." 
---
Polly Saltonstall is editor of this magazine.
DARK HARBOR BOAT YARD
700 Acre Island
Islesboro, ME
207-734-2246
Share this article:
Digital Edition Available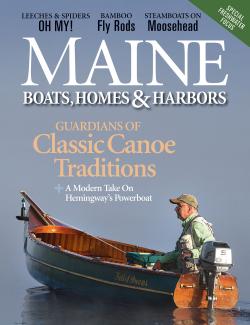 Can't get to the store to buy your magazine? We deliver the stories of Maine's coast right to your inbox. Sign up here for a digital edition.