Aroha
A double-ender with roots Down Under
By Bill Mayher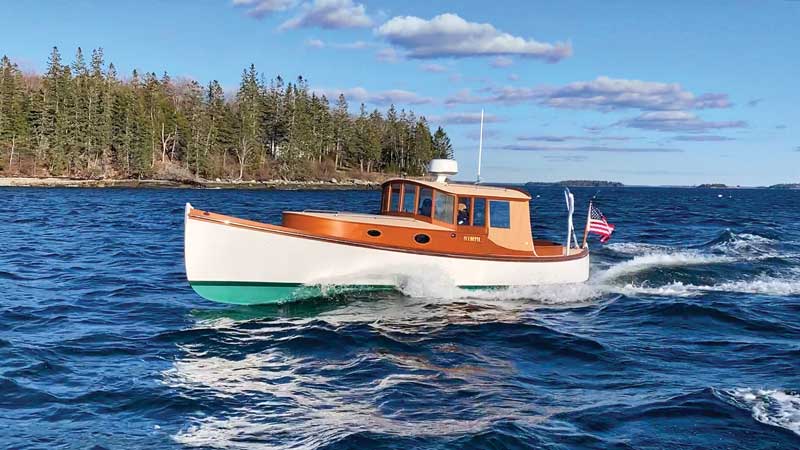 Nymph, the initial model of the new Aroha design, shows off her elegant sheer and jaunty looks. Photo by Steve Stone
A couple of years ago, boat afficionados Maynard Bray and Steve Stone attended the Maharungi Regatta near Auckland, New Zealand—a noteworthy classic-boat get together. One of the boats they were most interested in was a 30' double-ended powerboat called Whio, which is pronounced Fee-O and means "Blue Duck" in Maori.
Bray and Stone were infatuated by her classic good looks and the ease with which she seemed to run through the water, so upon their arrival Down Under, they looked up Whio's designer and builder, Peter Sewell. Luckily, he was at home, and the boat was sitting on a trailer in his dooryard. Even more luckily, when the two Mainers took Whio out for a spin, she in no way disappointed them. Not in the slightest.
Low freeboard generally enhances the looks of a boat, or as Bray put it, "Her appearance just grabs you. You see her across the harbor and you've got to go over and take a look." Primarily it's the harmony of the design: the camber of her coach-house roof accented by a beguiling eyebrow, the curve of five forward-facing windows echoed in the sharper curve of her trunk cabin. A crisp sheerline: high at the stem, sweeping downward amidships and then kicking up, just a bit, to form a double-ended stern.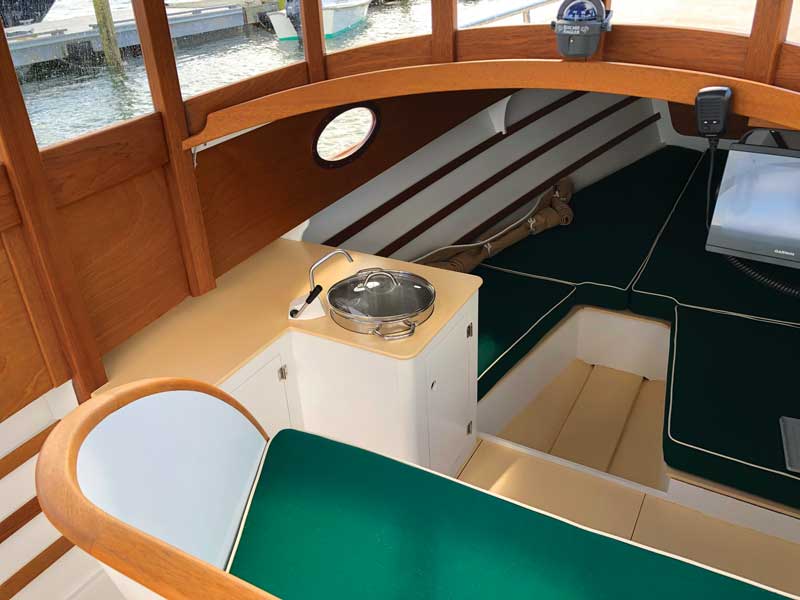 Designed as a dayboat, the Aroha has a V-berth, a minimal galley and room for a head should owners wish to have one. Photo by Maynard Bray
Not only is this stern lovely from every angle, it is built in such a way that the boat doesn't dig in below its waterline, even at full throttle. To accomplish this feat the hull has a large, flat run in the after sections. Above the waterline, Whio looks like a canoe, below, sufficient bearing gives her stern remarkable floating power. Beyond handsome looks, Whio has proven quite seaworthy. Peter Sewell has extensively cruised throughout the islands of New Zealand. He has reported being impressed by the way she handles in a variety of conditions in ocean waters widely known for their challenges. Going into a head sea, the high bow and sharp forefoot handle pretty much everything from a short chop to big rollers. And not surprisingly, in a following sea, the boat rides like a duck.
As a dayboat, the design has good visibility from the cockpit and comfortable seating aft for passengers. There is an ample V-berth, minimal galley, and space for a head, although most owners so far have been content with a cedar bucket to conserve room below.
Stone and Bray were smitten. When they returned to Brooklin, Maine, from New Zealand they quickly convinced their partners in the video website offcenterharbor.com (OCH) to collaborate with Sewell and adapt the design to produce kits for a boat based on Whio's lines. Will Sturdy, at Brooklin Boat Yard, who is known at the yard for his efficient, user-friendly set-ups, adapted Whio's plans to create a slightly modified version that is easier to build using a kit. The kits are available from offcenterharbor.com either as a set of plans and full-sized mylar patterns or as a CNC kit with precut plywood pieces.
When it came time to name the Maine version of the design, the folks at OCH searched for a name that summoned up the boat's unique qualities of form and function, and turned to the Maori word, Aroha. It means love, but according to Maori culture it also encompasses the breath of life and the creative force of the spirit, and assumes that the universe is abundant, and that there are more opportunities than there are people.
Brooklin Boat Yard built an initial model, named Nymph, and Off Center Harbor made a series of videos showing how to build the boat, featuring OCH co-founder and Brooklin Boat Yard principal, Eric Blake, as lead builder.
That initial boat was commissioned by Tom Rowe of Newport, Rhode Island. Because he is an experienced boater with a lifetime on the water, the team at offcenterharbor.com was interested in his views of how Nymph handled the short, steep chop of Narragansett Bay.
"She handles like a dream," Rowe reported, "just like I had hoped for, slicing through the water like a knife through butter so cleanly that spray rarely hits the windshield. With her small, economical Beta 38-horsepower engine she's not very fast, so you take it easy and you learn."
And besides, he added, "it's just the boat to make the boys with the 'picnic' boats just a little jealous."
So far, Rowe's longest voyage has been from Newport to Martha's Vineyard, a trip of 60 miles, which took 4 1/2 hours. But because, the boat is easily trailerable behind a pick-up or SUV, it would not surprise the Off Center Harbor team to see Nymph back in Maine sometime soon.
The plans and kits have sold well, and boats are being built in New Zealand, Australia, the United States, Canada, and the United Kingdom, Stone said. As shown in the OCH building videos, home builders possessing requisite experience appreciate the stringer-frame construction featured in OCH kits, allowing them to click the molds together and get to work. 
---
Bill Mayher lives in Brooklin, Maine, and is one of the founders of offcenterharbor.com. 
---
Aroha
LOA:  29' 10"
LWL:  29' 1"
Beam:  7'
Draft:  23-1/2" @ DWL
Displ. @ DWL: 3,660 lbs.
Hull: Cold-molded skin over a stringer frame
Propulsion: Beta 38 (38-hp Marine Diesel Engine)
Speed: Up to 16 knots; cruises at 12
Kit:
Designers:
Peter Sewell and Will Sturdy
Builders of Nymph:
Brooklin Boat Yard
Watch a video about the original boat, Whio: LINK HERE
 
Share this article:
2023 Maine Boat & Home Show

Join Us for the Maine Boat & Home Show!
Art, Artisans, Food, Fun & Boats, Boats, Boats
August 11 - 13, 2023 | On the waterfront, Rockland, Maine
Click here to pre-order your tickets.
Show is produced by Maine Boats, Homes & Harbors magazine.