Three cheers to the editor
By Ted Ruegg
This issue of Maine Boats, Homes & Harbors will be the last with Polly Saltonstall as Editor in Chief. As many of you know, she has been in that role for 10 years. She is a great writer and has a keen eye for interesting, eclectic, quirky things that happen along the coast of Maine. Those elements are what make this magazine different and special.
I first met Polly on the docks at the North Haven Casino, the island's yacht club. She was my sailing instructor when I was 14. That was a long time ago. The early morning chalk talks with knot tying, points of sail, and racing rules still echo in the tea house at the end of the pier. Since then, we have crossed paths and tacks in the summer on the race course and the island streets. For the last year and a half we have worked together, along with her husband, magazine founder and former publisher John Hanson, to keep this magazine different and special.
I had the memorable experience of racing with Polly and John last summer for one day in the Camden Classics Cup Regatta aboard Polly's knockabout Frolic. It was a challenging day with shifting winds and choppy seas off of Camden. Polly drove, John guided the way from the bow position. I pulled the strings in the cockpit. It was a great day, and when Frolic was back on her mooring, Polly was first place in her class—the only woman to do so. She won again this year as well.
Maine Boats, Homes & Harbors will donate a perpetual trophy to the Camden Classics Cup to be awarded to the top woman skipper. I hope that Polly has a chance to win it.
We wish Polly all the best, and will miss her in the office. I am hopeful that we may get to hear from her from time to time in the pages of the magazine as she continues to write about life on the coast of Maine. Hip, hip, hooray!
✮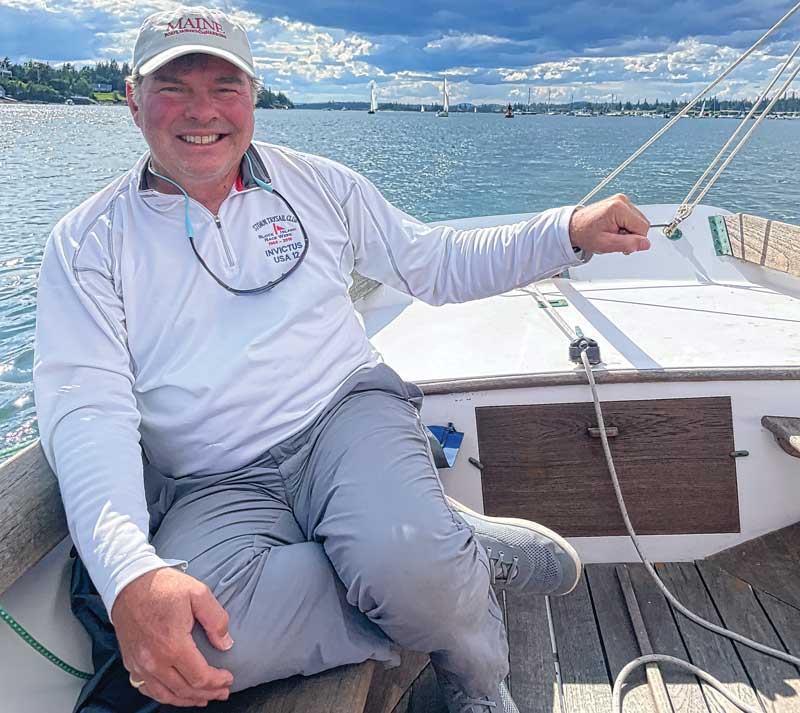 Share this article:
2023 Maine Boat & Home Show

Join Us for the Maine Boat & Home Show!
Art, Artisans, Food, Fun & Boats, Boats, Boats
August 11 - 13, 2023 | On the waterfront, Rockland, Maine
Click here to pre-order your tickets.
Show is produced by Maine Boats, Homes & Harbors magazine.