Somesville: Timeless Village
By Mimi Bigelow Steadman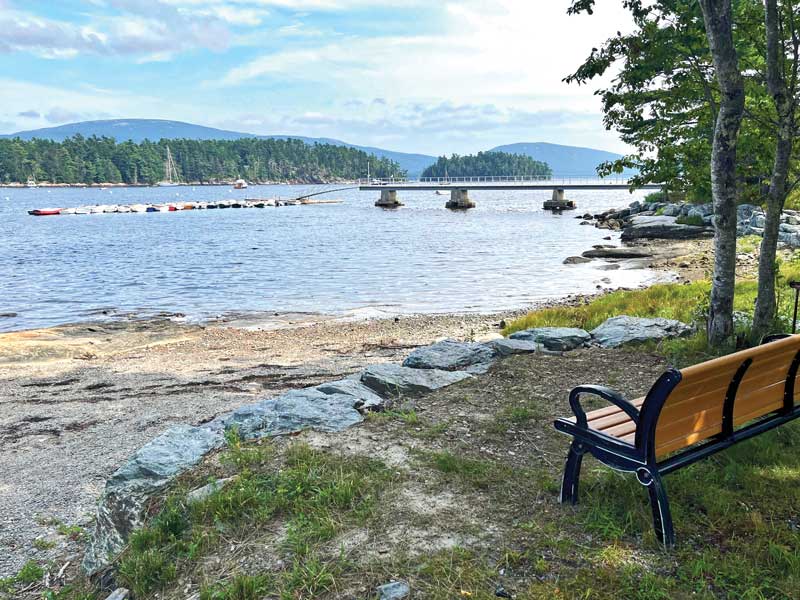 At the top of Somes Sound, Somes Harbor offers a peaceful respite from Mount Desert Island's other, far busier harbors. Photo by Mimi Steadman
Visitors to Mount Desert Island take photos of the mountains and the vistas from their summits, popovers beside Jordan Pond, the island-dotted bay, Bar Harbor, sunrise from Cadillac, and much more. Yet of all the grand photo ops, one of the most popular is a petite footbridge that arcs over Somes Creek as though it's in a Monet painting.
On a trip to MDI this past July, that diminutive, white wooden structure beside Main Street (Route 102) in Somesville was our first destination. As I watched a family pose for a lengthy photo session atop it, I thought about all the people rushing down the road to Southwest Harbor who pull over to snap a quick photo. Surely, few are aware of the history of this picturesque hamlet, Mount Desert Island's oldest. It's believed that the island's original white settler built his log cabin right on this spot.
I first visited Somesville by water, sailing up Somes Sound years ago into an autumn wind so lively, the tomato soup I was warming for lunch sloshed onto the galley ceiling when we tacked. In sharp contrast, Somes Harbor welcomed us with undisturbed serenity. I could immediately understand why, when Abraham Somes, a cooper from Gloucester, Massachusetts, dropped anchor in this snug refuge in 1761, he and his family decided to put down roots.
Last summer, as we walked past Somesville's antique clapboard houses and petunia-laden stone walls, I was taken anew with this charming community at the heart of the island. The mills that powered the local economy in the 1700s are gone, but there are many reminders of those early days in the central village and harbor district—both listed on the National Register of Historic Places.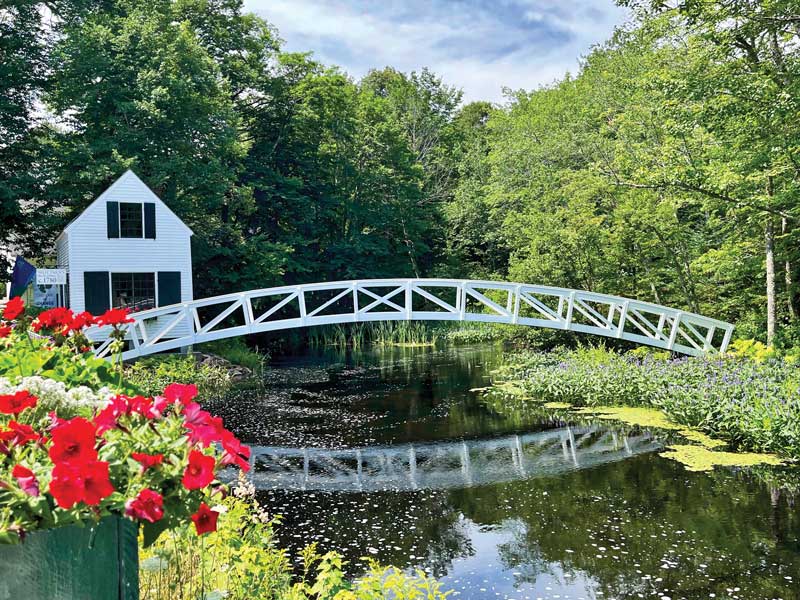 Inspired by Claude Monet's garden at Giverny, Somesville's iconic little bridge was built in 1981, but looks as though it's been there far longer. Photo by Mimi Steadman
I'm always drawn to the tiny one-room, white clapboard structure known as the Selectmen's Building. Perched on the western side of the road, it was built in the 1780s by Abraham's son, John. Right next to it is that wonderful little footbridge, officially called the Thaddeus Shepley Somes Memorial Bridge in honor of another descendant of Abraham's. An inspired addition in 1981, the bridge looks as though it was—and should have been—put there centuries earlier. A dollhouse-sized museum sits at its other end amid a profusion of heirloom flowers. Inside, we studied an exhibition detailing the island's conservation efforts, which reach back to before the establishment of Acadia National Park.
Seizing a break in the traffic—oh, how I wish there were a Route 102 bypass here—we dashed across the crosswalk to The Gallery at Somes Sound, located in an 1800s-era building beside the water. Director Tyra Hanson showed us around the light-filled space and shared her approach to selecting the pieces by exceptional artists, sculptors, and furniture makers that grace the gallery's two levels. If we had unlimited funds, we'd have left with a painting by Maine contemporary realist David Vickery of a glowing full moon pulsing above evergreen treetops.
Just down the road at the Acadia Repertory Theatre, I took the open door as an invitation to go in. At the box office of this 50-year-old institution in the old Masonic Hall, I found actor Desmond Reifsnyder, who gave me an enthusiastic rundown of the summer's lineup of plays. Reifsnyder explained that every season includes lighthearted works, a murder mystery (usually by Agatha Christie), and sometimes a horror story. There are productions for children, too.
Back out in the sunshine, we walked down to Somes Harbor, its tranquil waters framed by ancient blue mountains. Tucked just off the sound, this peaceful hurricane hole seems light years away from the bustle of Bar Harbor and the island's other high-profile harbors. Indeed, even today, Abraham Somes just might feel at home—as long as he steered clear of the traffic whizzing down Route 102.
---
Contributing Editor Mimi Bigelow Steadman lives on the Damariscotta River in Edgecomb.
If You Go to Somesville
On the Water
Somesville sits at the northern terminus of magnificent Somes Sound. Cleaving Mount Desert Island nearly in half, this steep-sided, five-mile-long waterway is often called a fjord. In fact, its depth—about 150 feet at its deepest—is not sufficient to merit that label. Instead, it is a fjard. Somes Harbor offers respite from the island's busier anchorages. Harbormaster John Lemoine advises dropping the hook in the outer harbor between the "No Wake" buoy and the mooring field; there are no moorings for transient yachts. The large pier to port is privately owned by the Somesville Landing Corporation, but a small space on the floats is available to visiting dinghies. Walk out the short gravel drive to Main Street and explore the village. There are no yacht services in the harbor. Across the Sound, the Henry R. Abel & Co. Yacht Yard provides moorings, haul-out, a wide range of repairs and maintenance services, storage, and more.
---
Shop
Open daily from mid-May to late October, The Gallery at Somes Sound sets a high bar for the art it presents. It's a pleasurable experience to explore two light-filled floors, admiring—and coveting—the paintings, sculptures, and furniture on view. You may notice an artistic touch at MOFGA-certified Beech Hill Farm's seasonal farmstand, too, where freshly picked vegetables and sweet-smelling herbs are arranged as though they're to be captured in a still-life painting. The farm is a "living laboratory" for the College of the Atlantic.
---
Do
The Acadia Repertory Theatre has been mounting an annual summer season of professional theater in Somesville's 148-seat Masonic Hall since 1973. Plan to cruise into Somes Harbor to attend an evening performance or a Sunday matinee; the theater is an easy walk from the dock. The schedule runs from late June until early September. The Somesville Museum and Gardens are open Wednesday through Sunday between mid-June and September 1. Annual exhibitions focus on MDI's history and natural landscape. The suggested donation for admission is $5. Beside the museum is the irresistible Thaddeus Shepley Somes Memorial Bridge.
---
Dine
Abel's Lobster Pound sits right on the shore of Somes Sound, within the Henry R. Abel & Co. Yacht Yard. By road, it's a couple of miles from Somesville, down the eastern side of the Sound. Settle at a picnic table or in the water-view dining room to enjoy fresh oysters, a lobster roll, chowder, clam cakes, or any of the other tempting menu items, including burgers and a fried chicken sandwich. The pimento-cheese crab melt is a delicious indulgence.
---
Hike & Paddle
The Somes-Meynell Wildlife Sanctuary in Somesville conserves more than 250 acres on the shores of Somes Pond and welcomes birders and other nature enthusiasts to explore its trails. The organization also organizes a variety of activities open to the public, including paddles on Somes Pond, nature walks, and educational talks. Maine Coast Heritage Trust's Babson Creek Preserve, less than a mile north of Somesville village, encompasses 36 acres of meadow, saltmarsh, and woods. Just two miles down Route 102 from Somesville on Long Pond, National Park Canoe & Kayak Rentals offers canoes, tandem and solo kayaks, and paddleboards for hourly, daylong, and weekly rental. Car-top carriers are also available.
Share this article:
2023 Maine Boat & Home Show

Join Us for the Maine Boat & Home Show!
Art, Artisans, Food, Fun & Boats, Boats, Boats
August 11 - 13, 2023 | On the waterfront, Rockland, Maine
Click here to pre-order your tickets.
Show is produced by Maine Boats, Homes & Harbors magazine.