Rubber ducks, hurricanes, and beach access
By Polly Saltonstall
Joy is back, bigger than ever
Rubber ducky you're the one. You make Belfast so much fun…
Two years ago, a giant yellow rubber duck landed in Belfast Harbor in August with the word joy printed on its breast. Last year, an even bigger duck arrived in late October,  proclaiming "greater joy." No one in Belfast would admit to knowing where the ducks came from or who was responsible—gossip on the street mentioned Islesboro. But lots of people saw Greater Joy when it left town, unmoored by a storm and flying down Penobscot Bay across wind-whipped waves.
The city celebrated the big yellow birds, even putting them on the cover of the chamber of commerce book.
Not only did the two ducks return this year in late August, but they brought an even bigger colleague, Greatest Joy. All three giant yellow ducks were moored at the head of the harbor, two of them attached to floats, likely to prevent another situation with a massive duck on the loose.
---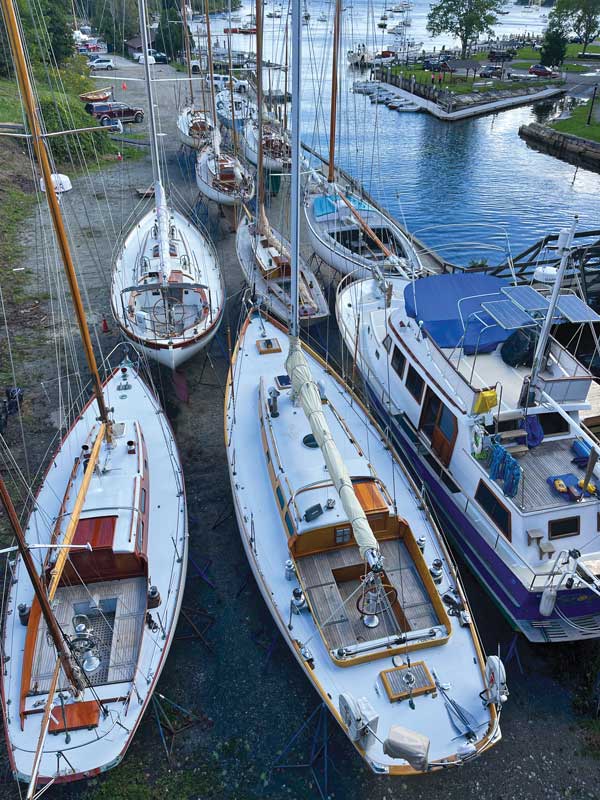 Boats hauled out before the storm at Rockport Marine. Photo by Polly Saltonstall
High winds along the coast
It's been a while since the Maine coast was the target of a hurricane. Thankfully, initial predictions that Hurricane Lee would make landfall along our shores proved false as Lee was downgraded to a tropical storm by the time it reached us on Saturday, Sept. 16, and its center had moved significantly east toward Nova Scotia. The coast still saw plenty of wave action and high sustained winds of 40 mph or more. There were also many downed trees—one man died when a tree fell on his car as he was driving—and as many as 100,000 Mainers lost power. Winds gusted as high as 83 mph downeast in Perry and 63 mph in Roque Bluffs, according to reports.
Boaters and homeowners took the weather predictions seriously, as yards frantically worked into the night to haul boats, both recreational and commercial, and floats in the days before the storm.
The silver lining to the disaster is that there should be lots of firewood available this winter.
---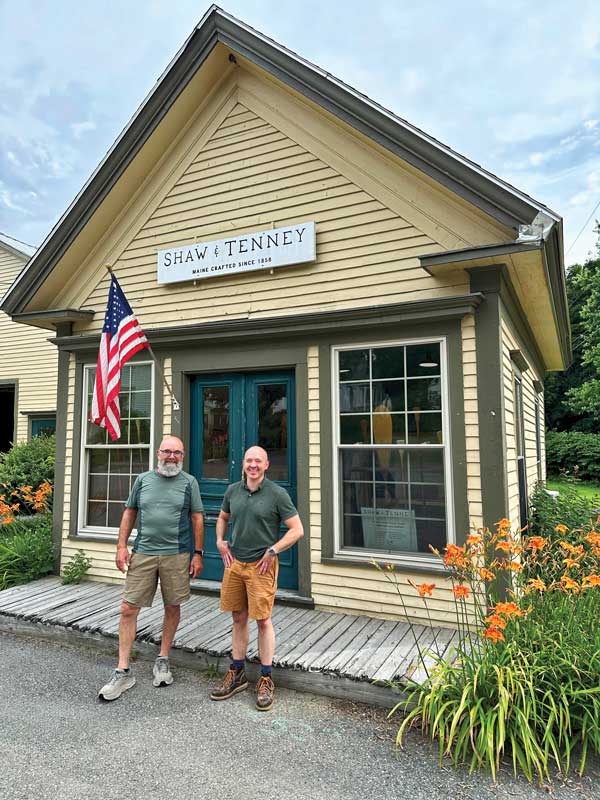 Steve Holt and Neil Gutekunst
New owners at Shaw & Tenney
Shaw & Tenney, the Orono, Maine-based maker of some of the world's finest wooden oars, has changed hands from one family to another for only the fourth time in 165 years.
Since 2003, Steve Holt and Nancy Forster-Holt led the iconic Orono-based company through a transition to digital commerce and growth. The couple sold Shaw & Tenney last July to Neil and Jennifer Gutekunst.
The Gutekunsts own two other classic woodworking companies: New England Treads, which they acquired in 2019, and the Wooden Screen Door Company, which they bought in 2021.
The second-oldest manufacturer of marine products in the United States, Shaw & Tenney hand-crafts wooden oars, masts, and flagpoles. Shaw & Tenney "is such a historic brand," Neil Gutekunst said. "We love niche products, especially ones steeped in Maine history."
The new owners, who live year-round in Cushing, Maine, said they have no plans to make any changes. "The staff all will remain in place," Neil Gutekunst said. "Our theory is that happy employees make happy customers, and happy customers make happy owners. But only in that order."
The Gutekunsts came to Maine from Philadelphia, where Jennifer was an HR professional, and Neil had worked as an attorney after leaving active duty in the U.S. Marine Corps.
Steve Holt said he and Nancy are thrilled to leave the company in good hands. The Holts plan to travel some, as well as spend more time with family.
---
Rogue wave and divine intervention
As Hurricane Lee roared up the coast on Friday, the state's top Republican lawmaker, who also works as a lobsterman, narrowly survived drowning when a "wall of water" capsized his boat. State Rep. Billy Bob Faulkingham of Winter Harbor wrote about the incident on his Facebook page. He and his sternman were on their way home from hauling traps when they were hit by what he described as a 50-foot rogue wave. The water hit with so much force that it ripped him from the helm and drove his pants down to his ankles, and broke his sternman's arm, he wrote. The vessel flipped on top of the two men who eventually were able to climb on top of the overturned hull. Luckily, Faullkingham's EPIRB beacon had gone off, alerting the Coast Guard, which alerted his family that something had happened. The men had been on the hull for almost an hour by the time Faulkingham's cousin rescued them. Just moments after the rescue the boat sank. Faulkingham credits God with keeping the boat afloat and making the rescue possible. "God was with us," he wrote. "There is power in faith."
---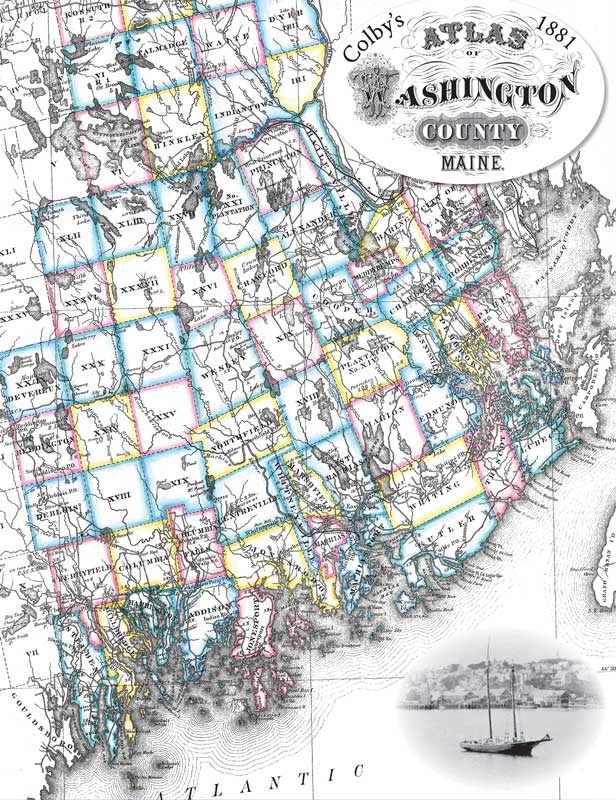 Mapping county history
If you enjoy exploring old maps, photos, and other pathways of downeast history, you'll like artist-editor Jane Crosen's new Coastwise edition of Colby's 1881 Atlas of Washington County.
In 2020, the mapmaker, who lives in Penobscot, published a "Coastwise" edition of George N. Colby's 1881 Atlas of Hancock County, expanded with period photos and excerpts about downeast Maine's 19th-century coastal economy. The follow up is a Coastwise edition of Colby's 1881 Atlas of Washington County. Compiled by George N. Colby, the original Atlas of Washington County, Maine, 1881 was drawn in Machias, and 300 hand-colored copies were printed in Philadelphia. Digitally archived scans and black-and-white facsimiles have kept Colby's maps available, but they weren't in any order, making it hard to correlate maps and find places.
Crosen has presented Colby's historic maps in a more user-friendly format, grouping related maps—towns, villages, and timber lot plans based on charts and surveys—in geographic order, "as schooners would sail coastwise downeast with the prevailing winds." Many of the maps are accompanied by period photos, captions, and excerpts from George J. Varney's Gazetteer of the State of Maine, also published in 1881. The layout includes a preface on the life and times of the 142-year-old atlas, and an index correlating historic place names (many changed since 1881) with their current ones.
---
Veteran sets sail
An Iraq war veteran plans to compete in a yacht race around the world, with support from Shipyard Brewing Co. and Maine Yacht Center. According to a report in Mainebiz, Ronnie Simpson, a retired Marine who was wounded in combat, will sail a 50-foot sloop and expects to take about 130 days to complete the 26,000-mile course in the Global Solo Challenge. Simpson sailed into Portland at the end of June after completing a mandatory 2,000-mile solo qualification voyage. There, Maine Yacht Center performed an extensive refit and maintenance before he sailed to the starting line in Spain. The work included new anti-fouling paint, new grey vinyl wrap on the hull, new standing rigging, and a complete overhaul of the batteries and charging system. Simpson's boat, an Open 50 design, was launched in 1994 and competed in two previous solo around-the-world races. Originally named Sparrow, it will be rebranded as Shipyard Brewing before the start of the race.
While racing, Simpson, who works professionally as a sailor, sailing media professional, and charter boat captain, hopes to raise money and awareness for U.S. Patriot Sailing, a sailing nonprofit for veterans out of Annapolis, Maryland.
---
Learning to lobster
In the 14 years since the Southern Maine seafood company Luke's Lobster was founded, co-founder Luke Holden has tried to promote the waterfront community. This summer marked the second year of the company's apprenticeship program, called Lift All Boats, which was conceived to give nonwhite teenagers in Greater Portland an opportunity to learn the industry, according to a story in the Portland Press Herald.
Most apprentices need gear, access to a boat, and mentorship, which can be a barrier to those not from lobstering families. As a result, there aren't many people of color lobstering in Maine. This program hopes to change that. In the first year, four students participated. This year, the number grew to 18. Holden and his partners are looking for ways to sustain and grow the program, which is the only one like it in the state.
---
Whose beaches?
Shorefront access has long been an issue along the coast. A 17th century law on the subject has been getting attention lately from folks who want more public access. In 1989, the Maine Supreme Judicial Court ruled that private property rights in Maine extend down to the low tide mark, basing the decision on the Colonial-era law, which made an exception for limited public use involving fishing, fowling, and navigation. According to Maine Public, a new lawsuit seeks to expand that list of activities the public is allowed to do on shoreland in front of private property owners, from sunbathing, to beach-combing, and playing games. It's the latest development in challenges by the group Our Maine Beaches to private property owners who have banned access to intertidal lands. According to the report on Maine Public radio, Maine and Massachusetts are the only two states that extend private property rights to the low tide mark. In most other states, they only go to the high tide line.
---
Boating school
Younger boaters beware: Many of you are going to have to go back to school to show you know the rules. Beginning January 1, 2024, a new Maine law states that anyone born on or after January 1, 1999, may not operate a motorboat of twenty-five (25) horsepower or greater for recreational boating purposes on inland waters of Maine or territorial waters, which includes the coast out to three miles, unless that person is 12 years of age or older, and has completed a boater safety and education course. These persons must possess and present a boater safety and education course certificate for inspection upon request to a law enforcement officer. There are a few exemptions, such as for registered Maine guides (hunting, fishing, and recreational guides only), commercial fishermen, daily boat renters, and merchant mariners. FMI go to: bit.ly/3PzCGJo
---
Salt marshes fighting for the climate
The state has at least 54,000 acres, close to 84 square miles of so-called blue carbon reservoirs, which store at least 1.7 million tons of carbon in the soil and vegetation. That much carbon is equal to the annual emissions of 1.25 million passenger cars, according to a new report from the U.S. Environmental Protection Agency.
The first of its kind report sought to inventory New England's carbon reservoirs. In Maine, Bates College professor Beverly Johnson helped with the research, according to a story in the Portland Press Herald, using a portable device to measure how much carbon dioxide was being soaked up in various marshes along the coast.
She not only helped to write the report; she and her Bates students also collected most of the Maine samples used to back it up, according to the news story.
Marshes can slow floodwaters, protect against erosion, improve water quality, and provide fish and bird habitat. A healthy marsh can also absorb and store up to 10 times as much carbon as a forest, making them an invaluable buffer against climate change, Johnson told the newspaper.
Maine is home to a quarter of New England and New York's coastal blue carbon habitat, second only to the 112,000 acres in Massachusetts, according to the EPA report. The region's 218,000 acres can store and hold at least 7.5 million tons of carbon, which is the emissions equivalent of powering 3.2 million homes for a year.
---
Lighthouse and lightning
It's not a good combination. A bolt of lightning in one of the many storms along the coast last summer made a direct hit on the iconic Marshall Point Lighthouse in Port Clyde. When the bolt hit the structure's lightning rod, the surge fried the light, foghorn, and all associated circuits, according to news reports. But area boaters were not in the dark for long. The U.S. Coast Guard had repaired and updated the beam and foghorn by Aug. 11. The lighthouse traditionally has shone a fixed white beam 24 hours a day, but in order to preserve the rare light, it will now shine only at night, according to the Marshall Point Lighthouse & Museum. The foghorn has also been updated to new Coast Guard regulations, and when activated will sound for 45 minutes, up from 15 minutes.
---
Fire in Port Clyde
Owner Linda Bean has pledged to rebuild after a devastating fire in September destroyed the historic Port Clyde General Store complex, including the Dip Net, where the fire started, and an art gallery housing Wyeth family paintings and research material—the losses included three original Jamie Wyeth oil paintings and an original N.C. Wyeth illustration. Also burned in the late-night fire was the Monhegan Boat Line's building on the wharf. Despite the loss, the boat line's owners, Andy and Amy Barstow, have kept the island ferry running.
"Thankfully there was no loss of life or bodily injury to any fleeing occupants, observers, or to the brave firemen who worked all night from 11 p.m. to beyond 5 p.m. (the next day)," Bean said in a press release. "The fire was so hot and uncontrollable that nobody was allowed inside the General Store to save anything. As its owner for the last 16 years, I have tried to respect and reflect the long history of its owners, managers, and customers, a good many of whom are in tears today. My hope is to restore the premises and resume its businesses and jobs there as fully and as soon as possible."
The cause of the fire remained under investigation at press time. "We are deeply affected by the impact of this fire on our village businesses and those of the Monhegan Boat Line next door. We thank all whose hearts, minds, and prayers are with us," Bean said.
---
Ferry good, ferry bad news
A ferry leaving Vinalhaven last August 16 ran aground on a ledge outside of Sands Cove, which is adjacent to Carver's Harbor. The incident damaged both of the Capt. Richard G. Spear's propellers, and left the ferry with a bent starboard rudder. The port rudder was missing entirely, but was later recovered by divers, officials said. The hull was not significantly damaged and none of the 65 passengers and five crew members aboard at the time were injured, according to Department of Transportation spokesman Paul Merrill.
The ferry returned to the island terminal and passengers disembarked. The damaged boat, which already had been scheduled for regular maintenance, was hauled at the Rockland Marine Corp. shipyard for repairs. At press time, there was no timeline for when the repairs would be complete. Merrill said the cost, which will be covered by insurance, likely would be "in the low six figure range." The captain who was driving the ferry at the time is back on the job, Merrill said, adding that the captain had made this run before but that it was not his regular route.
The Capt. Richard G. Spear, which was launched in 2022, is one of the newest ferries serving Maine's islands. The $10.2 million ferry was built at Washburn & Doughty in East Boothbay.
Meanwhile in other, more positive ferry news, late last August the crew of the Margaret Chase Smith ferry rescued a kayaker who had overturned in stormy seas off Islesboro. The ferry crew deployed their lifeboat and brought the kayaker into the island's ferry terminal where Islesboro EMS assessed the boater, according to a Facebook post by the Islesboro Public Safety Department. The ferry had left Islesboro heading to Lincolnville Beach on its 2:30 p.m. run when the crew spotted the person in distress.
---
Yarmouth Boat Yard certified
The Association of Marina Industries has accredited Yarmouth Boat Yard as a Clean & Resilient Marina. To earn this certification, managers of the facility had to participate in an intensive two-day training event to learn federal regulatory requirements, best management practices, and green techniques for operating a marina that places minimal impact on its natural surroundings. They then had to review all aspects of their marina facility operations to ensure adherence to the strict guidelines and submit copies of federally required permits and plans along with photo proof of all the essential clean marina practices.
AMI's Clean & Resilient Marina accreditation committee reviews the submitted materials and accepts verification of those who have complied with all the designated requirements and regulations.
---
Last but not least, wildlife stories
Red ants in Eastport, dead whales, and, brace yourself, snakes emerging from the air vents in an Orland resident's car.
The Orland driver found three garter snakes in his car last summer when he got in to go for a drive, according to a report in the Bangor Daily News. He spotted the first two before he left his driveway and set them free outside. One was peeking out of the driver's side dashboard air vent and one was curled up in the center console. A third snake waited until he was driving before emerging from the passenger side dashboard air vent. He pulled over and removed it, as well.
Drew Desjardins, who runs Mr. Drew and His Animals Too reptile rescue and organizes the annual Maine Reptile Expo, told the newspaper that the snakes likely got into the car when it was parked in knee high grass.
He emphasized that none of Maine's nine snake species are dangerous and described garter snake bites as feeling like "angry velcro" scraping against your skin, rarely powerful enough to pierce your flesh. Meanwhile, the car's owner told the newspaper he no longer parks in the long grass.
At least five dead minke whales have turned up along the coast since last May, one off Peaks Island, one in York, and three in Penobscot Bay. Although the number was higher than normal, researchers told the Bangor Daily News that the deaths did not appear to be connected and were not cause for concern. Minke whales are not considered endangered. One of the dead whales in Penobscot Bay appeared to have been hit by a boat; another might have become stranded in shallow water while chasing fish; and another was too decomposed to diagnose a cause of death, according to the newspaper's report. On a more positive front, a live humpback whale swam up the Sheepscot River in August in search of fish, delighting folks in Wiscasset.
On the ant front, a guest column in the weekly Quoddy Tides newspaper, defended red ants, which the writer said had been an issue in town. Everyone new to Eastport talks about them, she wrote, and she had heard of people not buying homes there because of them. Noting that the ants might have arrived on a shipping vessel from abroad in the early 1900s, she speculated that the ants might be helping keep the tick population in check, and praised their industrious lifestyle. While the bite might sting, the pain doesn't last long, she said. "Think of it as a rite of passage."
Share this article:
2023 Maine Boat & Home Show

Join Us for the Maine Boat & Home Show!
Art, Artisans, Food, Fun & Boats, Boats, Boats
August 11 - 13, 2023 | On the waterfront, Rockland, Maine
Click here to pre-order your tickets.
Show is produced by Maine Boats, Homes & Harbors magazine.