Revamping a Classic Motorsailer
By Brendan Riordan
All photos courtesy Brooklin Boat Yard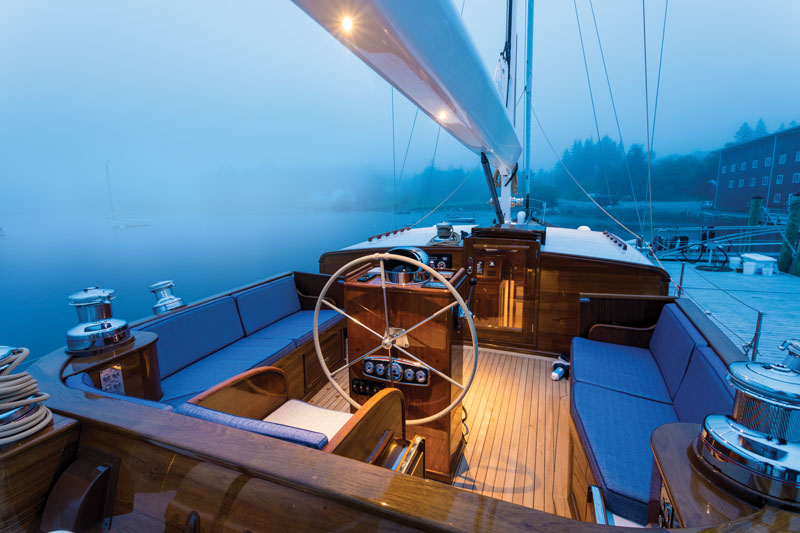 Brooklin Boat Yard has a well-earned reputation as the center of it all when it comes to custom boatbuilding. Over a period of more than six decades, the BBY crew has built that reputation one boat at a time, constructing large and elegant cruising yachts, small daysailers, skiffs, lobsterboats, cabin cruisers, light-displacement racing machines, hybrid cruiser-racers, sleek commuter yachts, and small open launches.
In addition to their many new builds, the BBY team occasionally takes on a comprehensive multi-year restoration of an older vessel. The yard's most recent restoration is the 62' Sparkman & Stephens-designed, wooden motorsailer Djinn. Originally commissioned by Henry S. Morgan, co-founder of the investment bank Morgan Stanley and Commodore of the New York Yacht Club, Djinn was built in 1965 by Minneford's Yacht Yard in City Island, New York.
Compared with new construction, restoration projects such as this represent a different set of challenges, and offer a different type of reward. While a new build is a process of creation, a restoration places builders somewhere in the middle of the story where they serve as one of many custodians in the life of the vessel. With restoration there is a kind of push and pull between the desires and requirements of the current owner and the respect and deference owed to the original designer and builders.
Vessel disassembly involves a kind of forensic analysis of how the structure fared over the years. Some decisions may have worked so well that the components can be kept or replicated. In other areas a boat may benefit from employing different materials or techniques than were used before. A restoration can feel like a conversation through time with the craftsmen and women who came before and the present-day builders who feel a responsibility to be worthy of the skill and experience invested years ago. And, if today's crew produces the highest quality work possible, decades from now their efforts may inspire the next crew to rise to that example.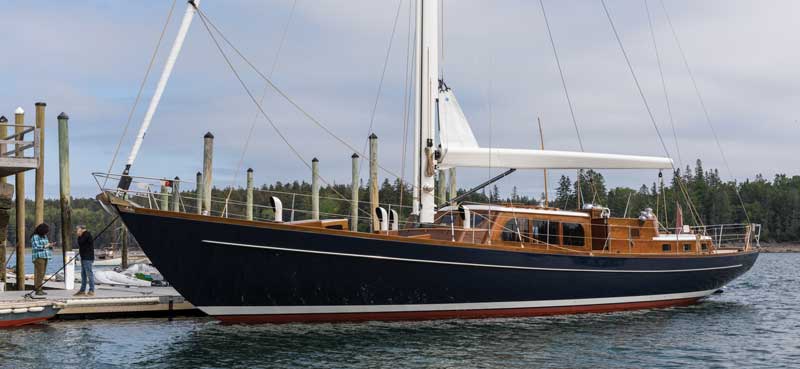 With the addition of a lightweight carbon rig and powered winches the restored Djinn is a handsome combination of modern equipment with traditional construction methods and styling.
Djinn's new and former owners recognized that she represented an excellent opportunity to restore a vessel with that rare combination of renowned original owner, premier designer, and venerable builder. They formed a collaboration in which the former owner would take the lead on decisions throughout the renovations and then assume the role of captain for the completed vessel. Together they brought the boat to Brooklin Boat Yard in 2021. In addition to the usual effects of time and tide, there were signs of shipworm damage from her time in southern waters. With decades of experience owning and maintaining yachts, the two understood the scope of the project.
Right from the outset the plan was for the kind of comprehensive overhaul that BBY president Brian Larkin calls a "shadow restoration." In a shadow restoration everything but the shadow is likely to be replaced—there are always parts and pieces of the original boat that remain but it can be difficult to know at the beginning of the project which parts and pieces those will be.
Many yacht restoration projects of this scope begin with fastidious research. Whenever possible, the original plans are procured to replicate the original geometry, layout, construction methods, and materials. Larkin mentioned that Djinn's restoration team only had a few of the original drawings to work from. He was being both coy and earnest when he explained, "we didn't need the plans, we had the boat."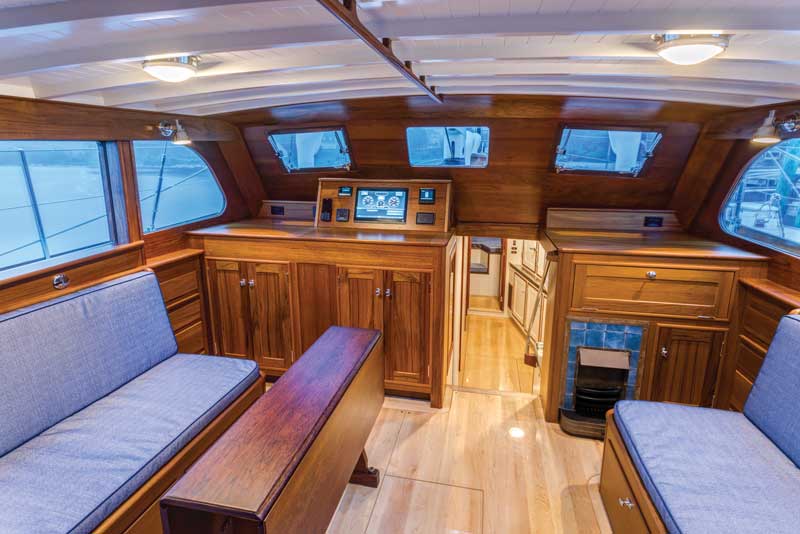 The pilothouse offers the ideal place to take shelter from the weather and warm up in a comfortable seat beside the fire surrounded by lustrous teak joinery.
This team is capable of managing this type of project without the original plans; the yard employs an in-house team of capable designers. On the other hand, BBY has professional interest in yacht design, a history of collaborations with Sparkman & Stephens, and personal connections with the custodians of the collection of Sparkman & Stephens plans at Mystic Seaport Museum. However, in this instance, the BBY team had no choice but to move ahead without Djinn's original plans because of a dispute between Sparkman & Stephens and Mystic Seaport. The new owner of Sparkman & Stephens sued the maritime museum, claiming that Mystic had breached the original donation agreement and infringed on S&S's copyrights. While the suit was pending, the museum did not make S&S plans available to builders.
The question of whether the original donation agreement prohibited the museum from providing drawings for restoration purposes appeared to have been settled in late August when the U.S. District Court for Rhode Island granted a summary judgment largely in favor of Mystic Seaport Museum.
Motorsailers can vary in terms of form and function. Some are heavy displacement twin screw powerboats fitted with just enough sail area to steady the vessel's motion in a seaway. Others attempt to deliver the "best of both worlds" with comparable performance under either sail or power. These are usually shoal draft vessels fitted with sufficient ballast for a sizeable sail plan and an enclosed steering station for exceptional comfort at the helm. A few are highly efficient sailing machines fitted with an uncommonly powerful engine and voluminous fuel tanks, for long passages for those times and places where the wind is inadequate.
It's hard to tell whether Djinn belongs in the second or third of these categories. The displacement-length ratio is a calculation used to describe how heavy a boat is relative to its waterline length. Djinn's is fairly high at 330. On the other hand, Djinn once collected racing silver when she won the motor sailing division in the first race held in the New York Yacht Club Cruising Club of America Chesapeake Station joint cruise. With a new tall and fully modern sailing rig, her performance under sail will be more impressive today. New carbon fiber spars will significantly reduce  weight aloft and help the boat stand up to the generous sail plan in a full breeze. While Djinn has a spacious and comfortable pilothouse with a generously sized chart plotter and autopilot controls, this is undoubtedly an auxiliary steering station as opposed to a fully functional wheelhouse. A look at Djinn's rebuilt cockpit shows that for this motorsailer the emphasis is on sailing and hosting guests outside in the weather. New powered winches and push button furling controls place all of the critical sailing functions near to the captain's hand right from the helm. Guests seated in the spacious cockpit settees are free, but not required, to participate when tacking and trimming the headsail.
Many sailors would say that the engine room is what makes a great motorsailer. In a boat of this size, it's challenging to achieve a true engine room with enough space to both access and maintain all of the vessel's essential mechanical equipment. Djinn's revamped engine room boasts seven feet of headroom and enough space for someone to do the laundry while a second person services equipment.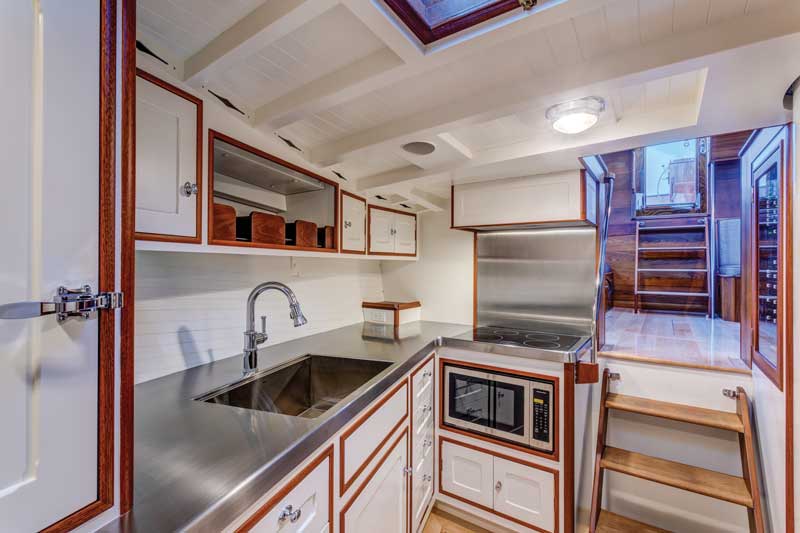 Djinn's interior is both classic and contemporary combining modern fixtures and appliances with traditional recessed flat panel cabinetry and varnished mahogany accents.
While great care was taken to preserve a classic aesthetic in every other part of the boat, this engine room is fully modern. It is immediately clear to anyone who has ever contemplated equipment service intervals or maintained refrigeration compressors, cleaned strainers, replaced filters, filled header tanks, or performed oil changes, that a great deal of time and careful thought was invested in the layout of this space. Perhaps this is where the former owner and current captain's extensive experience with the boat will be most valued and appreciated in the years to come.
If there is a cost of allocating so much space to the engine room, cockpit and pilothouse, it may be one of aesthetics. The volumes allocated to these spaces combine to make the vessel's profile high sided, but the experience of these spaces justifies their inclusion in the design. Aesthestics are a challenge for every classic motorsailer that seeks to employ a sweeping sheer with heavy displacement and spacious interior and exterior spaces. When it comes to the aesthetics of Djinn, the original designers and the team at BBY have achieved the best results possible.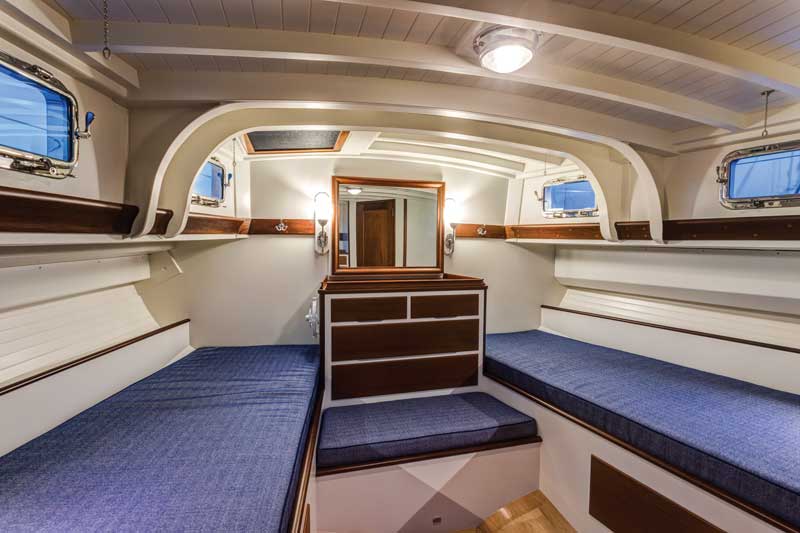 The exterior joinery is teak with high-gloss varnish throughout. Inside the pilothouse the joinery is teak again, but with a low-gloss finish that draws out the grain. Below decks the maple sole underfoot lends a brightness to all of the interior spaces. The galley's custom fabricated stainless steel counter with an integral backsplash and perimeter fiddle rail will impress folks who know how much skill is required to transform sheets of metal into this type of intricate geometry. Lockers in the galley and elsewhere are done in a simple recessed flat panel with paint finish and mahogany perimeter accent. The mahogany trim throughout is finished with a low-gloss rubbed effect. The sleeping quarters and head are finished in white with a vee groove pattern for the hull ceiling. The builders included a classic carved detail along the sheer clamp at the underside of the deck to promote ventilation for the hull planking.
The overall effect of this restoration is one of quality craftsmanship and unpretentious beauty. The restored Djinn is a credit to her designers, her original owner, and the boatbuilders at Minneford's in the 1960s, as well as to her captain and new owners and everyone who had a hand in her rejuvenation at Brooklin Boat Yard.
---
Brendan Riordan is a yacht designer at Stephens Waring in Belfast, Maine.
Specifications: Djinn
LOA: 61'10"
LWL: 47'
Beam: 15' ¼"
Draft: 6'
Displ.: 77,600 lbs.
Sail area:
   Main: 777.2 SF
   Genoa: 1654.5 SF
Mast: 72' off the deck
Engine: Cummings QSB6 250hp
Designer:
Sparkman & Stephens
www.sparkmanstephens.com
Restoration:
Brooklin Boat Yard
Center Harbor Road, Brooklin, ME
207-359-2236
www.brooklinboatyard.com
Share this article:
2023 Maine Boat & Home Show

Join Us for the Maine Boat & Home Show!
Art, Artisans, Food, Fun & Boats, Boats, Boats
August 11 - 13, 2023 | On the waterfront, Rockland, Maine
Click here to pre-order your tickets.
Show is produced by Maine Boats, Homes & Harbors magazine.