My Gloucester Gull: The Perfect One-Woman Dory
By Basha Burwell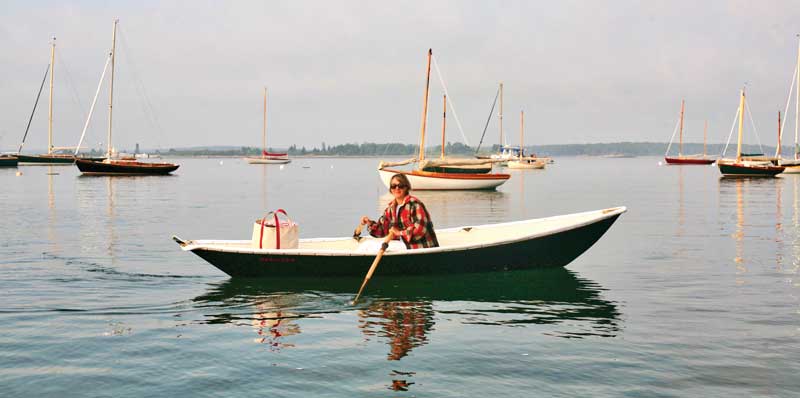 The one and only Maynard Bray designed and applied Bewilder's name...in hot pink! Photo courtesy Basha Burwell
An unexpected Mother's Day present a couple of years ago arrived in the form of a dory.
I had been pining for a peapod or some sort of similarly classic skiff, subtly dropping hints, casting jealous glances as we passed examples in our harbor. My husband and I had agreed that I needed my own dinghy. Our little Puffin skiff, bought 18 years ago for $250, was usually on our mooring, and not readily available for outings; and I had recently taken up rowing for pleasure.
Asking for a peapod seemed akin to wishing for a 1950s Cadillac convertible (a woman friend had actually received one of these on her August birthday not too long ago).
But then on a chilly May Mother's Day, I was summoned by my husband to the harbor for an unexpected errand. There a small, overall-clad, unfamiliar gentleman stood awkwardly next to a large dory on a trailer. We basically know everyone in our little town, so I asked my husband if he knew who this man was. He casually replied, "that's Richard, and that's your boat."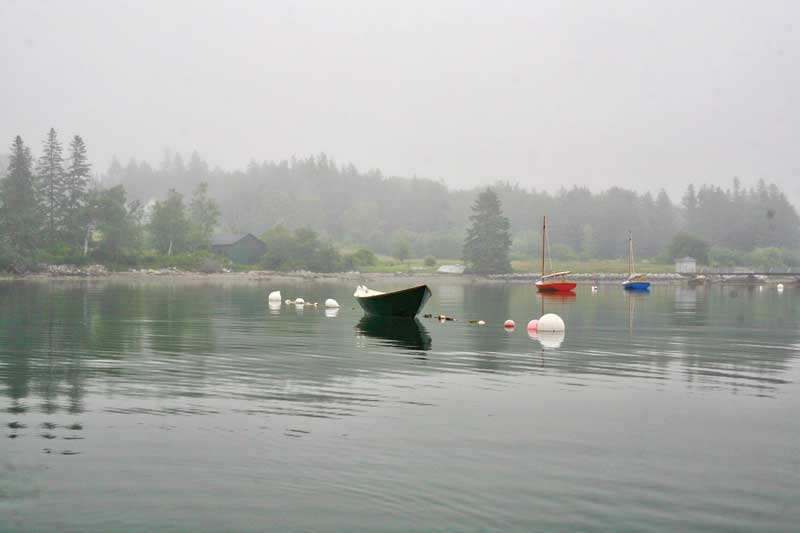 Unlike our sailboat, Bewilder loves misty Maine morning calm. Photo by Basha Burwell
I was stunned and elated, while also a bit taken aback at the vision of this large wooden boat, which was a far cry from the classic Maine dinghy of my dreams. It was a 15'6" wooden Gloucester Gull.
My teenage son, my husband, and I immediately tried to launch her at our town ramp. She seemed so heavy; the three of us could barely lift her, not to mention offshore wind and waves that washed over the bow. When I tried to step into the boat, she was tippy. I thought she might easily capsize.
We finally got the Gull launched and I set out using the pair of heavy oars that came with her. I could barely row, but, determined and with my ego at play as we were in front of a working boatyard, I rowed into a nearby inner cove and beached the dory. We dragged her up to a safe spot, where she could stay until we figured out long-term storage.
I was trying desperately to stay positive and appreciative. But my inner dialogue was raging: "clunky, heavy, very long, tipsy boat, not my thing."
My husband told me that he bought the dory based on a recommendation from our friend Bill Mayher—we always consult with him about anything marine related—from weather to boat maintenance, sailing routes, navigation, you name it, he is our go-to-guy. Plus, Mayher has a head for a good bargain.
The boat he suggested was this Gloucester Gull, also called a Gloucester Light Dory. I had recently learned to scull in Cambridge, Massachusetts, on the Charles River in lightweight racing shells. This heavier, bigger boat was much better suited for ocean rowing, according to Mayher.
Designed by the late Phil Bolger, the Gloucester Gull is a descendant of the seaworthy and practical dories once used off New England shores for long-line cod fishing. Bolger once said the design was one of his best, calling it his ticket to heaven. "When I come up for judgment and they stop me at the gate and ask, 'What's your excuse?' I'll tell them I designed the Gloucester Light Dory, and they'll have to let me in," he wrote.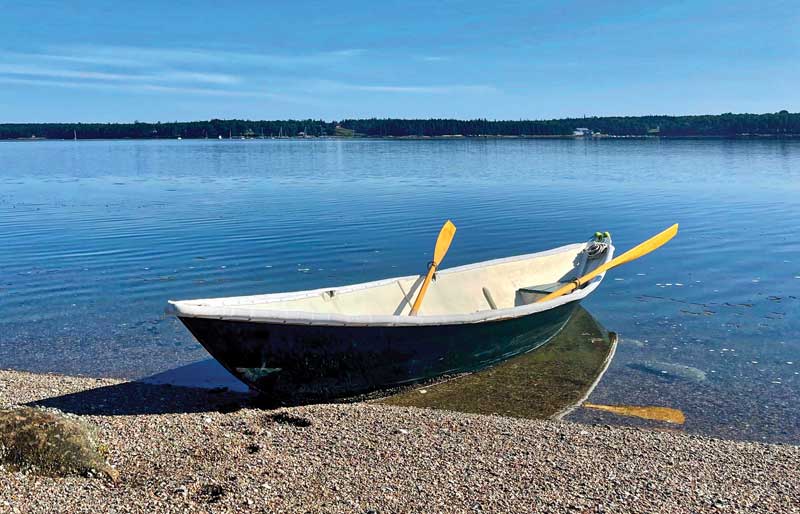 Beached at Torrey island during a morning row. Photo by Basha Burwell
It's true, these boats are beautiful.
Fast forward, I've now had my dory, named Bewilder (or Be Wilder), for two years. I'm smitten.
I've replaced the heavy oak oars with two mismatched but gorgeous and light Shaw & Tenney oars (a gift from a generous neighbor). I've figured out how to use large Maine beach rocks as ballast—extremely necessary. I've even double rowed her a few times with my husband or a friend. She is very tippy but I've become used to that and can nimbly step in and out. The flat bottom allows for fast rowing and makes her easy to pull up on a beach. She tows well behind our sailboat, and when I row on windy days she steadily surfs and cuts through big waves. I often arrive at beach parties in this boat preferring rowing to sailing or motoring.
We own two old trucks, a 1979 sailboat, a Canadian-built canoe, and now the Gloucester Gull. Bewilder has become a family member. I frequently row her to a nearby island on early mornings and easily slide her up onto sandy shores. I take great care of her. My son, who chipped in to help pay for her, installed a bumper guard all along the gunwale so she can be tied up alongside other boats without doing damage. I've loaned Bewilder to friends, hoping they, too, will become as enamored.
Phil Bolger was right. My Gloucester Gull is the perfect ocean row boat, a real ticket to heaven. 
---
Co-author of  The Maine House, Basha Burwell directs photo shoots all over the U.S. She rows, swims, and sails in waters that are almost always cold. She and her family live part-time in Cambridge, MA, and call Maine home.
Share this article:
2023 Maine Boat & Home Show

Join Us for the Maine Boat & Home Show!
Art, Artisans, Food, Fun & Boats, Boats, Boats
August 11 - 13, 2023 | On the waterfront, Rockland, Maine
Click here to pre-order your tickets.
Show is produced by Maine Boats, Homes & Harbors magazine.