Letters to the Editor 185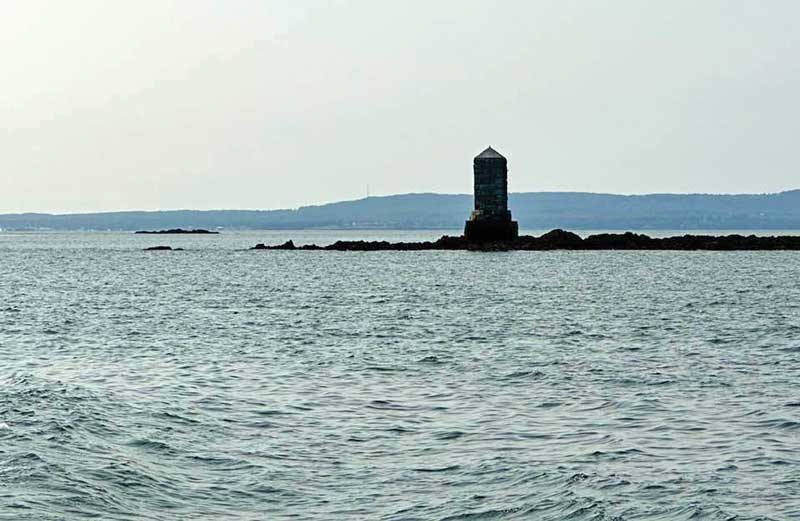 Bring back the day beacons
Coming across Penobscot Bay on the North Haven ferry recently, we passed the Drunkard Ledge off Crabtree Point and then the Monument. The Drunkard Ledge is unmarked now because the Coast Guard recently abandoned it after the spindle blew over last year. Spending most of its time hidden underwater, the Drunkard really needs to be marked again to keep vessels safe. It occupies a key area in West Penobscot Bay off the entrance to Fox Islands Thorofare where there is a very high level of boat traffic. The Captain Neal Burgess, North Haven's ferry, passes nearby six times a day, typically carrying a total of 21,000 vehicles and 55,000 passengers annually.
The photo here is of the Monument which marks the end of Fiddler Ledge at the very tip of Crabtree Point, marking the actual entrance to the Thorofare. Sadly, this venerable (rebuilt in 1880) Coast Guard marker has also been abandoned and will not be maintained. In time, it will crumble and these two ledges will both be unmarked. You can see the Drunkard in the distance to the left in the photo. If it had been high tide when these photos were taken, the Drunkard would have been invisible and dangerously close to the surface. Once the granite monument falls down, Fiddler Ledge will also be invisible at high tide.
A group of us has been organizing an effort since April to convince the Coast Guard to do the right thing: to replace the Drunkard's spindle and then maintain both it and the Monument. From MSFS ferry captains, local harbormasters, selectboards, various maritime users of the bay, to our Representative in Washington, everyone is in agreement that replacement and maintenance are in order for these important markers.
Captain John Worth, who serves as relief captain on the Burgess, noted that "recently the Coast Guard has set a precedent of abandoning day beacons and spindles when they fall down. This approach is really apparent in Penobscot Bay and all mariners should start speaking up."
The Coast Guard maintains a page where mariners can comment on issues with aids to navigation. Use the form at: https://bit.ly/46dBcdQ
Jon Emerson, North Haven, ME
Capt. John Worth, Belfast, ME
---
A fine magazine
I let my subscription lapse a few years ago, and what a mistake. I just received the latest edition of your fine magazine and I was reminded of why I enjoy it; you publish the work of some great Maine storytellers. The story of Joseph Ranco: Early Master Canoe Builder (Sept/Oct 2023, Issue 184) was especially interesting and brought new perspective to a river I know well.  Thank you!
Keith A. Wallace
Kennebunk Landing, ME
---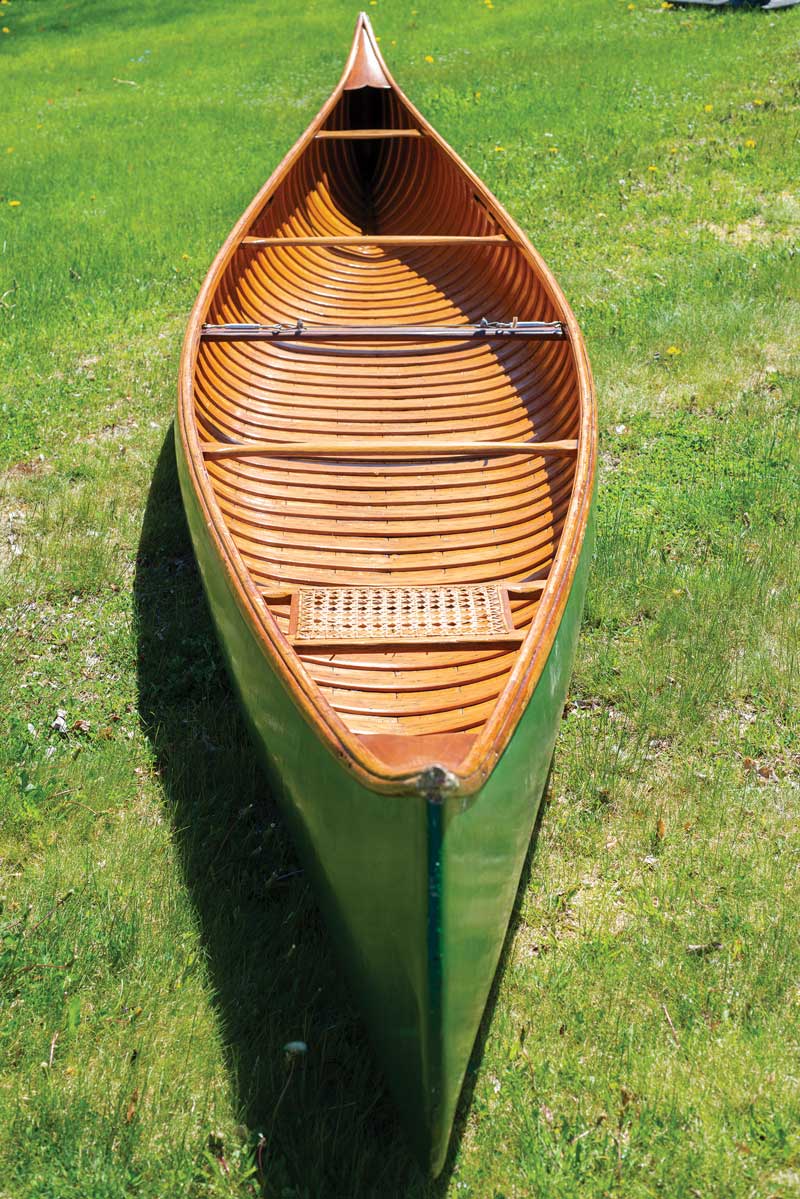 Rare Ranco canoe
I was pleased to see the feature piece on Joseph Ranco in the September issue of Maine Boats, Homes & Harbors. I contacted author Benson Gray last year when a Joseph Ranco canoe was advertised in Wooden Canoe, the magazine of the Wooden Canoe Heritage Association.
As a result of the consultation with Benson, who had seen the canoe in question, I was able to purchase the Ranco canoe for the Penobscot Marine Museum. It is rare—only about a half dozen have been identified. An example of his birchbark canoe building is at the Peabody Essex Museum. This canoe firmly links Native American canoe builders to the wood-canvas industry. Indeed, it is likely that the first wood-canvas canoes were built like bark canoes, starting with a canvas envelope instead of one of bark. Canoe canvas was sold to Native American and First People tribes in areas where the canoe birch trees no longer existed. The step that created the wood-canvas industry was introducing molds onto which the canoes could be planked and ribbed before canvas was applied.
Readers who want to see this rarity can visit the Penobscot Marine Museum (penobscotmarinemuseum.org).
Ben Fuller, Curator Emeritus
Penobscot Marine Museum
Searsport, ME
---
Perfect boats
I read with interest a "Letter From Away" by William E. Clapp in the Sept/Oct 2023 issue of Maine Boats, Homes & Harbors. He spoke of his "perfect boat," a Herreshoff Rozinante named Tern. I believe Tern was one of three Rozinantes commissioned by L. Francis Herreshoff that were built in Rockland, Maine, in the early 1970s. I believe I have the first of the three Rozinantes that were launched, which for many years was moored next to the second. I would love to compare notes with Mr. Clapp. Many thanks. 
Dave Losee, via email
---
Blondie Hasler and OSTAR
A correction to Art Paine's story on the pocket cruiser in the May/June 2023 issue. Although his contributions to the OSTAR race and to seafaring are undeniable, I am fairly sure that Blondie Hasler did not win the first OSTAR in his boat Jester, nor any subsequent OSTAR. If memory serves, Francis Chichester won the first race in his Gypsy Moth.
Tim Ferrell
Surry, ME
The editor replies: Thanks for setting the record straight!