The Inheritance Class Cutter
A Design Based on History
By Roger Moody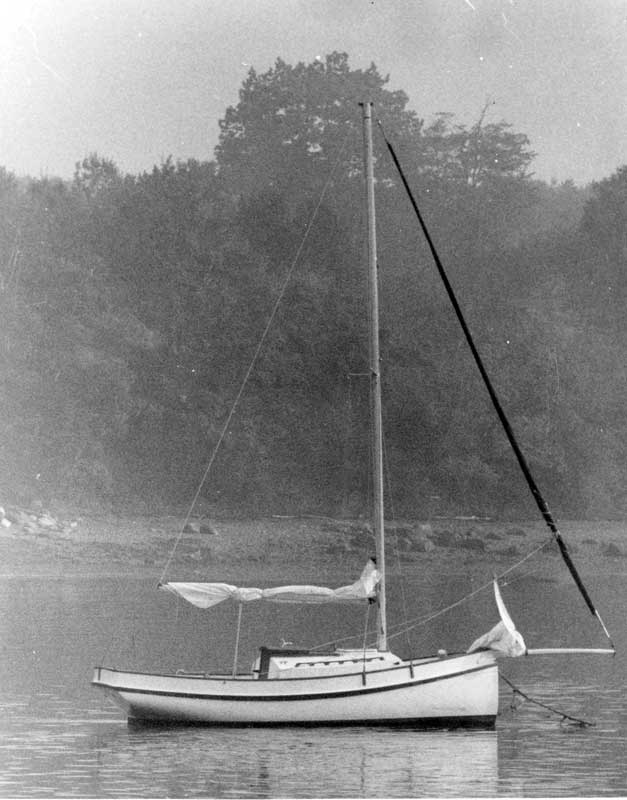 Capt. George Jennings's Inheritance Class cutter Follow Me moored at Bayside in Northport, Maine. Photo courtesy Jennings family
George Jennings spent years at sea but he never forgot a 19th-century era ship model he found when he was seven. And when he finally came ashore, he conceived of a new daysailer based on that model.
Designed as a 22-foot cutter, and configured with a centerboard, the boat, which Jennings called the Inheritance Class, had a 7'′9"″beam to make her trailerable without special permits; she also could be built with a keel. She could be gaff or Marconi rigged, carried 307 square feet of sail with a short bowsprit, and could be finished as either an open boat or with a small cabin for overnight cruising. Plans allowed for a well-mounted outboard motor.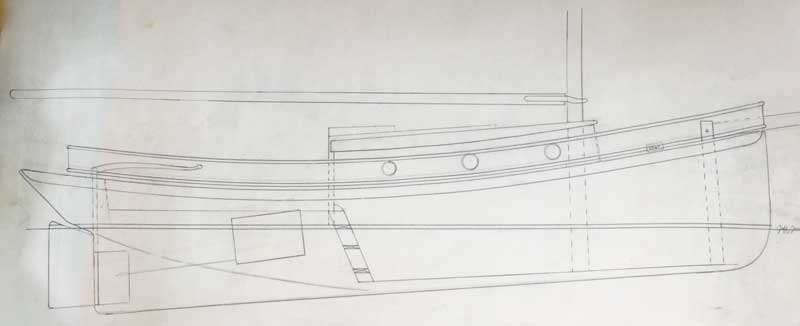 Deck mold design by Thomas Jeffrey Jennings (George senior's son).
During Bayside summers spent at the family farm in Northport as a youngster, the energetic, adventurous, and creative Jennings (1920-1993) learned to sail on Penobscot Bay as a youngster, and during WWII sailed as a deck officer for the Red Ball Fleet, carrying munitions and armaments aboard Liberty ships in convoys to Europe. Jennings was a member of the first (1943) graduating class of Maine Maritime Academy, and upon graduation served as a second mate aboard the seagoing U.S. Navy tug Point Cabrillo operating from Panama to the Hawaiian Islands. He then sailed aboard Liberty ships with cargo for Mediterranean ports, and as a second mate with U.S. Lines.
Seeking work closer to his Northport home and young family, from 1950 to 1956 Jennings served as a tug captain on the Eastern Maine Towage Company's tug Security, which was based in Belfast. Under the tutelage of Capt. John Snow, Jennings wrestled with the currents and dealt with fog banks from Minas Basin at the head of the Bay of Fundy to Rockland while towing barges of gypsum and barite—for Dragon Products Company in Thomaston, which manufactures Portland and masonry cements. That provided the required experience toward his goal of becoming a Penobscot Bay Pilot, and for the next 30 years Jennings met incoming tankers and freighters 12 miles off Monhegan Island, acting as captain to navigate them through the islands, shoal waters, and ledges of the bay to and from the port of Searsport. A pilot's obligation is to be available 24/365 in any kind of weather, and Maine weather certainly presented challenges.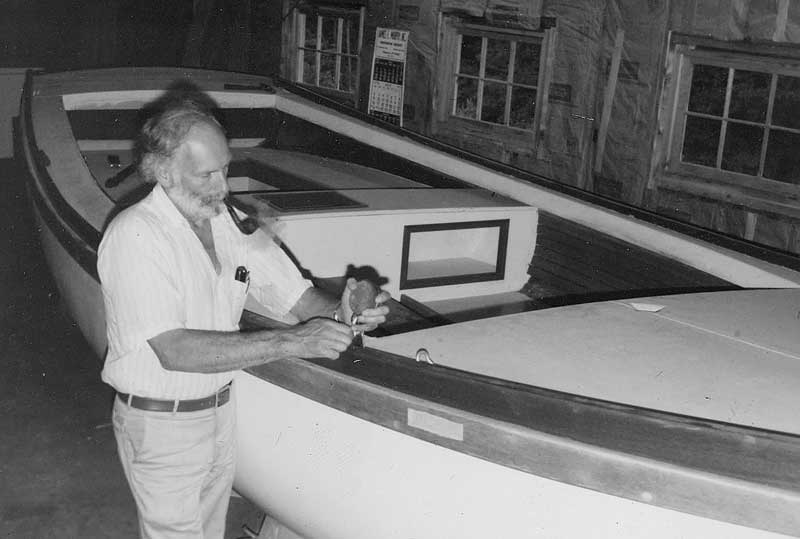 Jennings completes a deck toerail detail for the family's Inheritance Class cutter Follow Me.Photo courtesy Jennings family
Family lore holds that when he was seven, Jennings found a model of an 88-foot Penobscot Bay pilot schooner at his grandparents' Northport farm. His fascination with that model stayed with him throughout his career, and in his retirement years he pursued his long-held dream of developing a 22-foot version of the 88-foot hull form.
Camden-based naval architect Geerd Hendel captured the hull lines and developed a design plan.
North End Marine & Fiberglass Engineering, Inc., in Rockland was commissioned to make up the plug, and about eight fiberglass hulls were built and sold by Jennings in the early 1980s. He marketed the boats for $3,000 from his Aqua-Terra Real Estate and Marine Brokers business with offices in Camden and on the Islesboro Ferry Terminal pier at Lincolnville Beach.
Capt. Jennings's son, Thomas Jeffrey "Jeff" Jennings, designed a deck mold for the cutters, which he and Peter Radcliffe built at Radcliffe's South Shore Boat Yard in Northport.

The Jennings family's 1880s model of the 88' pilot schooner hull form that inspired the Inheritance Class Cutter. Photo by Thomas Jeffrey Jennings
Jeff Jennings later owned one of the hulls, which he took to his home in Louisiana where he finished and rigged the boat. He launched the cutter, named Madeleine, in June 2005, just before Hurricane Katrina hit the Gulf Coast. The boat was severely damaged in the storm, and Jennings sold her to a local sailor.
Capt. Jennings's son George Jennings also owned one of the cutters for a time. He gave it away during a busy time in his life, but wishes today that he still owned it.
"They were a very nice sailing boat," he said. "They were big little boats, with a rugged hull."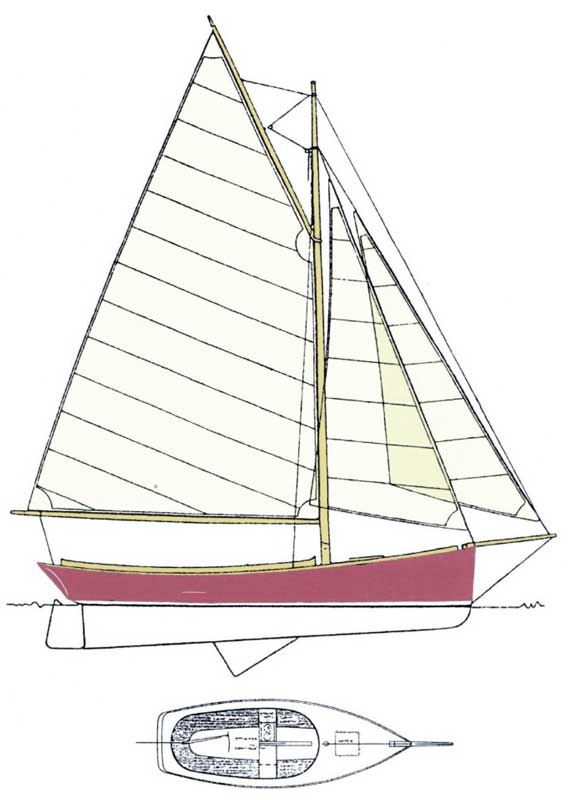 Sketch plan for the Inheritance Class Cutter
The younger Jennings said his boat was gaff-rigged. While the design called for a centerboard, the hull was quite wide amidships which would allow the builder to attach a false keel of wood allowing lead or iron to be let-in to provide proper ballast for the given rig.
An Inheritance Class cutter named Lucille recently was listed for sale in Australia. According to the ad, Lucille was "an exquisite 22' daysailer built with a quality strong construction with no expense spared…. very charming to sail with impeccable manners."
The ad described Lucille as being from the "Chesapeake Inheritance Class;" and Radcliffe recalled that Capt. Jennings's molds went to the Chesapeake area at some point. But the details have been lost.
The design was historic, aesthetically classic, and deserves consideration from current-day owners and builders. Her seakindly hull and heavy construction make her safe and extremely easy to sail.
---
Roger Moody is a retired Maine municipal manager and county commissioner who writes about boats and boating history.
Share this article:
2023 Maine Boat & Home Show

Join Us for the Maine Boat & Home Show!
Art, Artisans, Food, Fun & Boats, Boats, Boats
August 11 - 13, 2023 | On the waterfront, Rockland, Maine
Click here to pre-order your tickets.
Show is produced by Maine Boats, Homes & Harbors magazine.