An Ode to a Beals Island Boat and Her Builder
By Angela Waldron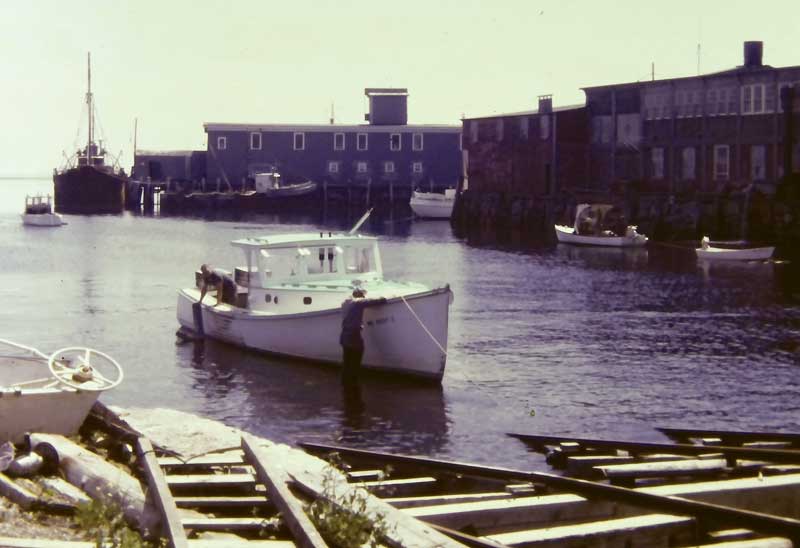 The Penny, built by Buddy Beal for the author's father, in Rockland Harbor in 1967. Photo courtesy Angela Waldron
It was on a fog-laden afternoon in the waning days of fall when I made the acquaintance of one of Maine's humbler residents, retired to the village of her origins after a life of service in the state's most iconic industry.
Little Darlin', a 25-foot lobsterboat, built of oak and cedar sprung from the fruits and labors of this earth in a not-so-distant past, was gradually repairing back to it, if the crusty patina of lichen and furls of peeling white paint on her wooden hull were any indicators.
Her diminutive size caught my eye from the moment we parked and got out of our truck. She was tucked away on a trailer backed into the yard of the house across the street from our destination. An encroaching wall of lobster traps conspired with a tangled thatch of alders, nightshade, and Queen Anne's lace to obscure her returns to the earth. And yet, despite those odds, the Little Darlin' still held her wooden bow high.
Our pilgrimage to this nook of the woods was through the machinations of my father, who had invited me on a drive downeast, our destination a mecca of memories for restless lobstermen on a busman's holiday. Being of the mind that nostalgia is a memory best shared, he'd brought me to Beals Island to pay homage to his very first lobsterboat, a 34-footer finished in the spring of 1964 by the late Clinton L. "Buddy" Beal (1923-2007). Beal was inducted into the Maine Boatbuilders Hall of Fame in 1997. He was among the last of the prolific Beal family dynasty of wooden boat builders, whose ancestors over a century ago pioneered the classic design of the lobsterboat that put Beals Island and neighboring Jonesport on the map.
At just 25' long, Little Darlin' was built for those either at the beginning or the end of their careers, be it an aspiring newbie who just earned his hours or that rare species of "retired" lobstermen (a misnomer if there was ever one) who wanted to downsize but still have the amenities of a full-sized boat that meant business.
We took a few photographs of the historic red boarded-up boatshop and were headed back to the truck when the front door of the house creaked open and out bounded a gray bearded man with smiling eyes who asked how he might help us. Enter Ray N. Beal, Buddy Beal's eldest son (born in 1946) who had bucked family tradition and did not go into boatbuilding—although he was quick to stress that over the years he helped his father out with the business as needed. After introductions, he confirmed that we were indeed standing before one of his father's last creations, a labor of love begun in 1978 and completed between 1990-1991. When I commented on her name, Ray said, "Well, grandfather called all of father's boats Little Darlin', only this one stuck."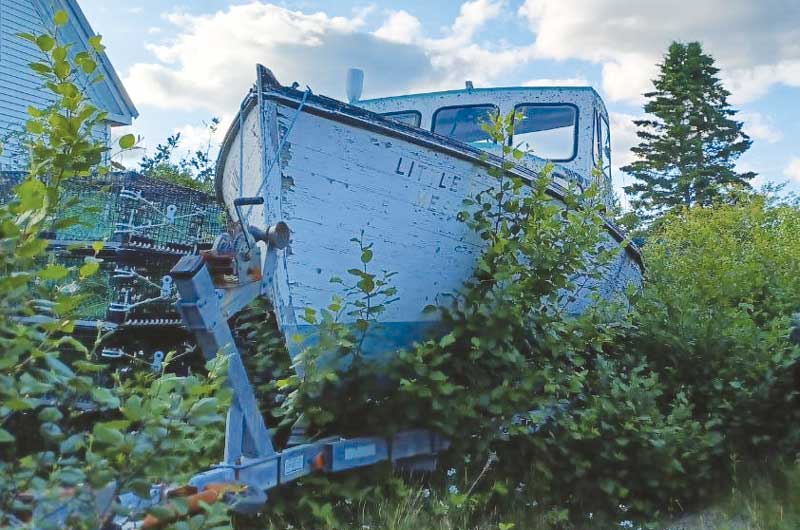 Little Darlin' sitting amid the summer greenery of Beals Island, June 2022. Photo courtesy Angela Waldron
And so, she sits with an air of expectance, and waits.
It's been a long wait. Boats are meant to be used, and the aura of benign neglect around her betrayed decades of inactivity. Still the decay could not hide her fine, clean lines—a testimony to the quiet dignity of earned experience that continues to attract the cultivated eyes of ardent suitors from near and far. According to Ray, she's had her share of admiration over the years from a range of people: from wooden yacht enthusiasts to lobstermen of a certain vintage whose admiring eyes inwardly recall their own wooden boats and those of others; and who can reel off region, make, year, and quite possibly the name of the builder himself.
A lobsterman's success is contingent on a well-designed and constructed vessel. A good builder, like the lobsterman, straddles two worlds at once: the land and the unfathomable depths of the sea below. Such men possess an uncanny way with wood and an understanding of that critical interface of wood and water, skills acquired as an apprentice learning side by side with a master and honed through a lifetime of building. For all these reasons these fine cedar-planked vessels were favored by the lobstermen who plied the liquid highways above the invisible crawl of the lobsters below that their livelihoods so depended on.
A lobsterman's relationship to his lobsterboat is one of finely tuned and complex co-dependency. As an integral member of the family dynamic, the boat wears many hats—as a steadfast companion and workmate, as support crew, and as easy confidant. The lobsterman's fortune and success rides in part on their combined performance and stamina, which is reliant on his oversight and frequent, if not constant, maintenance (if she is down, so is he, and vice-versa). But ultimately, as my father summed it up, "A boat is only as good as who's behind the wheel."
Ray explained how his father's destiny as a boatbuilder was launched when at age 17 he daringly cut off a torpedo stern on his father's boat and replaced it with a square stern, maintaining the integrity of the design but resolving issues of leakage. By 1956, Buddy had established his own boatshop and launched his first boat. Over the decades, Buddy lobstered, worked as a year-round caretaker for summer folk, and built lobsterboats. As a mentor to many young men, Buddy's shop was a place where an aspiring boatbuilder could learn the ropes of apprenticeship or just bask in a collegial osmosis with other like-minded souls—maybe even both.
As we stood above the now quiet shop where Beal and his team built my father's first boat, the Penny, Dad and Ray spun such a convincing web of boats and men that the landscape in my mind transformed back to the wintry days prior to 1980, when the cadence of pounding hammers and other rhythmic sounds of industry from over a dozen active boatshops (employing even more boatbuilders) provided the soundtrack for winter days.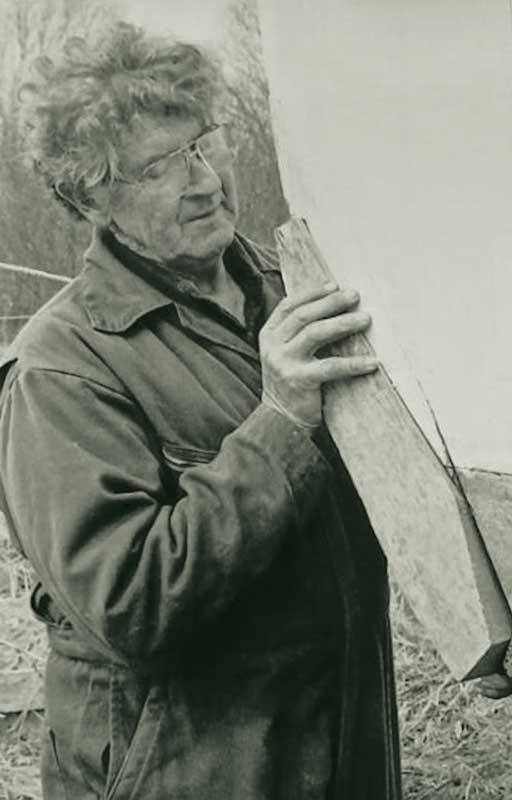 Buddy Beal repairing the stem of Excalibur in the spring of 1990. Photo courtesy Ray Beal According to Ray, his father conceived, and, with his team, lofted and built some 60 plus vessels, most more than 30 feet long (cedar for planking, oak for timbers, stem, and guardrail), each one launched into Cranberry Cove bow-first. Even more impressive are the stats: at the height of his building prowess, Buddy Beal employed five men and was producing, in season (October to May), a boat a month from the small workshop (one boat, a 40-footer, was accommodated by building an extension onto the water side of the shop). "Father liked to arrive early to start a fire and work on laying out before anyone else arrived," Beal said.
The 1960s saw the height of the craft on Beals. Resulting demand grew to a point where the sole job of one man alone was the removal of battens, or bats, from the skeleton.
Almost as important as the builder are the names and lineage of ownership. The builders and design of just about all the wooden lobsterboats from this neck of the woods can be traced back to Beals Island's first white settler and namesake, Manwaring Beal, and later, to Nova Scotia transplant Will Frost in the 1920s (famous, among other boats, for his pioneering torpedo stern Redwing). Each generation took their expertise and improved on the original formula, so much so that some individual designs were known by the builder's name (like a Clinton Beal, a Harold Gower, or a Will Frost, among others). These oral traditions are kept alive in the memories of descendants and lobstermen and recited with Homeric attention to detail. When Ray asked, "You've heard of the White Stallion?" we nodded as he continued, "She was father's first design, a 32-footer, built in 1956…"
Over coffee and reminiscences, Ray's profession in social work was evidenced by the documentary yet heartfelt nature of his black-and-white photographs of family, boats, and Beals Island taken over the decades, nicely printed and mounted on Strathmore card stock, accompanied by his poetry. But it was the personal connection Dad held with Ray's father Buddy that visibly touched him, so pleased that my father had taken the time to come in and reminisce and speak so fondly of "Father."
As we prepared to leave, there remained one unanswered question: "So, who did Buddy make this Little Darlin' for?" I asked.
Ray replied, "Father built this one for me." 
---
Angela Waldron is an award-winning author from Spruce Head who spent her high school summers going sternman on the Penny.
Share this article:
2023 Maine Boat & Home Show

Join Us for the Maine Boat & Home Show!
Art, Artisans, Food, Fun & Boats, Boats, Boats
August 11 - 13, 2023 | On the waterfront, Rockland, Maine
Click here to pre-order your tickets.
Show is produced by Maine Boats, Homes & Harbors magazine.