Joshua and Susan Adam Share a Passion for Place
By Carl Little
All photos courtesy the artists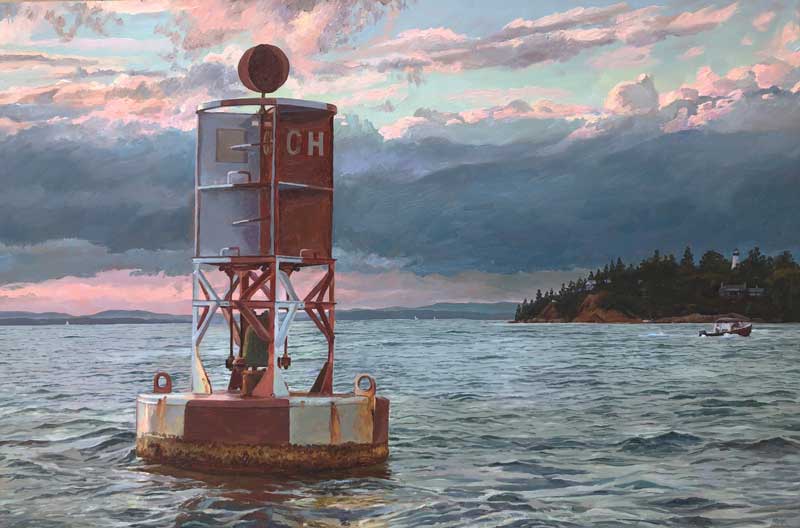 Joshua Adam pays tribute to a stoic nautical marker. Evening at the Bell, 2021, oil on panel, 24 by 36 in. Private collection.
In October 1991, Susan and Joshua Adam were in the Lake District in England, the latter to fulfill a commission for a large painting. In a photo of the two of them taken at the time, they scan the Buttermere countryside, looking for motifs to paint. As Joshua holds up a viewfinder, Susan, her painting materials at the ready, stares intently into the distance.
These days, the couple, year-round residents of Castine, continue to go on scouting trips together. They find much of their subject matter nearby, with occasional outings to Isle au Haut, Deer Isle, and other locales. When they return home, however, they retreat to their separate studios to render the world around them in quite different fashions.
Susan draws on earlier abstract inclinations to create stylized and stunning riffs on various views, from the town's Main Street to a night prospect of a harbor. She doesn't go looking for subjects as much as she responds to something that catches her eye: "a curve in the road, a commanding tree, a splash of color, or a well-placed cloud." Hers are recognizable motifs filtered through an illuminating eye.
By contrast, Joshua is an exacting realist. A painting of a nautical marker, for example, displays the precision of an engineer. His paintings of sailboats capture the energy of the scene via verisimilitude. In one canvas, a red-and-white striped spinnaker balloons out as it catches the wind, the boat's hull cutting through what looks like real water.
To a certain degree both painters rely on technology. Susan paints from photographs. About four years ago she discovered the iPad and Apple pen and learned how to create a digital sketch. "The ability to draw over the photograph—essentially hiding the original picture—changed everything," she said. Obsession with detail disappeared allowing for greater fluidity which resulted in "pure enjoyment." As a result, her personal style evolved further.
Joshua also uses photography, sometimes joining a sailboat regatta to capture the immediacy of the scene. "When the racers are yelling at you that you're too close, then you know you've got some good shots," he reported. For the aforementioned spinnaker painting he worked from a screen shot taken from a drone video made by a friend.
What is it like to have two painters living and working under one roof? While one of them will occasionally request an appraisal as a painting progresses, they have a general rule: no criticism unless requested. In general, they resort to this genial and diplomatic response to each other's work: "Good so far."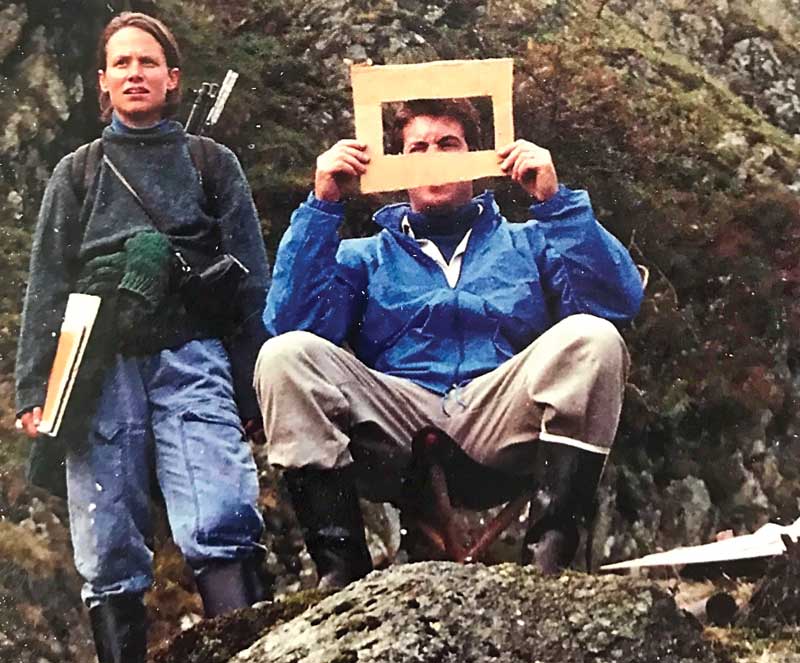 Susan and Joshua Adam scoping out a landscape motif in Buttermere, England, 1991. Photo Alex Mott
The Adams met at Colorado College in the early 1980s and connected through art classes, including one taught by newly hired painter Bogdan Świder, who pushed them hard to further their skills and dedication. In their senior year they had adjoining studios on the top floor of the art building, with views of Pike's Peak. They subsequently became close friends and married in 1988, four years after graduation.
Early in their marriage, Susan told Joshua she would live anywhere, but that she needed to spend at least a month in Castine every year. After 10 or so years on the West Coast, they moved to Maine full-time in the fall of 1999 in order to spend the whole summer in Maine and to raise their son Jasper in a village setting.
Susan's grandparents came to Castine in the 1950s—"It's where generations of close family, lifelong friends, and my heart lie," she said. Her father would save up all his vacation time in order to be in Maine in the summer.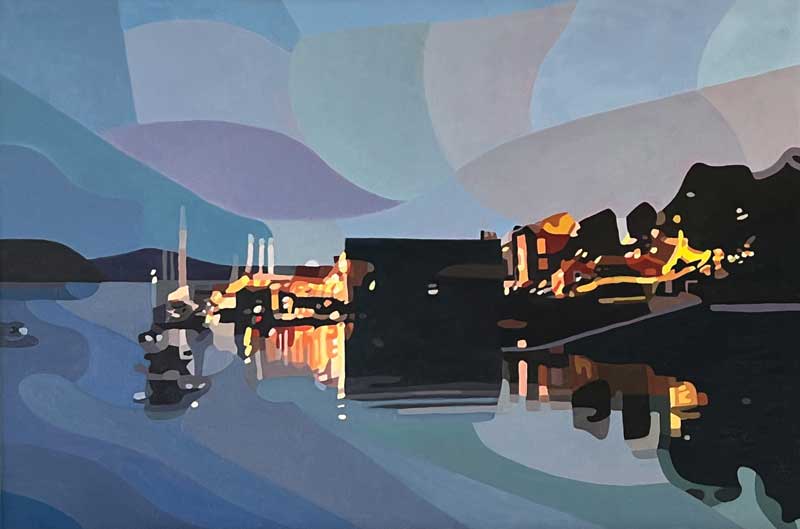 The Castine waterfront at night. Susan Adam, Harbor Lights, 2023, oil on canvas, 24 by 36 in. Private collection.
Born in Hinsdale, Illinois, Susan moved with her family to West Hartford, Connecticut, at age six. She remembers being drawn to art early on, inspired by her maternal grandmother, Judith Payne, who was creative, entrepreneurial, and fearless—and who took up painting in her 40s while raising four children. "We had endless conversations about art," Adam recalled.
Susan's mother and grandmother taught her how to sew, knit, needlepoint, and hook rugs. She also loved woodworking, weaving, furniture building, and silk screening, which she learned in high school. "I was a shy kid happy to stay home working on my 'projects'."
She also remembers living next door to her great uncle, the renowned sculptor Clark Fitz-Gerald (1917-2004), each summer in Castine. "I was keenly aware of his work ethic," she recalled, "what it took to be a career artist—the dedication, the passion, the sacrifice."
After attending the Loomis Chaffee School in Windsor, Connecticut, Susan headed west to Colorado College. Being a strong math student, she thought she might be a business major, but after taking her first painting class, she was hooked. "It came easily to me," she recalled, "I had confidence and lost track of time." Practicality, she felt, could wait.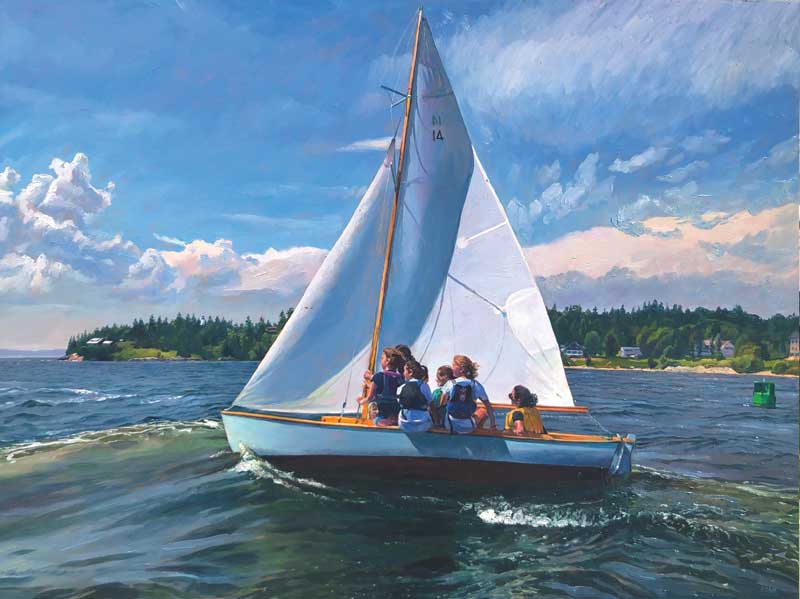 Out for a windy spin on a classic daysailer. Joshua Adam, Joyride, 2022, oil on panel, 30 by 40 in. Private collection
At the time she pursued an abstract expressionist approach, letting her stream of consciousness "rule the brush with all the abandon that a college kid has when their parents are footing the bill." She earned a B.A. in studio art.
After college Susan "somewhat reluctantly" painted landscapes with the goal to one day return to abstract painting. She eventually launched a commissioned portrait business to earn extra money. Fairfield Porter's career was a model—someone who painted landscapes but also portraits of family and friends. She followed suit.
What she calls a "skill-building exercise" became a remarkably successful enterprise. She painted Castine friends, like retired surgeon Jeb Hallett and his wife, author and psychiatrist Linda Austin; her husband Joshua and other family members; and occasionally people's four-legged companions.
In 2020, Adam decided to do a series of portraits of some of the major figures of the day, among them, Congressman John Lewis, Justice Ruth Bader Ginsburg, Maine CDC director Nirav Shah, President Joe Biden, and Vice President Kamala Harris. These portraits gained her visibility: the New York Historical Society acquired those of Drs. Fauci and Birx for its Covid collection, and the Kennedy Center presented Stacey Abrams with a print of her portrait at a human rights event.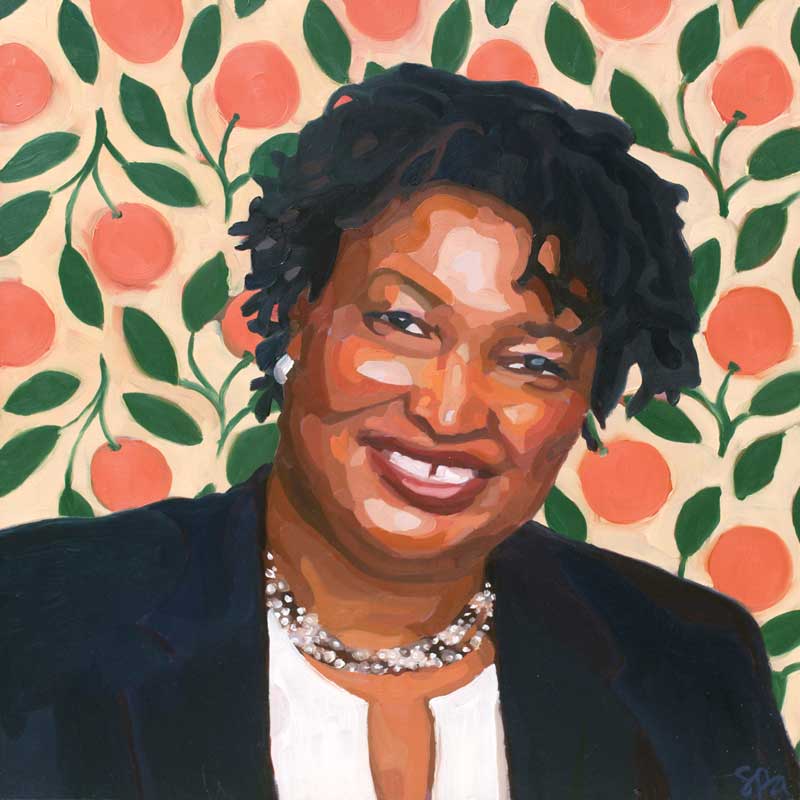 One in a series of portraits of influential Americans by Susan Adam. Stacey Abrams, 2020, oil on panel, 18 by 18 in. Private collection
Susan's biggest challenge has always been her "perfectionism and self-doubt," but she thrives on life's twists and turns. She has struggled to find a balance between making paintings she knows will sell and ones that feed her soul. These days she feels her paintings do both and although it took a long time to reach this stage, it was "worth the wait."
Joshua Adam arrived at art via a different route. Born in Marin County, just north of San Francisco, he grew up in Mill Valley, "a very vibrant place, lots of artists, and rock musicians." He took watercolor lessons from his stepfather's mother when he was 11 or 12, and jumped into painting his senior year in high school through a self-designed independent study. He hung out at the studio of a local artist and watched him work and "probably annoyed him to some degree." He also painted his first plein air oil paintings, the beginning of a self-taught, trial-and-error journey he is still on.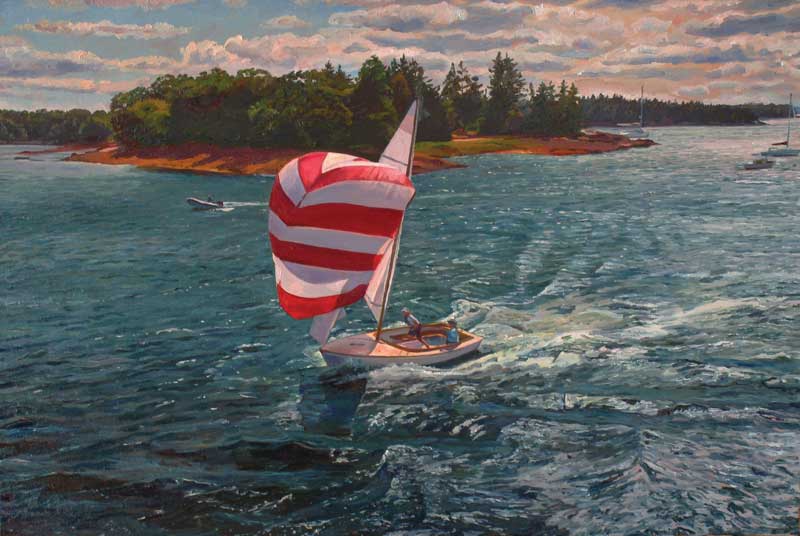 Joshua Adam used a screen shot from a drone video to capture this sailboat mid-race. Flying By, 2018, oil on canvas, 24 by 36 in. Private collection
In his sophomore year at Colorado College, Joshua switched majors, moving from anthropology to art. Following graduation, he spent a year in London at the Chelsea School of Art experimenting with different approaches but always returning to landscape. He found inspiration in the luminist painter Frederic Church, both his work and his travels. Like Church, painting in hard-to-get-to places appealed to him.
Joshua's art career took a fortunate turn in 1987 when a prominent San Francisco gallery owner noticed his work in a group show and took him on. For the next decade he had numerous solo shows at the North Point Gallery, which specialized in 19th-century work (the director felt Joshua was a kindred spirit).
He has his own claim to a Maine heritage dating a few generations back. His great-great grandfather William Folwell, on his father's side, purchased Warren Island off Islesboro in 1899 and built one of the largest and most expensive log cabins in New England. The island served as a family retreat until the crash of 1929 at which point Islesboro acquired it in lieu of taxes. The island became a state park in 1967.
In recent years, Joshua has moved from plein air to the studio without losing the immediacy of the former. He feels his work "jumped up a notch" about four years ago. This advance might have been because of Malcolm Gladwell's 10,000-hour rule or may be related to a cancer diagnosis in 2019 that caused him to think, "Is this really the best you can do?" He said he's not sure, "probably both."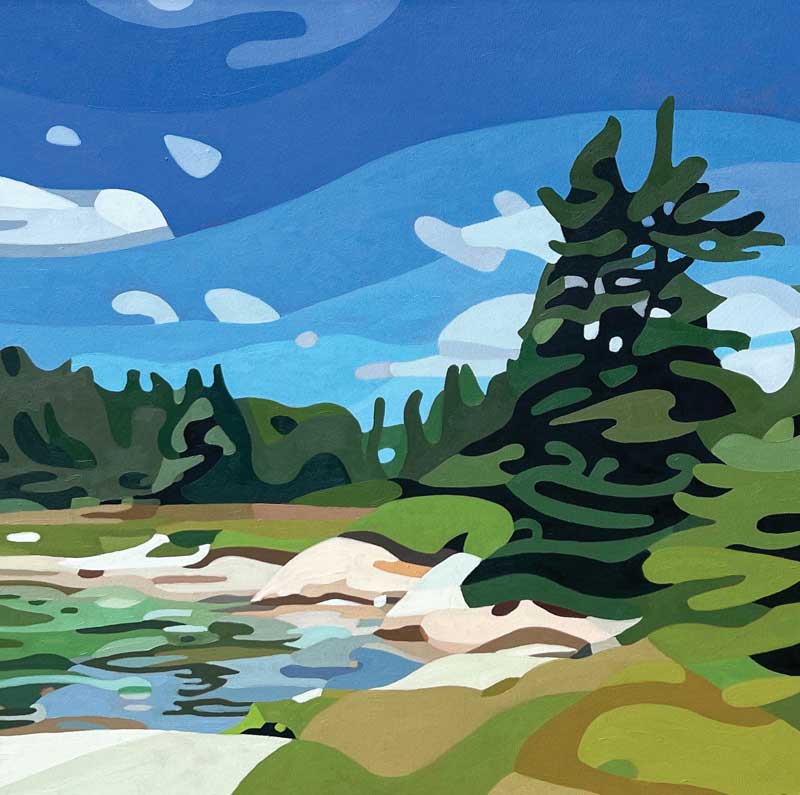 A signature stylized rendering of the Maine coast. Susan Adam, Deer Isle Pines, 2023, oil on canvas, 30 by 30 in. Private collection
In 2003, the Adams launched a gallery at their home on Battle Avenue, mainly showing their own work. The space was a little out of the way, so in early summer 2020, in the middle of the pandemic, they moved the gallery to Castine's Main Street. They share the space with Susan's sister-in-law, jeweler Julia Parish.
In its new location, the Adam Gallery gets more foot traffic and visitors, some folks walking up from their boats. "The community has been supportive," Susan said. While shocked they have lasted this long, each year has gotten better sales-wise. The pandemic proved to be something of a boon as more people retreated to Maine and spent less on vacations and restaurants while feathering their nests—and improving the backdrop for their Zoom calls.
The Adams take a "break from painting" during peak summer months—the town and gallery get a bit chaotic. While waiting for fall to come around again, they gather visual material for when they'll be back in their studios, painting away.  
---
Carl Little curated "Clark Fitz-Gerald: Castine's Celebrated Sculptor-in-Residence" at the
Castine Historical Society (through October 9). His brother David's and his book Art of Penobscot Bay is forthcoming from Islandport Press.
More paintings by Susan and Joshua Adam can be found at adamgalleryonline.com.
Share this article:
2023 Maine Boat & Home Show

Join Us for the Maine Boat & Home Show!
Art, Artisans, Food, Fun & Boats, Boats, Boats
August 11 - 13, 2023 | On the waterfront, Rockland, Maine
Click here to pre-order your tickets.
Show is produced by Maine Boats, Homes & Harbors magazine.