Sarah McRae Morton's Time Capsules
By Carl Little
Photos of paintings courtesy Dowling Walsh Gallery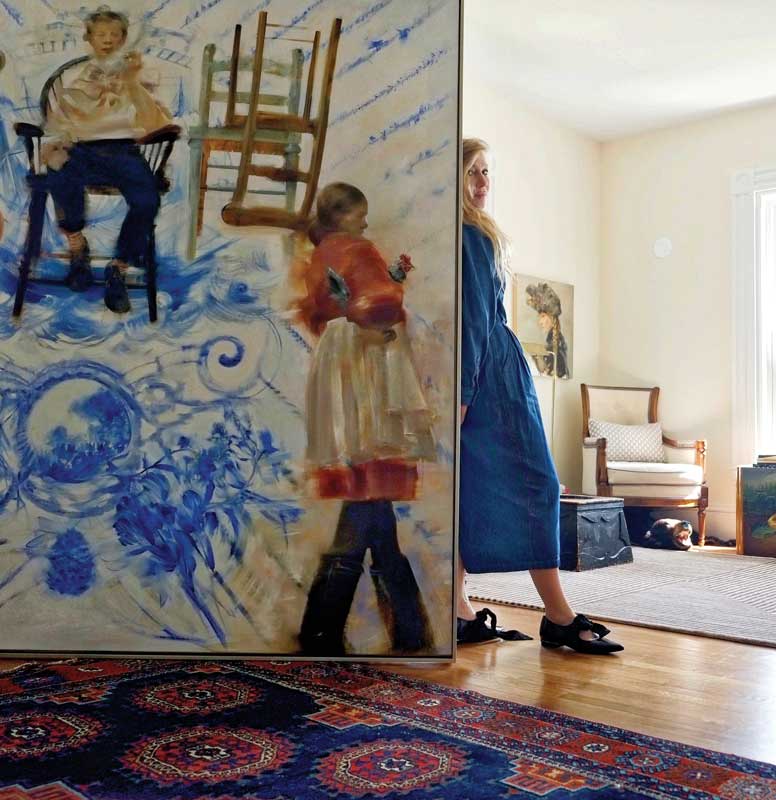 Sarah McRae Morton at her studio in Rockland half-hidden behind her painting Coronation, 2020, oil on linen, 76 x 76 in. Photo courtesy the artist
Walking into Sarah McRae Morton's second-floor studio in downtown Rockland, you immediately feel the energy. There's a painterly vibrancy, like she's ready to rock and roll, with canvases encircling her, with figures and objects that flash upon the inner and outer eye. The very nature of her brushwork lends itself to the feeling of seeing something flash past, fleeting yet persistent.
Over the past 10 years or so, these paintings have gained Morton a place of honor in the art world, with exhibitions in Germany, Switzerland, Seattle, and Delaware. She has received glowing critical response, with one critic describing her work as dreamscapes "deeply seasoned with history, memory and meaning."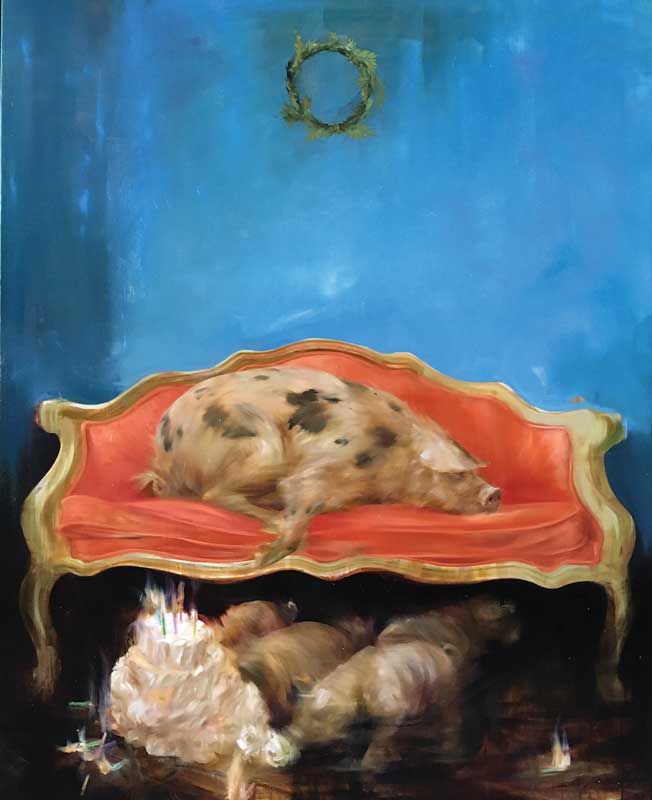 Pigs invade the parlor in Morton's Pannage and Scratch Cake, 2021, oil on linen, 60 x 48 in. The paintings, Morton explained on a recent morning, represent a synthesis of ideas. They often start with an impression, an "aha" moment that she tries to get down quickly and "keep alive" while she applies paint. Returning to these ideas over time, she will add elements, sometimes related to what's going on in the world or what she's reading. She thinks of them as time capsules.
Sometimes Morton will take on a subject in part as a technical challenge. How, for example, does one render a wedding dress with all its folds and frills? How, she asks, "do you paint a white shiny thing that is reflecting color and revealing form?" Such questions lead to surprising and brilliant solutions.
Each painting holds mystery. While Morton may offer some of the back story of an individual image, the viewer is invited to create his or her own narrative.
Looking at a painting of a whale hurtling head-first through the water, you would probably not think of the steamboat inventor Robert Fulton (1765-1815); but through a string of associations, both personal and historical, Morton made the connection. Part of her thinking behind Fulton Locket involved the evolution from sailing to steam and "how the industry changed, and the whales were spared eventually because we didn't need their oil." She also was considering how whales contain human history, sometimes literally: 100-year-old spear points have been found in their flesh.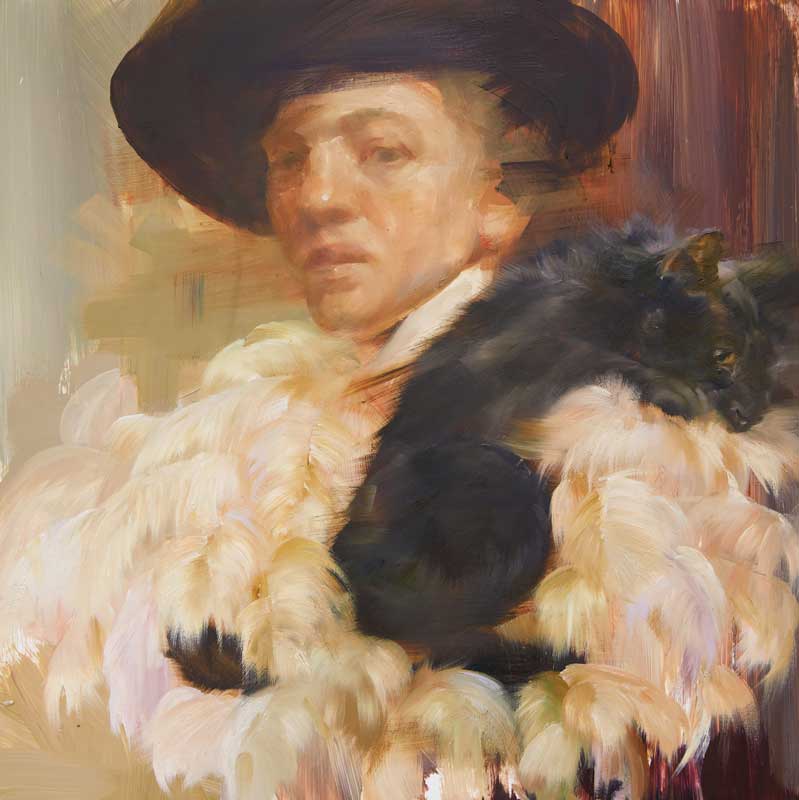 Morton channels the Old Masters in Black Cat, Blush Herring, 2023, oil on wood, 16 x 16 in.
In Flight Jacket, a young man in a brown jacket and wide wool collar—kin to some of Andrew Wyeth's figures—holds a bat in one hand. The painting came about after Morton read about bats, those "unsung heroes" of the night. "If you demonize these creatures," she thought, "what is the consequence in the landscape or the ecology of a place?" She cites the similar fate of the wolf in Little Red Riding Hood. "What's the story you have to tell to bring them back?"
In addition to whales and bats, Morton's menagerie features bears, tortoises, lions, dogs, and pigs, the latter among her favorite animals harking back to her childhood in rural Pennsylvania. In Pannage and Scratch Cake, the porcine creatures occupy a salon. One of them lies on its belly on a fancy red couch while piglets below devour a wedding cake. Morton traces her love of this subject to viewing Jamie Wyeth's Portrait of Pig (1970) in the Brandywine Museum. "I would beg my parents to go and see that painting," she recalled, all the while thinking "I'm going to have a pig someday and I'm gonna be a painter."
Morton eventually did get pigs and, later, became a painter.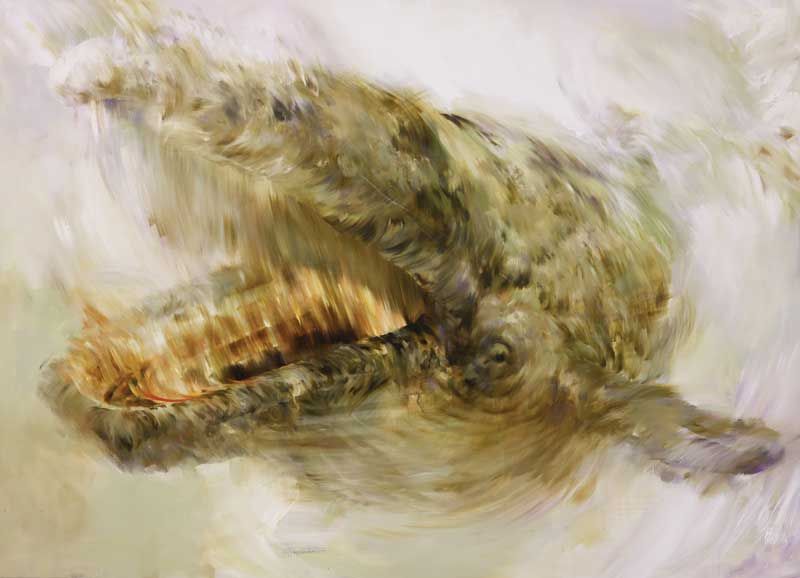 Morton's fascination with whales takes a powerful turn in Fulton Locket, 2022, oil on canvas, 41¾ x 58 in.
Morton's original connection to Maine came through an aunt who lived in Saint George. Over the years, the painter kept "casting lines" to spend longer stints in the area. If her past is any indication, she may not be settled yet.
Born in Boston, Morton moved to Lancaster County, in rural Pennsylvania, as an eight-year-old, when her parents started a nonprofit clinic to serve the Amish. Her first memory of making art was "just finger painting at the kitchen table like every other kid."
Originally from West Virginia, in Appalachia, her father and mother fostered storytelling in and through music, making art, and sitting around campfires. They also encouraged their daughter's creativity. "They were just like, 'Well, she's going to draw on the walls, so we'll just put up butcher paper," Morton recalled. She had a little studio above the stalls in the barn, so horses, pigs and other farm animals were among her first subjects.
Painter Myron Barnstone (1933-2016) played a significant role in Morton's development as an artist. An ex-pat from England who moved to Bethlehem, Pennsylvania, gave up painting, and devoted himself to teaching, Barnstone offered classes in technical drawing, draftsmanship, and color theory—"a rigorous training program," Morton called it, that required full dedication. She likened it to apprenticing in an Old-World studio.
Morton studied with Barnstone in high school and then for a year after. In what she described as a "cosmic swirl," she later learned that her mentor had been a busboy at the Samoset Resort when he was a teenager—a Maine tie.
Studio and art history courses at the Pennsylvania Academy of the Fine Arts furthered Morton's immersion in painting. Her teachers included Sidney Goodman (1936-2013), a brilliant figurative painter. She also spent a summer at the Skowhegan School of Painting and Sculpture.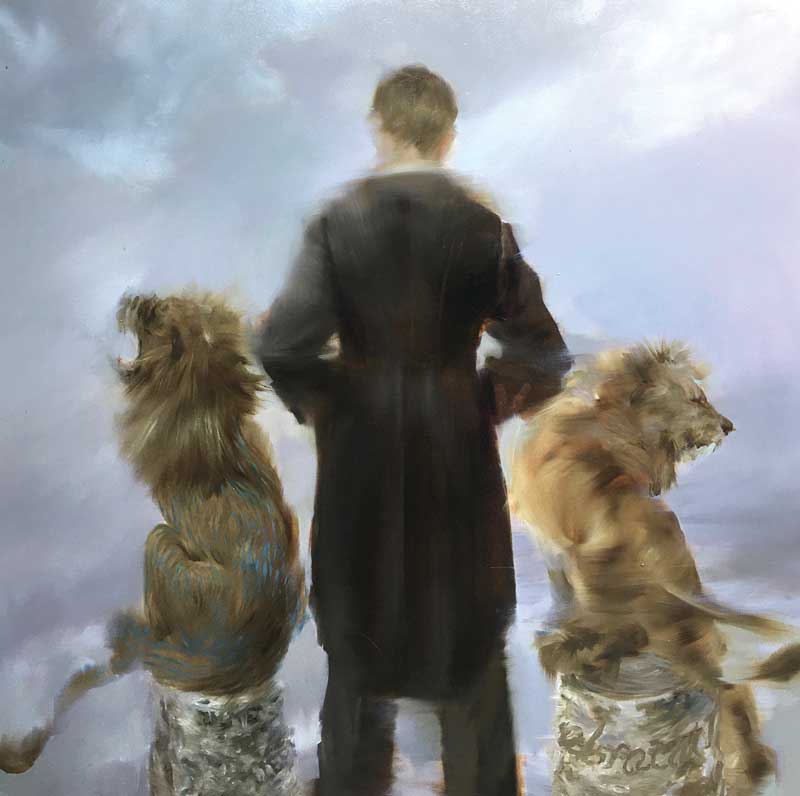 A ringleader with leonine companions stars in Morton's Abracadabra, 2021, oil on linen, 36 x 36 in.
At some point, as she racked up tuition bills, Morton decided if she was going to be a painter, she should "just go paint," so she moved to West Virginia, near Beckley, where the rent was cheap. She was curious about family history and wanted to explore the landscape but also what she called "personal mythologies."
While there, a friend shared a trove of glass plate negatives documenting life around the mines and mining towns in the area. Figures in those photographs worked their way into Morton's paintings, as did the blur of some of the images. She set out to imitate the appearance of motion in the photos, the sense of a gesture, which was more telling to her than more fixed portraits. A switch went on: she had found what would become her signature approach to subjects, a kind of action painting.
In what she called a "romantic adventure," Morton moved to Cologne, Germany, and ended up staying there for 10 years. She had dreamt of living in Europe, to walk the same haunts as some of her favorite artists, including Käthe Kollwitz, whose work was featured in a museum down the street. She also explored the chemical composition of paintings in Rome and studied with Norwegian painter Odd Nerdrum, creator of mysterious figurative allegories. 
During this time, Morton painted more out of her imagination than from a direct source as she had in West Virginia. At the same time, she developed more clarity about those places and stories from earlier in her life. She drew on visual memory, and a sense of place and familiarity. You can find William Faulkner's famous line from Requiem for a Nun on her website: "The past is never dead, it is not even past."
Back in Rockland, Morton is renting half of the house where the poet Edna St. Vincent Millay was born—the restored two-story building is now a historic site thanks to the efforts of volunteers devoted to Millay's legacy. Does the painter feel any ghostly presence? "I feel very welcome there," she said, adding, "I think Edna would like it if I had more parties." 
✮
---
This summer Carl Little curated "Generations," the Maine Art Gallery's 65th anniversary exhibition, and "Avian Artistry: Treasures from Maine Collections" at the Wendell Gilley Museum. Starting this summer the Thos. Moser showroom in Freeport will be showing the work of 50 artists featured in his and his brother David's forthcoming book Art of Penobscot Bay (Islandport Press).
Morton's fourth solo show at the Dowling Walsh Gallery runs July 7-29, 2023. You can see more of her work at www.mcraemorton.com.
Share this article:
2023 Maine Boat & Home Show

Join Us for the Maine Boat & Home Show!
Art, Artisans, Food, Fun & Boats, Boats, Boats
August 11 - 13, 2023 | On the waterfront, Rockland, Maine
Click here to pre-order your tickets.
Show is produced by Maine Boats, Homes & Harbors magazine.