The New Harbor 28
A modern take on a classic
By Art Paine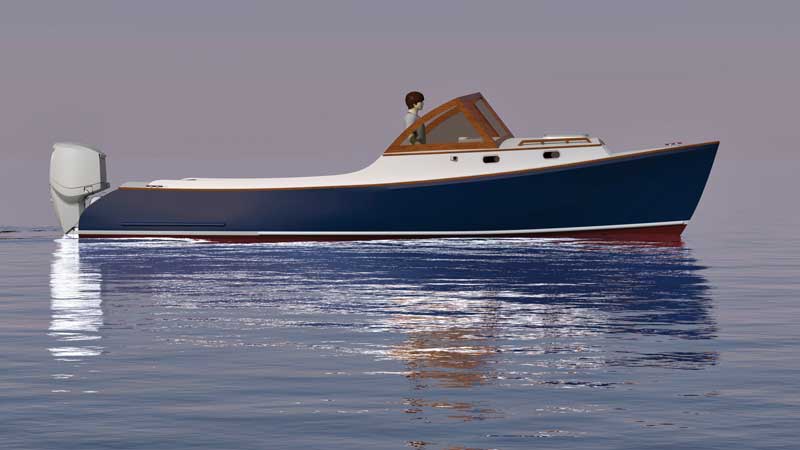 Inspired by the classic Wasque 26 powerboat, the New Harbor 28, now under construction at Front Street Shipyard in Belfast, has modern updates including a stern extension for outboard power. Image courtesy New Harbor Boats
For close to a decade, Ed Sutt lived in Jamestown, Rhode Island, surrounded by boats. Like so many Jamestowners, he loved boats and boat design. Sutt owned a Seaway 21 and considered it the best boat he ever had—it might've been perfect if it only were a little longer, he said. But like many of us, he constantly refined an image in his mind of his dream boat, which always had a "Downeaster" profile. His dream was to employ his business and marketing talents behind the ideal boat.
That dream became real this year as Front Street Shipyard began construction of the first New Harbor 28 for Sutt's newly formed company, New Harbor Boats. Based on the vintage Wasque 26, which had a reputation for seaworthiness and efficiency but was commonly built as an inboard, the new 28-footer will feature a 2-foot stern extension for outboard power, and a few other modern updates.
It all began when Sutt bought the cavity molds for the Wasque 26. On a Southwest Airlines flight from Nashville to California, he was surfing the web and was shocked to see a listing for the Wasque molds on Craigslist. Why would those molds be languishing in a field in Rhode Island, he wondered. The 50-year-old design was a huge commercial success, accounting for about 30 boats from Vineyard Yachts and another 45 from C.W. Hood in Marblehead. Besides, it's one of the prettiest small inboards ever, similar in its svelte hull shape to Jonesport/Beals lobsterboats in the days prior to the big broadening. The only departure from the template of classic downeast builders like Will Frost or Harold Gower is the "bass boat" windshield.
The Wasque—pronounced WAY-SQUEE—is named for a notoriously choppy spot South of Cape Poge on Chappaquiddick Island off the eastern end of Martha's Vineyard. I recall with a tinge of queasiness pounding my guts out there, in a "round the island" sailboat race. Wasque's were aptly named. Like Beals-built boats, they come into their own in a hellacious tide rip.
Sutt answered the Craigslist ad up there around 33,000 feet, and, lo and behold, got a response. Negotiations advanced over the Rockies; he convinced the seller to hold the molds for him over Salt Lake City; dealt with PayPal above Nevada; and began a new enterprise by the time he landed on the left coast.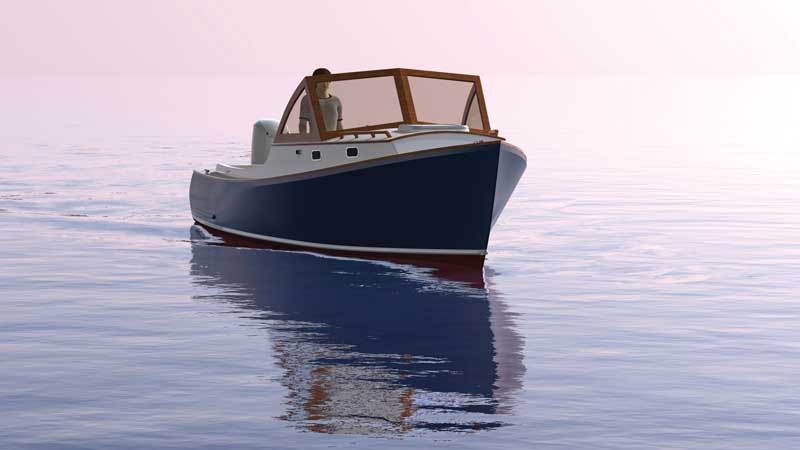 Adding an outboard for power gets the engine box out of the cockpit and leaves more room for seating. Image courtesy New Harbor Boats
When I first called Sutt, who lives in Tennessee but loves Maine, he explained that from the beginning he intended to have the molds rejuvenated and to make some changes to the design. He hired designer Geoff Van Gorkom of Portsmouth, Rhode Island, to optimize the underbody and stretch the stern two feet with a buoyancy box for outboard engine power. Getting the engine box out of the cockpit leaves more room for flexible seating, Sutt noted.
I phoned Van Gorkom, who's a world-class designer in sail and power, for the weedy details. For many years Van Gorkom has done work in Maine; for instance, helping Atlantic Boat perfect a Calvin Beal 42, along with similar projects along the coast. He was perfectly in sync with Sutt's desire to increase, if possible, the Maine imprint on the design. He described to me the intricacies of engineering an extension to perfectly fit an existing design and endure the possible strains of one 300 HP or two 150 HP engines.
So many modern boats claim to be "Downeast style," which sometime borders on the absurd when used for boats with flybridges, catamarans, and foilers. The description truly does fit the New Harbor 28, however.
By stretching the original Wasque 26 to 28 feet, and tapering the stern downward to a "barrelback" profile, Van Gorkom has come up with lines that match the classic downeast fishing boats but for a few degrees of rake in the stem.
I noted three features in particular. The rabbet line profile of this hull minus the keel dips low for the first third of length aft of the cutwater. This sharpness slices into steep waves like a knife, slowing her very little. Second, the belly of the hull never drops far, providing a full-length flat planing surface all the way to the extended stern. Thirdly, the bow is high. No seas will ever submerge it.
Sutt chose Front Street Shipyard as his builder for versatility. He wanted experience, artistry, and teamwork. Front Street also has an auxiliary facility in Bucksport that does fiberglass tooling and molding. And they do waterjet metal cutting, such as the New Harbor 28's unique custom outboard motor bracket. "I expected that a new version of an older boat would have a lot of things to work out, and for that there's no substitute for experience," Sutt said. "Front Steet never disappointed; they had artistry and craftsmanship to spare."
Also partnering on the project is Charr Custom Boat Co. of Yarmouthport, Massachusetts.
The New Harbor 28 is ideal for coastal cruising. It's exactly 8'6" wide, so it can be trailered without a special permit. The bottom of the boat will be solid fiberglass while the topsides are cored. That means it will never delaminate. The interior was reconfigured so both tall and short people can overnight comfortably. It includes a comfortable V-berth, head, and sink. These and some additional features raised the displacement from 6,000 to 6,500 pounds, but that's more than offset by the capabilities of more efficient modern engines, inboard or outboard.
Van Gorkom computed speed estimates increasing the top end from 24 knots in the old Wasques to above 30 knots with a single 300, or twin outboards. The boat also will still be available with inboard power. The trim for the first models will be teak, with teak ladderback chairs in the cockpit, teak handrails and cabin door. The boat will even be sold in kit form, in part because this hull has proven exceptional for fishing purposes, and some fishermen might want to add special configurations in pursuit of specific prey.
I'd gotten the outboard profile and lines plan from MIT's Hart Nautical Gallery, and think that those two drawings are among the finest drafting work I've seen for any powerboat. I look at the best lines plans as works of art. To qualify for that esteem a shape needs to be equally special as to both form and function. Sales of the Wasque 26 began in early 1973, but John Alden had died 10 years previously. Having worked in my twin brother, Chuck Paine's, design office and been part of the conception of many yachts, I wondered what anonymous foot soldier had actually drawn this masterpiece.
Many have considered it to be an Alden design, although some websites claim the boat was the invention of a fisherman from Edgartown. Tom Hale, Sr. from Vineyard Haven is frequently mentioned as the founder of the boat line, if not the designer. Chris Hood's name pops up, too, although it didn't take long to discover that he only made minor changes to the original design when he successfully marketed the Wasque 26s. In fact, Sutt said C.W. Hood still owns the "Wasque" name. That's why the new boat will be called a "New Harbor 28."
Both before and after his death, Alden was famous for having employed a star-studded cast of design associates. These included Sam Crocker, Clifford Swaine, William McNary, Charles MacGregor, Dwight Simpson, Winthrop Warner, Howard I. Chapelle, Aage Nielsen, Carl Alberg, Ralph Winslow, Fenwick Williams, Murray Peterson, Al Mason, Charles Wittholz, and Charles Schock.
Intrigued by the mystery, I zoomed in on the Alden Co. drawings, and found clues in the title blocks. Fortunately, I am friends with an old dinghy-sailing competitor, John Perkins, a yacht broker who worked at Alden for several years in the early 1970s. He used to spend time with the gang in the drafting room; and, parsimonious enough to always bring his own lunch, he ate with George Welsh practically every day. While the Wasque 26 outboard profile was never initialed, the lines plan was attributed: "drawn by C. P. S. and G. C. W." There having been no others with those initials, then the lines plan is the collaborative work of Clifford P. Swaine (drafting room boss for over 40 years during and after the stewardship of John G. Alden) and George C. Welsh, a naval architecture graduate of MIT. Together these men created Alden design number 1028, and signed off on the drawings on October 16, 1972. To the best of my knowledge neither of these men, whom Perkins described as dignified, witty, and humble, ever went off and created designs under their own names.
Hull No. 1 of the New Harbor 28 was expected to be launched in the spring of 2023. 
✮
---
Contributing Author Art Paine is a boat designer, artist, and writer who lives in Bernard, Maine.
Specifications: New Harbor 28
LOA:  28' (without outboard engine)
LWL:  26' 2"
Beam:  8' 6"
Draft:  2' 3"
Displ.: ~6,800 lbs.
Power: 300-hp outboard
Designer:
Geoff Van Gorkom
www.vgyd.com
Owner:
New Harbor Boats
380 Maple St., Gallatin, TN
615-906-1628
www.newharborboats.com
Builder:
Front Street Shipyard
www.frontstreetshipyard.com
Share this article:
2023 Maine Boat & Home Show

Join Us for the Maine Boat & Home Show!
Art, Artisans, Food, Fun & Boats, Boats, Boats
August 11 - 13, 2023 | On the waterfront, Rockland, Maine
Click here to pre-order your tickets.
Show is produced by Maine Boats, Homes & Harbors magazine.