Boat news and pricey meteorites
By Polly Saltonstall
The Victory Chimes under sail on Penobscot Bay last summer. Photo by Polly Saltonstall
Sailing into a song
The iconic 123-year-old windjammer Victory Chimes has been sold at auction to New York investors who have a history of turning ships into floating restaurants.
The Victory Chimes, which was commemorated on the 2003 Maine state quarter, was sold at auction in May for $75,900, according to The Courier Gazette. Owner and captain Sam Sikkema said the vessel had been sold to Miles and Alex Pincus, brothers who have turned two former vessels into floating restaurants. The 128-foot three-masted Victory Chimes has sailed the Maine coast as a windjammer on and off since 1954. Most recently the vessel was based in Rockland. She was decommissioned as a passenger vessel in August 2022 because of the need for extensive repairs to become seaworthy.
Sikkema announced last year that he had acquired the historic windjammer Grace Bailey, which left her longtime berth in Camden this spring for a new place at the dock in Rockland's Lermond Cove. The Grace Bailey had been a part of Camden's windjammer fleet since 1939.
Meanwhile, in the same week that the Victory Chimes was sold, a singer songwriter duo announced the release of a song about the windjammer. "Timber She's Hauled," the new single from Americana recording duo Mike and Amy Aiken, was released May 12, on Northwind Records. The husband and wife singer/songwriters are both licensed captains and have lived on and captained their own sailing vessels together since 1992. The duo said they wrote "Timber She's Hauled" in 2021 after hosting a private performance on board the windjammer, but the idea started percolating a dozen years earlier when Mike began crossing paths with the Victory Chimes along the eastern seaboard and great lakes.
Perhaps if the new owners do indeed turn the Chimes into an eating establishment they can use the new song as background music—a musical "chime" for the Chimes's seafaring past.
---
Dragon rowing
Maine is home to a number of rowing clubs that feature sleek racing shells for one to nine people. A new club on Lake Pennesseewassee in Norway, Maine, is introducing a whole new kind of rowing to the state in a craft called a dragon boat, according to the weekly Advertiser Democrat newspaper. Inspired by stories about how the sport can help cancer patients, Sherri Otterson of Norway has introduced the rowing tradition to Oxford Hills. "It was Dr. (Peter) Rubin, an oncologist who comes to the hospital once a week, who told me about dragon boating," Otterson told the Advertiser Democrat. "It helps [patients] to rebuild themselves during treatment and recovery." Dragon boats, which are stable and have space for up to 20 rowers per boat, allow people of all skill sets and abilities to row collaboratively. A steerer works at the back of the boat and a drummer up front sets the rowing pace. The boat can be handled by as few as eight rowers so a full boat is not required to participate. Otterson has purchased a dragon boat, formed a nonprofit, and is fundraising to reimburse the start-up costs and establish a fund to maintain, insure, and store the dragon boat, which will be rowed out of Lakeside Norway, according to the news report.
"We will have sessions dedicated for cancer survivors to row during dedicated intervals. But we want as many to participate as possible, so family groups, student groups, and community support organizations are welcome. It is a great way for businesses to support employee teambuilding," she told the newspaper.
---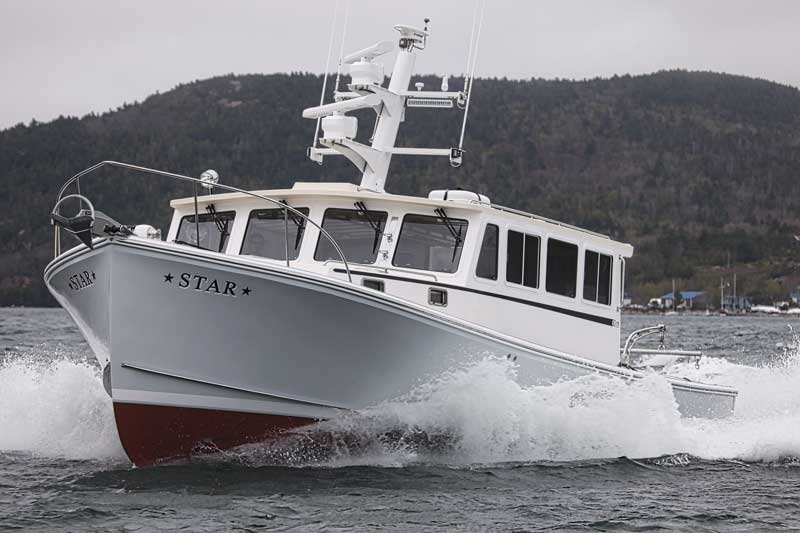 Star is an award-winning Calvin Beal 38 special edition built at SW Boatworks. Photo courtesy SW Boatworks
SW Boatworks selling boat molds
SW Boatworks, located in Lamoine, has built a reputation for producing well-built and appointed pleasure and commercial fishing boats, as well as workboats for researchers and the marine patrol. Many of these boats feature hulls that SW Boatworks laid up from molds designed by Calvin Beal and the Young Brothers. But seeking to downsize, company owners Alice and Stewart Workman have decided to sell the molds in order to focus on the yard's work finishing boats.
"For one thing, we are getting older," Alice Workman said. "But also, with finish work taking up so much of our energy, we don't sell as many hulls as we used to. This is a good opportunity for someone new to the industry or someone younger with more energy."
The molds for the hulls and tops for the Calvin Beal line, which includes 30-, 34-, 36-, 38-, 42-, and 44-foot hulls, as well as the hull and top molds for Young Brothers 33-, 40-, 42-, and 45-footers have been listed for sale with broker Doug Erickson in Rockland, Maine, Alice Workman said.
The crew at SW Boatworks currently is finishing three boats and the yard is booked out for two to three years with finishing work, Workman said, noting that the bulk of new calls into SW Boatworks are from sports fishermen. "We've opened up the sports fishing industry for Calvin Beal and Young Brothers (boats)."
---
Help for the working waterfront
A new law in Maine is designed to help protect the state's remaining working waterfronts by allowing land trusts to play a part in conserving these properties, according to a news story in the Island Institute's Working Waterfront newspaper.
The Working Waterfront Access Protection Program, funded by Land for Maine's Future in partnership with the Maine Department of Marine Resources, is a competitive program under which the state buys the development rights on a piece of working waterfront from the owner to ensure future development will not limit commercial marine use. Since 2008, 34 properties have been preserved this way. The new law allows land trusts to work with private sector partners to mobilize additional funding sources to save working waterfront properties.
"Maine's iconic working waterfronts are the backbone of our coastal economy, and Maine's land trusts are proven experts in property conservation," said Nick Battista, Chief Policy Officer at Island Institute. "This important legislation holds great promise for keeping Maine's coastline working and thriving for generations to come."
Expanding eligibility for this type of conservation to land trusts is particularly important in urgent, emergency sale situations where multiple parties must move quickly to put together the funding and structure and close the deal, according to the news story. Landowners may also prefer their local land trusts to hold the development rights for their property rather than a state agency.
---
Boatyard improvements funded
The Portland Shipyard has won a $739,202 grant from the Department of Transportation's Maritime Administration's Small Shipyard Grant Program. The funding, which was announced by Senators Susan Collins and Angus King and Representative Chellie Pingree, will allow the shipyard to purchase a 60-ton vessel trailer and install a new indoor ventilation system. The project is part of the Portland Shipyard's modernization efforts to improve safety and efficiency. The purpose of the MARAD Small Shipyard Grant Program is to foster efficiency; competitive operations; and quality ship construction, repair, and reconfiguration in small shipyards across the United States. It also promotes employee skills and enhanced productivity related to shipbuilding, ship repair, and associated industries.
---
$25,000 rock
We are not talking about a pricey ring or piece of jewelry here, but rather a rock from outer space. The Maine Mineral and Gem Museum in Bethel is offering a $25,000 reward for the first meteorite recovered from an April 8, 2023 meteorite fall in Maine that weighs one kilogram or more.
Social media was rocking with questions about a fireball and sonic booms in the skies above parts of Washington County late in the morning of Saturday, April 8. Comments about seeing and hearing something ranged from Calais to Jonesport, according to a report in the weekly Quoddy Tides newspaper. Notes on NASA's Astromaterials Research and Exploration Science site called it the first radar-observed meteorite fall in Maine. Radar mapping showed a rectangular sweep designating the fall area as starting near Route 1 in Waite, Maine, and crossing the U.S./Canada border toward Canoose.
The event reportedly started just before noon and lasted almost five minutes. Charlie Sawyer of Pembroke, who has been involved with astronomy for many years, told the newspaper that he has seen and heard plenty of small meteors that have made crackling sounds as they enter the atmosphere and burn, but that they have most likely landed at sea. "What we usually see are as small as grains of sand," he said, adding that this meteor was most likely a heavier chunk of material. When meteorites land they can look burnt, or they can have a white surface. He thinks this one probably contains iron and the fragments will be magnetic.
Darryl Pitt, chair of the Meteorite Division at the mineral gem museum, said the circumstances of this event indicate the likely presence of meteorites "waiting to be found." In addition to the reward, the museum would purchase any additional specimens found, he said. In a press release, the museum suggested that first-time meteorite hunters review meteorite identification sites on the Internet so they know what they're looking for, and that searchers should obtain permission before hunting on private property. 
---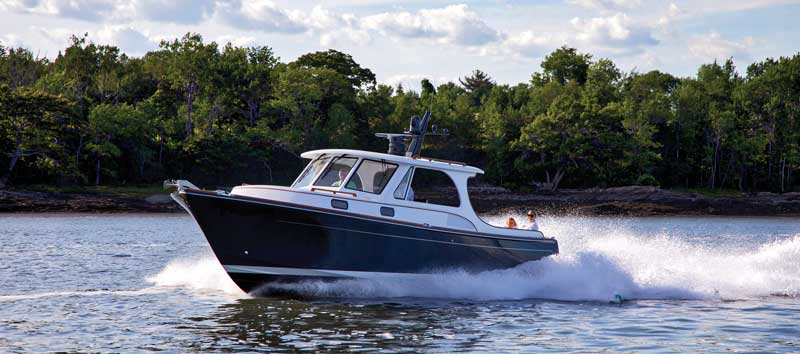 The Hood 35LM
Hood 35LM wins Classic Boat honor
The Hood 35 LM, a partnership between C.W. Hood Yachts and Lyman-Morse, has been voted Classic Boat Magazine's Best New Powered Vessel. The award was presented this spring at an event hosted by Classic Boat at London's Royal Thames Yacht Club. In attendance to receive the award were Drew and Mackenzie Lyman (and their daughters) of Lyman-Morse, together with the vessel's owner, Rich Miner, and Raymarine General Manager, Gregoire Outters. Together with the owner and C.W. Hood Yachts, Lyman-Morse created a unique vessel, where classically styled lines and traditional cold-molded construction fuse seamlessly with cutting-edge technology and performance. Hull No. 2 of the Hood 35LM is under construction at Lyman-Morse's Thomaston yard, scheduled for a June 2023 launch.
This is not the midcoast boatbuilder's first Classic Boat award. The 65-foot sloop, Anna, won in the Spirit of Tradition category in 2019. The Hood 57 LM was a close second in 2021.
Meanwhile, the yard racked up another honor when President Drew Lyman was named CEO of the year in Maine by Mainebiz.
---
Former Mainer notches big wins
Chris Poole, 34, recently became the first skipper to win every match race at the prestigious Congressional Cup regatta in California, according to a story in the Portland Press Herald.
The Congressional Cup is one of the world's most prestigious match race sailing events. At the Congressional Cup, the 10 skippers used Long Beach Yacht Club's fleet of Catalina 37s, a classic 37-foot monohull yacht design.
"It's definitely the highlight of my sailing career so far. I'm sure there are going to be a few higher ones, but this one was easily the top right now," Poole told the newspaper in a telephone interview from Westport, Connecticut, where he lives with his wife, Alicia Martorella, and their 3-year-old daughter.
Poole took up sailing at age 10 in Maine. He has been a professional sailor for seven years, but his career has rocketed in the past 18 months. Today, Poole is ranked No. 1 in the world among match race skippers—and dreams of sailing in the America's Cup, according to the newspaper.
The second of four children of Susan Poole of Falmouth and Parker Poole III, who lives in Portland, Chris Poole had familial connections to maritime activities, according to the newspaper report. His grandfather (and later his uncles) owned Union Wharf, the historic pier on Portland's waterfront that was sold by the Poole family in 2021. Poole learned to sail in the Portland Junior Yacht Club's learn-to-sail program. Through his early teens, Poole raced around New England with a small group of young sailors from Portland Yacht Club. After graduating from Falmouth High in 2007, he went to Maine Maritime Academy in Castine, where he competed on the sailing team.
After graduating in 2012, Poole moved to Oyster Bay, New York, home of Oakcliff Sailing, a coaching and training center formed in 2010, and the Seawanhaka Corinthian Yacht Club. The 2022 season was a breakout year, the Press Herald reported. Poole competed in eight events that counted toward his world ranking. He won three, placed second twice—including at the World Match Race Tour final in Sydney, Australia—and had two thirds and a fourth. He also won two of the four regattas and the overall championship in the Grand Slam Series of U.S. Grade 2 match races.
---
Grant to address marine debris
Maine Sea Grant College Program, University of Maine researchers, and partners throughout the state have won grants for projects addressing the prevention and removal of marine debris in the Gulf of Maine. Using Sea Grant's partnered approach to bring science together with communities for solutions that work, the projects will support transformational research and the creation of local coalitions, according to a news release.
"Marine debris negatively impacts our coastal communities, marine wildlife, and iconic ocean vistas—things we consider special about our state. It will take ingenuity, creativity, and collaboration to find impactful solutions, and we are excited to have all three of these projects funded," said Maine Sea Grant Director Gayle Zydlewski.
The Maine projects include:
Reducing Marine Debris at the Source: Material Replacement and Source Reduction for Single-Use Food Packaging: $2.9 million to the University of Maine, Maine Sea Grant, and project partners to lower the barriers for companies to enter the sustainable packaging market and understand slow resource loops that help reduce the inflow of plastics to the ocean. This project aims to reduce the burden of marine debris on human communities and coastal ecosystems in Maine where the impacts of marine debris are disproportionately borne by small, rural coastal and island communities.
Reducing Derelict Fishing Gear in the Gulf of Maine: Educating and Empowering Boaters to be a Part of the Solution: $156,150 to Maine Sea Grant, The Maine Marine Trades Association, and project partners to form a coalition that will co-develop the first organized outreach campaign to Maine's recreational boaters and commercial fishing vessels on preventing derelict fishing gear accumulation and other marine debris. The resulting communications products will be shared with local, regional and national networks.
A Community Education and Research Development Initiative to Develop new Materials and Uses From Ghost Traps: $299,707 to Maine Sea Grant, Haystack Mountain School of Crafts, and project partners to facilitate the recovery, recycling and refabrication of marine debris material in the Gulf of Maine, such as ghost lobster traps and derelict aquaculture farming gear, into new products with creative, practical, and industry applications. The community created will connect Maine high school students and professionals with information exchange, professional development and networking opportunities to collaborate on new applications and markets for marine debris.
---
Learning by doing
The Landing School has launched a new academic program focused on management in the Marine Industry. The new boatyard management program extends The Landing School's "learn by doing" philosophy for students who have completed one of the other four programs. Boatyard Management is a second-year program in which students will learn management principles by managing the work of a simulated boatyard. "This new program is the first of its kind, making The Landing School uniquely qualified to provide the Marine Industry with managers in training, essentially graduating a workforce that is ready to mentor other employees," said school president Sean Fawcett. To prepare for the new program, The Landing School has expanded its boatyard capabilities with the purchase of a Hostar hydraulic trailer, a one-ton pickup truck, and a forklift. "As our Marine Systems program has evolved to provide students with practical, hands-on experience through meaningful project boat work, the school is looking more and more like a functioning boatyard," Fawcett said, in a news release.
---
Climate collaboration
Friends of Casco Bay is facilitating the newly formed Maine Ocean Climate Collaborative, a coalition of scientists and marine organizations from the University of New Hampshire to the border of Maine and Canada working to improve climate change data collection. The Collaborative's work acts as a model for establishing a coastwide climate change monitoring network, a key goal of Maine Won't Wait, Maine's Climate Action Plan, according to a press release from the Casco Bay friends group.
"[The state of Maine is] participating in an ocean climate collaborative with academic and non-profit partners to coordinate and improve Maine-focused coastal and ocean acidification monitoring relevant to meeting the goals of Maine Won't Wait," reads the state's two-year progress report on the Climate Action Plan, referring to the Maine Ocean Climate Collaborative.
In order to respond to the impacts of climate change, policymakers, resource harvesters, and other marine-dependent persons and industries must have reliable data. With these data in hand, they can make informed decisions to protect coastal resources, foster resilient habitat, and adapt fisheries management.
This is easier said than done. Collecting data in coastal ecosystems comes with highly technical and unique challenges. In nearshore environments such as Casco Bay, the confluence of freshwater and saltwater, and the influences of human populations make studying water chemistry complex and difficult.
"Climate change is challenging to measure, especially along the coast," said Casco Baykeeper Ivy Frignoca. "The Collaborative brings together some of the best scientific minds in Maine who are working to better understand how nearshore conditions are changing in response to excess carbon in the water. Together we can best compare equipment, evaluate data, and understand the changes we are seeing."
One of the current tasks is to compare and refine technology, quality assurance standards, and monitoring methods to better measure acidification in coastal waters. Staff Scientist Mike Doan is working closely on this effort with two other members of the Collaborative: Wells National Estuarine Reserve, and University of New Hampshire's Ocean Process Analysis Laboratory.
---
Big fish, little fish
A crackdown on the size of striped bass that anglers are allowed to keep is intended to prevent the fishery's collapse, according to a report in the Bangor Daily News.
The Atlantic States Marine Fisheries Commission's Atlantic Striped Bass Management Board passed an emergency measure that prohibits the recreational harvest of striped bass measuring more than 31 inches at a meeting in May.
The rule limits recreational fishing along the East Coast, from Maine to North Carolina (with an exception for Chesepeake Bay which will have a different set of rules) to the daily harvest of one striper measuring between 28 and 31 inches. Fish shorter or longer than that must be released, according to the report in the BDN.
Maine saw a 352 percent increase—57,578 fish caught—in 2022 from the previous year in the number of striped bass caught along its coast and in tidal waters, which adversely impacted efforts to rebuild the fish stock. The new rule does not affect commercial harvesting of striped bass, according to the BDN.
States have until July 2 to implement the tighter striped bass slot limit. The regulation will then remain in effect for 90 days, through Oct. 28. The board could extend it for another 180 days at its October meeting. 
✮
Share this article:
2023 Maine Boat & Home Show

Join Us for the Maine Boat & Home Show!
Art, Artisans, Food, Fun & Boats, Boats, Boats
August 11 - 13, 2023 | On the waterfront, Rockland, Maine
Click here to pre-order your tickets.
Show is produced by Maine Boats, Homes & Harbors magazine.