Tollycraft 34: A Dream Come True
By Joe Renault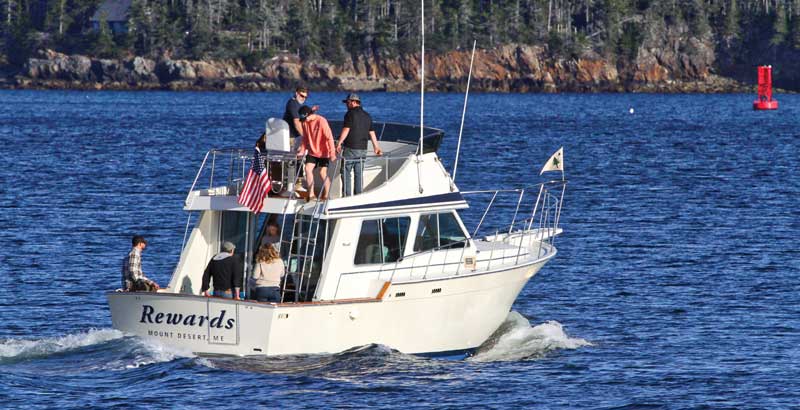 The true purpose of Rewards: enjoying quality time with family and friends.
Two years ago, having outgrown our 20' Boston Whaler, I started to make a list of what we wanted out of our next boat as well as a list of some candidates. The dream list included a Flypoint 31, an Eastern 27, a Rosborough 246, a Grand Banks, a Cape Dory 28, a General Marine 26, a Dyer 29, and a Shamrock MacKinaw.
Any time that we were out on our Whaler and I saw a boat that I liked, I'd snap a picture. One day, while cruising in Northeast Harbor, I photographed a Tollycraft that was tied up at the docks. I told my son that I had always admired that boat as a child, but that it would be too expensive to buy and maintain… or so I thought.
In my youth, I used to row around this very same Tollycraft and dream of owning it one day. I received my first boat, an aluminum punt, on my fifth birthday, and rowed in front of my grandparents' farm on Somes Harbor on Mt. Desert Island for hours almost every summer day until I reached high school.
The spring following our lucky Northeast Harbor sighting of the Tollycraft, Summer Song, as she was previously named, came up for sale, listed with Newman Marine Brokerage in Southwest Harbor. While I considered the asking price to be fair, I still was concerned about running costs. That summer we continued to enjoy our Whaler and work on the dream list.
I manage a summer estate in Seal Harbor and am quite busy in the spring, summer, and fall when the family is here. My wife owns Floret, a local flower shop. She was decorating for a wedding at the Henry R. Abel & Co. Yacht Yard in Mount Desert in October of 2021, and asked me to stop on my way home to see her work. The drive through Abel's is steep with two switchbacks, flanked on both sides with boats and storage buildings. There, at the first switchback, sat Summer Song.
When I told my wife that I was going to look at the boat on my way out, she rolled her eyes; I have an obsession with boats that she might call a sickness.
When I looked in the windows, I saw that the boat was in a bit of a mess—the teak had been neglected, and the gelcoat was chalky—but it was still beautiful to me. To my surprise, the original carpeting had been removed and replaced with gorgeous teak and holly soles. Even more in love with the boat, I climbed up on the flybridge and imagined being out on the water.
The boat was owned by a man I have known my whole life. I joked with my wife that I'd give him call and if he'd take X dollars for the boat, I would buy it. Well, I never intended to actually make the call and thought nothing more of it. But a week later, I learned that the price for the Tollycraft had been drastically reduced to the amount I had been willing to offer. Other than not being trailerable, the boat met all of our wants and needs, which included having more room for our dogs, and a galley and a head so we would be able to overnight on board.
The following week the boat was ours.  My father and I quickly got to work on the boat we would rechristen as Rewards. We stripped everything off the boat, washed it down, and got to know the systems. Rewards, a 1984 Tollycraft 34 Convertible Sedan with a 12.5' beam, was designed by Ed Monk, Jr., and built in Kelso, Washington. She has a large salon completely surrounded by windows, a port settee that doubles as a berth and a lower helm station, a full galley and a head with an enclosed shower, and a forward stateroom with a double berth. The upper helm has a wide console with helm seat and a navigation seat aft with a bench seat in front that seats four comfortably.
We spent much of the winter getting the boat ready for an early May launch before family was due to visit from southern Maine to celebrate my birthday on May 5, Mother's Day, and our son's graduation. We achieved the goal and Rewards proved to be perfect, as everyone rode in comfort and we all had the first of many wonderful times.
Rewards is powered by the original twin Crusader 350s. While we usually cruise between 6-8 knots, we can easily and comfortably cruise at 14-16 knots.
Last summer, we took her to Mount Desert Rock, where my paternal grandfather was stationed while in the Coast Guard, and saw humpback whales, white sided dolphins, seals, and a sunfish on our way out.
Rewards indeed. 
✮
---
Joe Renault holds a 100-Ton USCG Master's License and has been cruising the waters off Mount Desert Island for the past 45 years.
Share this article:
2023 Maine Boat & Home Show

Join Us for the Maine Boat & Home Show!
Art, Artisans, Food, Fun & Boats, Boats, Boats
August 11 - 13, 2023 | On the waterfront, Rockland, Maine
Click here to pre-order your tickets.
Show is produced by Maine Boats, Homes & Harbors magazine.