Saving a Boatyard and the Working Waterfront
Waterfront Profile: Sea Meadow Marine Foundation
By Clarke Canfield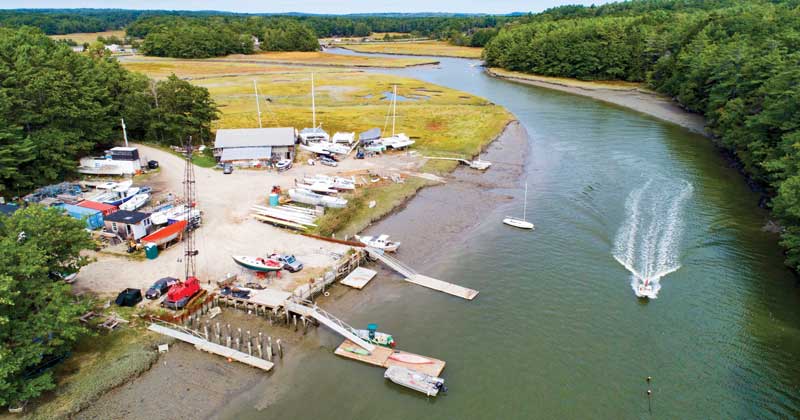 The 12-acre site now known as Sea Meadow is hidden from public view, but motorists on nearby Route 1 can see the masts of sailboats that are stored there. About half of the site is salt marsh. Photo by Jack Sullivan/Island Institute
The "For Sale" sign posted at the head of the nondescript dirt road along busy Route 1 served as a reminder of what had been happening to coastal real estate in southern Maine: high demand, high prices, loss of ocean access.
The rutted dirt road led to a 12-acre parcel along the tidal Cousins River in Yarmouth that had been occupied for decades by two well-known boatbuilders. With waterfront being quickly scooped up and developed along much of the southern coast, some feared that the land on Even Keel Road would follow suit.
But rather than being developed, the land has been preserved as working waterfront while also becoming a business incubator of sorts for a dozen or so kelp, oyster, and scallop farming businesses that use the site as their home base.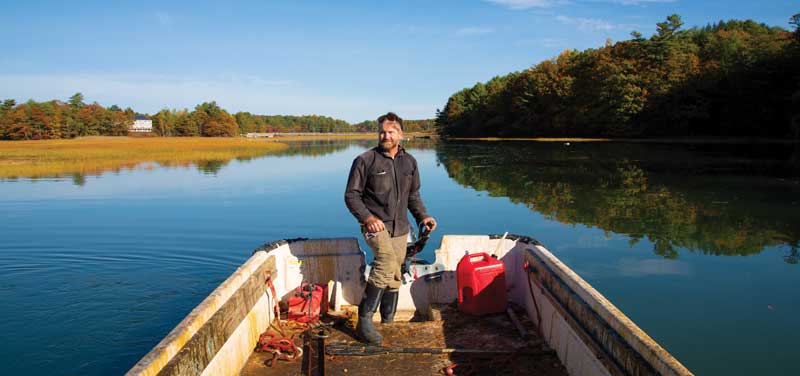 Chad Strater says the combination of aquaculture businesses, boatbuilders, and a recreational rowing club make for an eclectic assortment of tenants. "But they all get along," he said, "so it's a cool mix." Photo by Molly Haley
Chad Strater spearheaded the effort to create Sea Meadow Marine Foundation, which bought the property for $1.2 million in December 2021. Strater and his business partner had been leasing land on the site for their landscaping, and pier and dock construction companies for a few years, but it wasn't just those businesses Strater was concerned about—he was worried that southern Maine would lose another valuable piece of working waterfront where marine-related businesses could operate.
With only an estimated 20 miles of working waterfront along Maine's vast coastline, it's vital to protect what land is left, he said. Otherwise, Maine will lose not only its marine-related businesses—but also the maritime culture that is embedded in the state's history.
"I think it's vastly important to preserve this because it sends the message that this is important," Strater said recently while giving a tour of the site. "You can't just keep displacing and moving the working waterfront. It's also very important that we make this work so we can show other communities how it's done."
The site, simply known as Sea Meadow, is both a quarter mile and a world away from Route 1 and Interstate 295 in Yarmouth. Even Keel Road is next to a Route 1 car dealership and just down the road from a popular seasonal seafood restaurant.
The late Carroll Lowell, a well-known lobsterboat builder, bought the land for $2,500 in 1961 and set up shop as Even Keel Marine Specialties Inc., according to his son Joe Lowell. Greene Marine, another Maine boatbuilder, built a shop on the land in 1980.
Joe Lowell and his brother Jamie first put the land up for sale in 2008. They had a few nibbles here and there, but the aim all along was to keep it as a working waterfront, Joe Lowell said.
"There are too many people moving up from out-of-state buying up the working waterfront that's left, shutting it down, and there's no access for people from Maine, people who live here," he said. "Do you know how many times people go down to the water and get kicked out because of 'No Trespassing' signs?"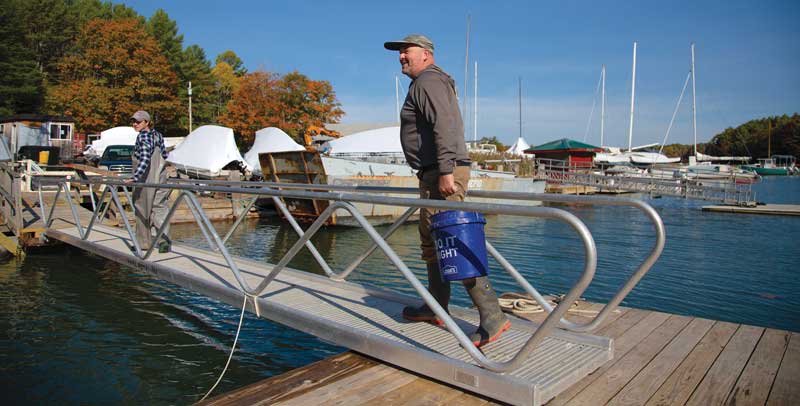 The aquaculture companies and boatbuilders that call Sea Meadow home have more than 30 employees among them. Shown here is Thomas Henninger, who owns Madeleine Point Oyster Farms. Photo by Molly Haley
When Strater learned that the land was for sale, he, too, thought it was important to protect it. Besides being home to the boatbuilders, it had also been used for years as a home base for Yarmouth Rowing Club. And locals have been known to stop by and simply drop a fishing line or launch their canoes and kayaks for the easy paddle downriver to where the Cousins River flows into the Royal River and Casco Bay.
Strater set about forming the Sea Meadow nonprofit, sought out financing, and recruited aquaculture companies as potential tenants. He rattled off some of their names: Maine Ocean Farms, Madeleine Point Oyster Farms, Spartan Sea Farms, Casco Bay Mooring and Kelp Co. Without a place like Sea Meadow, many small businesses in Maine's fast-growing aquaculture industry would be hard-pressed to find a place where they could keep and launch their boats and store their equipment, said Thomas Henninger, who owns Madeleine Point Oyster Farms.
Henninger needs a place not only to store his four boats and his sorting and growing equipment, but also to repair his oyster cages and other equipment. At Sea Meadow, he's also built a refrigeration facility for his oysters. It's imperative to protect land like this, he said, to allow Maine's ocean-dependent businesses to flourish.
"That type of land is the fastest-disappearing land in Maine," he said. "It's becoming condominiums. It's becoming McMansions. It's becoming fancy boatyards. That land is being sold to people who don't care about Maine's working waterfront, which is why Sea Meadow is so important."
For financing, Strater turned to Coastal Enterprises Inc., which liked what it saw. At its core, the sale would preserve a working waterfront property, which aligns with one of CEI's goals of protecting waterfront-related jobs, said Nick Branchina, CEI's director of fisheries and aquaculture. The property, he said, has also been awarded a covenant through the state's Working Waterfront Access Protection Program, thus protecting it from future development—forever.
"You can imagine what that property would look like with some condominiums, given the natural beauty of the area," he said.
In time, Strater hopes to extend public water and sewer to the site and make other improvements. He also wants Sea Meadow to serve as a model for other communities interested in preserving access and shoreline for commercial fishermen and other marine-related businesses. But it'll take a group effort, he said, involving legislators, municipal committees, landowners, and other stakeholders.
Beyond just protecting what's there, the sale has strengthened marine businesses in southern Maine, said Daniel Wallace, CEI's senior vice president of lending and investment.
"It was exciting to see this group of individuals work together to save this piece of working waterfront," Wallace said. "But more than save it, to have a plan to build out and continue to invest in the property to strengthen the property for future users as well."
✮
---
Clarke Canfield is a longtime journalist and author who has written and edited for newspapers, magazines, and The Associated Press. He lives in South Portland with his wife.
For More Information:
Sea Meadow Marine Foundation
123 Even Keel Road
Yarmouth, ME
www.seameadow.org
Share this article:
2023 Maine Boat & Home Show

Join Us for the Maine Boat & Home Show!
Art, Artisans, Food, Fun & Boats, Boats, Boats
August 11 - 13, 2023 | On the waterfront, Rockland, Maine
Click here to pre-order your tickets.
Show is produced by Maine Boats, Homes & Harbors magazine.