Greenville
Meandering Moosehead Lake
By Mimi Bigelow Steadman
Photos by Mimi Bigelow Steadman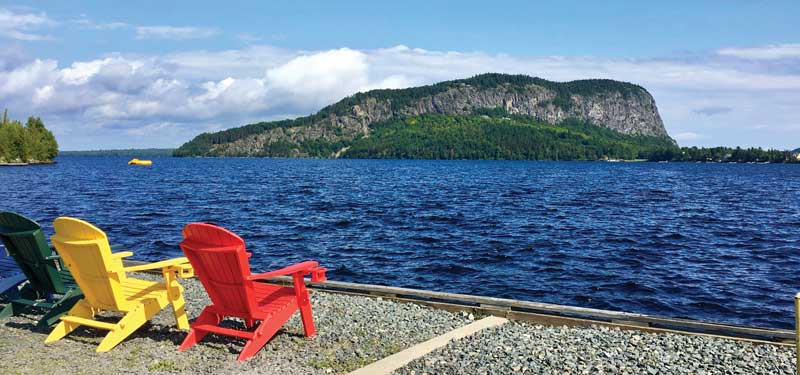 Seen from the dock in Rockwood, Mt. Kineo rises 700 feet above the water. A 10-minute shuttle takes visitors over to hike to the top or play a nine-hole golf course.
Standing in the Katahdin's wheelhouse as we cruised up Moosehead Lake, I happily accepted Captain John Turcotte's offer to take the helm of the legendary motor vessel. But I soon noticed we were wandering slightly off course. When I attempted to turn the five-foot-wide wheel to starboard, it barely budged. Clearly, considerable force is needed to control the century-old cable steering.
After I handed the wheel back, Captain Turcotte rested his foot on a spoke near the bottom, using leg strength to turn it. He agreed the cable steering is challenging. "But," he explained, "if we replaced it, we'd lose our designation on the National Register of Historic Places."
Constructed of steel by Bath Iron Works in 1914 and today the oldest floating vessel built by the shipyard, the 110-foot-long Katahdin was shipped in pieces by train to Greenville and then hauled to the lake by oxen. Diesels replaced her steam engines in 1922; the only steam aboard today comes from a tank of hot water that powers the original whistle.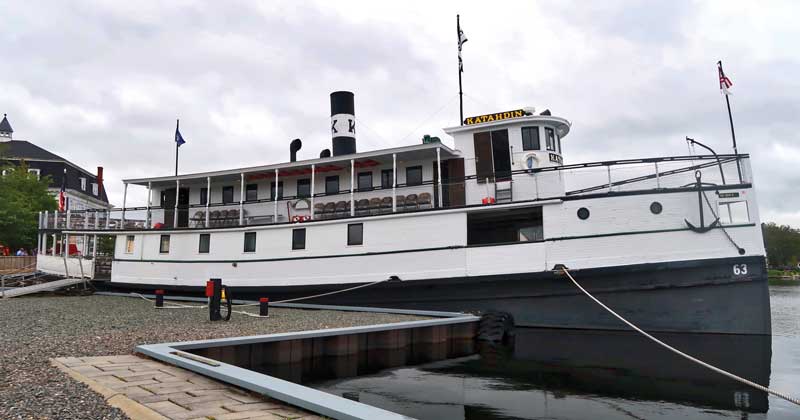 The venerable old Katahdin has been a beloved sight on the lake for 109 years.
In the early 20th century, Kate, as she's affectionately called, was one of about 50 steamboats on 40-mile-long Moosehead, Maine's largest lake. They were a common sight, delivering mail, supplies, and passengers, many of them elegant city folk heading to dozens of summer resorts and camps. Yet as roads were built around the lake, their usefulness dwindled; by the late 1930s, Kate was the only one remaining.
Adapting to changing times, she towed large rafts of pulpwood for the logging industry until the early 1970s, when Maine outlawed waterborne log drives to protect the environment. With her role again obsolete, there was talk of scuttling Kate. Happily, a group of locals rallied to save her and by 1986, she was under way as a tour boat.
We'd begun our three-hour trip at the Moosehead Marine Museum's dock in Greenville. Farther up the lake, we spied Mt. Kineo on the mountain-framed horizon, its distinctive, 700-foot-tall profile suggesting a mini Gibraltar. The Mt. Kineo House, a 450-room summer hotel, once stood on its shore, and passengers arriving for a sojourn would have shared this sweeping panorama.
The day dimmed as steely, low-hanging clouds unzipped their raggedy edges. We were soon getting a thorough washdown, but nobody seemed to mind. Everyone was simply happy to be aboard this waterborne museum.
Afterwards, we drove up the lake's eastern shore to Lily Bay State Park, where we watched a pair of pileated woodpeckers having a chinwag beside the lane. The rain had abated, leaving behind storm-bruised skies that lent a dramatic backdrop to views from the park's narrow beach.
A double rainbow welcomed us to our lakeside motel. Next door at Currier's Flying Service, a couple of vintage seaplanes, perhaps delayed by the rain, lifted off into the late-afternoon glow.
As I drifted to sleep that night, a loon began a serenade just beyond our balcony. The ululations seemed to shimmer in the darkness, and I savored the On Golden Pond moment—until a garrulous gaggle chimed in with a lengthy repertoire of chortling and yodeling. I've always loved a loon's call, but I just wanted that boisterous gang to shut up. Nocturnal cacophony erupted again at midnight when a freight train rumbled into town, blowing its whistle over and over while barreling along the tracks beside the lake. As the thundering crescendoed, it felt as though the locomotive would hurtle right through our room.
The next morning, it only seemed appropriate to stop at the picturesque Greenville Junction depot, just up the road. Built in 1889 but now defunct, the petite red building with a witch's-hat roof is being restored by volunteers. Citified rusticators once disembarked here, their steamer trunks in tow. All these years later, they'd feel right at home aboard the venerable old Katahdin, still plying the waters of Moosehead Lake just as she has for more than a century.
✮
---
Contributing Editor Mimi Bigelow Steadman lives on the Damariscotta River in Edgecomb.
If You Go to Greenville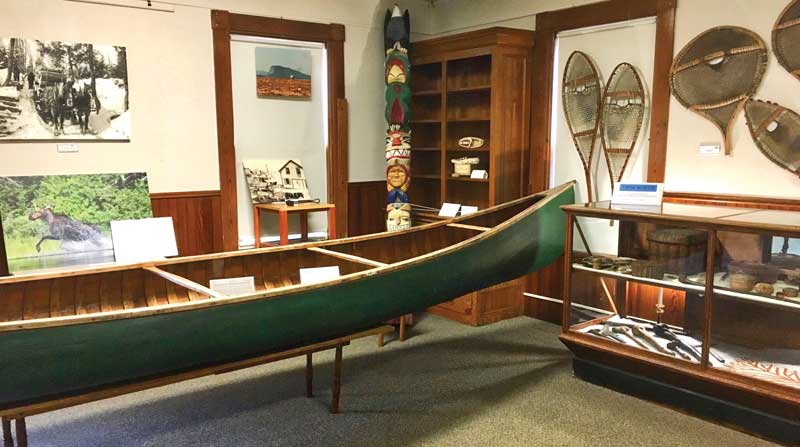 At the Moosehead Cultural Heritage Center, exhibits honor the Native Americans who originally settled the area and continue to enrich its character and traditions.
Do
Trips aboard the Katahdin range in length from two to five hours; there are also themed cruises. Included in the ticket is admission to the small Moosehead Marine Museum, adjacent to the dock; exhibits detail the area's boating and lumbering heritage. Open mid June through early October. In autumn 2022, the Katahdin embarked on a years-long refit, with work to be divided among five consecutive winters so that summer cruising isn't impacted. To be completed by Bristol Marine of Boothbay Harbor, major projects will include repairs to the fantail, port and aft upper deck, and house. Using a system of submersible barges and a floating cradle engineered by Prock Marine, the vessel will also be lifted out of the water for hull repair and prop reconditioning. In the middle of downtown Greenville, the Moosehead Historical Society's Moosehead Cultural Heritage Center delves into the region's Native American heritage and spotlights some of the most prominent Penobscot guides. Among other exhibits is a room focused on the pilots and floatplanes that carry sports to remote hunting and fishing spots. Don't miss the sculptures out front. One, topped by two hawks, honors Henry David Thoreau's visits and his Penobscot guides. A canoe-shaped granite bench serves as a companion piece. The historical society also operates the Victorian-era Eveleth-Crafts-Sheridan House, where tours are led by costumed docents; the Moosehead Lumbermen's Museum is in the carriage house. Jack's Air Service offers a variety of customized sightseeing tours in its fleet of Cessna floatplanes. Currier's Flying Service, Inc. takes passengers up in vintage seaplanes including several Cessnas and a 1954 deHavilland Beaver. The annual International Seaplane Fly-In, on the weekend after Labor Day, attracts hundreds of seaplanes—and thousands of aviation enthusiasts—for a grand celebration highlighted by contests of piloting skill and an aircraft parade on the lake. Greenville also hosts an Antique & Wooden Boat Show in early July. This year, plans are for a more casual, small-scale event, with the full show returning in 2024.
---
On the Water
Those who trailer their own boats will find numerous boat ramps on the lake, including in Lily Bay State Park, near the Greenville Junction depot, and at the Rockwood town landing. Both pontoon and fishing boats may be rented at Wild One Boat Rentals on Wilson Pond and at The Birches Resort in Rockwood.
---
Eat
A popular spot in the middle of Greenville, The Stress Free Moose Pub's menu includes all the pubby favorites you'd expect, all of them exceptionally well prepared and reasonably priced. Right beside the lake in Greenville Junction, Kelly's Landing specializes in traditional comfort fare. Sit on the deck in the summer and watch the boats and seaplanes speed by. Boaters are welcome to tie up at the dock. A charming and rustic resort dating from the 1930s, The Birches Resort in Rockwood serves meals to lodging guests and other diners in its atmospheric log lodge. Dinner offerings feature such classic entrées as prime rib, pot roast, roast turkey, and baked scallops. Perched high above the lake, Slate Restaurant at Blair Hill Inn is known for wonderful water views and memorable fine dining.
---
Hike and Paddle
Numerous hiking options in the Greenville area range from short, casual outings to overnight expeditions. For a pleasant waterside walk, take the two-mile shoreline trail at Lily Bay State Park. A scenic and family-friendly choice is a trail of less than a mile leading to 90-foot-tall Moxie Falls. On the island of Mt. Kineo, two moderately steep trails reward with sweeping views from the summit. Catch the shuttle boat at Rockwood for the 10-minute crossing to the island. The shuttle also ferries golfers over to play the nine-hole Mt. Kineo Golf Course. There's a good list of hiking opportunities at alltrails.com. Multiple outfitters in the area rent kayaks, canoes, and paddleboards, including Northwoods Outfitters, Wild One Boat Rentals, and The Birches Resort. Outfitters can recommend the best places to paddle.
Share this article:
2023 Maine Boat & Home Show

Join Us for the Maine Boat & Home Show!
Art, Artisans, Food, Fun & Boats, Boats, Boats
August 11 - 13, 2023 | On the waterfront, Rockland, Maine
Click here to pre-order your tickets.
Show is produced by Maine Boats, Homes & Harbors magazine.