Navier 30
Hydrofoiling Electric Speedster
By Art Paine
Photos by Alison Langley

Built by Lyman-Morse, this cutting-edge electric hydrofoil was put through its paces last fall on a test drive off Rockland. In last year's "Off the Drawing Board" columns, I showcased a solar-powered launch, the lithium-ion technology aboard a Spirit of Tradition sloop, and even pond models blow-molded in China. Just because we Mainers were once profiled as rubes who believed, "You can't get there from here," that never really was our nature. Proof of the degree to which we have kept up nautically can be found in a pair of prototype craft recently completed by Lyman-Morse: two versions of the Navier 30, an electric-powered, hydrofoiling launch. These boats don't merely float, they fly above the water.
The Navier 30 represents the cutting edge of powered craft, combining lifting foils with quickly recharging lithium battery electric power. The boat features accelerometers, sensors, and computer algorithms that precisely control its "flight," i.e. when it lifts up on its foils. Navier, a startup  based in San Francisco, canvased boatbuilding facilities worldwide to determine who would develop their prototypes before choosing Lyman-Morse in Maine, as the builder with the widest scope of assets combined with a legendary work ethic.
I spoke with Navier CEO Sampriti Bhattacharyya during a brief break from her booth last winter at the Consumer Electronics Show in Las Vegas. "We had an excellent experience working with Lyman-Morse and we look forward to continuing to work with them as close partners," she said. "They provided a team of people very experienced at the cutting edge of boatbuilding. A surprising range of technology was available in-house, but Lyman-Morse also used connections to subcontractors near and far. Very few shipyards have the extensive experience, in-house capabilities, and deep interest in high-tech projects as Lyman-Morse. Plus, Maine has a long history in boatbuilding, which made it a special place to build N30."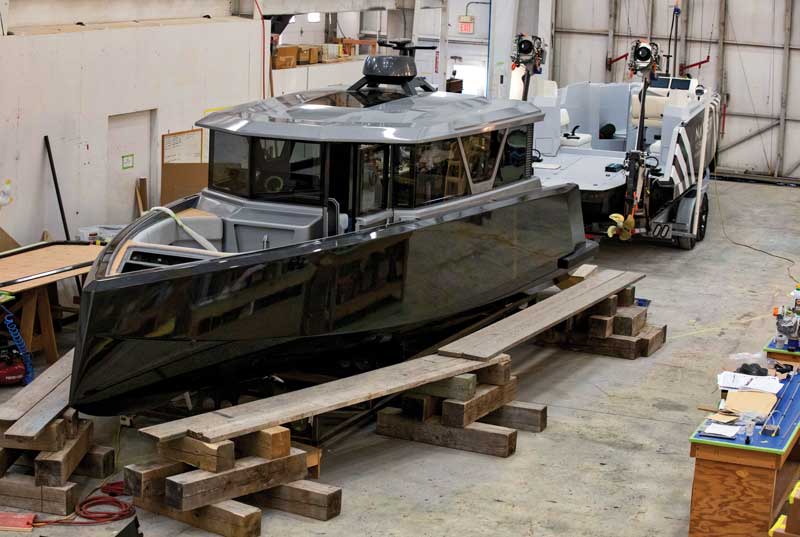 Lyman-Morse built two protoypes for Navier: the test vessl shown on the previous page, and this more fully equipped model.
A former aerospace engineer with a PhD from the Massachusetts Institute of Technology, Bhattacharyya said she became interested in marine transportation while building underwater drones at MIT. "The advancements in electrification, cheaper computing and sensing technology, and efficient, scalable manufacturing have enabled the next generation of vehicles for land and air," she explained. "I realized the implications of these technological advancements are massive and game changing for the marine industry, as it would allow us to build scalable fleets that are significantly more efficient and cleaner than what we have today. That led me to start Navier."
A big impetus for hydrofoil powerboats is that, as in other vehicles, boat flight without reliance on fossil fuels is more Earth-friendly. It's quiet and creates hardly any wake.
One of Navier's goals, according to Bhattacharyya, is to make boating greener. The company is on a mission to make our waterways as accessible as our roadways, she added.
"Navier is building the next generation vertically integrated maritime company," she said. "By fundamentally altering the unit economics, convenience, and comfort of small marine vessels, we are unlocking a new form of scalable, effective waterborne transportation for congested coastal cities where 46 percent of our population resides."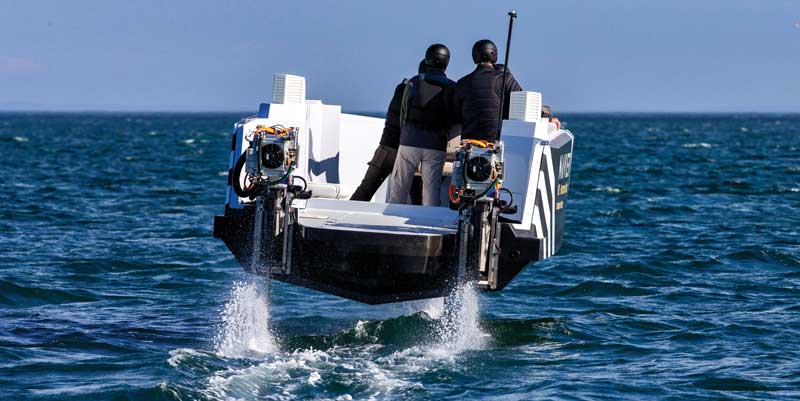 Once it lifts up onto its foils, the Navier 30 uses much less power: the equivalent of two 15-hp outboards. A key market will be water taxis, and, according to media reports, the company has partnered with a company that will run the N30s as water taxis in the San Francisco Bay area.
Bhattacharyya said the company has sold out orders until the second quarter of next year, taking 15 orders for its 2023 Pioneer edition. The company had not yet decided at press time where the production boats will be built.
"We're building a hydrofoil electric boat that is 10 times more efficient, cleaner, and far more comfortable (no sea-sickness) than existing powerboats. Navier has defensible technological differentiation that enables us to deliver 2 to 3 times more range than competing electric boats with vastly superior customer experience."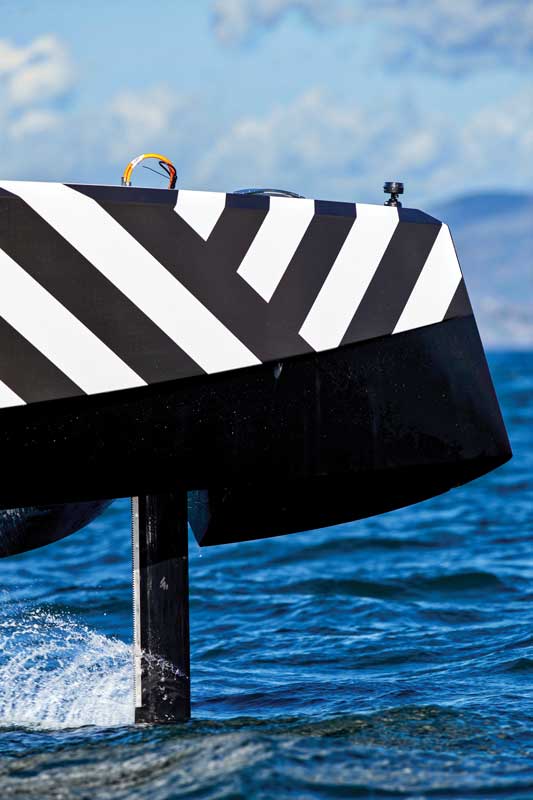 The carbon fiber foils have complex, toothlike levers on the trailing edge that help with controls. "Foiling" is a word that we boaters will have to get used to. It's had a surprisingly long history. Back in Viking days, a vessel carrying humans plodded through thickish fluid at the interface with a less viscous fluid. This held true for millennia, until the explosive power of hydrocarbons was finally unleashed, and wings were reinvented from aircraft and employed to raise a boat out of turgid water up into the air. One of the earliest foiling boats was the brainchild of Italian aeronautical engineer Enrico Forlanini. Alexander Graham Bell saw the potential and bought Forlanini's patent, but soon strayed into greener pastures. He is credited with coining the word "hydrofoil." Long after Bell and the Second World War, articles in boating magazines began to feature a wide variety of hydrofoil configurations. That was in the 1950s, and boat nuts like me were anticipating how we'd all soon be flitting around like storm petrels, just above the bay.
Years passed, and almost nothing developed.
Sailboat racing got the needle moving again, in my opinion. Several editions of the America's Cup have been raced in foiling catamarans. Since they are very light and very stable (until they're not) cats have the oomph to be foil-borne clear of the waves. Powerful sails played a part, combined with miniscule resistance from thin foils, turning the stately sport of kings into something akin to televised stock car racing. Computers played a key part in perfecting the design and manufacture, and eventually on-board to impart lift control to the hydrofoils, making small and critical corrections more rapidly than any human could. All this technology amazed the sailing world and took yacht design from the days when hulls were thought to be stuck with a top speed of 1.34 times the square root of their waterline length to where 50 or more knots was commonplace. Hydrofoils are having their day on lightweight monohulls now, including the next America's Cup. And they're emerging, as well, on surfboards, water skis and even in the Olympics with kite-foiling.
The world of power boating was recharged by this new appreciation for foiling, and several companies have entered the fray including Navier, and Candela, a Swedish builder, which has built several versions of a foiling electric launch that it plans to market in the U.S.
The Lyman-Morse-built Navier 30 prototypes include one test version with an open cockpit and snazzy black-and-white-striped paint job, and a more restrained version with a cabin, windows, and full interior layout. Both boats are carbon fiber in an ultra-light layup, said Lance Buchanan, head builder at Lyman-Morse. The foils also are carbon fiber with small metal levers on the back trailing edge that help with controls.
The design and build process was shorter than usual for a project of this complexity, he noted, taking less than a year from concept to new parts, many of which were produced on a 3D printer.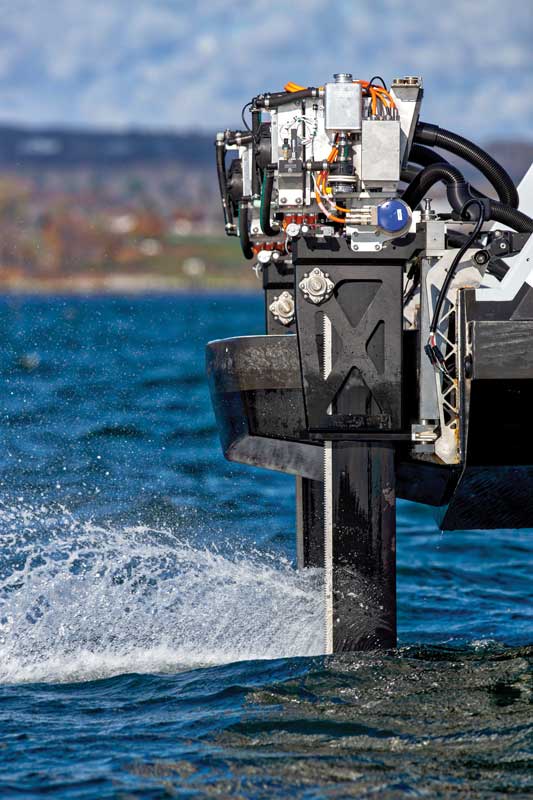 Navier's proprietarily designed, water-cooled outboard engines were built by a company that also builds high-end electric car engines. An innovation for foiling powerboats involves efficient new batteries and electric propulsion. Navier's proprietarily designed, water-cooled outboard engines were built by a company called Cascadia, which also builds high-end electric car engines.
Weight is important in anything that flies. As heavy as batteries are, the newest versions have shed some body mass, and batteries in general aren't as hefty as internal combustion powerplants and tanks full of fuel. The 30' prototype hulls weigh a mere 650 pounds, including specially designed water-cooled lithium batteries.
Naval Architect Paul Bieker, who has worked on America's Cup foilers and led a team on the Navier project, explained that while it takes lots of torque to get the boat and passengers airborne, the actual flight becomes super energy efficient. In electric cars or in boats, you can win a drag race due to incredible low-end torque, he said. "But once up there, if you want boat speed with electric power, your only alternative is foils. Once aloft all you need at 25 knots for sustained flight is the equivalent of a couple of 15 horse outboards."
Computers on the Navier 30 control the engine output, reducing the horsepower once the boat is up on its foils. The computers also control how high the hull rides and how quickly it turns, controlling for g-force and correcting dynamics as people walk from one side of the boat to the other, Buchanan said.
He was on board for one of the test drives off Rockland, Maine, last fall. The wind was gusting over 20 knots creating a three- to four-foot chop, but none of that affected the ride. "I was skeptical, wondering how it would handle lobster pots and seaweed, but when we got outside the breakwater, the boat just slid along smoothly," Buchanan said. "The chase boat couldn't keep up. Unlike us, they were getting thrown around in the waves."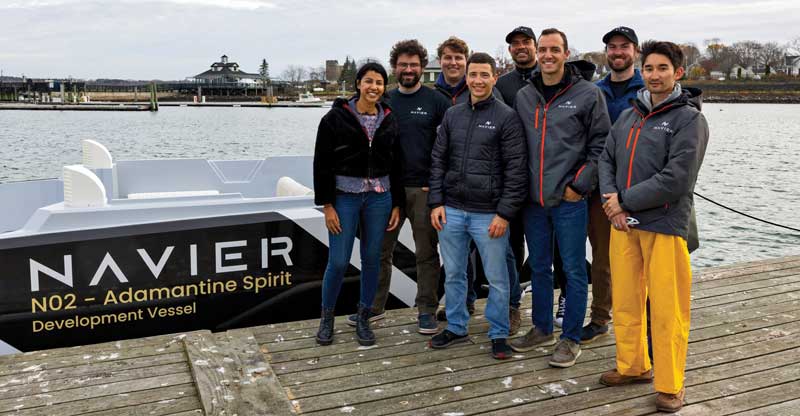 The Navier development team, including far left, CEO Sampriti Bhattacharyya. The West Coast-based startup has raised over $10 million for its innovative concept.
It turns out that computer control is a key technical factor in modern hydrofoiling. The chief (software) architect for the programming at Navier is Kenny Jensen. It was explained to me that these boats have many inputs and programs that evolved from technology borrowed from autopilots, drones (military and photographic), and self-drive automobiles. A central computer, reading information from several sensors that "read" conditions like human weight distribution in the boat, waves, inputs from the pilot, and protocols that, for instance, make the boat lean into a turn, make for a steady and volt-efficient flight. The combination of expert aeronautical tweaking of the foils, ideal matching of power to existing battery output, extreme weight containment, and Jensen's software allow Navier's water taxi model to carry six people about 75 miles at 20 plus knots on a full charge. Top speed is about 35 knots. The boat is designed to hold up to 10 people.
Bieker, whose degree from the University of California at Berkeley combined naval architecture with aeronautical engineering, explained that his role in this project concentrated on the general naval architecture, including structure, basic arrangement, the layout of the foils, and power requirements. But the Navier company is run in a collaborative manner. An English company, 30-C, did the "aesthetic styling." Bieker had help from Hal Youngren, whom he used as a consultant for the fine details of the three elevating foils. True to my premise here and my tendency toward Maine chauvinism, I will point out that though he consulted on the New Zealand Americas Cup campaign and is now involved with hydrofoil tech worldwide, Youngren lives in Portland, Maine.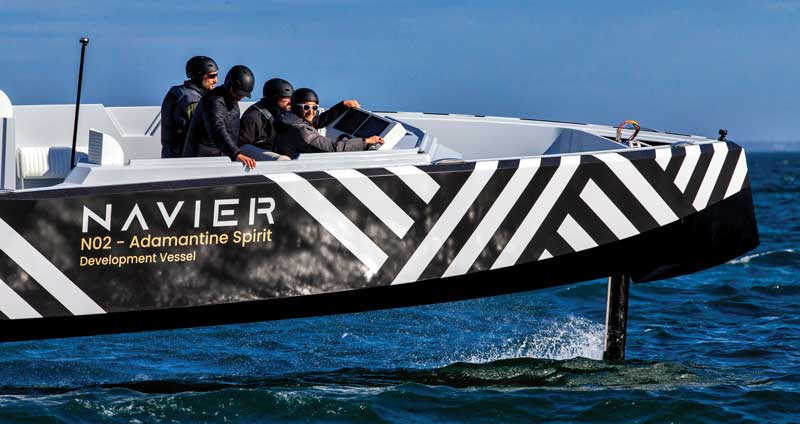 The Navier development team, including far left, CEO Sampriti Bhattacharyya. The West Coast-based startup has raised over $10 million for its innovative concept.
The Navair 30s have three sets of foils, a single "canard" wing forward and two "T" shaped foils side by side behind. They all can be retracted for shallow water and beaching. All three foils have trailing edge flaps that can be articulated according to "behavioral programs" that are directed by onboard computers.
At the risk of ending on a down-note, I repeatedly asked all the scientists the same question:  "What about Mussel Ridge Channel?" In other words what about Maine, and foggy bays where lobster traps with toggles are an ineluctable concern. I heard some mild reassurances involving sensors and soft-landing regimens, and even diligent consideration of emergency "break away" engineering—none of it convinced me that the Navier might not be stopped by a lobster buoy. Still, there are runs even in Maine, on salt or fresh water, that make sense. And all the while this fast, efficient gizmo could prove most profitable and will tread lightly on the Earth's waters in a great many places.
The boat is being offered in three configurations an open top, hardtop, and a version with a cabin. Starting price is $375,000. 
✮
---
Contributing Author Art Paine is a boat designer, artist, and writer who lives in Bernard, Maine.
NAVIER 30
Length: 30'
Beam: 8'8"
Take off speed: 15 knots
Max speed: 35 knots
Charging: Shorepower—overnight on 240v
Motor: 2x90 KW
Designer
Navier 
Alameda, CA
www.navierboat.com
Prototype builder
Lyman-Morse
Thomaston, ME
www.lymanmorse.com
Share this article:
2023 Maine Boat & Home Show

Join Us for the Maine Boat & Home Show!
Art, Artisans, Food, Fun & Boats, Boats, Boats
August 11 - 13, 2023 | On the waterfront, Rockland, Maine
Click here to pre-order your tickets.
Show is produced by Maine Boats, Homes & Harbors magazine.