Mushroom buoys & a hybrid ferry
By Polly Saltonstall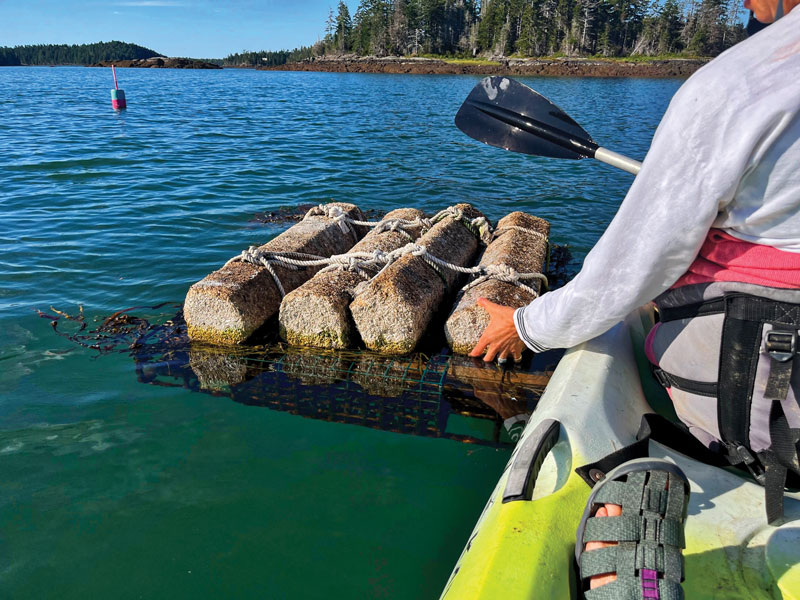 Four untreated MycoBuoys floating an oyster trap in Cobscook Bay. Photo courtesy Sue Van Hook
Mushroom buoys
We've been reading a lot lately about efforts to get plastics and other such potentially harmful products out of the ocean. A case in point is buoys, the flotation devices used in aquaculture, in lobster fishing, and as mooring balls.
Sue Van Hook, a Cambridge, New York-based mycologist with long-time ties to Maine, thinks she might have a solution: mushrooms. For several years, she and partners have been "growing" buoys using mushroom spores and testing them with oyster farmers and others.
"We are happy to report that the MycoBuoys™ Project is truly mushrooming!" she reports. Last spring she held a workshop at Smithereen Farm in Pembroke and grew cylindrical floats that were deployed on Brooks Mills oyster cages during the summer and fall season in Cobscook Bay. Van Hook also grew rectangular forms to support wooden crates designed and tested by Adam and Zeb Campbell of North Haven Oyster Co. Their buoys floated cages from late August to November and supported the 24-hour flip cycle of the cages to reduce biofouling. Abby Barrows of Long Cove Sea Farm in Stonington designed and grew long rectangular MycoBuoys with Van Hook's guidance to float her newly crafted metal mesh cages.
"Interest in natural materials for replacing toxic plastic gear is building from harbor to harbor up and down the Maine coast as more individuals and families lease acres to shellfish aquaculture," Van Hook said.
The buoys are grown in molds using mycelium from wood rot fungi that are fed plant waste—hemp has proven to give the best results, Van Hook said. As the thin strands of mycelium grow they weave together creating air pockets. They also produce a surface protein that forms a waterproof outer layer, she explained. The growing process takes anywhere from four to five days and then the buoys have to dry and harden for another week or so before they can be deployed.
Uncoated, a mushroom buoy will hold up for about four or five months, Van Hook said. It can then be composted on shore. The biggest hurdle currently is finding a natural coating that will prolong the buoys' life once they have been deployed.
Lobster fishermen have expressed a keen interest in the buoys, Van Hook said, if she can find a way to make them last longer. "I talked recently with a fishermen who said when lobster fishermen have a damaged buoy they would love to just throw it overboard (which they could do with an all-natural product) rather than bring it ashore."
Meanwhile, she said the synergy among old and new aquafarmers is exciting to witness as more people become concerned about the health of the food they grow and the long-term sustainability of marine ecosystem health.
Modifications to raw materials, shapes, fasteners and natural waterproof coatings are in the works while Van Hook awaits news of a research and development grant award to optimize inputs, costs and durability. Seven oyster farmers from Maquoit to Cobscook bays as well as the Downeast Institute will each receive buoys, testing 4 designs and 4 surface treatments for the 2023 season. In addition, Van Hook has grown buoys that WoodenBoat plans to use for small boat moorings this summer.
In addition, Van Hook is working with North Spore, a Portland-based mushroom growing kit company, to develop kits for customers to grow their own buoys.
A survey to assess interest and the commercial viability for MycoBuoys is available online at www.mycobuoys.com.
---
Amazon on Monhegan
Cardboard boxes with the black Amazon arrow have been landing all over in recent years, especially since the pandemic lockdowns. The massive retailer took notice recently of some of those deliveries in Maine, in particular to the remote island of Monhegan. Amazon released a three-minute mini-documentary in November about the island on its website and YouTube channel, according to a report in the Boothbay Register. The short, which was filmed last summer, begins in Port Clyde with packages being loaded onto the circa 1943 Laura B ferry, which is run by the Monhegan Boat Line. The film describes the island, which is about 10 miles offshore, as having no paved roads and only about 70 year-round residents. Monhegan Boat Line owner Andy Barstow is quoted describing a line from his father who ran the ferry before him, "We deliver everything but babies." Locals boast that their lifestyle requires hardiness, and express appreciation for Amazon and the fact that Amazon delivers packages not just to the loading dock but to their doorstep—thanks to the on-island delivery service offered by Angela Iannacelli, who says she has been delivering packages on the island for eight years. At the end of the video, Amazon announces that it donated $25,000 to the Monhegan Island Sustainability Community Association, which provides affordable housing so people can live and work on the island year-round.
---
Ferry McFerryface?
Meanwhile, over on another small and remote Maine island, residents have been debating what to name a new ferry that is expected to be delivered in 2024—it's being built in Alabama. Located 22 miles off the coast, Matinicus has been served by the Everett Libby ferry for 63 years. Island resident Eva Murray (an MBH&H columnist) has been collecting name suggestions, which have run the gamut from the serious to the absurd, according to a report in the Bangor Daily News. Suggestions, according to the report, have included Slow Boat to China, A Boat Time, Ship Show, and Ferry McFerryface. More serious suggestions have included the names of past captains and beloved island residents. Murray told the BDN that she would like to keep the ideas serious and coming mostly from people who will ride the new ferry or have some kind of Matinicus connection. Whatever name islanders and ferry riders come up with, it will still have to pass muster with state officials. Murray will submit suggestions to the advisory board in March, when members will choose one to advance to the Transportation Commissioner.
---
Hybrid ferry on the way
Penobscot Bay will soon be home to a hybrid-electric ferry. U.S. Senator Susan Collins, R-Maine, and Congresswoman Chellie Pingree, D-Maine, have announced that the Bipartisan Infrastructure Law included funding to support, improve, and modernize passenger ferry services earmarked for Maine. The funding was awarded to the Maine Department of Transportation through a program to support passenger ferry systems as they transition to climate-friendly technologies.
The Margaret Chase Smith ferry project will receive a $28 million grant for the construction of a hybrid-electric ferry to replace the 35-year-old vessel currently serving the Lincolnville-Islesboro route, according to a press release. The new hybrid-electric vessel will reduce greenhouse gas emissions and promote environmental sustainability for the roughly 600 residents of the island of Islesboro, who rely on passenger ferry service.
The Margaret Chase Smith Islesboro route is the most traveled of the six island routes served by the Maine State Ferry Service, according to the news release. The route carried over 180,000 walk-on passengers and over 73,000 vehicles in 2019 alone.
In addition, Maine DOT was awarded $4.9 million to support ferry service staffing, maintenance, and customer communication in efforts to maintain and enhance service reliability. As Maine DOT adds cleaner vessels—such as hybrid-electric vessels—to its fleet, the federal funding will support cleaner, reduced emissions transportation for customers, the island and mainland communities, and the surrounding areas.
"Maine's ferries are indispensable to those who live and work in our island communities, providing passenger, freight, and postal services and transporting students to school and people to their jobs," said Collins, in the release. "By improving recruitment and retainment efforts for vessel crews and implementing an environmentally friendly engine technology, these investments will enhance the future of ferry service."
"Maine's year-round island communities are a vital part of our state's history, culture, and economy, and the ferries that serve them are critical and in need of modernization. As we electrify our auto and trucking fleet and expand our network of charging stations throughout the state, ferries are a natural extension of that evolution and shouldn't be left behind," said Pingree.
The next step will be to name this new ferry. The process could be electrifying.
---
Is your toilet running?
Who knew just how much water is consumed when a toilet runs without stopping. A lot, according to water managers in Stonington who found that out the hard way. According to an article in the Deer Isle-Stonington Island Ad-Vantages, a running toilet in a downtown building wasted close to 130,000 gallons of water between mid-August and early October. That's a big deal for the town because in recent summers the island's public water system has run dry and the Stonington Water Co. has had to truck water in from Bucksport, at a high cost. Last winter, the town faced another water loss when a burst water pipe in a seasonal home spewed 103,000 gallons of water before it was detected.
The toilet in question was in an apartment over a business. The owner of the building will have to pay for the overage, the newspaper reported.
---
Can you see the seaweed?
A team of researchers is getting a bird's eye view of how much of an ecologically and economically important seaweed grows along the Maine coast. Scientists from Maine Maritime Academy, Schoodic Institute, and Bigelow Laboratory for Ocean Sciences have teamed up with a Maine-based drone specialist in an attempt to measure rockweed, according to a report in the Bangor Daily News. The team has been flying drones over several areas of the coast for the past three years to monitor the seaweed and create a map. The hope is to get a better understanding of where the rockweed grows and how much can be sustainably harvested.
Rockweed harvesting has become a big business in Maine—the 2021 harvest was valued at close to $1 million, according to the BDN. The seaweed is used for a wide range of products from cosmetics to animal feed. But how much is too much, and who owns the resource has been the subject of a lot of debate and legal actions.
Stefan Claesson, the principal scientist at Nearview—the company that's been flying the drones—told the BDN that his drones are equipped with spectral light sensors that can take thousands of pictures. Since 2019 he's surveyed eight different areas, each between 25-50 acres, between Casco Bay and Cobscook Bay.
---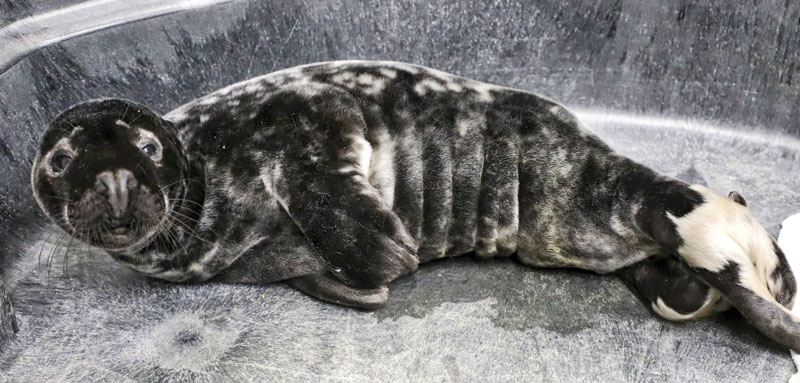 The seal pup at Marine Mammals of Maine, where the hungry little guy was being fed and rehabilitated for release back into the ocean. Photo Courtesy Marine Mammals of Maine
Wayward seal
While CMP crews were out trying to restore power during one of the recent winter storms, and public works crews were trying to clean off icy roadways, police in Cape Elizabeth faced a slippery problem: a wayward seal that repeatedly tried to flip flop its way into local neighborhoods. The first call came in at 1:30 a.m. when a public works employee driving a plow reported seeing a seal on the road. An officer responded, captured the seal and released it back into the ocean. About five hours later, another call came reporting the seal had returned to shore. Once again, the animal was captured and released into the ocean. But this seal was determined to get some shoreside leave. Just an hour later, it was back, this time exploring Fort Williams Park. Released back into the ocean, it finally swam off, but was later collected by Marine Mammals of Maine which planned to assess the wayward beast at its rehab center.
---
New dredge in the works
Coastal communities in Southern Maine will soon have access to a new dredge that will be used to improve navigational channels and replenish beaches from Kittery to Scarborough and possibly beyond, according to a report from the Island Institute.
The York County Commission has agreed to the purchase of an 86-foot suction dredge using $1.54 million in federal funding made available through the American Rescue Plan Act. If all goes according to plan, the dredge should arrive in spring and be in operation for the 2024-25 dredging season.
The dredge would be managed through a newly created nonprofit organization called the Southern Maine Dredge Authority and would be rented on a "pay-as-you-go" system as dredging projects arise.
The driving force behind the initiative to buy a regional dredge, according to the Institute's report, was Save our Shores Saco Bay, an organization that has advocated for the need for ongoing beach replenishment at Camp Ellis, a small shoreside community in Saco whose beach has been decimated by shoreline erosion for more than a century.
---
DMR takes on climate change
The Maine Department of Marine Resources' Public Health Bureau has hired Meredith White, Ph.D., to lead a department program that supports coastal municipalities and harvesters as they confront climate change in Maine's nearshore waters.
White's hiring coincides with a recent name change that more accurately reflects the work of what was previously called the Shellfish Management Program and is now called the Nearshore Marine Resources Program.
"This program has evolved over time to include far more than just the management of softshell clams," said DMR Public Health Bureau Director Kohl Kanwit. "Scientists in this program manage all species of clams, oysters, and mussels as well as other important species including seaweed, marine worms, periwinkles, and whelks. The change in name better encompasses all the existing responsibilities of this program."
"This new senior scientist position and two supporting scientist positions were created by the administration and legislature to address new and dynamic challenges confronting municipalities and harvesters caused by climate change," said Kanwit.
White will oversee a team developing surveys to monitor resource abundance and to evaluate the impact of climate change on those resources while supporting co-management system between the state and municipalities for clams and oysters in Maine. One of the first projects will be an intertidal monitoring program at specific sites throughout the state.
Based on harvester input, in the coming months White will also develop a marine worm larval study to evaluate changes in abundance. And she will lead research into Maine's wild harvested seaweed resources, and evaluate the abundance and management of blue mussels.
---
Passage to the sea
A $14.8 million grant from the National Oceanic and Atmospheric Administration will support work to restore passage for sea-run fish on the St. Croix River, according to a news release from the Department of Marine Resources.
Additional matching support for the project comes from the removal of the Milltown dam by owner New Brunswick Power. 
The work will not only include removal of the Milltown dam in Calais, but also the design and construction of a new state-of-the-art fishway at the Woodland dam in Baileyville.
Removal of the Milltown dam, which will begin in 2023 and be complete in 2024, will restore 10 miles of the St. Croix River to sea-run fish. Since the Milltown dam site is approximately a half mile upstream of the head of tide, fish that need significant freshwater and non-tidal areas to spawn such as shad and blueback herring have been severely limited.
Design of a fish lift at the Woodland dam, which is owned by Woodland Pulp, will be finalized in 2023 and construction is set to being in 2024.
Partners on the project include New Brunswick Power, which will lead the removal of the Milltown dam, and the Passamaquoddy/Peskotomuhkati Tribes, which will assist in the operation of the facility at Woodland and monitoring the change in fish populations over time. Woodland Pulp, the owner of the dam at Woodland, will help facilitate access to the project site and operate and maintain the fish lift. Alden Research Labs will function as the engineering lead for Woodland fish lift. The Nature Conservancy will provide technical support, project coordination, monitoring, and additional support.
---
Shining a light offshore
A new exhibit at the Maine Maritime Museum in Bath combines art and science to educate visitors about the diverse ecosystem of Cashes Ledge, a remote underwater mountain range in the Gulf of Maine. The show recreates the ledge through many different mediums including painting, sculpture and video projection. "With the SeaChange exhibit, we want to show what is happening under the waves in the Gulf of Maine, and focus on Cashes Ledge as a metaphor for the worldwide 30 by 30 initiative to protect 30 percent of Earth's ocean and land area by 2030. By bringing awareness of changes in biodiversity due to human impact we hope visitors will become involved in helping to permanently preserve Cashes Ledge," said Anna Dibble, founding director of Gulf of Maine EcoArts and the leader of this project. The exhibit is designed to be interactive and immersive. The SeaChange EcoLab offers visitors opportunities for hands-on learning about current marine science and allows them to discover industry initiatives that are innovating solutions to protect ocean biodiversity and support healthy fisheries.
---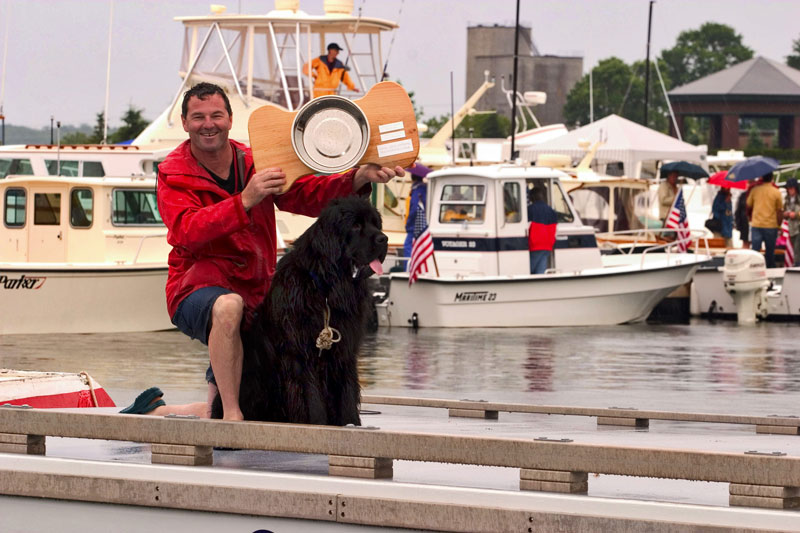 Carlton Johnson and then 8-month-old Boris Bearenauf after winning the 2004 World Championship Boatyard Dog® Trials. Photo by Jeff Scher
Over the bar: Carlton Johnson
Maine's boatbuilding community lost one of its stalwarts last winter with the death of Carlton Johnson, the owner of Redfern Boats and Upharbor Marina. He produced many beautiful boats throughout his career and was known for his love of big Newfoundland dogs, his quick humor, and ability to make friends. He will be missed. 
✮
Share this article:
2023 Maine Boat & Home Show

Join Us for the Maine Boat & Home Show!
Art, Artisans, Food, Fun & Boats, Boats, Boats
August 11 - 13, 2023 | On the waterfront, Rockland, Maine
Click here to pre-order your tickets.
Show is produced by Maine Boats, Homes & Harbors magazine.