Casting Off: An artist's journey
By Caroline Magerl
Artist and author Caroline Magerl has contributed whimsical illustrations for essays in this magazine for decades. Over the last few years, as her children's books have become increasingly popular along with her fine art, she has less time for illustrations. Magerl, who lives in Australia but has spent time in the past in Maine, is now focusing her attention on picture book projects and new directions, and we must sadly say adieu. She sent us this final image and parting words.    —The editors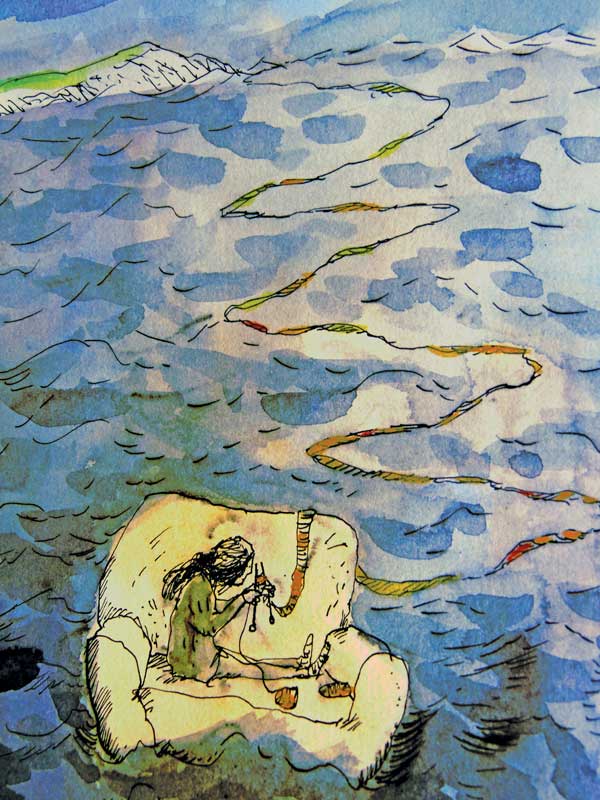 I have always envied people who have a sense of belonging; doubtless my migrant background has something to do with this. 
Many years ago, during a visit to Maine, I sat with my friendly hosts in a cape-style house with its distinctive timber shape and stone base rooting it to the landscape, and a sense of settling there came to me. But it was not to be, and my peripatetic life continued much as it started during a childhood spent living on a boat. I did, however, get to visit Maine on a number of occasions and it holds many special memories. It was the very first place I was given an ongoing gig—drawing cartoons for WoodenBoat magazine—which began a life-long career in the arts, including illustrating for Maine Boats, Homes & Harbors. Our three-year-old daughter saw snow there for the first time. It was our earliest glimpse of her love of the cold and her incredible accuracy when hurling snowballs.
When I wasn't there in person, I was able to live vicariously through the magazines and the stories I was asked to illustrate. These were kind stories of local people who lived valued lives. I think the world would greatly benefit from publishing more stories like these. These illustrations have given me decades of happy memories.
Sadly, I find myself with less and less time, and good art takes time. I won't offer anybody less than my best attention, so the time has come for me to cast off, though breaking this connection with Maine causes me considerable sadness.
Lastly, a story from my first visit to Maine. As we drove into the gloomy woods at dusk, I noticed a sign that read "frost heave," and a thought came to me: what a curious name to call a town. A short while down the road and four frost heave signs later, I was glad that I kept that thought to myself. 
I do however hope to visit Frost Heave again soon. 
---
✮
Caroline Magerl's diverse blend of artwork can be viewed on Instagram.
Share this article:
2023 Maine Boat & Home Show

Join Us for the Maine Boat & Home Show!
Art, Artisans, Food, Fun & Boats, Boats, Boats
August 11 - 13, 2023 | On the waterfront, Rockland, Maine
Click here to pre-order your tickets.
Show is produced by Maine Boats, Homes & Harbors magazine.