Williams 28 Bass Boat
A new take on an old favorite
By Laurie Schreiber
Photos by Alison Langley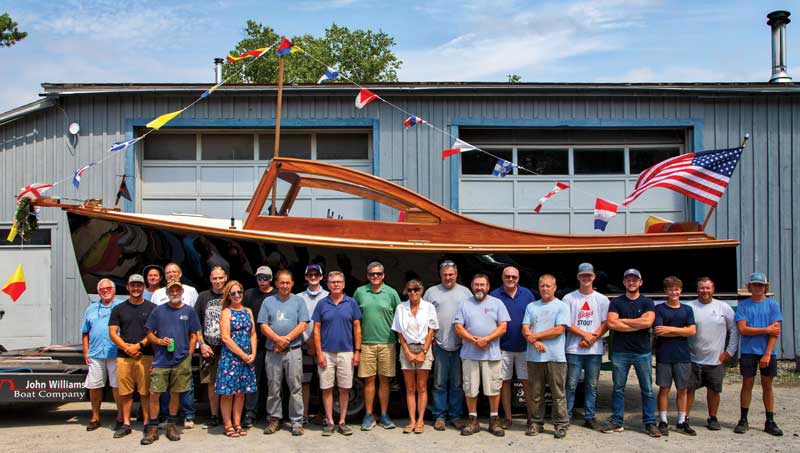 It takes a team to produce a boat. The crew at the John Williams Boat Co., including Jock Williams far left, stands in front of the newly finished Williams 28.
The new Williams 28 Bass Boat, launched by Mt. Desert Island's John Williams Boat Company in the summer of 2022, is the latest take on an old favorite.
The yard, located in Hall Quarry, has long offered models ranging from 26 feet to 44 feet. Most are based on the designs of Lyford Stanley, an accomplished builder of wooden boats and a long-time friend of the yard's owner, John "Jock" Williams.
In 1971, Williams made a fiberglass mold from Stanley's 36-foot wooden lobsterboat design. After that became wildly popular, Stanley's designs included a 28, 38, 39, 42, and 44.
Early on, the 28-footer was designed as a cabin cruiser with simple accommodations that included double bunks, a head, galley, and diesel engine. Quite a few are still on the water.
Then production of the 28s dropped off. But about 10 years ago, a couple from Marion, Massachusetts, who had a Stanley 36 for many years, decided they needed a new way to enjoy fishing and cruising Buzzards Bay with their grandchildren.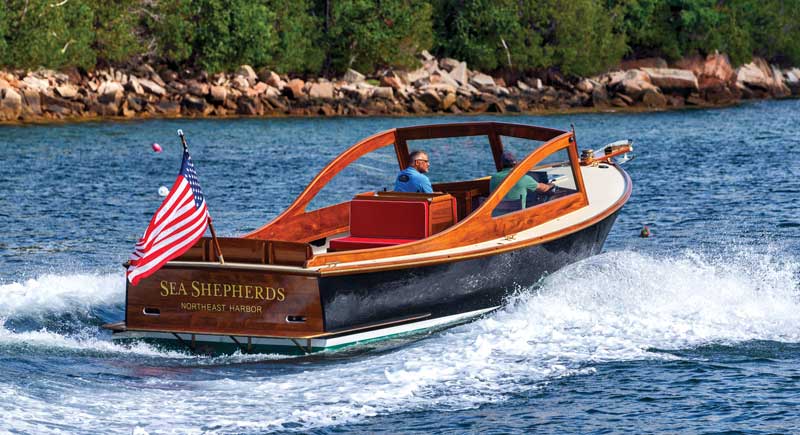 The new Williams 28 is a new take on an old favorite.
Almost three years after selling their Stanley 36, they returned to the yard looking for something a bit smaller but just as stable, sea-kindly, and good-looking as their 36. The natural choice was the Stanley 28 hull with a bass boat top.
"We fixed up the mold and made some modifications," said Williams. "The boat was great."
The yard launched its second version of the boat last summer.
The Williams 28 Bass Boat combines looks with solid design and construction. It accommodates the latest in a diesel engine with electronic controls to offer a fast, comfortable platform. The hull is hand-laid solid fiberglass.
The decks and platform are crafted from composite panel construction. The boat is light and simple, with the engine and steering being the only mechanical systems on board. A small head is installed in the forepeak.
A teak windshield provides a defining component and natural teak toe- and rubrails complete the wood package while keeping maintenance to a minimum.
Modifications included reshaping the forward deck to have a slight crown, a touch inspired by the designs of E.M. Crosby Boatworks in West Barnstable, Massachusetts. The yard also swapped out a four-cylinder Yanmar diesel engine for a small six-cylinder that provided better balance for the hull and a smooth, quiet run.
"Because we were building a bass boat, we weren't as restricted in space as we would be in a cruising boat, so this engine fit really well," Williams said. "When we got it in the water, she made 22, 23 knots and handled the sea well. I was very impressed."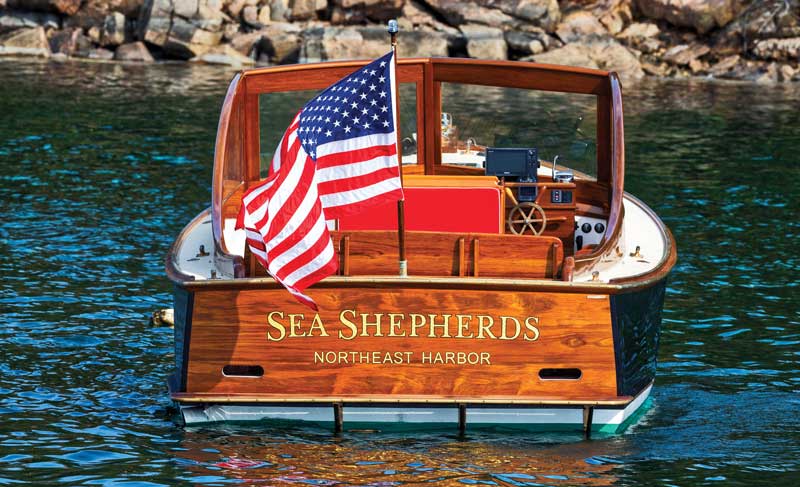 The newest version of the boat was commissioned by a New Jersey man who had a summer home not far from the yard, in the village of Northeast Harbor. The new Williams 28 Bass Boat, which launched in July 2022, is named Sea Shepherds.
Features on Sea Shepherds include a seating arrangement that traverses the cockpit along the stern and forward areas and down both sides. A center seating arrangement is particularly interesting: The section has two seats back-to-back, one facing forward and the other aft.
"The object was to be able to sit and talk to the people who are driving the boat or to the people who are back aft," said Williams.
Other amenities on Sea Shepherds include a wine cooler, bottle rack, and small sink for entertainment purposes. A head is located forward. A bow thruster and a stern thruster were installed for easy docking.
The hull incorporates a fine forward entry that pushes out the bow wave, keeping passengers dry and comfortable.
"They're nifty little boats—just 28 feet but there's quite a lot to them," said Williams. "They're good sea boats."
Williams's team is largely focused on service and storage these days. The most recent boat built before Sea Shepherds was a Douglas Zurn design produced in 2016. But that's okay with Williams.
"It's never been a business; it's always been an activity that's given me a great deal of pleasure in life," said Williams, an affable man who noticeably enjoys interacting with customers and with his team. 
---
MBH&H Contributing Editor Laurie Schreiber is also a Mainebiz staff writer and has covered topics in Maine for more than 30 years.
---
Williams 28 Bass Boat
LOA: 28' 
LWL: 27' 2" 
Beam: 9' 6" 
Draft: 2' 11" 
Cruising speed: 16-18 knots 
Top speed: 23-24 knots
Builder: John Williams Boat Company
17 Shipwright Lane
Mount Desert, ME
207-244-7854
jwboatco.com
Share this article:
Digital Edition Available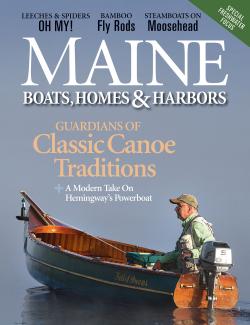 Can't get to the store to buy your magazine? We deliver the stories of Maine's coast right to your inbox. Sign up here for a digital edition.