Lubec: Land of the Rising Sun
By Mimi Bigelow Steadman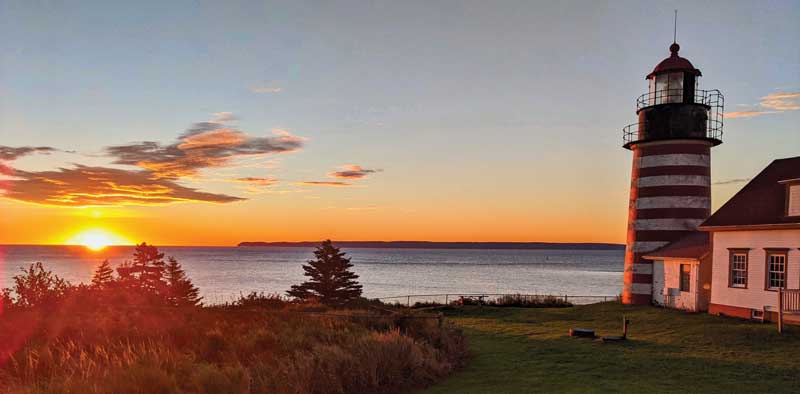 West Quoddy Head Light greets the dawn at the easternmost point in the continental United States. Canada's Grand Manan Island lies on the horizon. Photo by Mimi B. Steadman
"This is an 'accumulator' from the Lubec gold scam," explained Janice Bronson as she showed us around the Lubec Historical Society Museum. The large cauldron looked pretty unremarkable to me. "Wait, what?" I asked. Bronson then shared a surprising story from the history of this tiny downeast community on the Canadian border.
In the late 1890s, two men from Massachusetts announced that they could extract gold from salt water using their so-called accumulators. East Lubec was the ideal spot to deploy several hundred of them, they claimed, because of its unusually high tides and swift currents. Conveniently, it was also far from investors' prying eyes. "Millions of dollars in gold are flowing through Lubec Narrows every day!" their prospectus trumpeted.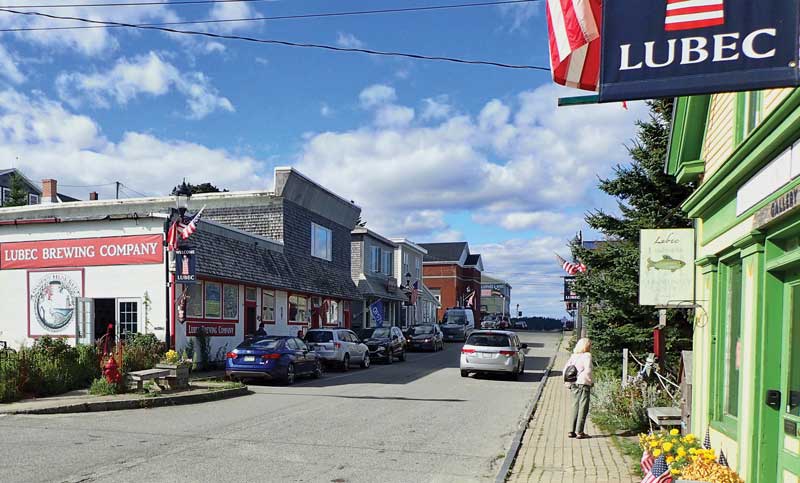 Downtown Lubec is only a few blocks long. Photo by Rick Steadman
Over the course of several months, the hucksters presented "proof" for their claims and bilked more than 1,000 investors—mostly in New York, Connecticut, and Massachusetts—out of nearly $1 million. Finally, an acquaintance spilled the beans to the New York Herald: One of the men, a diver, was salting the submerged containers with gold nuggets at night. Both men managed to evade prosecution, one escaping to Europe and one simply disappearing.
Before visiting the museum, we'd stopped at Quoddy Head State Park, at the easternmost point in the continental United States. Home to candy cane-striped West Quoddy Head Light, the park's 541 acres encompass several scenic hikes. We chose the Coast Guard Trail, a gentle, cliff-edging loop of about a mile. Winding through evergreens studded with red-berried rowan trees, it led us to grand views out to sea and north to downtown Lubec.
In the historical museum's parking lot, a sign explained that this was once the site of the Columbian Packing Company. Built just a few years after the swindle, the sardine factory no longer stands, but the original company store forms the heart of the museum building. It's a tangible reminder of the era when, unlike the gold hucksters, the sardine and herring industry reaped an honest profit from the sea. The museum includes a detailed exhibit about that boom time, when dozens of fish-processing facilities lined the Lubec waterfront.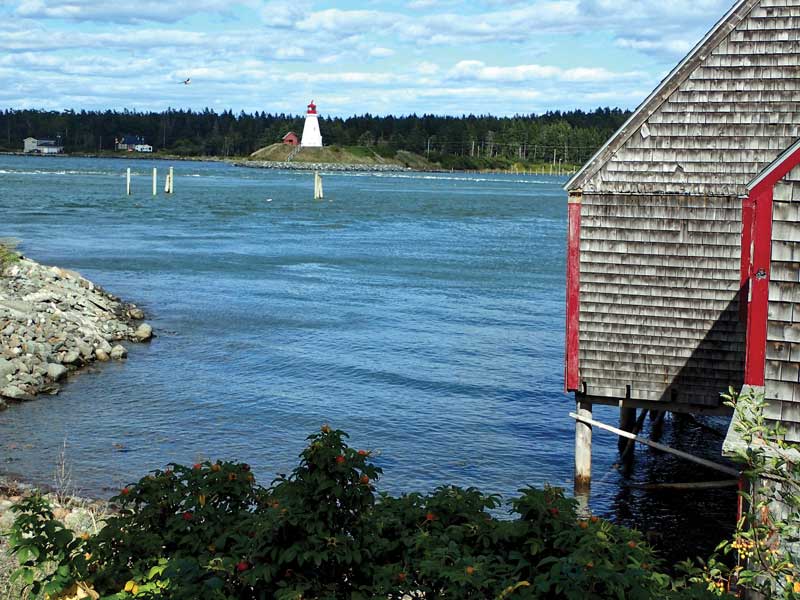 Mulholland Point Lighthouse sits on Campobello Island, just across Lubec Narrows from the shingled buildings of the McCurdy Smokehouse Museum. Note the visible tide rip in the narrows. Photo by Rick Steadman
While those buildings are nearly all gone, a picturesque old herring smokehouse still balances atop pilings beside Water Street in the middle of town. Now the McCurdy Smokehouse Museum, its small, weathered-shingled structures housed this country's last such operation when it closed in 1991. Despite the posted schedule, it was closed. So we simply paused outside, vividly remembering from a past visit the acrid aroma of smoke that still clings to rafters where fish once hung for days above slow-burning fires.
On that September afternoon, a chilly wind blew past a handful of storefronts and vacant buildings, and the town seemed mighty quiet. But when we stepped into Lubec Brewing, we were immediately immersed in lively conversation and the music of a singer-guitar duo. Groups of all ages relaxed in comfy sofas and filled all the barstools. We knew we'd found the heart of the community.
The next morning, our alarm jolted us awake at 5 o'clock. We had a date with the sunrise. For a few weeks around the autumnal equinox (and again near the vernal equinox), West Quoddy Head is the first place in the continental United States to see the dawn.
A ribbon of pink was already smoldering on the horizon when we arrived at the lighthouse. Slowly, the glowing orb slipped from the water beside the bold bluffs of Canada's Grand Manan Island, just across Quoddy Narrows. As it rose, its rays tinged the low-hanging clouds and gilded the skies. It would be great if there were gold in that water, I mused. But I was more than happy to settle for the gold in those stunning skies. 
---
Contributing Editor Mimi Bigelow Steadman lives on the Damariscotta River in Edgecomb.
---
If You Go to Lubec
Do
The Lubec Historical Society Museum's impressive collection of artifacts provides a window into Lubec's past: the sardine industry, shipbuilding, and everyday life in this easternmost town. Don't miss the large cannon, built in 1840 during the Aroostook War, a bloodless dispute over the placement of the U.S.-Canadian border. The museum is open late June through early October on Tuesdays and Thursdays. At the McCurdy Smokehouse Museum, guides with personal experience explain how, for nearly 100 years, herring was brined, smoked, and packed in this quaint complex of buildings. On the waterfront, the Lost Fishermen's Memorial poignantly illustrates this area's generations-long link to the sea. Comprising three granite triangles suggesting waves, it honors fishermen from both Washington County, Maine, and Charlotte County, New Brunswick. Nearby in Stockford Park, a sculpture entitled Beyond the Horizon is part of the Schoodic Sculpture Trail. No trip to Lubec is complete without stopping to see the iconic, red-and-white-striped West Quoddy Head Light, built in 1858 on the easternmost point in the continental U.S. Cross the Roosevelt International Bridge to Canada's Campobello Island to visit Franklin D. Roosevelt's rambling summer "cottage." Be sure to take your passport; check to see what additional documents may be required.
On the Water
Dramatic tides and currents, plus frequent fog, make visiting Lubec by boat a daunting proposition. In low visibility, Harbormaster Ralph Dennison advises against approaching through Quoddy Narrows and Lubec Narrows, suggesting instead that boaters go around Campobello Island and enter from the north. He adds that the current runs at six to eight knots through the narrows, and there are 13-foot spots. At high tide, the clearance under the International Bridge is 48 feet. There are two moorings for transient yachts ($25 per night; call Dennison, at 207-733-4607, or the Town Office, at 207-733-2341). There is a seasonal floating dock where boats may tie up for a maximum of two hours; overnight tie-ups are not permitted. There is a public launching ramp on Johnson's Bay, beside the breakwater on the northeastern edge of town, and a second one in the Bailey's Mistake Preserve, southwest of downtown.
Hike & Paddle
With sweeping seaside lookouts and about five miles of trails, Quoddy Head State Park is open May 15 to October 15, but visitors are permitted to walk in throughout the year. Maine Coast Heritage Trust maintains large swaths of unspoiled land along the Bold Coast, including Boot Head Preserve, in Lubec, and Bog Brook Cove Preserve, just up the road in Cutler and Trescott. Also administered by the trust, the small Bailey's Mistake Preserve (named for an 18th-century captain who ran aground in the fog in this Lubec cove) includes easy water access for kayaks and a launching ramp for larger craft. Unless you're an experienced paddler, it's wise to stay within the protected cove. Cobscook Shores, Inc. comprises 15 privately owned waterfront parks with opportunities for walking, hiking, picnicking, biking, camping, and paddling Cobscook Bay.
Dine
Set in a repurposed sardine cannery, Fisherman's Wharf offers an extensive selection of fresh seafood dishes; the chowders are excellent. Its sister business, The Inn on the Wharf, offers 15 rooms and suites set right on the water. At the bottom of Water Street, Cohill's Pub and Inn serves Irish-accented pub food as well as some more refined dishes. There are nine guest rooms upstairs, most with water views. Simple, hearty fare and house-baked desserts are offered at the Water Street Tavern and Inn, which also has several guest rooms. You'll find authentic, thin-crust Jersey-style pies at Morano's Pizza. While they don't serve food, Lubec Brewing Company still nourishes the community at its warm, welcoming, and dog-friendly taproom. There is live music often, and the 14 beers on draft represent a wide range of styles. Note that these businesses may have limited hours or close in the winter.
Shop
The selection, quality, and displays at Monica's Chocolates could give even the most exclusive chocolatier a run for its money. Established by Monica Elliot, a native of Peru, this beautiful shop brims with chocolate indulgences. Monica also imports soft, warm Peruvian clothing made from alpaca yarn. In a tiny log cabin on Water Street, Wags and Wool is a destination for knitters, with offerings including Maine-spun and hand-dyed yarns; there are also treats for canine customers.
Share this article:
2023 Maine Boat & Home Show

Join Us for the Maine Boat & Home Show!
Art, Artisans, Food, Fun & Boats, Boats, Boats
August 11 - 13, 2023 | On the waterfront, Rockland, Maine
Click here to pre-order your tickets.
Show is produced by Maine Boats, Homes & Harbors magazine.