Letters 179
Ancient Mariners fan
While delivering a 9' draft sailboat from Block Island to Maryland years ago, I spotted Ancient Mariners, the boat belonging to Herb and Ruth Weiss, just next to where I wanted to land at a marina in Manhasset Bay and I saw it as a welcome sign. I had met the couple the year prior and been, as all are, smitten with them. I was stopping to time current through NYC but also to deal with a shoe-box sized holding tank. After completing my job(s), I went to their boat to say hello, and they wanted to know all about us. I said, "We've had challenges: the sail drive's oil was milky at the start, so we hauled out in Connecticut. I also tried the GPS aboard and was stunned that the screen shows only cartoons, but I have learned the reason: there is no chart chip. Herb Weiss smiled broadly and, with his scholarly eye, asked, "Haven't you an iPhone?" And without taking another breath, he added, "It'll take less than five minutes for you to download charts into your phone and be off without a chip or a care!" Ruth Weiss chuckled, and then we were off—and I have relied on my phone since. What gems these folks are!
Mark Pellerin
Royal Oak, MD
---
Morris memories
I enjoyed Helen Tirone's article reflecting on her Maine upbringing in "A Cruise Down Memory Lane on a Special Boat." (MBH&H #175, March/April 2022). It brought back many pleasant memories of my time there, as well as sadness for the dear friend I lost. Tom Morris and I were long-time close friends. I still miss him.
I remember when his brother Billy brought Fox to Maine each year and was a part of several island picnics. On one of those, the Whaler came in without lights after sunset and was being chased by the Coast Guard. Tom docked the boat and told everyone to run to avoid being cited for a light violation.
He told me about being fired while working insurance when his boss told him to move to Maine to build boats.
Although Helen lost her father way too early, the memories she so well expressed in her article clearly reflect on what a special man he was.
She should keep on writing. She is good at it.
Mark Ellman
New York, NY
---
MIT connection
Hello, I'm a long-time subscriber and always look forward to the next issue. In the process of devouring your September/October issue, I read with interest the article about the Weisses ("Still Boating"). Aside from it being a great story, I was fascinated to learn that Herb worked at the Radiation Lab at MIT as I believe my grandfather, Alan Bemis was director at the time. Alan was himself an accomplished sailor and one-time commodore of the Cruising Club of America so I suspect they were friends.
Keep up the good work. I haven't even gotten to the article about ice from my home, the Eggemoggin Reach!
John Macone
Brooklin, ME
---
Shark alert
A few days ago, I was looking for information on the variety of sharks in Maine waters (my dad and I harpooned two sharks many years ago). I came upon an article that ran in MBH&H during 2015. Polly Saltonstall had written a sidebar article on the experiences of Harry Goodridge and her uncle Lincoln Davis with sharks in Penobscot Bay. I have known Lincoln since the early 1970s.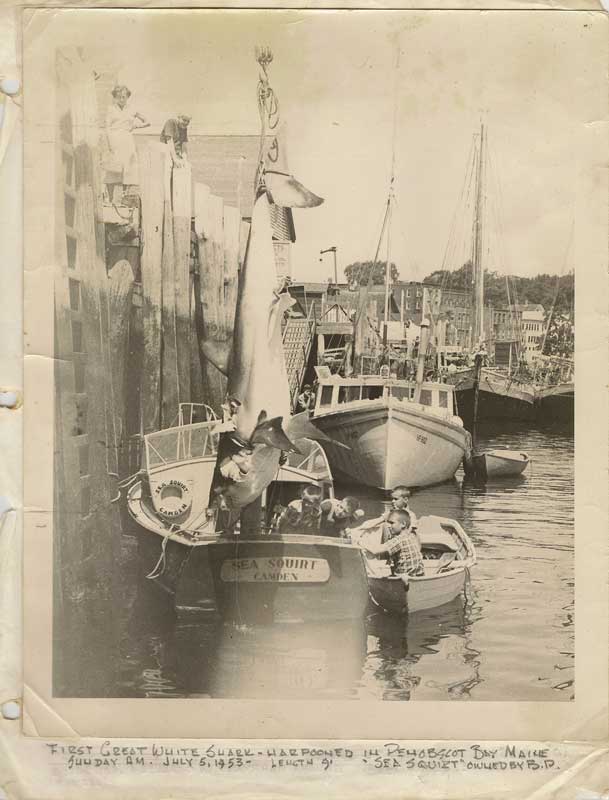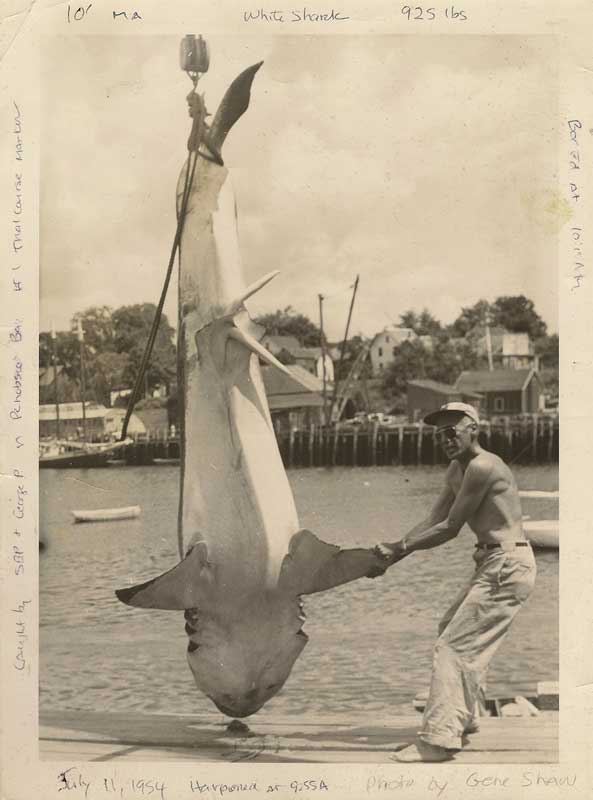 I have always been amused that articles on Maine shark catches have placed Harry's catches as the first ones caught in Maine, but that is erroneous, as you can see. I include two pictures taken in 1953 and 1954 in which my dad and I harpooned two sharks off Robinson's Rock and brought them back to Camden. I steered the boat at age 9, and Dad harpooned the shark. The picture gives you a good sense of the harbor back then. The shark was hauled up by a derrick at what was then Anderson's Marine supply next to the yacht club.
George Parker
Newcastle, ME
---
Power thoughts
Interestingly, the first two advertisements in your Sept/Oct issue are one for the MJM 35 with twin 300-hp engines, and on the very next page, one for the Hood 35 LM Express with twin 440-hp engines. Then a little later in is the article on the 2022 Nimbus W9 (30 ft+) with only one 300-hp engine. That's quite a difference in power requirements for three similarly sized boats. This is something the industry needs to address for a greener environment. How fast do we really need to go? And, if one manufacturer can go 40+ knots on one 300-hp engine, then why can't more?
Great magazine. I love to read about the builders and the new evolving technology in both the marine/housing industry. I also love the articles on the people, like the "Ancient Mariners." All the power to them. We only get one go at this journey called "Life"!
Doug Fleet via email
✮