Albury Runabout
A Photographer's Shooting Platform
By Benjamin Mendlowitz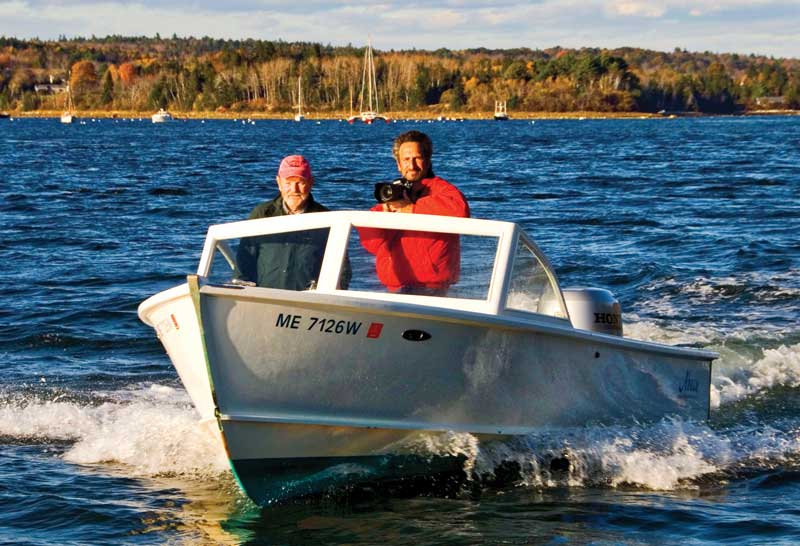 Benjamin Mendlowitz with his friend and colleague Maynard Bray in his Albury runabout Abaco. Bray helped Mendlowitz bring the boat to Maine from Florida. Photo by Matt Murphy/WoodenBoat Publications
Photographer Benjamin Mendlowitz makes his living shooting images on the water of boats of all kinds, focusing in particular on wooden boats. The work requires a special sort of boat: fast, nimble, stable, seaworthy, relatively dry. And—of course—it must be built of wood and nearly as good looking as the subjects in his photos, many of which end up on his best-selling Calendar of Wooden Boats, as well as in various books, magazine articles, and on the website Offcenterharbor.com, which Mendlowitz helped start and now helps run.
His current photo boat, Abaco, which he has had for more than 20 years, is a 20-foot wooden Albury runabout that was designed and built by Willard Albury on Man O' War Cay in the Abacos. Strip-planked one-inch mahogany, with natural knees of madeira wood, Mendlowitz's runabout is now powered by a 115-hp Yamaha four-stroke outboard engine. The controls on the dash are simple: a speedometer and tachometer, temperature and oil gauges, and a tilt indicator. The single lever gear shift is side-mounted. About eight inches ahead of the dash is a windshield and covered foredeck.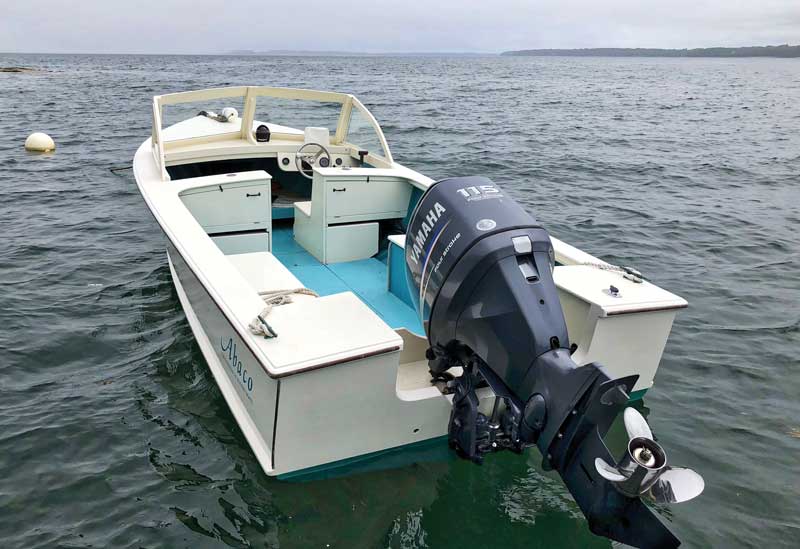 Abaco's controls are simple. The windshield, combined with the covered foredeck, provides good, dry protection for Mendlowitz's camera equipment. Photo by Benjamin Mendlowitz
The lines show a moderate deadrise of 15 degrees, producing an easy ride even in the short, steep chop common in the shallow waters of the Bahamas and around Maine islands. The simple and clean construction makes the boat easy to maintain. Mendlowitz stores Abaco at Benjamin River Marine.
The photographer was first introduced to the design in the late 1970s, when he visited the Bahamas on an assignment for a sailing magazine and rented an Albury runabout, much like his current one, to use while he was there. In subsequent years, as the Bahamas became a favorite working and vacation destination, he continued to rent the boats.
"They were family boats and they were everywhere, competing handily with the less attractive, harsher riding, wetter, and more expensive fiberglass runabouts being imported," he said. "They served as the pickup truck of the Abacos, and beyond, going from island to island, carrying groceries and building supplies, and also being used for transporting visitors to their island homes and for fishing."
Initially, the boats were open and used primarily for work, many for the crayfish industry. The early models featured plank-on-frame construction with natural knees, much like the famous sailing dinghies of the islands, many of them beach built.
As the Bahamas saw the construction of more vacation homes, the boats became popular with recreational users, and the design and construction methods evolved to strip plank and glue. The boats became bigger, with the addition of a foredeck and windshield, and were powered by bigger engines. As this transition took place, the flatter bottoms of the early smaller models were replaced by a hull with more of V-shape, which enabled the runabouts to handle rougher water well at higher speeds, and spray rails were added to provide a drier ride.
Albury, who is still building boats, has estimated that he's built over 250 wooden runabouts. And each boat is a little different because Albury made adjustments as he went along, based on the materials at hand.
After looking for the right Albury for almost a decade, Mendlowitz finally found one available to buy. He had it shipped by a small island freighter as deck cargo from the Bahamas to West Palm Beach, Florida, where he replaced the old Mercury two-stroke outboard with a new Honda 90 four-stroke. Then he and Maynard Bray, who has worked with him on the Calendar of Wooden Boats since its beginning, drove the runabout up the Intercoastal Waterway, heading for their Maine home. After about seven days of travel, sleeping ashore at boatels along the way, and facing a nasty early April forecast, the two went ashore at the top of the Chesapeake. After finding the perfect galvanized trailer, they brought the boat the rest of the way home by road on a new trailer, towed by an old friend of Bray's who was looking for a spring adventure after a long cold winter in New England.
"I love this boat. It's just the perfect wooden boat for me," Mendlowitz said. "It rides really well and is quick enough to get me to assignments over miles and miles of choppy midcoast Maine waters. Then, after shooting past sunset, with a top speed just below 35 knots, it gets me back over the flatter dusk-bathed waters to my dock on Eggemoggin Reach, while still able to safely dodge the numerous lobster-pot buoys."
The boat is easily trailered, he added, and he can launch and haul it himself.
"More importantly, because of its hull shape, solid weight, and relatively thick planking it rides quite smoothly and dry in a moderate chop and handles big seas well," he said, adding, "It can handle just about anything if you moderate your speed sensibly for the conditions."
Mendlowitz especially likes the fact that with the covered foredeck and windshield he does not need to worry about his equipment getting wet from sea spray or rain even if a bag is unzipped or left open for quicker access to cameras and lenses.
Mendlowitz's boat, which was launched in the early 1980s, was one of the last wooden ones built by Albury, who switched over to fiberglass construction in 1985. The Bahamian builder also has now partnered with Albury Brothers Boats in Riviera Beach, Florida, to build the boats for the U.S. market. The current fiberglass models are center consoles that come in sizes ranging from 18.5 feet to 33 feet.
Also, in Maine, boatbuilder Doug Hylan builds and sells the plans for the ultimate 20' wooden Albury. Its lines were taken off Mendlowitz's boat when Albury confessed that the hull shape of that boat was his favorite of his entire run of the wooden version of his  much-loved runabouts.
---
Albury Runabout
LOA: 19' 7"
LWL: 17' 9"
Beam: 6' 10"
Draft:  13"
Displ.: 2,400 lb.
Hull type:  V-bottom runabout
Construction: Strip plank over grown or laminated frames
Share this article:
2023 Maine Boat & Home Show

Join Us for the Maine Boat & Home Show!
Art, Artisans, Food, Fun & Boats, Boats, Boats
August 11 - 13, 2023 | On the waterfront, Rockland, Maine
Click here to pre-order your tickets.
Show is produced by Maine Boats, Homes & Harbors magazine.