Westport Island
Hidden in Plain Sight
By Mimi Bigelow Steadman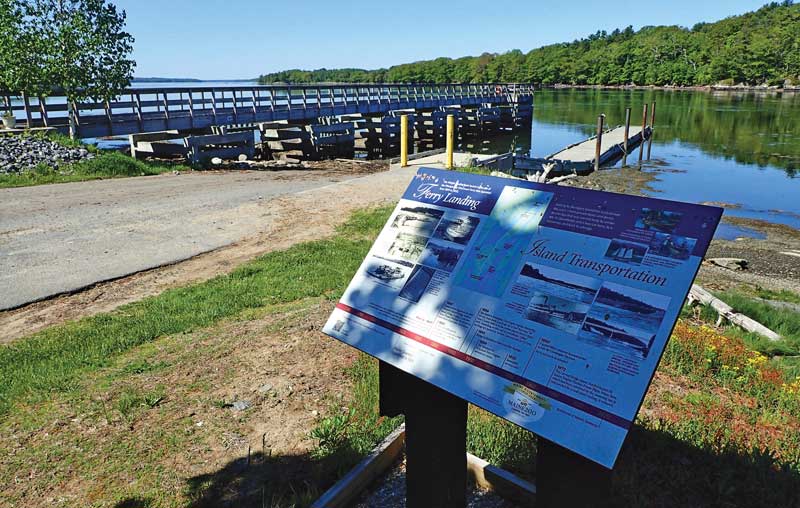 The place to launch kayaks and small boats is the Wright Landing Municipal Boat Launch & Park on Back River. The Westport-to-Wiscasset ferry docked here in the early 20th century until it was made obsolete by a causeway in 1950. The current bridge opened in 1972. Photo by Rick Steadman
Most motorists breezing along Route 1 between Bath and Wiscasset never give a thought to Westport Island. Yet its quiet, rural beauty lies only a short distance off the highway and across a bridge. Bounded by the Sasanoa, Back, and Sheepscot rivers, the narrow, 11-mile-long island tucks in like a wedge-shaped puzzle piece between Woolwich to the west and Edgecomb and Barter's Island to the east, with Georgetown Island snugged up just to the south.
On a sparkling spring morning, we turned off Route 1 and crossed to the island. Our first stop: a meet and greet with a passel of friendly alpacas at Lulu's Barn. Owner Rose Bodmer introduced her woolly boys as they clustered around, uttering soft, high-pitched hums. Ranging in color from white to tan to black, some were short with short necks, while others were taller with much longer necks. When Bodmer handed us each a cup of kibble, we shared the bounty with all shapes and sizes.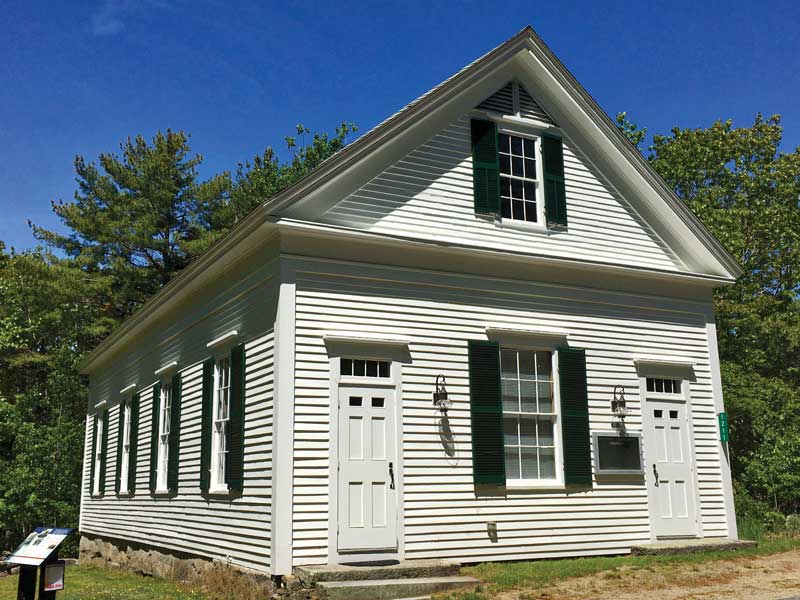 One of the stops on the island's history trail, the 1830s-era Westport Community Church building, had a whirl as a music hall before becoming a house of worship. Photo by Mimi Steadman
We could have lingered much longer. But it was time to set off on a Westport Island History Trail created by the Westport Island History Committee. Leading from one end of the island to the other, it includes 10 stops where illustrated signs provide insight into the island's past.
Near the northern tip, we found our way to Clough Point Preserve, site of a fur-trading post established around 1650, and a mansion built a century later. The latter was inherited by ship captain Stephen Clough who, it's said, plotted to whisk Marie Antoinette off to Maine. Of course she never arrived, but legend has it that Clough sailed from France with her furniture (and maybe, some claim, her exotic cats, which may have become progenitors of the Maine coon cat). The house, perhaps containing some of the queen's belongings, was subsequently moved across the river to Edgecomb, where it still stands.
We continued to Wright Landing Municipal Boat Launch and Park, where a couple of fellows were rigging an O'Day daysailer prior to launching. Beside the ramp, a sign detailed the history of waterborne travel to and from the island and explained that in the early 20th century, before the bridge was built, small ferries traveled between here and Wiscasset.
Driving down Main Road past tidy houses, gardens, and farmland, we stopped at the two-century-old town hall and a couple of sweet little white-clapboard churches also dating from the 1800s, and paused to admire the handsome Squire Tarbox Inn, begun in the late 1700s. We looped onto narrow, winding East Shore and West Shore roads to find several spots where 18th- and 19th-century tidal mills were operated by industrious Westporters—including the members of the Hodgdon family, who later became prominent East Boothbay shipbuilders.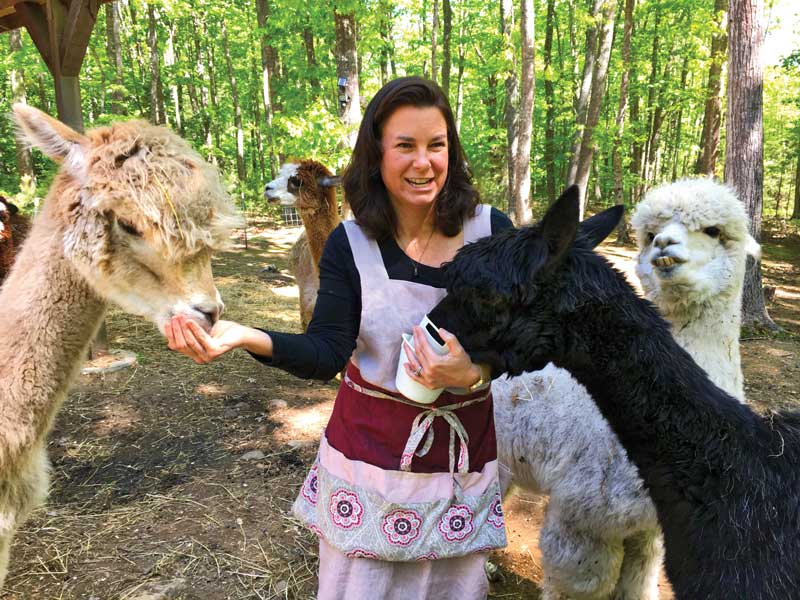 At Lulu's Barn, owner Rose Bodmer welcomes visitors by reservation to meet and feed her alpacas. Photo by Mimi Steadman
On West Shore Road, we came to Sasanoa Brewery at Tarbox Farm. Kyle DePietro and his wife, Angela Trombly, also operate an organic market garden here—one can sip a beer while shopping for veggies. A little farther along, we happened upon a tiny roadside shack nestled in the woods like something from a fairytale. It was, in fact, Westport Island Pottery's shop—visitors are invited to make a selection from shelves of bowls, vases, and other pieces and pay by the honor system.
Heading toward the bridge back to the mainland, we braked at a hand-lettered PIE sign. Peering into an SUV's open hatch, we found treat-filled coolers set beside another honor-system cash receptacle. The pies were sold out, so we chose an old-fashioned lemon square to cap off the day's adventure. Biting into its creamy tartness, I realized that of all our discoveries, the very best was the bucolic island itself, hidden in plain sight just a short meander off the beaten path. 
---
Contributing Editor Mimi Bigelow Steadman lives on the Damariscotta River in Edgecomb.
If You Go to Westport
On the Water
While North End Lobster Co-op caters primarily to fishermen, the small yard at the northern end of the island also offers haul-outs and storage for powerboats up to 40 feet and 15 tons. Diesel fuel is available.
Eat
Sasanoa Brewing's rustic outdoor tasting area is open on weekends from late May to October when the weather is amenable. Charcuterie boards featuring local salami and cheeses are available to complement the selection of beers, which lean toward saisons and farmhouse ales and are often brewed with herbs grown on the farm. Vegetables, herbs, and flowers are also for sale. For a more substantial meal, return to Route 1 and drive a short distance south to Montsweag Farm Restaurant, a popular fixture on Route 1 in Woolwich.
Shop
Featuring Nancy Shaul's animal- and nature-centric pieces, Westport Island Pottery's petite woodland shop on West Shore Road is open for honor-system purchases from May to December. Look for the PIE sign beside the driveway at Daphne Cromwell's house on Main Road. Make your selection from the coolers in the back of her SUV and get ready to enjoy. Her pies have even been included in a photo shoot for Country Living magazine.
Hike and Paddle
Westport Island is graced by several nature preserves. The town-owned eight-acre, waterside Clough Point Town Preserve was the site of early settlement on the island. The 68-acre Bonyun Preserve, owned and managed by the Kennebec Estuary Land Trust, encompasses the site of Heal's Lower Mill, a 19th-century tidal saw- and gristmill. The 159-acre Carl and Barbara Segerstrom Preserve at Squam Creek is strung with three forested hiking trails. It borders a tidal inlet and salt marsh where Native Americans once harvested sweet grass for basket making. Encompassing the sites of several bygone settlements, the preserve is overseen by the Kennebec Estuary Land Trust. The Wright Landing Municipal Boat Launch & Park, also called the Ferry Landing, encompasses not only the public launching ramp, but also gardens and a picnic table perched over the water. This is the place to put a kayak or canoe in the water. There's scenic paddling, but be aware that tides and currents can move quickly here; ask for local guidance before setting off.
Do
To download a map of the excellent and enlightening Westport Island History Trail, CLICK HERE.  Lulu's Barn owner Rose Bodmer welcomes visitors by appointment ($5 per person) to meet her alpacas. She can also make arrangements for birthday parties and other small gatherings with the alpacas. Yoga classes are held regularly in the barn, where the animals can watch through a window. When classes take place outside on the grass, the alpacas sometimes attend.
Share this article:
2023 Maine Boat & Home Show

Join Us for the Maine Boat & Home Show!
Art, Artisans, Food, Fun & Boats, Boats, Boats
August 11 - 13, 2023 | On the waterfront, Rockland, Maine
Click here to pre-order your tickets.
Show is produced by Maine Boats, Homes & Harbors magazine.