Unique wooden lobsterboat
Designed to go fast and win races
By Art Paine
All photos by Art Paine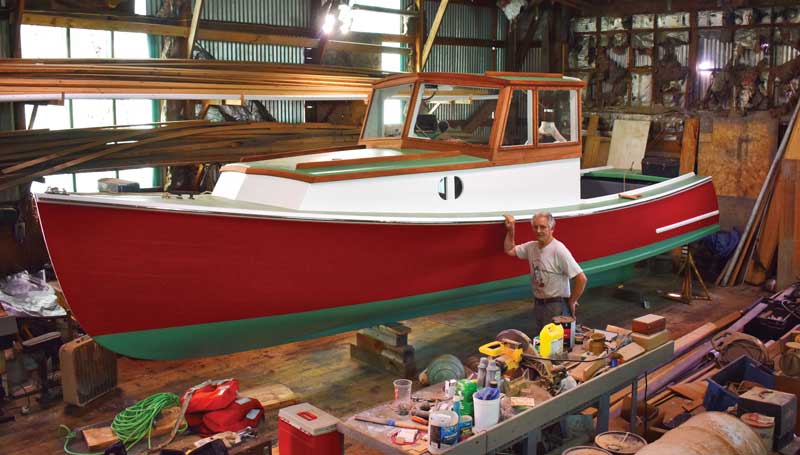 Dodge stands next to the Uncle Harold prior to launching. The boat was designed and built with one goal: go like a bat out of hell.
This is a story about one man and his wooden lobsterboat, designed and built to win races in Maine's most competitive lobsterboat competitions. The boat is a 29-foot Jonesporter-style lobsterboat; the man is Beals Island builder Doug "Dougie" Dodge. This boat most likely won't ever haul a trap. Its sole purpose in life is just to go like a bat out of hell.
From the first time I saw the hull, back in 2012, I was captivated. I'd seen a lot of boats in my time, but in many subtle ways, this one was like nothing before. Each feature made perfect sense for a boat that had to be both wave-worthy and fast.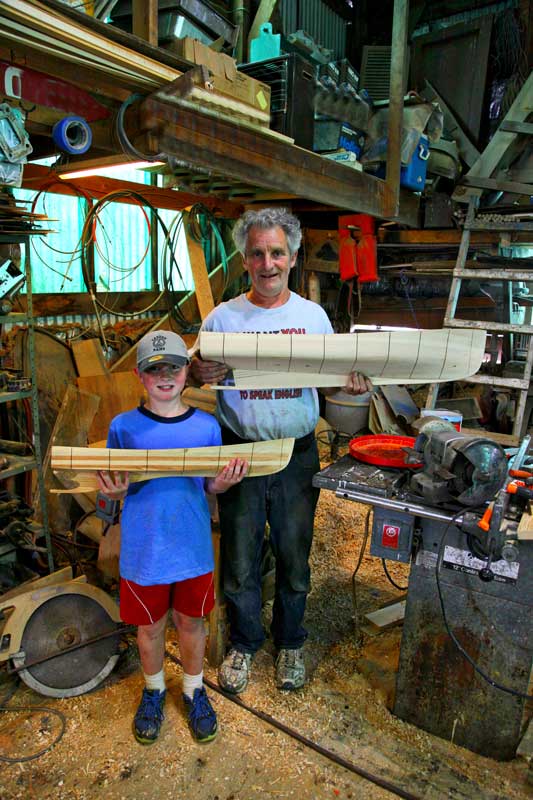 Ten years ago, in the early days of construction, Dougie Dodge and his grandson posed for a reporter in Dodge's workshop with two of his half models. That young boy is now 19, and Dodge's boat has been launched. At that time, all Dodge had completed was the hull, built of strip-planked cedar over oak. If he ever took a mold off it for fiberglass my hunch is that the boating world would wear a path to his door. But he said, "This is just for me to take to the lobsterboat races. I like to race in the wood boat class, although there's fewer boats every year that show up for that. You can tell by the chine and the skeg that it's got everything it needs to win."
When I asked how he had learned the science to design this hull, he looked at me kind of funny, then he turned and off we went to a cluttered, dusty shelf in his shop where he pulled out two half models.
"This is how most folks on Beals have always designed their boats," Dodge said.
He explained that the bigger of the two models was made for a boat he dreamed up in order to teach boatbuilding classes in Calais. "What I always do is make the model and then I just go to the band saw and cut it all into sections, about where I want the full size molds to be located. I lay each section down on graph paper and draw a pencil line around that, and it's pretty easy to expand those little squares up to feet and inches," he said. "I had to teach them lofting so once we'd laid down the sections we got to fair it out more on the lofting floor. Of course, the model was fair to start with and a lot of the old timers didn't even loft. They'd skip that and set up and maybe do a little adjustment by shimming the ribbands."
I asked about coming up with a displacement, and doing a weight study, and doing a moment to trim an inch, and all that, but he wasn't interested. Rather than talk about naval architecture, he wanted to talk about his other passion, which is internal combustion engines. He returned to the motor he'd been working on when I first arrived—a stripped down Oldsmobile block with the valve cover off. He had cobbled together a way to turn it over with a clever adaptation of an electric drill. Oil sprayed up in fountains, draining down into a tub, to be sucked up again by the crankcase oil pump in an endless cycle.
Back then he told me that he hoped to have the boat completed by the fall. A grandson was hanging around the shop with him that day, and I took a photo of the two of them holding the models.
I did not see Dougie Dodge again for another 10 years.
Which is not to say I didn't try.
I really wanted to write about that hull, and to pick Dodge's brain a whole lot more. I returned to his shop whenever I went to Jonesport, but every time found that the door, which bore the message "Don't even think about asking to borrow tools" in faded left-over paint, was locked tight.
During one visit, a neighbor told me that Dodge's wife, Brenda, was ill, and that he had stopped working, sold his house, and moved closer to Machias to be near the hospital.
Years passed by, but it was always, "Dougie ain't touched that boat again. Dougie's up on the Machias road. He's taking care of Brenda."
Then one day this past spring, I made another foray up to Jonesport and over the hump of the bridge to Beals. A black Chevy Spark was parked in front of the shop; the door was wide open and a black mostly Lab came out. I was overcome with sadness then, because of course, I knew.
After Brenda died, Dodge set to work in earnest to finish the boat. He'd already had two boats named Brenda, so he decided to call this one Uncle Harold.
My editors hate it when I get sidetracked by love stories or maritime history, but just indulge me briefly here. By his own admission, Dodge was a handful from the day he was born. He had a scar on his leg from a time at age three he'd burned himself trying to light a cigarette. His parents got divorced when he was four, and he was sent to live with his grand-uncle Harold Gower on Beals. This was before the bridge was built connecting Beals to the mainland. Dodge called the island "Alcatraz," and said it was the second-best thing that ever happened to him. Brenda was the best.
"Gower you know built over 600 boats. He'd been brought over from Nova Scotia to help Will Frost, who had all the business he could handle building fishing boats and, later, rum runners," Dodge related. "Frost had come over from Whale Cove near Digby, and he's the one who invented the Jonesporter, by far the fastest seagoing powerboat at the time.
"So Uncle Harold took over in this shop right here and they say that after he'd built about 40 boats for the midnight run to Canada, the Revenuers came begging for a boat that could hope to catch them. It's said that he knew a few tricks to ensure the government boats were just a tiny bit slower."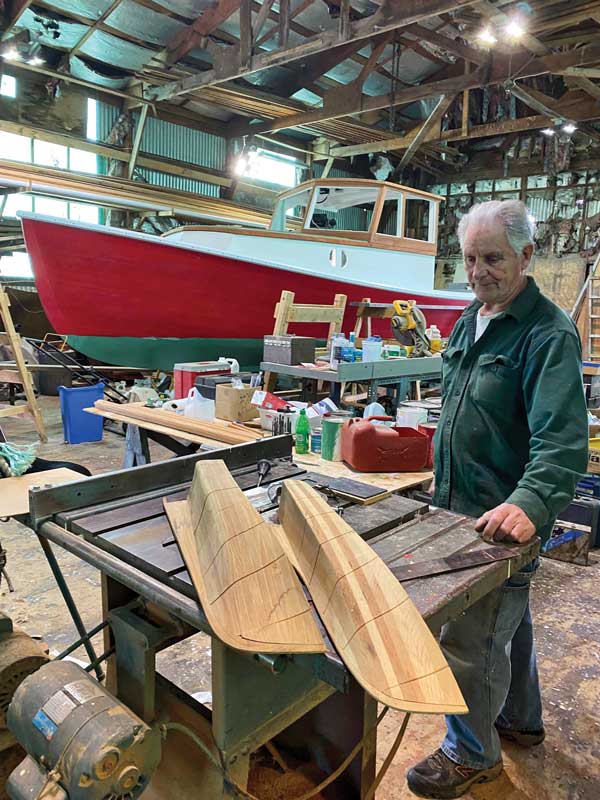 Dodge uses the old fashioned method of designing and building boats using half models. He knows a beautiful model is sure to yield a lovely boat. The sheerline of Dodge's design is absolute poetry. The most conspicuous feature is that the front half resembles a round-bilged sea-kindly Beals Island boat with typical, understated flare in the bow. It transitions into a hard chine aft, with a flat deadrise, which is the ideal surface for planing. This shape has been contemplated by other designers in recent years. But Dodge had this idea in his head back when he started lobsterboat racing with his 31-footer named Brenda in 2009.
Dodge may not be the first with the idea for a boat with a soft chine that transitions to a hard chine, but for certain he is the only person audacious enough to think he could find a method to build it out of something like wood. Underneath, the skeg is designed wholly for speed. Just hinted-at forward, it swoops down into a generous fin that will hold the boat on course in the worst cross-chop. Dodge has tapered the skeg off to a knife's edge. He snuck his engine back far as possible to allow for the shortest shaft, thereby keeping the shaft diameter minimal. This allows for a propeller that is maximum blade and minimum hub.
He always puts a small vee in his cabin fronts, and the windshield is just two panels. The steering shelter is sheathed outside in mahogany, enriched with oil, or a sealer. A little prissy, you might say, for a workboat. But then again, this is a racer, not a workhorse.
One Jonesport/Beals earmark is a playful and artistic treatment of the cabin windows. I've hardly ever seen a conventional round one, unless it was an opening port. Instead, the fixed windows are squashed ovals or diamonds or parallelograms, or even clubs from a deck of cards. This boat has a round window, but with a wide vertical divider down the middle. It looks like a couple of half-moons back to back. Get it? A backward D and a forward D—Dougie Dodge. One of the nicest touches is the door from the shelter down into the empty forecabin. Dodge fused six beveled-edge staves, and cut a window in the shape of a heart. Over top a brass plaque reads, "Brenda Dodge, 1946-2020."
The engine sticks up out of the cockpit floor with no box around it. Rather than designing a special gas engine, Dodge has used a 350 Chevy block that was in a boat in Gower's shop when it burned in 1971. The distributor was toast, the intake manifold warped, and the carburetor half melted. That was okay since Dodge wanted to experiment anyway. He's got it freshwater cooled with a heat exchanger he liberated from a Volvo diesel. It's got new Vortec cast-iron heads. The one extravagance is an aluminum ported and polished Edelbrook air gap intake that he thinks will increase the horsepower by close to 100hp. The valves are stainless steel too, but not stellite or sodium cooled. The propeller is another hand-me-down.  It's big: An old Federal he got out of a 30-foot Duffy, 20 by 23 with a #3 cup.
Dodge welded up a nifty exhaust of stainless pipe, asbestos wrapped, running off each head up into a larger, vertical cast-iron pipe—it all looks like a huge inverted "Y." With no muffler, it'll blast hundreds of decibels and belch fire up toward the race spectators on the Beals Island Bridge—might even scorch a few tourists.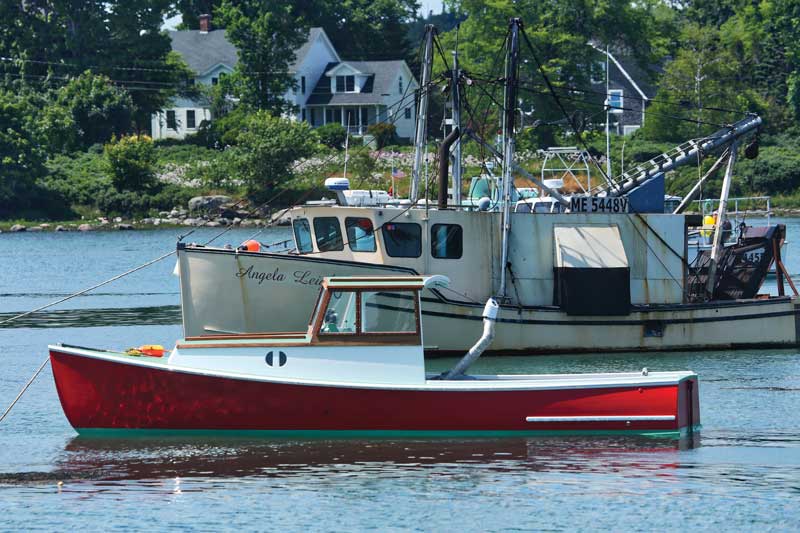 The Uncle Harold sits perfectly on its lines and looks like a traditional lobsterboat, but below the water line the hull features an innovative blend of soft and hard chines.
As to construction, she's one-inch cedar strips over oak half-split ribs on the flat. Dodge strip planks dry, that is, without any caulking or glue. A pair of four-inch stainless steel ring nails is spaced between each pair of ribs. One argument against epoxy is that Dodge's workmanship is so good, the fits so precise, that movement would be impossible. Some in the wooden boat racing world claim that epoxy will break, while a boat built like this will flex but never break.
On one of my recent visits, Dodge insisted I check out the sheer clamp. It appeared to be nearly two inches by six inches, steam-bent the entire length of the boat. I thought again about weight studies and power-to-weight ratios. "Do you worry she will be hampered by excess heft?" I asked.
"My boats are strong, like they ought to be," he said. "Light or heavy, I think she'll fly!"
These days, naval architects use computers to calculate all facets of propulsion. But I doubt any calculators or slide rules, and definitely no computers, were harmed by Dodge in the making of this vessel. So, how close did he come to right? Very close.
When Dodge launched Uncle Harold in June, the boat floated and trimmed precisely where he predicted. He made sure that the chine portion back aft sits below the waterline so that when the boat sits on a mooring it looks like an old fashioned "Jonesporter" type and only reveals its after assets when it tears across the water. Dodge's fondest dream was that the same engine that pushed one of his Brendas to 40 miles an hour would account for more in this hard-chined hermaphrodite hull. He opened her up and got a GPS plot of 44 mph, and thought he could tweak it higher before the Winter Harbor races in August.
When that race day, which has been 10 years in the making, comes around, when Dodge makes his run, I like to think that he and Sully, his faithful black dog, won't be racing alone. He's going to be wishing Brenda could see all this, and maybe she can. And maybe he'll also have on board old Will Frost, and Harold Gower, and a pack of past Labradogs. And he'll also carry a cargo of the best wishes of a good many Beals Islanders no longer spry enough, or even alive, to make the trek down to Schoodic.
I wouldn't be surprised to see an old revenue cutter show up and race alongside, only to lag back once Dodge's souped-up engine heats up, belching smoke and fire from the exhaust pipes, as Uncle Harold speeds ahead. Maybe then the Boat Man of Alcatraz will rise up onto a high plane and then his boat will fly. 
---
Contributing Author Art Paine is a boat designer, fine artist, freelance writer, aesthete, and photographer who lives in Bernard, Maine.
Share this article:
Digital Edition Available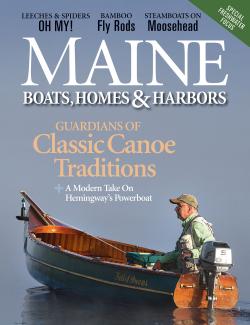 Can't get to the store to buy your magazine? We deliver the stories of Maine's coast right to your inbox. Sign up here for a digital edition.