See You on the Water
By Ted Ruegg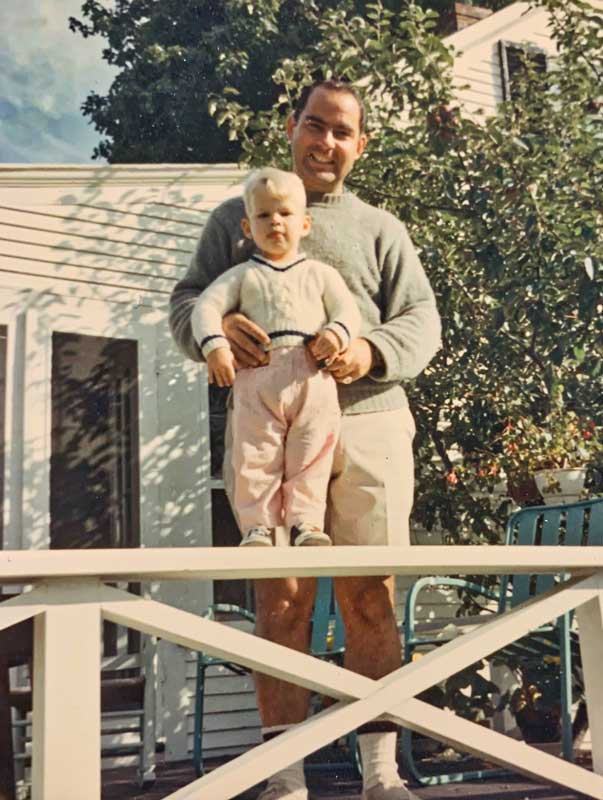 Ted Ruegg as a child with his father on his first visit to Maine. Let me begin by saying what a great honor it is to take over the helm of such a great brand as Maine Boats, Homes & Harbors from its founder John Hanson. The summer of 1987, when he started this magazine, was a heady time. Ronald Reagan was President; the stock market was in record territory. I was in college and had just started a summer internship at a sailing magazine, beginning my career in marine advertising and publishing. John's vision to launch this magazine came from his deep love of Maine, its boats, and harbors. I am thankful that he and his wife, our editor Polly Saltonstall, are staying on to continue publishing the best boating magazine in Maine.
John and I share many things, most importantly a love of Maine, its coast, and boats. I first came to Maine when I was three with my father to visit his mother on North Haven in a house she purchased in 1957. When not in Maine, she ran a small shop called the Frigate Book Shop in Philadelphia. I honor her by naming the company that now owns MBH&H, Frigate Communication. I now own that little cottage, which I visited so long ago. My father introduced me to the joy of the coast. We went boating, sailing, and fishing in all manner of  boats. Most every summer was spent sailing a Herreshoff 12½, taking the outboard to a favorite picnic spot or fishing for cod or mackerel, then sailing on a larger boat of a friend or neighbor. We had many lobster dinners preceded by lobster races on the kitchen floor.
This spring we lost my father at the age of 88. My wife and I brought him lupine, lilac, and lilies of the valley from North Haven a few days before he died. An avid gardener, he loved smelling those lilies of the valley from our garden that day. I dedicate this issue to his memory, and all the mothers and fathers who have introduced their children to the Maine coast.
I hope I can continue my father and John's legacy of sharing their love of Maine with future generations. And most of all, I look forward to seeing you out on the water.
✮
Share this article:
2023 Maine Boat & Home Show

Join Us for the Maine Boat & Home Show!
Art, Artisans, Food, Fun & Boats, Boats, Boats
August 11 - 13, 2023 | On the waterfront, Rockland, Maine
Click here to pre-order your tickets.
Show is produced by Maine Boats, Homes & Harbors magazine.