New boats, sharks & climate change
By Polly Saltonstall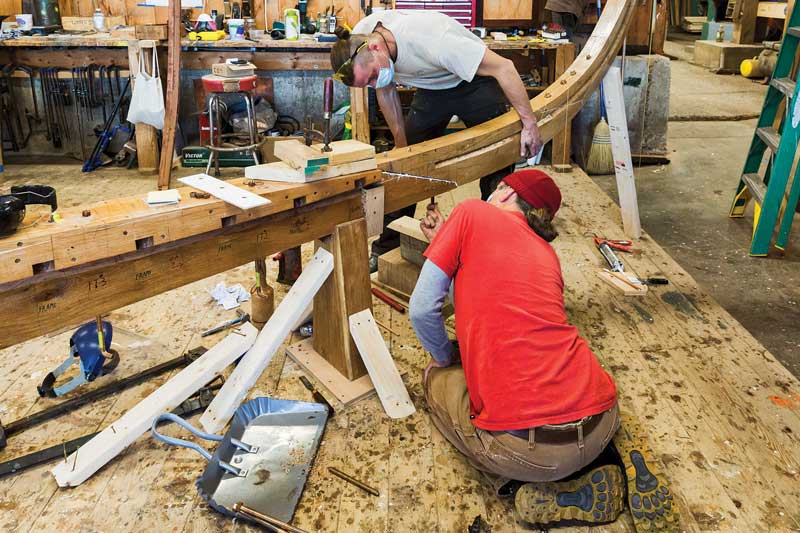 Assembling the stem for Cliffy. Photo courtesy The Apprenticeshop
Historic lobsterboat reincarnated
The Apprenticeshop in Rockland, which celebrated its 50th anniversary this summer, launched the lobsterboat Cliffy in June.
The new 26' boat is a copy of the Luella B, which was built in 1930 by Clifford Winchenbach of Waldoboro, Maine. The lines were taken by H.H. "Dynamite" Payson and Bob Lane in 2002. The Luella B was built for Woodbury Snow who used her for lobstering on Metinic Island. His daughter and the boat's namesake, Luella Snow married Ralph Post in 1938 and they and their sons lived and worked on Metinic, continuing to use the Luella B until the boys were of school age.
The Cliffy was commissioned by Lisa and John Dingle of Southport Maine. Apprentices Rick Kraft and Joshua Wiles began lofting in the fall of 2019 and, after a roughly 5-month hiatus in 2020 due to COVID, construction resumed. Since then, a small crew of apprentices worked on the project under Kraft's direction.
The Post brothers visited the shop during construction to see their grandfather's lobsterboat brought back to life and shared stories of living and lobstering off Metinic Island during the war years and beyond. "The stories they told of life on Metinic really brought the Cliffy to life," Kraft said.
Since the founding in 1972, The Apprenticeshop has been building resilience, resourcefulness, and confidence in people of all ages through experiential education in traditional wooden boatbuilding and seamanship. Check out www.apprenticeshop.org for more information.
---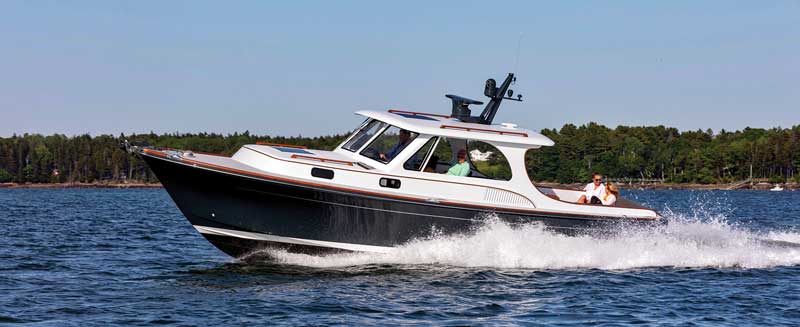 The Hood 35 LM shows off its form. Photo by Alison Langley
Hood 35 LM launched
Lyman-Morse has launched Hull No. 1 in its new Hood 35 LM series. The new line follows the recent successful collaboration between Lyman-Morse and C.W. Hood Design on the Hood 57 LM. Similar to the 57, this cold-molded pocket-yacht named Shadow is designed as a hardtop express.
Shadow's tech-savvy owner sought to outfit the vessel with the latest marine technology. She is one of the first dayboat-sized vessels to utilize Raymarine's new Digital Switching System, YachtSense. The Raymarine vessel control system offers digital switching, which replaces traditional mechanical switches and circuit breakers with digitally controlled power distribution modules, significantly reducing the size and length of cabling required to distribute power throughout the boat. Hull No. 1 features twin 440-hp Yanmar 6LY440s coupled to a pair of Hamilton Waterjet HJX29s, making it the first pleasure vessel in the country to be equipped with these brand-new jets, according to Lyman-Morse. Shadow reaches speeds of 40+ knots, and is also the first pleasure vessel to be equipped for autonomous running with the state-of-the-art Sea Machines system.
In addition to advanced technology, Shadow's owner wanted a vessel that offered the traditional aesthetics and comfort of a wooden hull combined with classic downeast lines. The interior features exposed Douglas fir planking, walnut carpentry, black finishes, and charcoal upholstery. Customized helm seats feature carbon fiber and walnut details. A specially designed detail, the V-berth converts from a settee to a bed. 
As part of the series approach, C.W. Hood has incorporated a flybridge version into Hull No. 2, currently under construction and scheduled for a 2023 completion. A soft-top model is also offered for those who want more of a dayboat option. 
---
New life for New Jersey's tall ship
The AJ Meerwald, the official tall ship of the state of New Jersey, has been relaunched after a 10-month refit in Maine by Clark & Eisele Traditional Boatbuilding of Lincolnville, on land leased for the project from the city of Belfast.
Maine is one of the few places where a project like this can happen "on time and on budget," Garret Eisele, a co-owner of the yard, told the Bangor Daily News. Eisele noted that Maine is one of the few places where the workforce has the right skills for a project like this. "People were incredible, and there was nobody who was not very, very experienced," Eisele told the newspaper. "And everybody was very local." 
He credits that, in part, to Maine's historic wooden schooner fleet, which still sails the coastal waters in the summer. 
Owned by the non-profit Bayshore Center at Bivalve, an environmental history museum in New Jersey, the 94-year-old Meerwald was one of hundreds of sailing vessels built for the oyster fishery in southern New Jersey. At its height, the oyster community of Bivalve, New Jersey, shipped 30 to 80 boxcars full of oysters packed on ice daily to destinations all over the country, according to the BDN.
The Maine boatbuilders had to replace everything from the deck level up, including the transom and about 30 hull planks.
---
Lobster roll mastications
Regional headlines this summer have touted the high price of local lobster rolls—$30 and up. Customers who want to pay less might want to go to west, to Arizona. That's because, according to the Bangor Daily News, an Arizona drive-through business that touts a $9.99 lobster roll has purchased a Maine wharf with the intent to cut out the middleman and maintain its extremely low price point. According to the BDN, Angie's Lobster has bought a wharf on Bailey Island and started a lobster-processing operation in Maine. The move, which the company claims is designed to offset inflation, is a rare example of an out-of-state company attempting to create a vertically integrated business in the Maine lobster industry.
Angie's co-founders Tony and Roushan Christofellis say they've invested $10 million and plan to build the "most efficient restaurant business the world has ever seen" by owning every step of the process and eliminating third parties wherever they can, the paper reported.
The duo had plans to buy directly from Maine lobstermen and process their own lobsters at some point in the future, but decided to pull the trigger now as they try to get eight lobster drive-thrus in Arizona up and running in the next year. The drive-throughs will have no seating, low operating costs, and only two menu items: a lobster roll and fried lobster tail.
The couple claims they will help Maine fishermen by paying them "more for their catch and lowering the cost of fuel and bait," while also providing consistent revenue. Christofellis said he'd do that by selling both fuel and bait at cost and without the usual markups that most wharfs have.
---
Taking steps to reduce pollution
Stormwater is one of the largest sources of pollution into Maine harbors. Yet, until this year, Maine has not required clear, specific, and measurable terms in the permit that controls discharges from large urban stormwater systems. Thanks to the advocacy of Casco Baykeeper and others, the state has issued a revised municipal stormwater permit that contains protections to reduce stormwater pollution flowing from the most urbanized communities in the state, according to a release from Friends of Casco Bay/Casco Baykeeper.
Under the Clean Water Act, reducing and eliminating the pollutants that flow through municipal separate storm sewer systems (or "MS4s" for short) is regulated by a permit from the Maine Department of Environmental Protection. In a city like Portland, these stormwater systems include the streets, storm drains, gutters, roadside ditches, and sewers that discharge untreated stormwater runoff into local waterways.
Maine's new MS4 permit will implement three major changes that should significantly reduce stormwater pollution into Casco Bay and its tributaries, according to Casco Baykeepers. Municipalities that fall under the permit will be required for the first time to: Test stormwater outfalls to identify and eliminate sources of bacterial contamination; Develop and adopt an ordinance to require new construction and redevelopment to use low impact development techniques that allow stormwater to flow more naturally; Take actions to restore water quality and reduce pollution from their stormwater systems where it flows into impaired waters.
The new permit took effect in July. In the Casco Bay watershed, it applies to 12 municipalities including Scarborough, Cape Elizabeth, South Portland, Portland, Falmouth, Cumberland, Yarmouth, and Freeport along the coast, as well as inland communities such as Windham, Westbrook, and Gorham.
---
Warming waters
While the water may be getting cleaner, it's getting saltier and warmer in the Gulf of Maine as a result of climate change, which is creating issues for the food web and local fisheries, according to a new study by William Balch, a biological oceanographer at Bigelow Laboratory in Boothbay Harbor.
Over the past two decades, according to a story about the report in the Portland Press Herald, productivity of phytoplankton in the fishery-heavy waters has dropped 65 percent. "A drop of 65% will undoubtedly have an effect on the carbon flowing through the marine food web, through phytoplankton-eating zooplankton and up to fish and apex predators," Balch said.
The study results come from the research team's analysis of the Gulf of Maine North Atlantic Time Series, a 23-year sampling program of the temperature, salinity, chemical, biological, and optical measurements of the gulf.
Since 1998, Bigelow Laboratory has tracked several biogeochemical changes in the gulf with the time series. Samples are collected via autonomous gliders, commercial ferries, and research vessels.
---
Shark alert!
State and local officials had logged more than a dozen reports of great white sharks (also known as white sharks) off the Maine coast by mid-July this summer, and biologists predicted there are likely to be more white sharks here in the years to come. So be careful about where you go swimming and when. Stay out of the water at dawn and dusk, stay away from seals and schooling fish, and murky water, and don't do a lot of splashing.
The Maine Department of Marine Resources confirmed 14 incidents of white sharks in a five-week span, including one that a bystander filmed killing and eating a seal.
Some of the confirmed incidents were physical sightings, including a gruesome "seal predation event" that was filmed by a shocked bystander. Two tagged sharks were detected via a satellite transmitter, according to a report on the Portland Press Herald.
Public awareness of sharks has grown since a great white killed a swimmer in Harpswell two years ago. Since then, the Maine Department of Marine Resources has placed 28 receivers along the coast from York to Boothbay Harbor to detect sharks tagged by the Atlantic White Shark Conservancy.
In the year and a half since the state began its tracking, the department has detected 38 white sharks on its receivers. But these trackers do not identify white sharks that are not tagged, nor do they pick up the tagged sharks outside of the receivers' range, which is only about 500 to 1,000 meters. 
These apex predators have been coming to Maine waters for centuries, Arizona State University shark biologist Jaems Sulikowski told the newspaper. He thinks we may see more in Maine in the future.
"With the combination of more eyes on the water, the new technology that allows us to track them, as well as the (large) seal population that is around, it wouldn't surprise me if sightings continue to increase," he said.
White sharks have been a federally protected species since 1997. Grey seals gained protected species status in 1972.
---
Hinckley introduces hybrid jet
Hinckley, which introduced the first full-electric luxury yacht in 2017, has introduced a new hybrid upgrade for its iconic Picnic Boat, which can run in full silence with its trademarked SilentJet technology.
"The electric Dasher turned heads," said Hinckley Company CEO Geoff Berger, "but the practicality of going any distance on electric given the best current technology wasn't ideal for our clients. With SilentJet you can travel farther with the hybrid diesel system than with Dasher's electric platform. Furthermore, we learned that electric powered water jets are much quieter and produce less vibration than traditional propellers."
Hinckley started conceptualizing a hybrid solution shortly after the 2017 launch of electric Dasher. Ongoing conversations with Twin Disc led to collaborating on the project, and the team integrated the new hybrid technology into Hinckley's JetStick control system.
With SilentJet engaged, the Picnic Boat 40 S's cruising speed is seven knots.  Range is at least an hour (at 7 knots, and up to 90 minutes at 5.5 knots), and the Picnic Boat 40 S cruises at 35 knots (depending on load) under diesel power.
"When faster speeds are desired or the battery requires charging, the diesel engine comes on automatically, replenishing the battery in just 30-45 minutes. Since all the electrical loads on the Picnic Boat can be supported by the battery while at anchor, there's no need for a noisy generator," said Scott Bryant, Hinckley's Vice President of Sales & Marketing. "It's a complete paradigm shift in the onboard Hinckley experience."
---
Reducing offshore energy disputes
The Northeast Sea Grant Consortium—in partnership with the U.S. Department of Energy's Wind Energy Technologies Office and Water Power Technologies Office, and NOAA's Northeast Fisheries Science Center—has funded six projects to advance social science and technology research on offshore renewable energy in the Northeast United States.
The goal is to catalyze research for the coexistence of marine energy, including wind, current, tidal, and wave energies, with northeast fishing and coastal communities.
The selected projects were collectively awarded over $1.1 million in federal funds, with each project matching 50 percent in nonfederal funds. The three projects in Maine include: Building capacity for participatory approaches to understand where ocean renewable energy is a good fit for people and places, and develop a community tool kit with maps, surveys and participatory practices that can be applied across the Northeast (University of Maine, Orono); Creating a standardized procedure for constructing representations of the Maine lobster fishery using data and knowledge from individual fishermen, and developing data product models and sample products that will inform fisheries management and marine spatial planning (University of Maine, Orono); Developing a stakeholder database, survey tools and outreach strategy to evaluate community perceptions of offshore wind, identify the capacity and necessary conditions for stakeholders to coexist with offshore wind, and present recommendations for equitable solutions (Bates College).
---
Aquaculture concerns
Maybe the NOAA energy research should add aquaculture to its dispute-resolution projects, as a growing number of fishing communities downeast are adopting controls on large-scale aquaculture projects. Machiasport, Beals, Cutler, Winter Harbor, and Gouldsboro have all passed moratoriums temporarily halting local approvals on large aquaculture projects. Addison and Jonesport also were considering following suit.
The effort has largely been led by the nonprofit Protect Maine's Fishing Heritage Foundation, according to the Bangor Daily News. Executive Director Crystal Canney said the recent town votes send a strong message to the state that local municipalities think there's a need for more stringent rules on aquaculture.
---
New fisheries display
Community members and guests visiting Stonington can now enjoy a new interpretive display looking out to Stonington Harbor. The four-part display, the newest exhibit at Maine Center for Coastal Fisheries' Discovery Wharf, highlights the commercial fish pier, local granite history, the lobster fishery, and building resilience.
The display is also one of 45 stops along the Downeast Fisheries Trail, which connects historic and active fisheries sites that illustrate the region's maritime heritage from Penobscot Bay to Passamaquoddy and builds on these local resources to strengthen community life and the experience of visitors. 
Share this article:
2023 Maine Boat & Home Show

Join Us for the Maine Boat & Home Show!
Art, Artisans, Food, Fun & Boats, Boats, Boats
August 11 - 13, 2023 | On the waterfront, Rockland, Maine
Click here to pre-order your tickets.
Show is produced by Maine Boats, Homes & Harbors magazine.