Solar Sal 24
Completely powered by the sun
By Art Paine
Images courtesy David Borton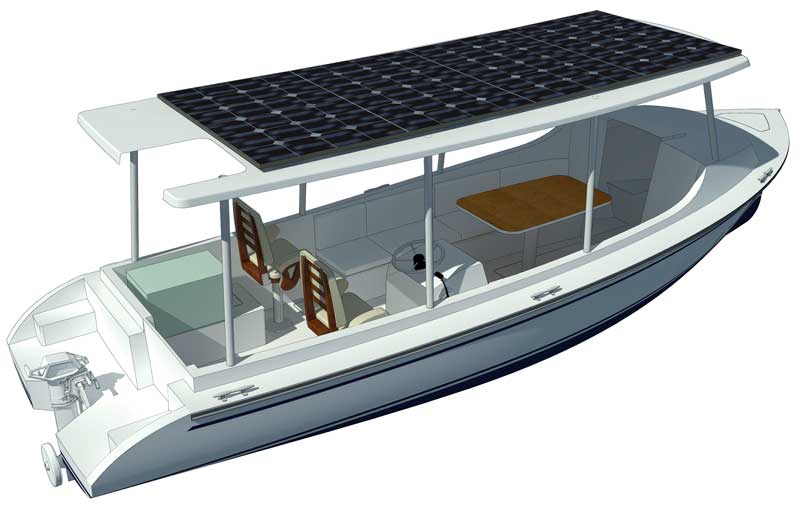 Solar Sal is completely powered by the four 360-watt solar panels on the cabintop.
Electric propulsion is a hot topic these days for boaters. Some new boat designs use electric motors powered by battery banks that can be recharged on shore. The Solar Sal 24, which had its debut test on Earth Day on a Maine lake, is powered exclusively by sunlight.
This roomy, open boat is being assembled at Belmont Boatworks, a few miles west of Belfast, Maine. Although not specifically intended to be a "party boat," the Solar Sal 24 can carry a maximum of 10 occupants. One way it achieves reasonable velocity with such loads is its 24 feet of waterline. Stretching its shapeliness over that length results in a top hull speed of more than 6 knots, and also gives the boat a stylish look. A sunshade over the commodious cockpit holds the four 360-watt solar panels that generate the boat's power. The stanchions holding up the roof are a plus, as they provide useful handholds. Solar Sal's shallow draft means the boat can be kept close to the shore.
Although a powerboat, Solar Sal appeals to the sailor in me in that the boat is quiet, environmentally benign, and uniquely suited to a lifestyle remote from the concerns of the shoreside world because it doesn't require a link to the electrical grid for recharging, and is therefore independent of fossil fuel. You could go exploring for weeks in the wilderness, without any concern about accessing the next gas pump or recharging station. Although the solar panels charge less vigorously on a cloudy day in Maine than a bluebird day in Florida, according to builder Dan Miller from Belmont Boatworks, the replenish rate is sufficient to go all day at five knots. That's familiar territory to a sailor. Another similarity with sailboats is that most sailors I know are reputed to be parsimonious—a nice word for cheap. As fossil fuel becomes ever more expensive, Solar Sal's owner gets to take a permanent pass.
The inventor of this unique vessel, David Borton, said that the most important benefit of an all-solar power source is the chance to eliminate the use of fossil fuels that contribute to climate change. Here is a boat that will allow mariners to enjoy uncomplicated, quiet, reliable performance, while maintaining a clear conscience.
A physicist and retired professor at Rensselaer Polytechnic Institute, Borton has been focused on solar power from its beginnings. The name of his nautical enterprise is Solar Sal Boats, a division of Sustainable Energy Systems. He said he has followed (and contributed to) the development of the four or five critical pieces involved in electric boating: direct current motors, batteries, battery charger-controllers, displacement hull shaping, and, importantly, solar panels.
The 24' electric launch is a prototype for a fiberglass production boat being built at Belmont Boatworks.
Borton lives in a solar-powered home with panels on his barn that power a local radio station. He's all-in on solar, with his prime motive being a concern for the health of our planet. "I didn't just want to prove something," he said. "I wanted people to have available a practical invention, kind to the environment, which could also be a commercial success."
Sustainable Energy Systems has previously built a handful of one-off wooden boats in different sizes; Solar Sal 24, a fiberglass production boat, is the next step. In addition to the prototype, two more hulls have been built and will be fitted out at Belmont Boatworks. And Borton is experimenting with a fifth model, a 16-footer that actually planes with a modest, 10-kilowatt motor. All of these boats have proven practical in varied ways. His largest, a 44-footer, was licensed by the Coast Guard to take paying passengers for rides on the Hudson River from its homeport in Kingston, New York. Another of his boats, a 40-footer, made a cargo trip the length of the Erie Canal.
A key factor has been optimizing the overall efficiency of the power through direct current channels between the panels and the motor. Once he had combined all that with a specially designed hull, he applied for and was awarded a patent.
One of Borton's concepts, a 27-footer built for Borton and his son, Alex, by Sam Devlin in Olympia, Washington, made the long passage through Alaska's Inside Passage to Ketchikan and Glacier Bay. Even though bright sunlight is a rarity up there, the son appreciated the fact that as long as the sun rose, he did not need to worry about running out of gas. This intrigued me, as it adds some interactive aspects. It's fun tracking the variables of an electric boat, basically a mix of watt-hours of stored potential in the batteries balanced with kilowatts of replenishment coming in from the roof. All electric boats have a "fuel gauge" in the form of a battery condition indicator. It's up to the driver to elect (pun intended) an appropriate combination of speed and range. A clever operator of a Solar Sal can trade speed for range. With enough patience, a solar-electric drive boat will always get home.
You don't see many solar-powered airplanes or cars. The reason for this is that even though solar panels have become a lot less expensive and more efficient in the last decade, it still takes a considerable light-gathering area to provide significant current, and weight is an issue as batteries are heavy. Boats are better suited for solar power, because at fairly slow speeds a properly shaped hull has minimal resistance to forward motion. In addition, the cabintop provides adequate space for panels.
The lack of flammable or explosive fuel also makes electric boats safer.
Given the boat's inherent uniqueness, yachty style wasn't a necessity, but the Solar Sal 24 looks like a sporty little surrey buggy (without the fringe on top). The U.S. Coast-Guard-certified boat was designed by Dave Gerr, who specializes in drawing character boats. Gerr's young understudy, J. F. Bedard, drew up this smaller, production version. He's versatile, having worked on a range of nautical designs from paddleboards to cruising ketches. His main focus on this design was to come up with hull lines that produced the least resistance. The lines were modeled after the hull shapes of naphtha launches of the late 1800s, whose needs for efficiency were similar.
My guess is that the Solar Sal 24 will be a hit in the sunny south. There are many short ferry runs in the Bahamas where speed is unnecessary, and workers, townspeople, and tourists go back and forth all day long. Given the ample sunlight, a Solar Sal 24 could serve that route well. And you don't even want to think about the price of gasoline there.
In Maine, Belmont Boatworks's Dan Miller said the boats he is building will be ideal on lakes and ponds, especially ones with speed or horsepower restrictions. Great Pond in Belgrade hosts many "party pontoon" boats that chug around at slow speed, circumnavigating the lake. The only reason to go fast would be to do that twice. Many of these pipe catamarans have killer sound systems, but I'm guessing Sal's target customers would be more likely to be listening for loons than hard rock 'n roll. A Solar Sal would fit right in, maintaining just the right pace to appreciate the scenery and not scare off the quarry.
Then there's fishing. If you trolled for fish at the ideal speed of 4½ knots, you could fish all day and all night, consuming only photons and bait. The boat's silence wouldn't hurt your prospects or bother your neighbors.
While keeping one of these boats at a dock or on a lift would facilitate overnight charging, both Miller and Borton downplayed that idea. They insist that this boat is so solar that it can be used all day without external recharging. Still, shore recharging is certainly possible and an owner could install that. Borton admitted, "we do offer a trickle charger as an option."
BUT WAIT!!!  Like me, you might be wondering who the heck is Sal?
Well, a lot of testing of earlier models took place on the Erie Canal. Solar Sal Two, the 40-footer, actually carried cargo in lieu of passengers, the first time a sun-powered boat ever did a job that was once assigned to mules. This exploit brought to mind that fellow who had a mule named Sal. You know that song, "I've got a mule and her name is Sal. Fifteen miles on the Erie Canal. She's a good old worker and a good old pal."
And so, according to Borton, a name was born. 
---
Contributing Author Art Paine is a boat designer who lives in Bernard, Maine.
---
Solar Sal 24
LOA: 24'  
Beam: 7' 6"
Draft:  1' 6"
Displ.: 3,200 lb.   
Capacity: 10 people
Top speed: 6 knots
Crusing speed: 5 knots
Power: 100% solar electric
Drive System: Sun Power 360 watt solar panels (4), 1440 W total
Torqeedo Cruise 3.0 outboard
Torqeedo Power 24-3500 lithium batteries (4)
14,000 Watt hour capacity
4-5 knots in sun with 0 battery draw
Battery Only Range:
4 hours at full speed ~ 24 miles
9 hours at cruising speed ~ 45 miles
24 hours at 4 knots ~ 100 miles
Smartphone app displays remaining range
Designers:
David Borton
Sustainable Energy Systems
Troy, NY
518-272-7863
JF Bedard
Bedard Yacht Design
Tarpon Springs, FL
727-339-8627
Builder:
Belmont Boatworks
163 Augusta Road, Belmont, ME
207-342-2885
Share this article:
2023 Maine Boat & Home Show

Join Us for the Maine Boat & Home Show!
Art, Artisans, Food, Fun & Boats, Boats, Boats
August 11 - 13, 2023 | On the waterfront, Rockland, Maine
Click here to pre-order your tickets.
Show is produced by Maine Boats, Homes & Harbors magazine.