Launchings, lighthouse horns, salmon news
By Polly Saltonstall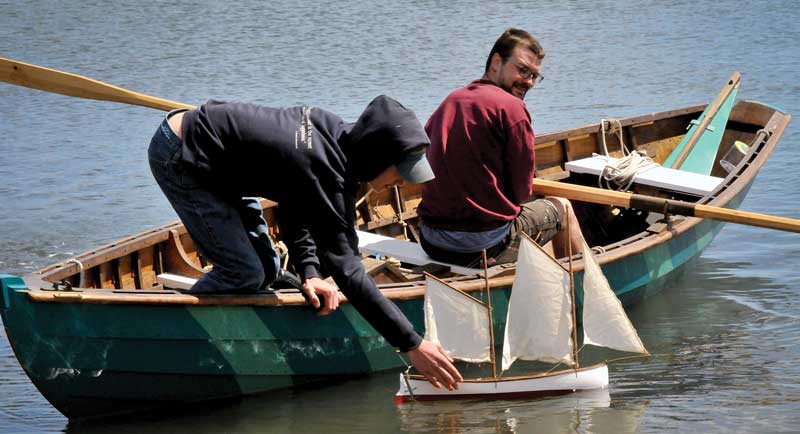 Launching the Mackinaw model. Photo courtesy Scott Handley
Sixth generation launches a boat
Some boatbuilders in Maine, especially those from longtime boatbuilding dynasties, learn the craft at a very young age. Take Cy Brown of North Haven, the sixth generation in the Brown family to build boats—he is only 13, but he already has several boat launches under his belt. His most recent creation is a sailing model of a Mackinaw, built on commission and launched this spring in Rockland at the Apprenticeshop.
The model is in honor of the 27' Mackinaw Guillemot that was built and launched at the Chewonki Foundation in Wiscasset in 1980. For nearly 40 years Guillemot sailed with her sister ship, the Crotch Island Pinky Petrel, as part of Chewonki's Mariners Expeditions for teenagers. In 2020, the newly formed nonprofit Rituals of the Sea acquired Petrel and Guillemot with the aim of carrying on this expedition tradition. As a symbolic launching of the venture, Rituals of the Sea co-founder Scott Handley commissioned Cy to build the sailing model, using the lines for the Mackinaw in Chapelle's American Small Sailing Craft.
He chose Cy after seeing his work building and restoring models, including a Quoddy pinky for his grandfather, Del Webster, and on bigger boats at the J.O. Brown & Sons boatyard on North Haven, where his father Foy E. Brown and other grandfather Foy O. Brown carry on the Brown family tradition.
"I asked him if he had ever built a boat on commission and he said no. I thought this would be the next step for him in his craft," said Handley, an educator who ran the boatshop and sailing expeditions at Chewonki from 2008-16. "I want to support young people when they show a glimmer of being interested in a craft. Rituals of the Sea is about encouragement."
It took Cy about a year to build the model, which features hand-made cotton sails, traditional marine coatings, and a keen eye to craftsmanship, Handley said.
"Cy delivered the model in spades," he said. "She is a sharp, able statement of creativity and attention to detail—functional artwork at its best!"
To learn more about Rituals of the Sea, visit www.ritualsofthesea.org.
---
Maine's First Ship launched
After 25 years of research, planning, and building, Maine's First Ship, the volunteer crew behind the sailing vessel Virginia, splashed the vessel June 4 on the Bath waterfront.
The Virginia is a reconstruction of the first vessel built by English colonists in the Americas. The original wooden pinnace was built in 1607 at the mouth of the Kennebec River in the short-lived Popham Colony. The pinnace originally was built for exploring the coast, but when the colony was abandoned in 1608, she carried the Popham colonists back to England. The sturdy vessel re-crossed the Atlantic in 1609 as part of a resupply convey headed for Jamestown.
The keel for the Virginia was laid in 2011 after several years of planning. Coming up with the design was complicated because exact plans for the original boat do not exist. Hence the builders prefer to call this vessel a reconstruction, rather than a replica.
Modified from a vessel that would have been used in the 17th century for ocean voyages, the Virginia is 51 feet long with a beam of 14.5 feet, and will draw about 6 feet when fully loaded. She has a single, flush deck, high sides that taper back to a narrow square stern, and is open down below. She will carry a fore- and aft-rig with a sprit mainsail.
The volunteer group has stuck with traditional materials as much as possible, using white oak, sourced from New England, for the hull and frames; white pine for the deck and masts; and hackmatack knees. Fastenings include old-fashioned trunnels and modern silicone bronze fasteners.
Historic records refer to the Virginia as a "30-tun vessel," but that doesn't refer to its weight, explained shipwright Rob Stevens who has supervised the shipbuilding project, but rather to the number of 252-gallon barrels it could hold. The reconstructed vessel actually is about 20 percent bigger than the original— 36 tuns—Stevens said, because the organization hopes to get it certified to take school children on trips.
"Tunnage is about cargo not weight," he said. "A half-tun barrel is called a butt. Imagine how fun it will be to tell a bunch of school kids that they are going sailing on a 60-butt boat."
---
Lyman-Morse launches second LM46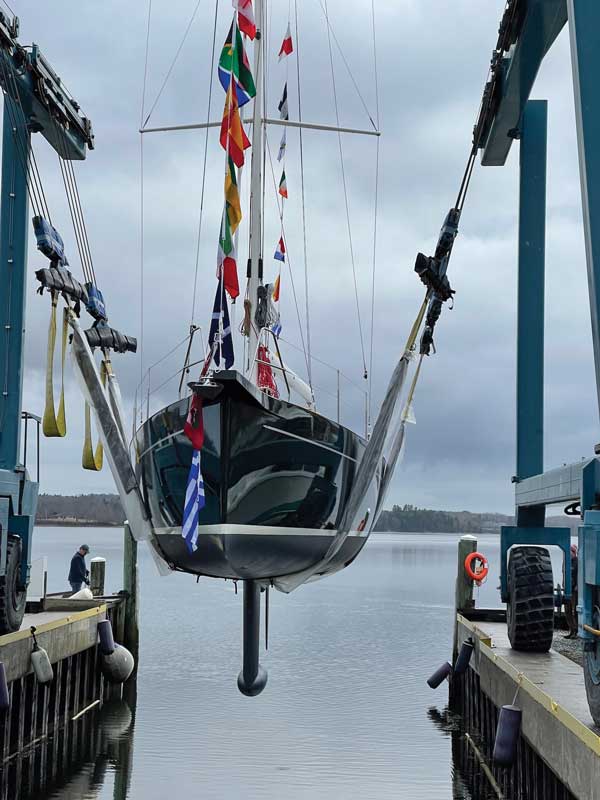 Arcadia on launch day. Photo by Polly Saltonstall Never mind that a light rain was falling, the April 1 launch of the second hull in the LM46 series was a joyous event.
Built for the second generation in a family of longtime Lyman Morse customers, the beautifully detailed, high-performance, cold-molded sailing yacht is the result of a collaboration between Lyman-Morse founder Cabot Lyman, his son and company president Drew Lyman, and New Zealand designer Kevin Dibley.
Arcadia differs slightly from LM46 hull #1 as she features a deeper 7'7" draft keel for better performance on the race course and a second head for increased comfort while either cruising or racing. The owner, who previously owned a J/42, said that he and his family have been service customers of Lyman-Morse for decades. He was in on discussions about the LM46 from the beginning.
Arcadia features a powerful cruising rig with swept-back spreaders and 1,183 square feet of sail, including a square-top main. When conditions are right, this yacht can hit an easy 10 knots, while the wooden hull and comfortable displacement-length ratio of 133, allows for one-handed steering or easy steering by autopilot, no matter the weather.
Lyman-Morse's vision is to build a series of these yachts with the goal of starting a one-design class. But the design also is customizable to fit owners' needs.
As this issue went to press, Lyman-Morse was working on the finishing touches of another "launch," this one an even bigger undertaking: its new facility in Camden, which includes 33,000 square feet of marine services and mixed-use commercial space, including a restaurant (Salt Wharf), housing for clients, and additional spaces for retailers. Each area has been designed to evoke the historic waterfront structures that lined Camden Harbor in the nineteenth and early twentieth century.
---

Lion prototype. Photo courtesy Hodgdon Yachts
Hodgdon building electric launch
Hodgdon Yachts has partnered with European marine technology company Vita to build its high-performance all-electric flagship, the 34'5" Lion.
Engineered and powered by Vita in the UK, designed by BorromeodeSilva in Milan, and now built by Hodgdon Yachts in Maine, Lion is the first premium electric powerboat compatible with fast DC charging, according to a press release from Hodgdon. The vessel will feature a one-hour charge EME, a cruising speed of 24 knots, and a top speed of over 35 knots.
"Our move into electric yachts and tenders further demonstrates our commitment to increasing demands from the market for zero emissions boating," said Hodgdon's Director of Sales and Marketing Audrey Hodgdon. 
The Lion can accommodate up to eight guests in a large cockpit which can also be configured for dining. The sunpad and bathing area provides room for relaxation, together with a shower and ladder for swimming. Forward, the enclosed cabin includes a day berth, day head and sink, as well as storage, with an integrated Fusion sound system throughout the boat.
The Lion will be available for sea trials in the South of France this summer.
---
Radio-controlled lighthouses
Want to hear a lighthouse horn? Get out your radio. The Coast Guard has announced that technicians have completed the installation of Mariner Radio Activated Sound Signal (MRASS) devices at 82 lighthouses across the Northeast. The Coast Guard began updating the sound signal devices in 2015 and completed the final two installations this spring.
The purpose of the modernization was to replace the less reliable and less efficient VM-100 fog detectors with a Coast Guard-designed, radio-controlled system. The process also eliminated several 24/7 continuously sounding horns, according to a press release from the Coast Guard.
Mariners needing foghorn assistance must now activate the sound signal by using a marine VHF-FM radio. The MRASS device will allow mariners to energize the sound signal, on demand, by keying a standard VHF-FM radio five times consecutively on VHF channel 83A. The sound signal will then sound for 45-60 minutes following each activation. All changes have been announced via Broadcast Notice to Mariners and in the Local Notice to Mariners.
The change may well be more efficient and technologically advanced, but we will miss listening to the forlorn moan of Camden's Curtis Island lighthouse that used to let us know when fog was creeping into the harbor as we lay in bed at home.
---
Back to boating school
Boaters under age 25 will be required to pass an education and safety course before January 2024 to operate on Maine's lakes and rivers, according to legislation passed in the state this year.
The new law requires operators of motor boats and jet skis to be educated on state boating laws, wildlife and environmental impacts, or risk fines and misdemeanor criminal charges. The boating diploma can be earned through online courses recognized by the Department of Inland Fisheries and Wildlife or through a six-hour, in-person course.
The law applies to anyone born in 1999 or later who is driving a boat of 25 horsepower or higher or driving a personal watercraft—such as a jet ski—on inland waters. The state's minimum age to operate a jet ski will remain 16.
The law will only apply to inland waters. But a stakeholder group of recreational sportsmen, marine industries and the Department of Marine Resources that oversees Maine's coastal waters will also be formed, according to the law, to make recommendations to the Legislature on how to potentially implement the law on tidal waters.
---
Tidal mill research
Tide Mill Institute has received a grant of $3,000 from the Eastern Maine Conservation Initiative to support archaeological work this summer at the Bell mill sites in Edmunds, Washington County, Maine. The work will be done by Independent Archaeological Consulting LLC of Dover, New Hampshire. The archaeological study of the two mill sites on the property will explore these examples of the county's early milling culture and develop an inventory record of all previous tide mills in the area.
About 1780, Robert Bell, from St. Andrews Scotland, built a tide mill at a likely spot in western Cobscook Bay. It operated for some years under his direction and that of his family. That mill ceased operation, and the Bells created a fresh water mill farther up the stream. A generation or so later, a freshet tore that mill apart, but by then, some family members had switched their activity to farming and forest products. Today, those activities have morphed into an active organic farm operated by the seventh, eighth, and ninth generations of the Bell family.
---
Salmon farm plans in limbo
American Aquafarms has finalized its purchase of a former sardine cannery in Gouldsboro, but the company was dealt a major setback in its plans for a huge salmon farm in Frenchman Bay when the Maine Department of Marine Resources terminated its application for the farm.
The sale of the Maine Fair Trade Lobster plant from East Coast Seafood to American Aquafarms closed this spring, according to an article in the Bangor Daily News. American Aquafarms had planned to use the 11-acre property Prospect Harbor for a hatchery and processing facility.
But several weeks earlier the Maine Department of Marine Resources terminated American Aquafarms' application to grow salmon in net pens because the company did not have an approved source for salmon eggs, according to the BDN report.
To proceed, the Norwegian-backed aquaculture firm must resubmit a new application, which may add years to the permitting process, according to the BDN. The Norwegian-backed company has appealed the DMR decision.
American Aquafarms wants to grow millions of pounds of salmon in floating net pens in Frenchman Bay. The proposal has been highly controversial and raised fears among fishermen, conversationalists, and neighboring towns about possible devastation in the Frenchman Bay.
---
Urchin antifouling
We love it when nature provides the clue to superior new products. Take Finsulate, an antifouling technology developed by entrepreneur Rik Breur in the Netherlands. The company's wrap technology is applied in sheets to the hulls of vessels and surfaces of floating marine equipment. It works by mimicking the biofouling properties of the spines of sea urchins, preventing the unwanted buildup of algae and organisms like barnacles or mussels, improving fuel efficiency, and reducing reliance on toxic antifouling paints traditionally found on the underside of boats.
Finsulate has set up a U.S. subsidiary in Portland, Maine. The company planned to bring its European leadership team and installation experts to Cumberland County in May to connect with industry and train local workforce to install Finsulate's proprietary antifouling wraps. The first vessels will be treated at The Boat Yard, a Yarmouth-based business that operates out of the working waterfront property on the Cousins River recently preserved by the Sea Meadow Marine Foundation.
"We are pleased to be forming a new US corporation with US ownership and are committed to creating working waterfront jobs here in Maine," Bernard Hidier, Director and Co-Founder of Finsulate US said. "In addition to leisure craft, Finsulate is prioritizing solutions for operators in aquaculture, commercial fishing, and transportation, as these sectors are highly sensitive to fuel use and hungry for new ways to realize operational efficiencies."
---
New cruising guide
The Cruising Club of America has put together an online cruising guide to the coast of Maine, drawing on the expertise of the group's many seasoned sailors.
Unlike other guides that list hundreds of places to visit, this one highlights just those harbors and anchorages recommended by club members.
Key features include: lists of harbors with essential marine and provisioning services in each region; anchorages, including more isolated places with scenic beauty and a sense of solitude; Navionics charts for every location; local weather and wind forecasts via Windy.com, plus local tide predictions thanks to USHarbors.com; as well as local information, including hiking options and other things to do. Find the guide at: https://guides.cruisingclub.org.
---
We've changed hands!
Maine Boats, Homes & Harbors magazine has a new owner. Ted Ruegg has taken the helm as publisher of the magazine, which has been celebrating Maine boatbuilders and life on the coast for more than three decades.
Ruegg, whose family has longtime ties to Maine, has worked in the marine industry for 35 years, most recently with Sailing World and Cruising World magazines.
MBH&H founder and longtime publisher, John K. Hanson Jr. will continue on in the role of publisher emeritus and work with Ruegg to grow the Maine Boats, Homes & Harbors brand across print, digital, and event platforms. Editor Polly Saltonstall also will continue in her role with the magazine and its digital and web editions. The magazine's offices will remain in Rockland.
Ruegg has been visiting Maine since the age of three. His grandmother bought a cottage on North Haven Island in 1957 and he has returned every summer that he can remember. Ruegg has cruised the coast, raced in its bays, and already visited many boatyards that are part of the vibrant fabric of Maine's boating industry. In an interesting coincidence, Saltonstall, whose family also has longtime ties to North Haven, taught Ruegg in sailing class there many years ago.
"I am looking forward to working with John, Polly, and the dedicated staff of Maine Boats, Homes & Harbors," Ruegg said. "I love sailing and boating on the waters of Maine. I've been active in the marine industry for more than 30 years and have seen publishing in the marine space evolve into digital products and events. It's like I've been training to do this my whole life."
Included in the sale are the magazine's print and digital editions, its websites maineboats.com and maineharbors.com, and the Maine Boat & Home Show.
---
Over the bar
Roger C. Taylor, who brought his family to Rockport and Camden in 1969, died of a heart attack while playing tennis, a game he loved, last winter at his home in Vero Beach, Florida. He was 90 years old.
Taylor started International Marine Publishing Company, in Camden, "to publish good books about boats." IM published books on sailing, cruising, yacht design, and boatbuilding, including his own Elements of Seamanship and the Good Boats series, which inspired many sailors to dream of, and many times build and sail, a variety of handsome craft, many of which might have been otherwise forgotten.
Taylor contributed much to the revival of the appreciation of classic yacht design and to what is today a vibrant wooden boat culture. He will be missed. 
Share this article:
2023 Maine Boat & Home Show

Join Us for the Maine Boat & Home Show!
Art, Artisans, Food, Fun & Boats, Boats, Boats
August 11 - 13, 2023 | On the waterfront, Rockland, Maine
Click here to pre-order your tickets.
Show is produced by Maine Boats, Homes & Harbors magazine.