Islesboro: A Quiet Island Interlude
By Mimi Bigelow Steadman
Photos by Mimi B. Steadman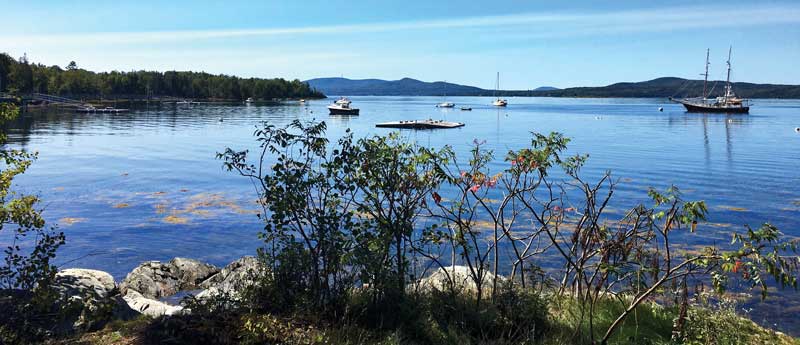 The view from Big Tree Beach, including a schooner at anchor and the Camden Hills in the distance.
Tiny green cushions of moss dotted the ground in front of me, calling to mind the islands of Penobscot Bay, only in miniature. I spied a raggedy-edged mound that sort of resembled Vinalhaven, with North Haven nestled next to it. Another diminutive hummock—narrow with a pinched-in waist—looked a little like Islesboro. How perfect, I thought, to come upon a mini Islesboro in the middle of the real island.
We'd come over on the ferry from Lincolnville Beach with our car earlier on that primo late-September morning. A walk was first on our to-do list, so we turned up island, headed to the Herbert Preserve to hike a double-loop trail beside the tidal Mill Pond. After the trail led us down and up the steep sides of multiple glacially carved ravines, arriving at more level ground carpeted with those mossy islets felt like a reward.
Back in the car, we followed Main Road down the spine of the 14-mile-long island and pulled off at Big Tree Beach, near the aptly named Narrows. The seascape that greeted us caught us in its spell: A graceful schooner serenely resting on its mooring was framed by a backdrop of calm blue water stretching to the Camden Hills.
But our tummies demanded lunch, so we continued to the Island Market, where regulars flowed in for the local news as well as groceries. Feeling warmly welcomed into the mix, we browsed the aisles, bought a couple of sandwiches, and set off in search of a picnic spot.
Small byways branch off the main route, often turning to dirt as they trace the coves, harbors, and inlets that scallop the shoreline. Choosing one, we worried we'd end up on a private driveway leading to one of the island's many elegant summer "cottages." Instead, we came upon a small, gravelly beach with easterly views across the bay to Cape Rosier, and a weathered picnic table seemingly put there just for us.
The breeze teased our paper napkins as we talked about those grand houses, built in and around Dark Harbor at the turn of the 20th century by moneyed summer residents and often still owned and treasured by their descendants. A few celebrity homeowners—Kirstie Alley, Parker Stevenson, John Travolta, Kelly Preston—shone the spotlight on Islesboro for a while. But they have departed (though actor Chris O'Donnell does have a house here), allowing this exclusive, low-key summer colony to return to its quiet ways.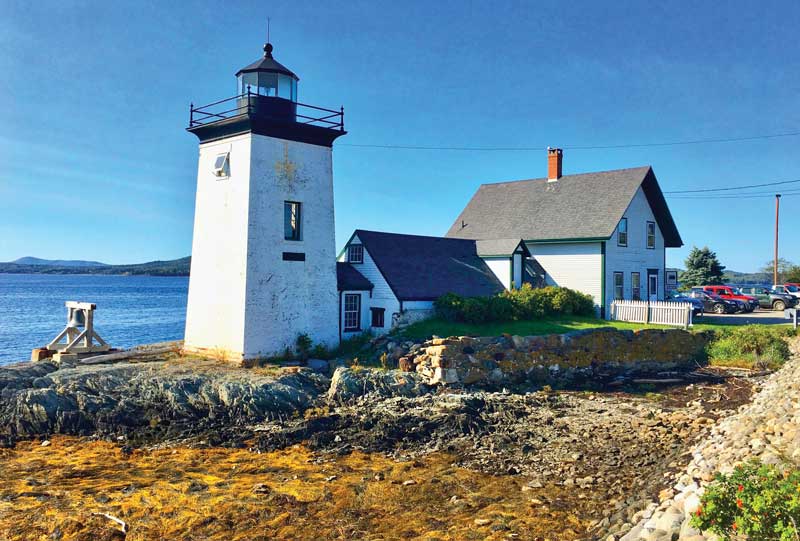 Grindle Point Lighthouse, which was originally built in 1851 and replaced in 1874, houses a small, seasonal marine museum open on weekends. The unusual square-shaped lighthouse tower is 32 feet tall, and is open to the public.
In Dark Harbor village, we stopped to browse in The Magpie's Caravan, a petite antiques shop brimming with fine European china. I chatted with Chris Dickman, the gregarious proprietor, who noted which patterns were most popular with island hostesses. I could picture the place settings laid out beneath silver candelabra on polished dining tables, ready for gracious evenings.
Among Islesboro's fewer than 700 year-rounders, some families have been here for centuries, and shipbuilding courses through their lineage. In the early 1900s, New York shipbrokers, brothers F.S. and Edwin Pendleton, owned what was said to be the country's largest fleet of commercial sailing vessels. The brothers hailed from and summered on Islesboro. The legacy continues at Pendleton Yacht Yard, a restoration and repair facility that happens to be located on Pendleton Point Road, on land owned by the family for many generations.
While we waited at the ferry landing beside Grindle Point Light, I caught a glimpse of a large schooner ghosting wing-on-wing into the far end of Gilkey Harbor. It was, of course, a member of the windjammer fleet, but it wasn't hard to pretend it was one of the Pendleton brothers' vessels from a hundred years ago.
As we steamed back across to the mainland aboard the Margaret Chase Smith, I thought back on our visit. There hadn't been any high excitement or adventure. Rather, the day had been woven with friendly encounters, abundant natural beauty, a little history, and a lot of tranquility. I'm pretty sure that's just how they like it over on Islesboro.
---
Contributing Editor Mimi Bigelow Steadman lives on the Damariscotta River in Edgecomb.
If You Go to Islesboro
Getting There
Operated by the Maine State Ferry Service, the car ferry makes the 20-minute run between Lincolnville Beach and Islesboro a dozen or more times per day, depending on the season and day. The Margaret Chase Smith departs from the mainland on the hour and leaves the island on the half-hour. Reservations, especially in season, are strongly advised. The M/V Quicksilver provides water-taxi service between Islesboro and the mainland. Penobscot Island Air provides scheduled and chartered flights to the small, seasonally operated airport.
On the Water
Islesboro offers several pleasant hideaways around the island to drop the hook for an overnight, including Turtle Head Cove and Sabbathday Harbor. To access Dark Harbor village, anchor in Gilkey Harbor, on the southwestern side of the island, just to the east of Seven Hundred Acre Island. There are no rental moorings in Gilkey Harbor. For answers to questions about anchoring or emergency repairs, call Gabe Pendleton at Pendleton Yacht Yard (207-734-6728). The yard, which is not accessible at low tide, has fuel and marine supplies and can haul boats up to 50 feet long. Around the corner, in Seven Hundred Acre Island's Cradle Cove, the Dark Harbor Boat Yard (207-734-2246) has guest moorings, showers, laundry facilities, a fuel dock, and marine store, and also sells block ice for cruisers.
Eat
Buy sandwiches at the Dark Harbor Shop (Memorial Day Weekend through Labor Day) to eat outside or take with you, or pick up sandwiches and other picnic supplies at the Island Market or Durkee General Store. Be sure to stop at the Dark Harbor Shop for a cone of its famous ice cream.
Shop
In season, several Dark Harbor boutiques are worth a visit. The Summer Shop offers women's clothing, home-decor accents, gifts, toiletries, and other fine wares. Next door,
The Magpie's Caravan stocks a pleasing collection of small antiques, primarily fine china. In addition to sandwiches and ice cream, The Dark Harbor Shop carries a small selection of gifts, clothing, and pickles and preserves. Specializing in rare books about architecture, design, and the history of science, Dark Harbor-based Artisan Books & Bindery is primarily an online business, but owner Craig Olson welcomes visitors by advance appointment.
Hike
Thanks to the Islesboro Islands Trust—which protects more than 1,000 acres and nearly 15 miles of shoreline—there are multiple options for hikes through the woods to the water's edge. Many of the trails are rated easy or moderate, yet they provide a lot of bang for the buck. Turtle Head Preserve, at the northern edge of the island, rewards with panoramas of Penobscot Bay. The Hutchins Island and Marsh Preserve features a walk across a tidal sandbar to a small island; from this preserve, it's an easy stroll along the beach to the Hinkle Preserve. The trail at Broad Point Preserve meanders through a cedar swamp to a rocky beach on Gilkey Harbor. The Herbert Preserve offers a butterfly-shaped trail beside the tidal Mill Pond. Other spots for enjoying the outdoors and a picnic are Big Tree Beach, near the middle of the island, and Islesboro Town Beach on Pendleton Point, at the island's southern tip. If you have access to a private boat (or the Quicksilver water taxi), consider a trip over to 70-acre Warren Island State Park. Located just south of Grindle Point, it's a lovely spot for picnicking or camping.
Do
On weekends between July 1 and Labor Day, stop into the Grindle Point Sailor's Museum in the keeper's house at Grindle Point Light. Located right beside the ferry landing, it displays marine antiques, paintings, and ship models. If the lighthouse tower is open, climb to the top for broad views of western Penobscot Bay.
Share this article:
2023 Maine Boat & Home Show

Join Us for the Maine Boat & Home Show!
Art, Artisans, Food, Fun & Boats, Boats, Boats
August 11 - 13, 2023 | On the waterfront, Rockland, Maine
Click here to pre-order your tickets.
Show is produced by Maine Boats, Homes & Harbors magazine.