Sales, Service, Storage & Boatbuilding
Boatyard Profile: Hamlin's Marine
By Polly Saltonstall
All photos courtesy Hamlin's Marine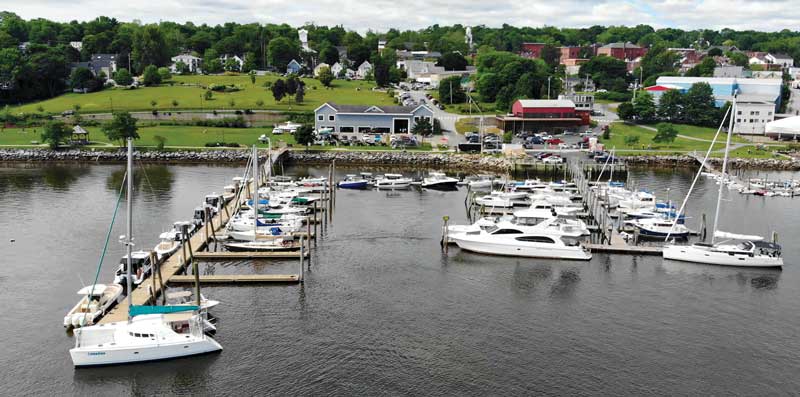 Hamlin's opened a showroom and service facility next to the Belfast Marina in 2020.
When Dan Higgins graduated from DePauw University in 1999 he wanted to be an international banker. But after stints working in sales for telecommunications and pharmaceutical companies he came home to Maine and fell in love with a young woman whose family ran an outdoor sporting goods store. In the process, he found not only his life partner, but also his true calling: boat sales and service at Hamlin's Marine, which he and his wife, Katie, have owned since 2016.
Hamlin's was founded in 1984 in Waterville by Katie's parents, Dave and Christine Hamlin, who sold outdoor recreation goods such as snowmobiles, fishing equipment, and guns. When Dan and Katie married in 2004, they both worked for the company, which has expanded over the years into boat manufacturing, service, storage and marinas, and sales. Powerboat lines sold by Hamlin's include Jeanneau, Chris-Craft, Scout, Carolina Skiff, Sea Chaser, Achilles, and Wellcraft, and the company is a major dealer for Yamaha engines in the Northeast. Hamlin's now has 50 full-time and 10 seasonal employees in four locations around the state, in Belfast, Hampden, Newport, and Waterville. Dan and Katie bought out her parents in 2016, but the Hamlins still help out when they can, Dan Higgins said.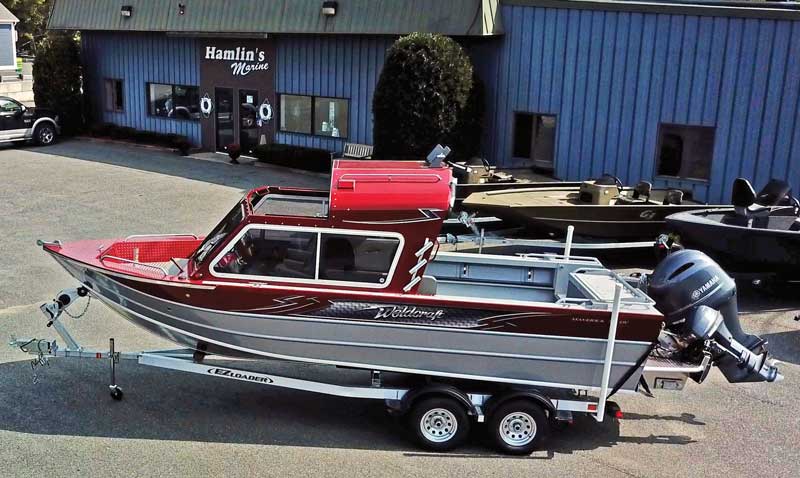 Hamlin's facility in Waterville, where the company was started in 1984 by Dave and Christine Hamlin.
The Waterville location, next to Thomas College on the Kennebec River, has room for storing 600 boats, as well as service and sales, serving primarily the Belgrade Lakes area, Higgins said. In Belfast, Hamlin's began providing service and sales in a 12,000-square-foot leased building next to the Belfast Marina in 2020. An acquisition this year was drumstick and mallet manufacturer Vic Firth Co.'s four-acre facility in Newport, with significant frontage on Sebasticook Lake. Higgins said the site includes eight buildings (68,247 square feet) which Hamlin's plans to use for storage. Newport town officials have indicated they'd be interested in seeing the company add a marina, rentals and gas service, Higgins said.
"There is certainly potential," he said. "The way our company has grown, I highly anticipate we will be doing more and more in Newport in the coming years." A bonus of the Newport site is the Hamlins have a house on the lake, he added.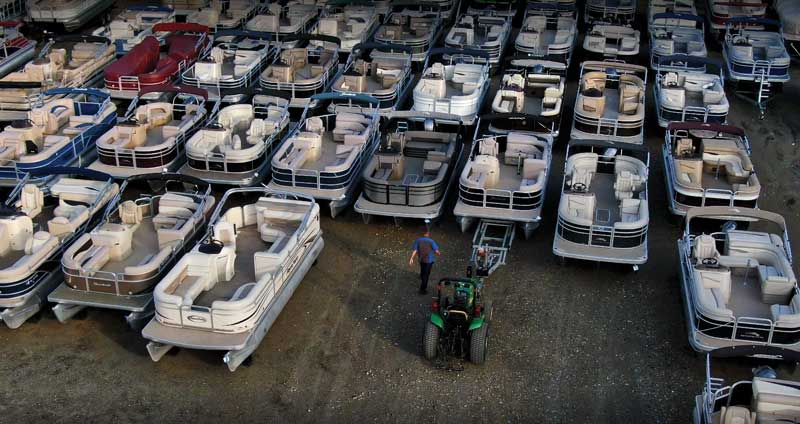 Pontoon boats stored at Hamlin's Marine.
The Hampden site, which opened in 2006, includes a 6,000-square-foot manufacturing area where the company builds small fiberglass boats, as well as buildings for boat storage and maintenance, and a marina with 30 slips, complete with a restaurant, Kimberly's at the Marina. There is a 25-ton hydraulic lift in Hampden for hauling boats up to 46 feet, as well as a hydraulic trailer for long-haul transport.
In 2013, hoping to provide steady year-round work for employees, the couple acquired the Puffin dinghy line. About 8 people in the Hampden yard build Puffins (about 300 a year), fiberglass parts for other boatbuilders, as well as Alden Rowing shells, fiberglass Adirondack guideboats, and other small boats for the Adirondack Rowing Co. in New York state. The biggest markets these days for the Puffins, Higgins
said, are Hamilton Marine, the Kittery Trading Post, and TJ Maxx, which sells the popular little 7-foot dinghies in its home goods stores.
"We also ship Puffins direct all over the country," he said.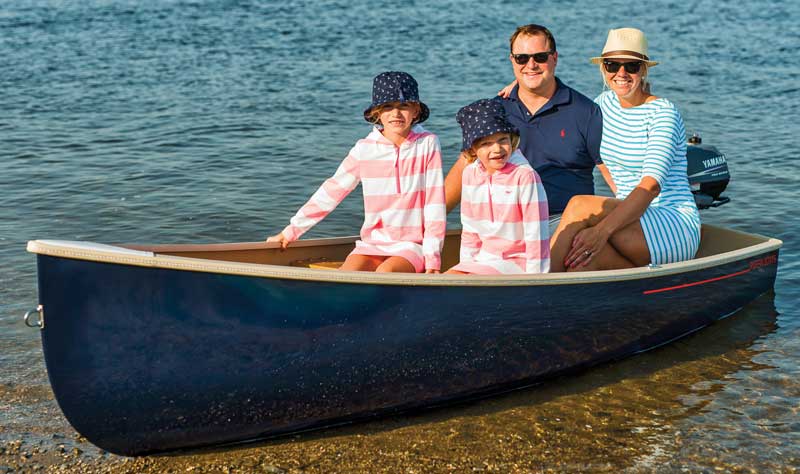 Dan and Katie Higgins and their daughters in one of the company's Puffin dinghies.
As business has grown they have kept busy, and have brought their children, 11 and 13, into the business. "They help out cleaning boats and bathrooms," Higgins said, with a chuckle.
Like many other dealers, Hamlin's has seen a huge increase in demand for new boats over the past 18 months. It has outpaced supply, resulting in long waiting lists. That's one reason the company has put increased focus on its service business, Higgins said.
"It used to take six to eight months to order a high-performance boat," Higgins said, "now it takes two years. High-volume freshwater boats used to have a four to six-week lead time, now it's six to eight months." That said, he noted that his company currently has 150 new boats in inventory.  
---
Polly Saltonstall is editor of this magazine.
For More Information
Hamlin's Marine
Waterville, ME, 207-872-5660
Hampden, ME, 207-907-4385
Belfast, ME, 207-930-3780
Share this article:
2023 Maine Boat & Home Show

Join Us for the Maine Boat & Home Show!
Art, Artisans, Food, Fun & Boats, Boats, Boats
August 11 - 13, 2023 | On the waterfront, Rockland, Maine
Click here to pre-order your tickets.
Show is produced by Maine Boats, Homes & Harbors magazine.