Rangeley: Mountain Magic
By Mimi Bigelow Steadman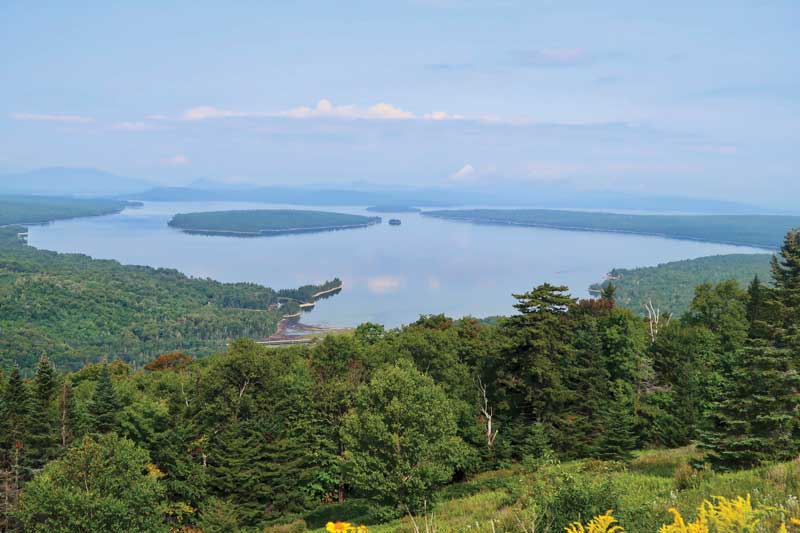 A short distance south of Rangeley at Height of Land, a mountain-framed panorama of Mooselookmeguntic Lake flanked by Upper Richardson and Rangeley lakes provides a stunning introduction to the region. Photo by Rick Steadman
"We saw a couple of moose in a pond this morning," Keith Deschambeault told us, his voice coming through our headsets as we taxied away from Acadian Seaplanes' dock and ascended over Rangeley Lake. Below the wings of the Cessna 185, the waterscape grew to encompass all of Rangeley and then Mooselookmeguntic Lake, too. Along the shores, crowds of evergreens, their pointy tips tinged by the August sun, reminded me of an Eric Hopkins painting.
We were flying within a big patch of blue sky, its edges outlined by thick fog hanging low over steel-blue mountains. Steering clear of the murk, Deschambeault explained that the peaks often keep inclement weather at bay, giving Rangeley its own microclimate. We were grateful for the visibility: As we circled above the pond he'd mentioned earlier, we were treated to a view of three cow moose browsing on watery vegetation. Continuing southwest, we looked out on golden beaches softening the rims of Upper and Lower Richardson lakes. Over Middle Dam, Deschambeault pointed out the simple camp where, in the 1930s, Louise Dickinson Rich lived and penned her classic memoir, We Took to the Woods.
We'd seen Rich's typewriter earlier in the day at the Outdoor Heritage Museum in Oquossoc, just down the road from Rangeley. It's one of countless artifacts and memorabilia from this region's long romance with wilderness and water. Everywhere we turned in this terrific museum, we were drawn in by the tales the exhibits told: sports rushing here in the late 1800s to land massive brook trout—some weighing more than eight pounds—thereby igniting the area's fame as an anglers' paradise; local legend Cornelia "Fly Rod" Crosby becoming a celebrity and the very first Registered Maine Guide; original Native American residents living close to nature; rusticators arriving in droves at the turn of the 20th century to summer in rambling lakeside hotels; and today's Game Warden Service patrolling the woods.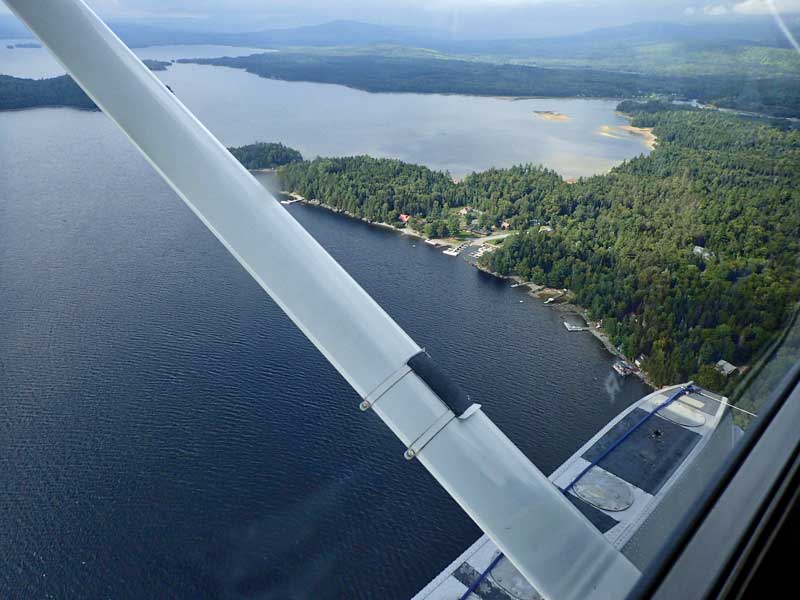 The view from an Acadian Seaplanes flight of Mooselookmeguntic Lake and Haines Landing, where steamships once docked, with Cupsuptic Lake beyond. Photo by Rick Steadman
An exhibit featuring vintage posters and gear chronicled the development of a ski area on 4,120-foot-high Saddleback Mountain, giving us a perfect send-off to lunch at its recently renovated base lodge. Looking up through the pub's floor-to-ceiling windows at the broad slope, I marveled at how far Saddleback has come since it opened on New Year's Eve 1960. Navigating plenty of daunting moguls along the way, it's dodged financial woes, slalomed from one owner to another, and even closed down for five years. Reopened in 2021 by new owner, Boston-based Arctaris Impact Fund, Saddleback is now starring in its own comeback story.
Aging lifts are gone, there's a new high-speed quad, snowmaking has been upgraded, and construction of an eco-conscious mid-mountain lodge is under way. With a 2,000-foot vertical drop, this big mountain offers extensive steep terrain, plenty of intermediate trails, and a separate area for families and beginners. In warmer months, Saddleback coordinates a variety of guided adventures in paddling, hiking, mountain biking, birding, and other outdoor pursuits.
Back in town, we moseyed down Main Street, visiting shops and stopping for an obligatory photo at the sign proclaiming Rangeley's position near the 45th parallel, halfway between the North Pole and the equator. At the venerable Rangeley Inn, we ducked into the lobby to confirm that its old-fashioned ambiance—featuring an impressive mounted moose head—remains as charming as ever. Finally, we drove a few miles out of town to Quill Hill. Created as a gift to the community by the late Adrian Brochu, its four-mile access road leads to the 2,848-foot-tall summit and a sweeping, 360-degree lake-and-mountain panorama. It was a fitting spot for saying so long till next time to this gem at the heart of Western Maine. 
---
Contributing Editor Mimi Bigelow Steadman lives on the Damariscotta River in Edgecomb.
---
If You Go to Rangeley
On the Water
There are currently no sightseeing boat tours in Rangeley, but there are other ways to get out on the lakes. Head to the Ecopelogican shop to rent or buy a kayak, paddleboard, or canoe. Trailering your own boat? You'll find public launching ramps at the southern end of the lake in Rangeley Lake State Park, in Lakeside Park near downtown Rangeley, and next door in the village of Oquossoc. Other ramps provide access to Mooselookmeguntic and Upper and Lower Richardson lakes. Be sure to follow all state and local freshwater boating rules and regulations.
Shop
At the delightfully named Ecopelogicon shop just off Main Street, you'll find a wide selection of outdoor gear and gadgets as well as maps, guides, and other references.
A haven for bibliophiles, Books, Lines & Thinkers stocks both new and used books. Volumes by local and Maine authors, many of them signed, are a specialty. For more than six decades, the Alpine Shop of Rangeley has been a destination for premier-brand classic clothing and outdoor apparel, plus gifts, books, toys, and home decor.
Things to Do
A compelling trove of history, lore, and legend, the Outdoor Heritage Museum in Oquossoc should be a required stop when visiting the Rangeley Lakes Region. From its dock in the middle of town, Acadian Seaplanes, Inc.'s experienced pilots take passengers on a variety of sightseeing flights, including a fly-and-dine excursion. After years of struggle, Saddleback Mountain is back, stronger than ever, offering topnotch skiing and boarding terrain in winter and a variety of outdoor adventures spring through fall.
Places to Dine
Both locals and visitors are warmly welcomed into the bustling scene at Portage Tap House in Oquossoc. In addition to excellent wood-fired pizza, menu choices range from steak, burgers, ribs, and meatloaf to a variety of salads. Downtown Rangeley dining options include Parkside and Main, whose fish tacos and fish and chips get enthusiastic reviews; the fireside lounge at the Rangeley Inn, which serves an appealing menu of comfort foods; and Furbish Brew House & Eats, which specializes in wood-fired pizza. Surrounded by mountain views, the trailside Pub at Saddleback fuels skiers and other diners with such favorites as smash burgers, pizzas, Reubens, and poutine. Just outside town, the century-old log-built Loon Lodge Inn & Restaurant offers upscale dining overlooking the lake. Rack of lamb and roast duck are specialties. For a memorable meal in a rustic setting, make a reservation at one of the area's traditional old sporting camps, such as Bald Mountain Camps or Grant's Kennebago Camps.
Share this article:
2023 Maine Boat & Home Show

Join Us for the Maine Boat & Home Show!
Art, Artisans, Food, Fun & Boats, Boats, Boats
August 11 - 13, 2023 | On the waterfront, Rockland, Maine
Click here to pre-order your tickets.
Show is produced by Maine Boats, Homes & Harbors magazine.