New boats, new engines, turn off the water
By Polly Saltonstall
Boatbuilding program turns 50
In celebration of its 50th anniversary, The Apprenticeshop will welcome the public to its waterfront campus in Rockland, Maine, this July 17-23 for tours, demonstrations, and sails in traditionally-built wooden boats.
Other activities to celebrate the milestone will include an exhibit highlighting Apprenticeshop boats and people; the participatory construction of a floating sculpture; and silent auction of handmade objects. On Wednesday, July 20, the Apprenticeshop will host an Untraditional Regatta with as many Apprenticeshop-built boats as can fit in Rockland Harbor.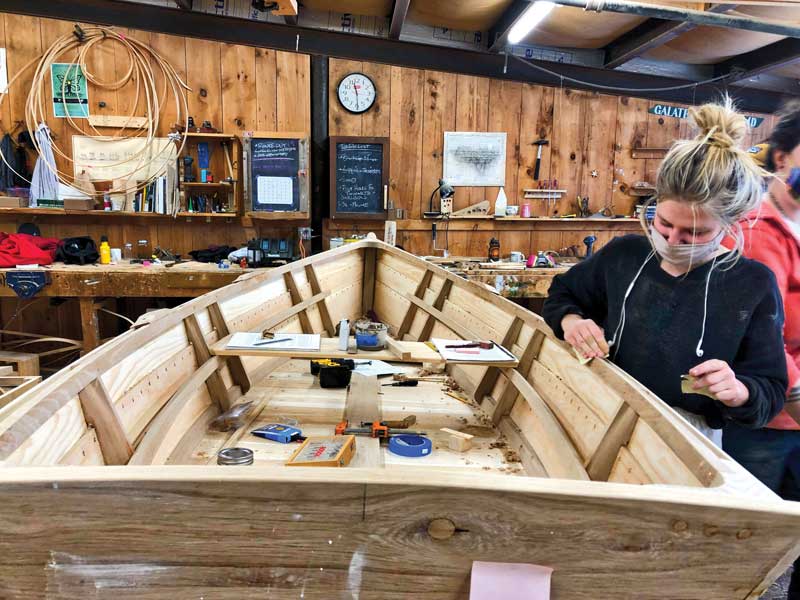 A Susan Skiff under construction at The Apprenticeshop. Photo by Christine Canella
"This milestone year is an exciting opportunity to share and honor the story of our past, as well as to come together around stewardship of our future," said Director Bella Ferraci. "We're looking to reconnect with alumni, past staff and board, as well as connect with new friends. Come on down and see us." For details and updates on the 50th Anniversary Celebration, visit www.apprenticeshop.org/ 50th-anniversary.
Also, in an effort to support women in boatbuilding at The Apprenticeshop, the organization is raffling off a 12' flat-bottom rowboat, called a Susan Skiff, to raise funds for the Mary Lacy Scholarship for Women. The scholarship fund was established in 2020 to encourage more women to participate in boatbuilding apprenticeships. Since 2020, the scholarship fund has supported five women apprentices in 12-week, 9-month, and 2-year boatbuilding apprenticeships.

Apprentices at The Apprenticeshop with skiffs that they built and launched last winter. One is being raffled off. Photo by Christine Canella
This year's skiff was built by apprentices Amber and Max and launched this past December.
Raffle tickets will be available until July 23 on The Apprenticeshop's website. The winning ticket will be drawn on Saturday, July 23. To purchase a raffle ticket, find out more, or spread the word to women who might be interested in the program, visit www.apprenticeshop.org/donate/#mary-lacy-scholarship.
---
Hylan & Brown electrify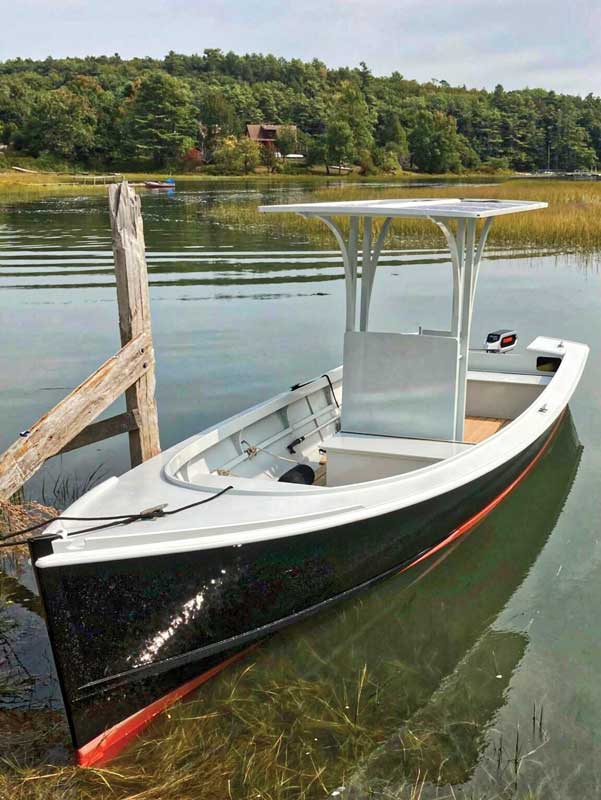 Auk with its electric engine. The folks at Hylan & Brown Boatbuilders in Brooklin, Maine, have been pushing hard for boats powered by renewable energy. A case in point are two recent projects: Auk, an electric-powered Point Comfort 23 hull, and Sardine, a Harry Bryan-built garvey that the yard refitted with an electric Torqeedo engine.
In 2020, when Auk's owner asked which existing Hylan design would maximize the potential for the latest electric outboard technology, the yard suggested the Comfort 23. The hull was then optimized for modern electric propulsion, featuring reduced weight, a custom "solar T-top," and a convenient battery locker. With the help of Ocean Planet Energy, the yard selected a Torqeedo Cruise 10.0 motor powered by a pair of 48V 5000W batteries. With access to 120V service, the batteries can be charged in about six hours with the Torqeedo 48-5000 fast charger. For charging on the mooring and extending range, Ocean Planet Energy recommended four Solbian SR+ 116 panels.
With her plumb bow Auk has a long waterline for her size which makes for better performance at lower speeds, and at higher speeds, she planes easily with her shallow V back aft. Top speed for the electric-powered Auk is 16 mph, with a range at that speed of 9 miles and a range of 35 miles at a slower five mph cruising speed.
Sardine previously was powered by a four-stroke Honda. The transition to electric resulted in even quieter, emission-free outings on the pristine downeast pond where the vessel is kept. Hylan & Brown installed a Torqeedo Cruise 10.0 with two 5kw Lithium Ion Torqeedo batteries and a 240V fast charger. With her new electric system, Sardine is capable of better acceleration and slightly better top speed than with her 20-HP Honda.
---
New club for Hinckley fans
The Hinckley Yacht Company has been building boats in Maine for years and along the way has acquired a devoted group of former and current owners. But the company has changed hands several times in the past few decades, and long since lost its connection with the family that gave the company its name. Also lost has been a complete list of past boat owners and a complete record of hulls built, according to Barry Hinckley, whose grandfather Henry Hinckley started the company.
Hoping to build a community of current and former Hinckley boat owners, as well as the many people who worked at the yard over the years, Barry Hinckley and his family have created a web site, the Hinckleyclub.com, and set it up in a way that allows owners and others to add information about themselves and their boats.
"The idea of the Hinckley Club was to take the memories associated with these boats and give present and former owners a place to express them," Hinckley said. "It's a place where these boats can have a living history—a social network built around boats as vehicles of family time and friendship time."
Calling the site, the "official Hinckley Boat Building Alumni Association," Hinckley emphasizes that Hinckleyclub.com has no connection with the Hinckley Yacht Co. or related companies.
He and his family have already added photos and data on the site. But he hopes current and former owners, as well as company employees can add more information. The site is set up in such a way that people can search by model, boat name, or owner; if their boat already is listed they can claim ownership and upload photos; it not, they can add their information to the database.
Hinckley, who has a background in computers and web work, designed and built the site himself. At this point it is not a revenue-producing venture. The goal is for folks to create accounts on the site and log in to add information.
When Henry R. Hinckley started the yard in 1928, the company built wooden boats, building a number of vessels for the US Navy during World War II. After Henry's death, his son Bob Hinckley ran the company until selling it to a private equity firm in 1997. Since then, the company has changed hands two more times.
"If a cat has 9 lives, a Hinckley has more," Hinckley said. "My father used to tell people who asked that our boats would last 'one day longer than a rock.' Having watched these boats over the past decades pass from family to family, I realized he wasn't kidding."
---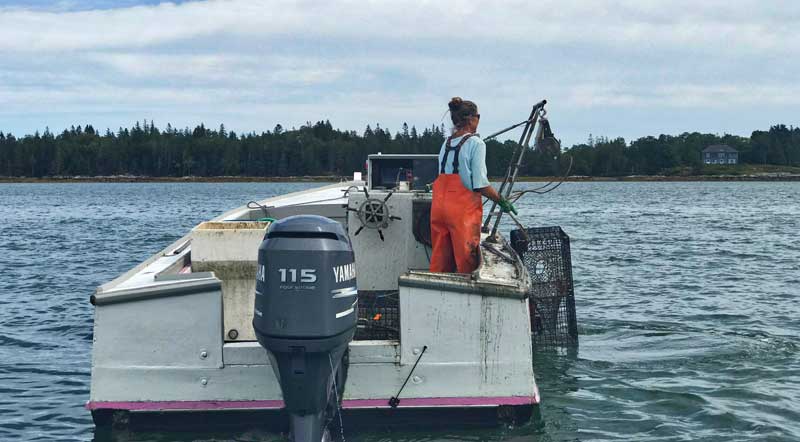 Hauling a lobster trap on North Haven. This was a record year for Maine lobster.
Lobster landings hit record high value
According to the Maine Department of Marine Resources, 2021 was the most valuable year in the history of Maine's lobster fishery. At $725 million, the landed value for the iconic fishery jumped by 75 percent over 2020, by far the single largest increase in value, year over year.
Of note, the increase in value was more than the total landed value in 2009.
Not only was the 2021 value a record setter, but the volume of landings continued a 12-year run in which harvesters brought to shore close to or more than 100 million pounds. At 108 million pounds, landings increased by more than 10 million pounds over 2020, an increase of more than 10 percent.
"The extraordinary value earned last year by Maine lobster harvesters is a clear reflection of strong consumer confidence in the Maine lobster brand and the products and people it represents," said Maine Department of Marine Resources Commissioner Patrick Keliher.
"Last year was one for the books and it should be celebrated," he added. "But there are many challenges ahead, and it's important that fishermen remain engaged in management discussions that will strive to make this stock resilient for future generations."
The news comes at around the same time as news that Maine's lobster industry will receive more than $17 million in support from the federal government as part of the omnibus funding package. About $14 million can be used to help lobstermen address the financial impacts of complying with federal regulations aimed at protecting the endangered North Atlantic right whale. The funds will be used to upgrade fishing gear as well as configuration and marking requirements. The new right whale protection rules were set to take effect in May. The spending package allocates more than $760,000 to help the lobster industry plan for the future, while $2.3 million will pay for right whale research, monitoring, conservation, and a scientific study of the animal's migration patterns.
In addition, at press time the Maine legislature was considering a pair of bills to provide additional funding to help the lobster industry respond to the right whale rules.
---
Yoga for fishermen
As lobstermen grapple with all the issues facing their industry, perhaps a little yoga might help clear their heads, as well as help their bodies.
A new program aims to introduce fishermen to yoga to help prevent injuries from hauling heavy traps, and the many other tasks they perform in the course of their work. The program—a collaboration between yoga instructor and Port Clyde oyster farmer Antonia Small, Maine Coast Fishermen's Association, and Maine AgrAbility—started this spring, according to a report in the Bangor Daily News. It involves the creation of an online library of different yoga poses picked to combat the repetitive tasks of those who make their livelihoods on the ocean.
"Even if you get in just a few minutes, that can really make a huge difference on how you're feeling later," Brie Weisman, an occupational therapist with AgrAbility, a nonprofit that works with fishermen, farmers, and loggers, told the BDN.
"You do not need lycra or a yoga mat," Weisman said. "You can use the stuff on your boat or on the dock."
The program is part of an effort by the Maine Coast Fishermen's Association to promote health and well-being for fishermen. The organization has also started a survival raft and suit loaner program, paying for fishermen's counseling sessions, and writing a weekly wellness blog.
Each month the program will pick a new pose and Small will demonstrate them in a how-to video, the BDN reported. To show that yoga can be for anyone, the group decided to also use pictures of actual fishermen and farmers doing poses on their boats instead of a yogi in a studio.
The first entry showed oyster farmer Dana Morse with his arms high in a "warrior one"—a useful position for those who have to bend over and haul cages or traps… and perhaps also for dealing with federal fishing regulations.
---
Funding will pay for hybrid ferry
The Casco Bay Island Transit District is in line to receive more than $3.5 million for a vessel that will be propelled by a low-emission system. The district runs ferry service to islands off Portland. The federal funding will enable replacing the Maquoit II, which takes passengers and freight almost 50 miles every day and also delivers mail. The district said the replacement vessel will use a diesel electric hybrid propulsion system instead of a conventional diesel mechanical propulsion system, which will eliminate more than 1,000 metric tons of carbon dioxide emissions over the 30 years of the vessel's expected lifespan.
---
Keep an eye on those pipes
This is for all the seasonal homeowners who leave their water on over the winter: Don't!
Town officials in Stonington say tens of thousands of gallons of water leaked from an unattended home with a burst pipe in February, according to the Bangor Daily News.
There's an emerging trend of seasonal home owners not shutting off their water in the winter, and largely leaving their properties unwatched, Town Manager Kathleen Billings told the newspaper. This has resulted in burst pipes and raised concerns about water loss and damage to the island's water system. This is an especially critical issue in Stonington because of limitations in the water supply.
The island water company noticed town water levels had been depleted last winter but it took weeks to pinpoint the leak responsible. Officials had to go from house to house before locating the offending one, which by then had three feet of water in the basement, according to the BDN. The owner is a seasonal resident.
Typically, summer residents will have a home winterized—meaning the water is off and pipes are drained—when they are gone in the cold months.
Billings wasn't sure why more people are leaving the water on, but she told the newspaper that she wants owners to turn the water off or have an alarm or caretaker looking after the homes.
"This is Maine. It's winter," she said. "You cannot leave your place unattended." She worries that if two or three homes had pipes burst at the same time, it could draw so much water that the town's water system could freeze. It could also force the town to buy water to meet the island's needs.
The town water system supplies water to about 300 customers but has a limited supply. Last summer, the town had to buy and truck in an additional 400,000 gallons to meet the demand amid a drought and influx of tourists.
---
Top Secret 3D boats
The University of Maine Advanced Structures and Composites Center has achieved a groundbreaking milestone in composite manufacturing with the production of two 3D-printed prototype logistics vessels for the U.S. Department of Defense. The U.S. Marine Corps Systems Command's Advanced Manufacturing Operations Cell, in collaboration with the UMaine Composites Center, used advanced manufacturing techniques to successfully develop the expendable polymeric composite ship-to-shore vessels, according to a UMaine press release. The longer of the two vessels, the largest ever 3D-printed, simulates ship-to-shore movement of 20-foot containers representing equipment and supplies. The second vessel can transport a Marine rifle-squad with equipment and three days of supplies. The prototypes can be connected, maximizing the transport capability of a single-tow vehicle. Other details on the designs are classified and members of the public have not been allowed to view the boats.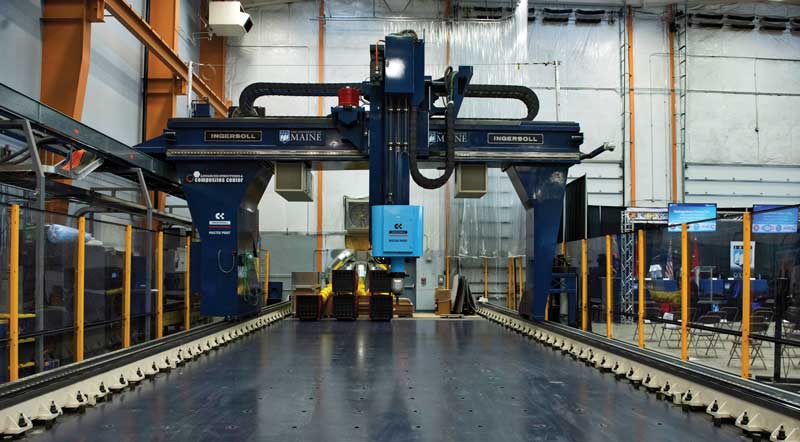 The news was announced February 25 at a press conference at the UMaine composites center.
Using traditional materials and methods, landing craft utility vessels can take more than one year to produce. The UMaine Composites Center printed and assembled one of the two vessels in a month. The vessels were produced using the world's largest polymer 3D printer, which the center commissioned in 2019.
Back then, in order to demonstrate the new printer, the Composites Center 3D-printed a 5,000-pound boat, 3Dirigo, in 72 hours, and printed a U.S. Army communications shelter in 48 hours. At the time, several Maine boatbuilders had noted that the greatest potential for the printer was to cut down on the cost of making boat molds, more than to build actual boats.
This latest project to create the two 3D-printed logistics vessels is a significant milestone toward demonstrating advanced manufacturing techniques to rapidly constitute critical DOD assets closer to the point of need, defense officials said. The vessels manufactured by the UMaine Composites Center are multimaterial composites with engineering polymer and fiber reinforcement.
Habib Dagher, executive director of the UMaine Composites Center, noted that in partnership with the Department of Defense, UMaine has been improving material properties, speeding up the printing process and connecting its printer with high-performance computers that can monitor the print. "With these tools in place, we have now printed a prototype vessel that will be tested by the U.S. Marine Corps," he said. "The Advanced Structures and Composites Center is at the cutting edge of advanced manufacturing research and development, advancing state-of-the-art technologies like large-scale additive manufacturing and high-performance computing to develop practical, rapidly deployable and cost-effective solutions for defense and civilian applications."
---
Hodgdon tender nominated for award
Hodgdon Tenders, the superyacht tender division of Hodgdon Yachts, has announced that T/T Boardwalk, a 27'11" limousine tender built by Hodgdon Tenders and designed by Michael Peters Yacht Design, was selected as a finalist in the Tender of the Year category by an independent panel of judges in Boat International's 2022 Design and Innovation Awards.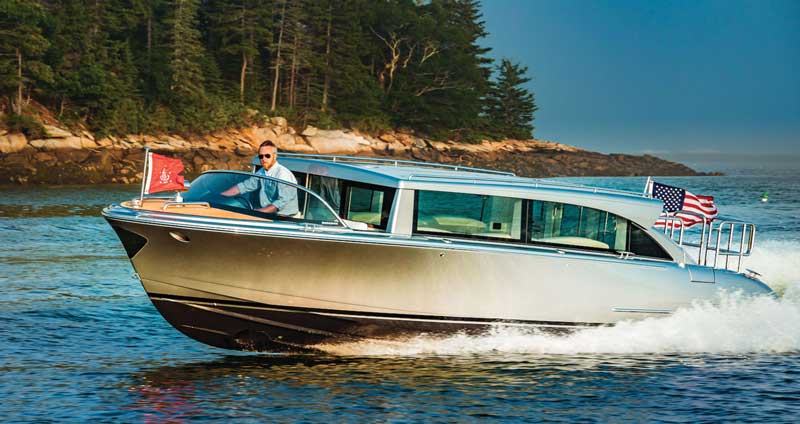 T/T Boardwalk, a limousine tender built by Hodgdon Tenders.
Delivered as part of a pair, the Hodgdon-built tender is stored in a garage onboard its mothership, Boardwalk, a 250' superyacht built by Feadship in the Netherlands.
With guest seating for 12, the tender features full-width glass paneling in the forward and aft bulkheads, glass doors, glass panels in its lifting roof, and large side windows. Custom detailing includes Hodgdon's signature flush-mount anchor, fastenerless rub rails, a stainless steel framed windshield, accent handrails on the roof and foredeck, custom rails on the aft deck, and a stainless-steel bow chock.
In addition to docking lights and a stainless-steel spotlight, the tender has 12 underwater lights. Other features include port and starboard side boarding doors, and a roof that lifts to full headroom height.
Winners of the Boat International Design & Innovation Awards will be announced in Milan, Italy at the Superyacht Design Festival in June.
---
Freedom Boat Club adds a location
Freedom Boat Club of Maine is growing once again. This spring the company opened a location at Point Sebago Resort on Sebago Lake. With six locations and a large fleet of boat club vessels, Freedom Boat Club is part of the largest network of boat clubs in the world with over 330 locations across the globe, according to a press release. 
Fleet vessels in Maine include 22' to 25' center consoles, dual consoles, rigid inflatables, cruisers, and pontoon boats. The Point Sebago club will start out with four new 22' to 24' boats.
Freedom Boat Club of Maine locations are at Yarmouth Boat Yard on the Royal River, at Moose Landing Marina in Naples, at Fore Points Marina in Downtown Portland, at Sunset Marina in South Portland, at Linekin Bay Resort in Boothbay Harbor, and at Point Sebago in Casco.
Meanwhile, Steve Arnold, owner of Marina Holdings, which includes Yarmouth Boat Yard, Moose Landing Marina, and Freedom Boat Club of Maine, has been elected to the Board of Directors for the Association of Marina Industries. AMI is a non-profit membership organization dedicated exclusively to serving the needs of the marina industry.   
Share this article:
2023 Maine Boat & Home Show

Join Us for the Maine Boat & Home Show!
Art, Artisans, Food, Fun & Boats, Boats, Boats
August 11 - 13, 2023 | On the waterfront, Rockland, Maine
Click here to pre-order your tickets.
Show is produced by Maine Boats, Homes & Harbors magazine.