Cottrell Whitehall: Rowing Elegance
By Art Paine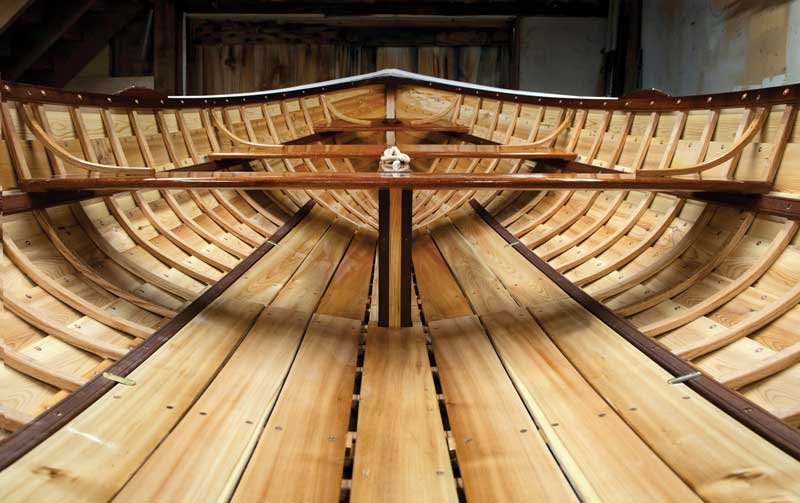 This lapstrake Cottrell Whitehall—a symphony in three colors, cedar, mahogany and oak—is a sailing model with a spritsail rig. Photo by Alison Langley
My friend Giffy Full—who spent years in the boating world, first as a yacht captain, and then as a well-regarded yacht surveyor—called me recently to chat about boats. He lives in Brooklin, Maine, but now spends the winter months at his daughter's home in Florida. How provident that we jumped right into rowboats as I was trolling for a topic for this issue. He urged me to get in touch with his daughter about her Whitehall, which was built by the Cottrells in Searsport, Maine. Immediately it came to my mind that it's hard to beat a Whitehall for beauty and fast rowing.
This was the day before Full turned 95, so I asked how he keeps so spry. "Well, part of it is actually rowing," he said. No surprise there. I recall several of his peapod rowboats, and you can't miss the rowing exercise machine at his home in Brooklin.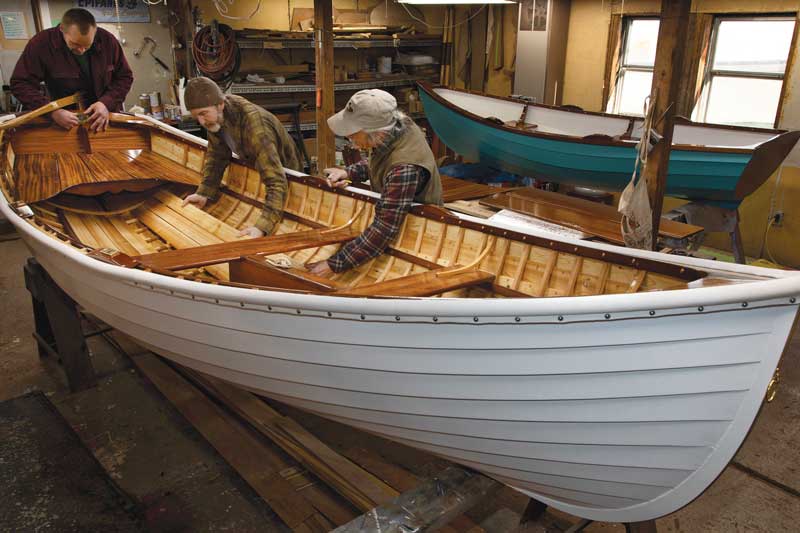 The Cottrells put finishing touches on a Whitehall in their Searsport boatshop. Photo by Alison Langley
I found the website for Cottrell Boatbuilding, and followed up with a phone call and a visit. Lynn Cottrell, the matriarch of this engaging family, toured me around the family farmhouse and the barn, which is filled with fascinating small boats, all built by the family. We found her husband, Dale, and sons, Seth and Ben, in a rustic, marginally insulated shop, where several rowboats were in various stages of completion. Of particular interest was a sistership to the 12½ foot Whitehall built for Full's daughter. I'm enough of a boatbuilder to know that the ideal time to judge workmanship is before any imperfection has an opportunity to be covered over. This boat was unpainted, and the workmanship was flawless.
Whitehalls, considered by many as the ultimate rowboat, are not a class of boats off a particular designer's drawing board, but rather a rowing craft with a distinctive shape and purpose. They are derived from the ship's boats or gigs that were used as tenders for merchant windjammers. The origin of the name continues to be debated, but likely came from a fleet of shapely, light, and fast rowboats operating at the end of Whitehall Street at the southern end of Manhattan Island. When a ship dropped anchor, these waterborne taxis sped out, with a single oarsman, to ferry passengers to the storefronts, lodgings, and other businesses.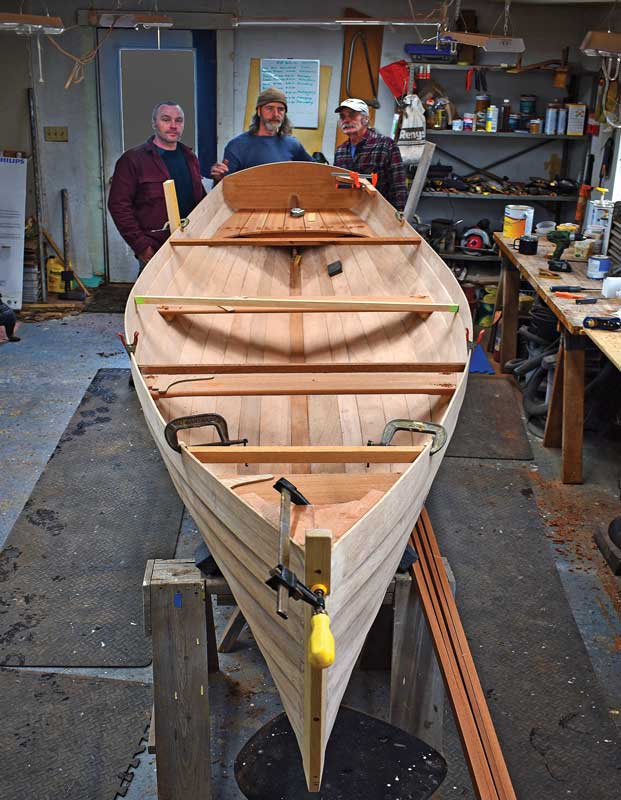 Seth, Ben, and Dale Cottrell stand behind the lapstrake hull of a 15-foot Whitehall under construction. Photo by Art Paine Whitehall skiffs were identical in shape to a ship's gig, but lighter and faster. Their sweeping sheer, high bow, and shapely wineglass transom produced a mixture of seaworthiness, straight tracking, and a touch of elegance. The originals were lengthy and commodious and a feature at many seaports. However, downsized and finished to a high standard, the Cottrell versions are often used for a morning workout, the perfect attribute on the shore of a lakeside camp.
Cottrell Whitehalls are lapstraked, using epoxy that provides extra stiffness at the overlaps, so that the hull shell doesn't really require ribs. Giffy Full's daughter, Arlene "Tuny" Page, explained that Cottrell offered the option of ribs on her model, but she declined—without them the boat weighs under 70 pounds. Full explained an additional benefit: "I like the fact her boat doesn't have any ribs because even at my age, I can sand its interior without stubbing my fingers."
The Cottrell family has been building boats since the 1970s. Dale Cottrell grew up on the New Jersey shore, where he raced Penguin-class sailboats and surfed. He moved to Maine in 1969 and built canoes before designing a fiberglass dinghy, which he called the Puffin. He co-founded the Winterport Boat Company with Lynn, and made thousands of Puffins before bowing out of the company to go back to his true love: wooden boats.
In addition to the Whitehalls, the Cottrells build several other wooden tender designs, as well as taking on custom projects. They have never lacked for customers, Lynn Cottrell said, for their line of rowing boats and even some custom work. "We built an identical pair of Moth sailboats for a customer, but since the pandemic we've been totally out straight with the wherries and Whitehalls," she said. Dale and his children—Kate, Seth, and Ben—do the building, while Lynn is the ambassador and business manager. A third son, Josh Cottrell, is now a boat salesman for Hamlin's Marine in Hampden, Maine. The Cottrells now have a waiting list for boats, and Lynn complains this will probably continue at least until they find some more skilled help.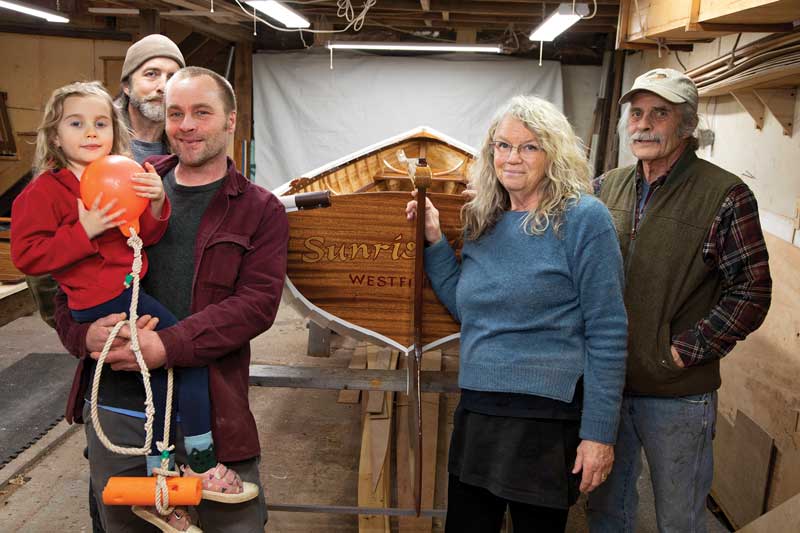 Boatbuilding for the Cottrells has always been a family affair. Shown here are Lynn and Dale Cottrell (on the right) with their sons, Ben and Seth, who is holding Eleanor, the youngest of Dale and Lynn's 10 grandchildren. Photo by Alison Langley
They store and maintain a good number of small craft they've built in the barn on site, including two boats so elegant that the client, a well-known architect, has said they will never be rowed. Instead, they will be hung from a vaulted ceiling and used as "masterpiece lampshades." Another client had the Cottrells build a boat and varnish its interior to perfection, only to use it as the base for a dining room table topped with a thick piece of glass.
My friend Giffy Full is never at a loss for words and his daughter is a chip off the old horn timber. "I always loved to row," she said. "Dad used to put Bill (her brother) and me in a boat while he was plotting some courses or holystoning the decks or polishing the bronze on some tycoon's schooner. The only rule was we couldn't row too far, and had to stay inside the harbor."
Now a talented dressage horse rider and trainer, Tuny Page needs to stay fit. "I'm in a line of work that needs physical toughness," she said. "I had to have a rowing machine because, like I said, I love to row."
Early in the pandemic, Page and her husband bought a summer place on the shorefront in Manchester, Massachusetts, and started looking for the right boat. "I'd gotten a fishing guideboat for a lakeside camp we had in Vaughan Bay, Washington State, but there were 19 young cousins vying for its use and I don't love it terribly. And I wasn't about to ship it East," she said. At first her father suggested buying a fiberglass Maine peapod. "But peapods were meant for work," Page said. "I wanted to row something wood, not glass, purely for pleasure."
Her brother, Bill Full, at that time a yacht broker in Portland, suggested she look for a Whitehall and told her about the Cottrells. She took possession of the new Whitehall midsummer last year. Following family tradition, Page named her boat after her family dog, Annie, a rescue dog of uncertain heritage.
I asked for a review of how the Cottrell 12.5' Whitehall performs.
"It is so light I can easily haul it out," Page said. "Most light rowboats have no 'carry,' but this one glides forever. It isn't tippy at all, and it's as fast as the oars you can handle."
Lynn Cottrell recommended long, light Shaw and Tenney spruce oars, which worked well, Page said, "until Dad (Full) gave me a pair of sweeps with curved spoons off a yacht, same length. I'm fit—you can't be half-assed and be in the horse training world. Either set of oars—don't try and beat me."
Plenty of boat shops can build you a Whitehall, but many do it carvel—that is, without laps. The thing about a white painted, lapstrake Whitehall, with "gains" fore and aft that taper and smooth out at the false stem, is that any boatbuilder worth their salt can discern the tiniest imperfection. I'm a boatbuilder and I can see a shadow that's off by a thirty-second of an inch. With these Cottrell boats, there is nothing to see. I just love that they are so perfect.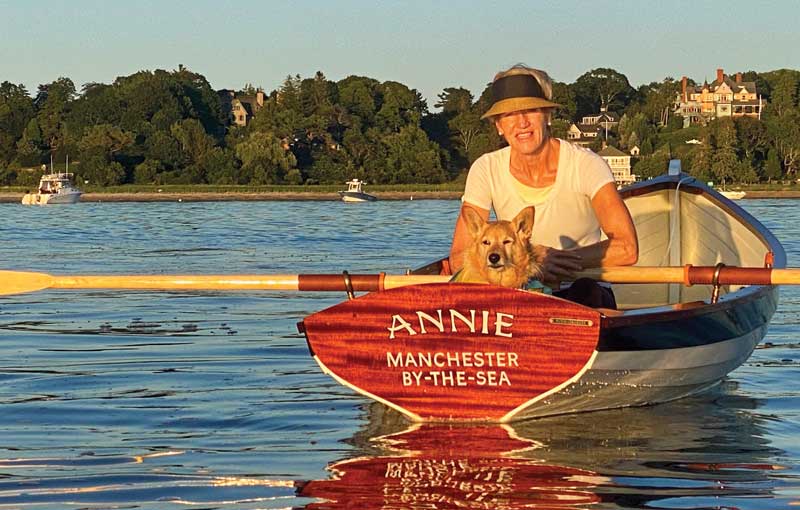 Tuny Page and Annie pause from their workout to soak up the sunset. Photo courtesy Tuny Page
Whitehall lines are like a big boat sitting on top of a narrow rowing shell. With only one person and a bantam-weight pup as crew the part of the boat below the waterline is the shape of a narrow canoe. As weight is added, the boat settles and there's more hull to move through the water. Page's boat has seats for two people to row at once, double the muscle power. It is my guess that until you get into an actual double rowing shell with outriggers and sliding seats, it would be hard to find a conventional rowboat on any body of water that could beat Full and Page rowing in tandem in Annie.
Page rows Annie every day out of Whittier Cove, past Peanut Island, in Manchester, with her namesake dog as crew. "It cracks me up when Annie and I speed by, and people shout out, 'Your boat is spectacular!' Annie and I just ignore that because all we're really out there for is the sunsets."  
---
Contributing Author Art Paine is a boat designer, fine artist, freelance writer, aesthete, and photographer who lives in Bernard, Maine.
Cottrell 12' 6" Whitehall
LOA: 12' 6"
Beam:  47"
Weight:  70 lbs. (without ribs)
     90 lbs. (with ribs)
Can be built in mahogany or teak finish
Builder:
Cottrell Boatbuilding
Searsport, ME
207-548-0094
www.cottrellboatbuilding.com
Share this article:
2023 Maine Boat & Home Show

Join Us for the Maine Boat & Home Show!
Art, Artisans, Food, Fun & Boats, Boats, Boats
August 11 - 13, 2023 | On the waterfront, Rockland, Maine
Click here to pre-order your tickets.
Show is produced by Maine Boats, Homes & Harbors magazine.