Wild ice, a Russian eagle, and changing of the guard
By Polly Saltonstall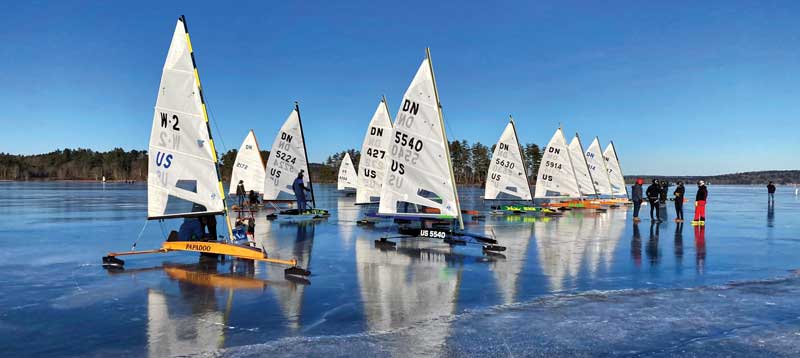 DN iceboats lined up for racing on Damariscotta Lake in January. Photo courtesy Bill Buchholz
This has been a glorious winter for those of us who like to play on ice as so many lakes and rivers around the state froze into long, smooth sheets, perfect for ice adventures.
A January weekend on my local lake, Megunticook, saw one access point clogged with dozens of cars parked along the road in both directions. And the ice bore as many skate tracks as an indoor rink. Groups of two, three, four, and five people, many accompanied by dogs or pulling youngsters on sleds, glided by, often stopping to chat with skaters going the other way. Couples with hockey sticks passed pucks back and forth, dodging dogs and holes drilled by ice fishermen. Some skaters pirouetted on old lace-up figure skates, others sashayed on black hockey skates, and a growing number glided past on long Nordic blades attached to their feet by cross-country ski bindings.
In the middle of the lake, several iceboats were parked waiting for the wind, while their skippers exchanged tall tales about past boats and adventures. And when the wind did blow, off they went… zooming past in a rush of wind and the low grind of metal blades scraping across hard ice. The smooth surface lured even bicyclists, as two riders toured the lake on bikes with studded tires. According to one report, a plane even landed on the ice one day, scattering the awed skaters aside like leaves in the wind.
A Facebook group dedicated to reports of good skating locations in Maine and New Hampshire was clogged with videos and photos, and images of skate tracks; one even showed a skater's use of a tracking app to spell out his name. Ice-skating junkies, calling themselves skaters in the wild, reported travelling from one lake to another all in one day to test as many surfaces as possible. One reported skating 23 miles in one day up and down the frozen Royal River in Yarmouth, apparently an extremely popular venue according to a friend who said there were so many cars there the day he went that he could not find a place to park.
Some of these avid "wild ice" skaters even check satellite images to assess the ice status of various favorite lakes.
Meanwhile, iceboat fleets popped up all over. "Never in our memories of Maine iceboating has there been sailing on six different lakes on the same day," wrote Bill Buchholz of the Chickawaukie Ice Boat Club, who added several more lakes to that tally in a later post. The boaters included a group of MIT students who built their own DN iceboats and have been sailing with the Chickawaukie group.
We love our time on open water during the summer, but seeing such an amazing community on the ice is equally wonderful, proving yet again, that Maine is a great place to live, year-round! Wild ice equals wicked good times.
---
Employees buy WoodenBoat
At the stroke of midnight on New Year's Eve, Matt Murphy, longtime editor of WoodenBoat magazine, and Andrew Breece, publisher of the company's magazine division, became the company's new owners. Each of them has acquired 50 percent of the company's shares. Breece has assumed the role of Chief Operations Officer, and Murphy is now Chief Content Officer. Breece, who grew up in Orono, Maine, recalls being drawn to the magazine at age three, "fascinated by the shapes and colors in the photographs inside. By age seven, I was reading it cover to cover." After graduation from Bates College in 2008, he worked for Mystic Seaport before serving as the development director for the Maine Island Trail Association. He joined WoodenBoat's staff in 2014, and soon afterward became publisher. Murphy, who grew up in Salem, Massachusetts, and graduated from Colby College before pursuing a master's degree at the University of Rhode Island, has sailed and worked on wooden boats since age 10. He worked for Dutch Harbor Boat Yard in Jamestown, Rhode Island, before joining the WoodenBoat staff as associate editor in 1992. He succeeded founder Jonathan Wilson as editor in 1994. The company, which includes the trade magazine Professional BoatBuilder and the online publication Small Boats Magazine, a retail operation, boatbuilding school, and a wooden boat show, is based on a former 61-acre seaside estate in Brooklin, Maine.The various business enterprises will continue to operate on the Brooklin campus, which Breece and Murphy will lease from Wilson.
---
And there's more
In another seismic shift at WoodenBoat, Eric Stockinger has become the new director of the WoodenBoat School, replacing Rich Hilsinger who retired last year after more than 30 years on the job. The school offers courses in boatbuilding, repair, design, woodworking, metalworking, sailing, kayaking, and more. Stockinger studied boatbuilding at the Apprenticeshop in Rockland, eventually becoming shop director, and then executive director. Most recently he worked at Brooklin Boat Yard. 
---
Calendar turns 40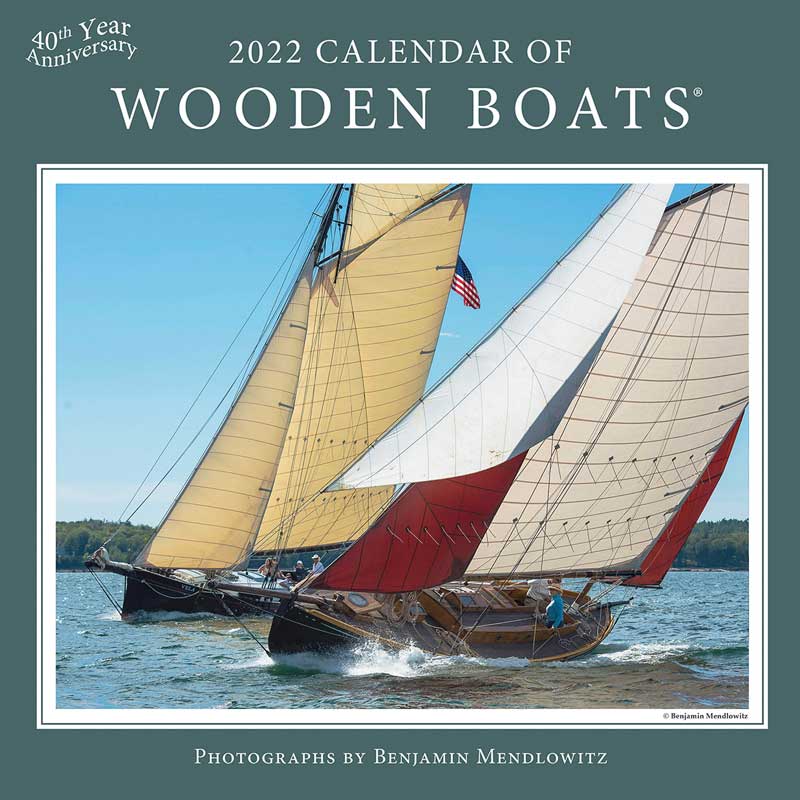 Image courtesy Benjamin Mendlowitz While we're talking wooden boats, this year marks the 40th anniversary of photographer Benjamin Mendlowitz and Noah Publication's awesome Calendar of Wooden Boats. The 40th Anniversary edition of the calendar features 12 new photographs by Mendlowitz, as well as a page with all the calendar covers from 1983 through 2022 and a listing of every boat. Mendlowitz said he got the idea for the calendar while working as a yacht photographer in the early 1980s for several different magazines. Since then, he has narrowed his focus to wooden yachts, eschewing more modern materials. "I love and appreciate the traditional designs and classic lines, the beautiful form and function that wooden boats represent." The wooden boat calendar is available from woodenboatscalendar.com.
---
From Maine to the Arctic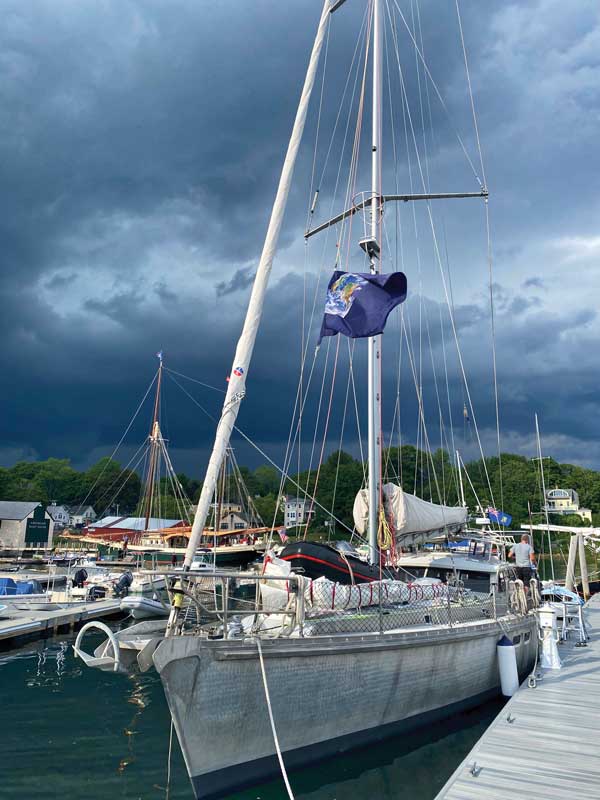 Maine has always had a connection to the Arctic waters of the Labrador Sea and Baffin Bay. The 56' expedition sail vessel ArcticEarth is currently being prepared in Camden Harbor to expand upon that heritage, offering private charters in those waters to researchers, media-makers, and private groups. The aluminum semi-custom vessel has a pilothouse with 360 degree visibility, and a distinctive swing-keel. ArcticEarth was designed by Ed Joy of Camden, built by Jacobs Brothers in Cape Town South Africa, and launched in 2016. Filmmaker and sailor David Conover heads up the new Arctic initiative. "I've worked on over 25 films in the north over the last 30 years. The game plan is to position this boat and a professional crew of two there for 4-5 months every year going forward—until 2026, at least. The northwest Atlantic is changing faster than the rest of the planet, and those changes stretch from Maine at the southern gateway, all the way to northern Greenland and Baffin Island," said Conover. ArcticEarth will depart its winter berth at Lyman-Morse in early May. The 2022 season in Greenland will begin June 4, with the University of Maine's Climate Change Institute and its Director Paul Mayewski. Along with fellow expeditioner Alex Kuli and UMaine colleagues Neal Pettigrew and Mario Potocki, Mayewski's team will work to develop multi-year monitoring projects for both marine and terrestrial ecosystems, in collaboration with the Greenland Government."My production company will be working for a few weeks from the boat. There are at least two other research groups. But as of the end of January, ArcticEarth still has a few 10-14 day charter openings in 2022 for private family or friend groups of four to six people," Conover said. For details: www.arcticearth-charter.com.
---
It's getting hotter out there
Water temperatures in the Gulf of Maine are getting warmer, a lot warmer.
The Gulf of Maine Research Institute has reported that water temps in the gulf were the highest on record between September and November, according to a news story in the Portland Press Herald. Last year was nearly 0.5 degrees warmer than 2012, which previously held the title for warmest fall. Sea surface temperatures during the season hovered above 60 degrees through almost the end of October, about 6 degrees above normal, according to GMRI.
This news comes on the heels of reports that the Gulf of Maine is warming faster than more than 90 percent of the world's oceans—increasing at a rate of 0.09 degrees per year over the past four decades.
Last fall's aquatic heat wave was due to a change in ocean circulation patterns, as the Gulf Stream, which carries warm water from the Gulf of Mexico, has been moving north, pushing back the flow of the Labrador current, which brings cold water south from the Labrador Sea, the Press Herald reported.
On top of this ocean circulation pattern, the gulf's exceptional summer—the second warmest on record—also kept temperatures elevated into the fall season. Warmer-than-normal atmospheric conditions also hindered sea surface temperatures from cooling down.
---
Shrimp fishery closed three more years
Remember the days when you could buy bags of delicate Maine shrimp out of pickups parked along the roadside? They will not be coming back any time soon.
Maine's northern shrimp fishery, which has been closed for seven years, will remain closed for at least another three years as the population of the delicacy, officially known as Pandalus borealis, shows no signs of rebounding.
A moratorium was enacted after the northern shrimp stock collapsed in 2013 and has been in place ever since. The collapse has been attributed to ocean warming, as well as an increase in a species of squid that likes to eat shrimp as much as we do.
One ray of hope was the news that the Atlantic States Marine Fisheries Commission has agreed to explore a personal use fishery at some time in the future.
---
New rowing gig for Rockland group
A Rockland-based organization that teaches maritime skills to young people received a new boat last December thanks to Manhattan boatbuilders.
The boat, a Whitehall gig, is a model of the traditional four-oared 19th century boat used to ferry ship captains from their moorings to land.
The group in Manhattan offers a rowing program, as well as boatbuilding. When they ran out of room in their boathouse and needed to get rid of a boat, they looked around for a worthy recipient and found Station Maine, which under the leadership of Muriel Curtis, teaches rowing to youngsters. According to a news account on the online Village Soup, Rockland city councilor and mayor Ed Glaser of Rockland volunteered to bring the boat to Maine. Glaser is a captain, and served as harbormaster for Rockland for many years.
Curtis posted on Station Maine's Facebook page about the donation of the 25-foot long boat: "These are amazing, stable little boats that have been seen in New York Harbor for more than a century. We are so fortunate to have good neighbors to the south who think of us and offer us their support. We're also grateful to Ed Glaser for hauling GML (yes, that's her name) all the way from New York City."
Station Maine teaches maritime skills such as sailing and rowing at no cost to the participants.
---
Kudos for Sea Tow Portland
Captains Matt Wilder and Bruce White, co-owners of Sea Tow Portland/Midcoast were recently recognized for their outstanding sales achievements, and operations manager, Capt. Christopher Davis, was honored for a water rescue earlier this year. The three nationwide awards from Sea Tow's parent organization were: "Outstanding New Membership Sales for 2021," "Outstanding Membership Growth 2021" and "10 Years of Continuous Membership Growth."
Davis, a U.S. Coast Guard veteran, earned his award for rescuing several passengers July 30 aboard the sailing vessel Mary E, a historic 73-foot schooner from the Maine Maritime Museum. While completing a member tow at the Maine South Boat Ramp on the Kennebec River, Davis noticed a large, red hull with two people standing on top, he navigated his Sea Tow boat in their direction and assisted several passengers by creating a lifeline to his boat to bring the passengers to safety. Davis also quickly came to the aid of an elderly female passenger who fell in the water due to the Mary E listing, according to a press release.
---
DMR withdraws salmon plan
The Maine Department of Marine Resources has withdrawn its application for a lease to raise Atlantic salmon off Cutler as part of an effort to restore the species.
The department's Bureau of Sea Run Fisheries and Habitat pulled the aquaculture application after learning that the community still had outstanding concerns, largely around the potential impacts to fishing and navigation, according to a report in the Bangor Daily News. The agency had proposed four floating net pens for an area west of Little River Island in Cutler Harbor. 
The plan was to promote the restoration of endangered Atlantic salmon by rearing the fish in net pens until they reached adult size. They would then be released in Maine rivers for spawning. Having the salmon grow to maturity in the pens allows them to dodge the high mortality rate in the ocean, according to the BDN.
The proposal was part of a consent agreement between the state and Cooke Aquaculture, the only active net pen salmon grower in Maine.
Cooke, which was going to care for the fish at the site, had been fined for violations at fish pen sites in Washington and Hancock counties, including having too many fish in one or more pens, failing to conduct environmental sampling, and failing to follow a variety of clerical procedures. 
---
All about peapods
Peapods of the Maine Coast is a series of 50 interviews with individuals who have a knowledge of the peapod. The project, which was originally released in 2005 as an interactive DVD by filmmaker Juliet Brown, is now available on YouTube. Brown was inspired to interview these builders after building a Matinicus Island Peapod herself at the Apprenticeshop of Rockland in 2000. The peapod has played an essential role in the life and history of Maine. Named for its rounded, double-ended shape, the peapod is thought to have originated around 1870, or earlier, around Penobscot Bay. Peapods were the original Maine lobsterboat, as a fisherman could row pushing or pulling, and roll the boat down and rock it back to haul a trap. This series of interviews was conceived to commemorate these boats, and to capture some of the history and knowledge held by the generation who has watched as these boats have passed from working craft to largely recreational uses. Topics include: construction, planking, framing, stories, history, various building techniques, anecdotes, and technical details. This oral history project was originally supported by the Traditional Small Craft Association's John Gardner grant, the Maine Humanities Council's New Century Community Program, The National Endowment for the Arts, and Searsport's Penobscot Maine Museum. You can find the video interviews at the Penobscot Marine Museum's Youtube channel: youtube.com/user/PenobscotMarineMsm.
---
An unexpected Russian visitor
A feathered Russian immigrant was the subject a lot of attention last winter as birders from all over flocked to Maine for the chance to see a rare Steller's sea eagle, the first one ever sighted in the state.
Seafaring raptors that hunt in cold coastal waters, Steller's sea eagles are native to northern Asia and eastern Russia, and only about 4,000 of the birds remain. The one visiting Maine is believed to be the same bird that was sighted in several locations in the U.S. and Canada over the past year or so.
After sightings in Massachusetts, the eagle was spotted in the Boothbay area and other midcoast spots over the course of January. Fevered reports on social media sent bird watchers hither and yon in search of a sighting.
The eagle was easily identifiable by its size, its huge yellow bill, striking white markings on its wings, as well as its 8-foot wingspan.
---
Ocean energy grant
ORPC Inc., a marine renewable energy business based in Portland, will receive $3.6 million from the U.S. Department of Energy to develop a device that converts energy from river currents into electric currents.
The company has also joined with the non-profit group Our Katahdin to open a testing center at the former Great Northern Paper Mill site in Millinocket to support the next-generation design of a river hydrokinetic power system that generates electricity from river and tidal currents without dams or impoundments.
Product testing will begin later this year in the river adjacent to the former mill property. ORPC will also work with Our Katahdin on evaluating the site as a future production facility and showroom space.
ORPC is working on tidal projects in False Pass, Alaska, and in Eastport. The company also has an operations center in Eastport and Lubec.  
Share this article:
2023 Maine Boat & Home Show

Join Us for the Maine Boat & Home Show!
Art, Artisans, Food, Fun & Boats, Boats, Boats
August 11 - 13, 2023 | On the waterfront, Rockland, Maine
Click here to pre-order your tickets.
Show is produced by Maine Boats, Homes & Harbors magazine.